10 Best Summer Salad Recipes
on Jun 01, 2021, Updated Jul 23, 2021
Even though I eat salads pretty much every single day no matter the season, summer is always the best time of the year. There are just so many choices with seemingly infinite supplies of fruits and vegetables for the taking.
As far as I am concerned, greens are optional when you can transform a mix of pretty much any produce into a salad by whisking together a vinaigrette in minutes and tossing it all in a big bowl. And nothing gets better than that.
Summer Salad Recipes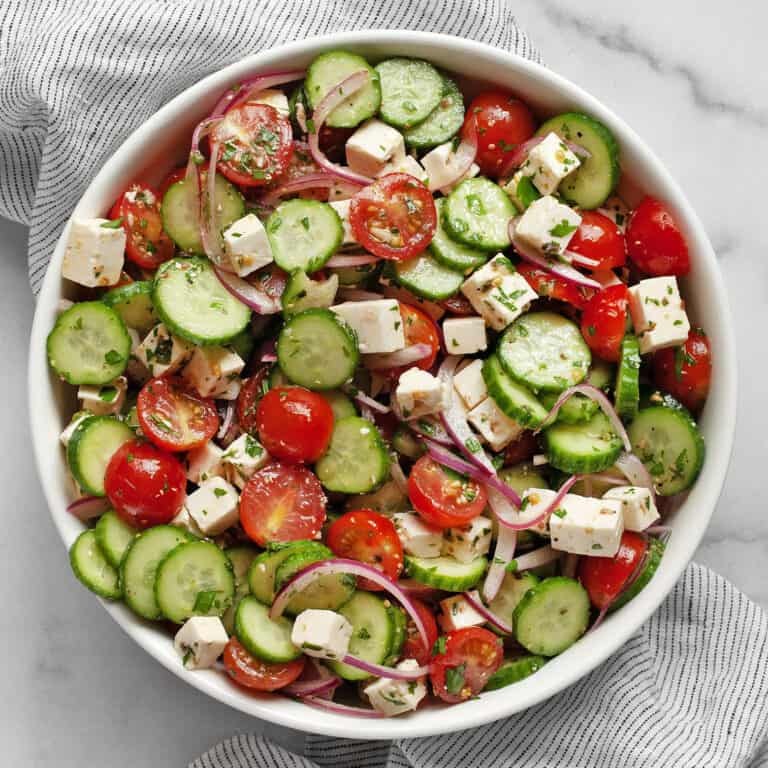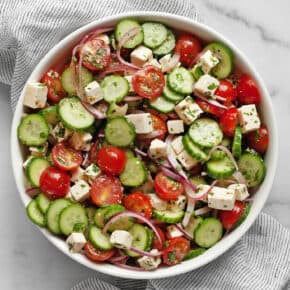 Cucumber Tomato Feta Salad
This crisp and fresh cucumber tomato feta salad is a side dish that goes with pretty much anything with Mediterranean flavors. It's best when you make it with beautiful ripe tomatoes.
For recipe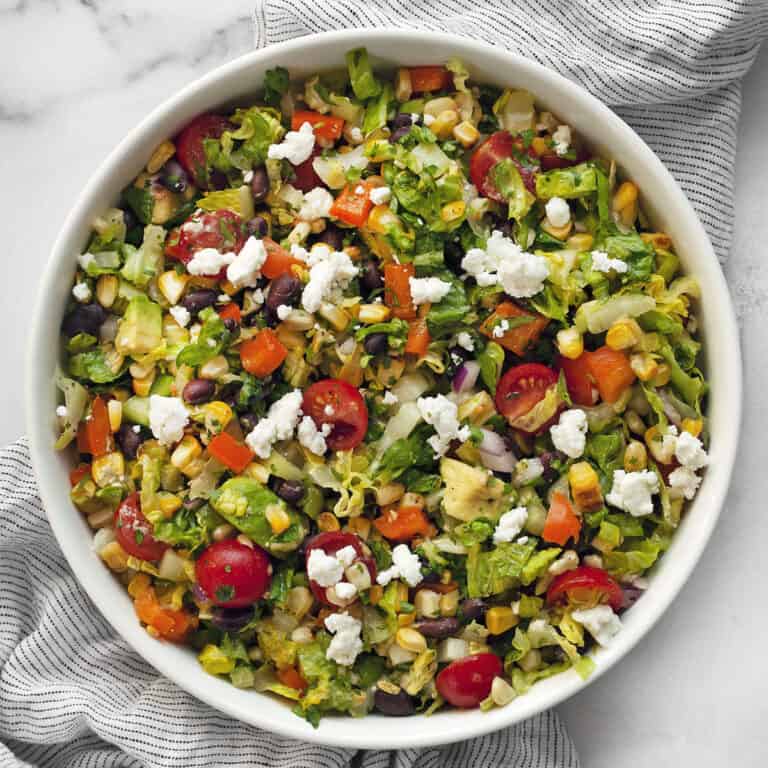 Mexican Chopped Salad
This Mexican chopped salad has grilled corn seasoned with cumin and chili powder along with black beans, tomatoes, peppers, avocados and romaine.
For recipe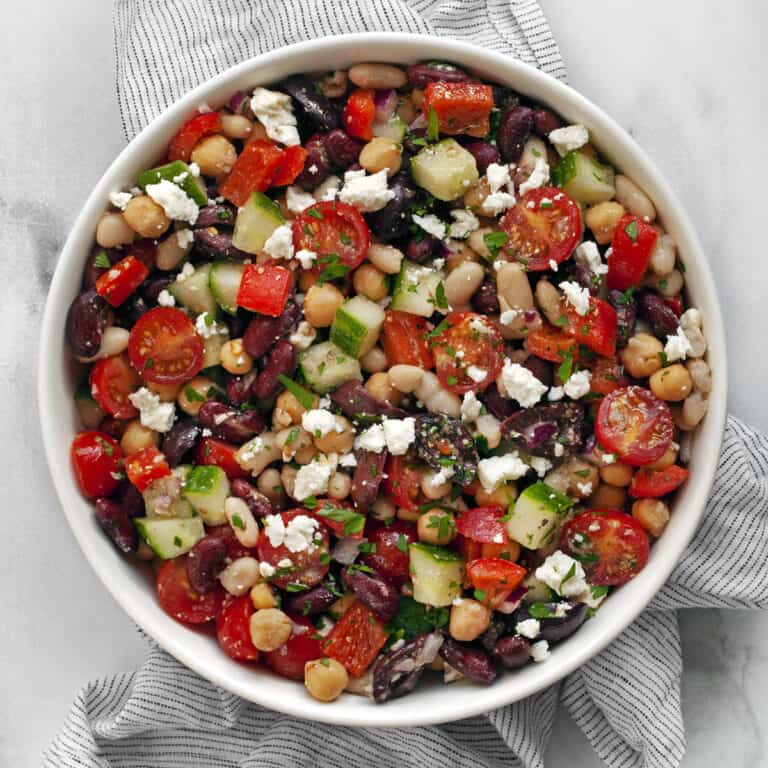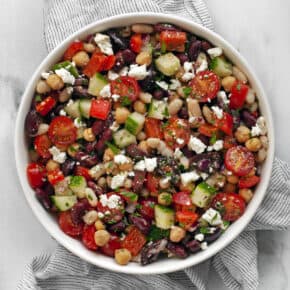 Mediterranean Bean Salad
With cannellini beans, chickpeas and kidney beans, this Mediterranean version of a three bean salad has cucumbers, olives, tomatoes and feta.
For recipe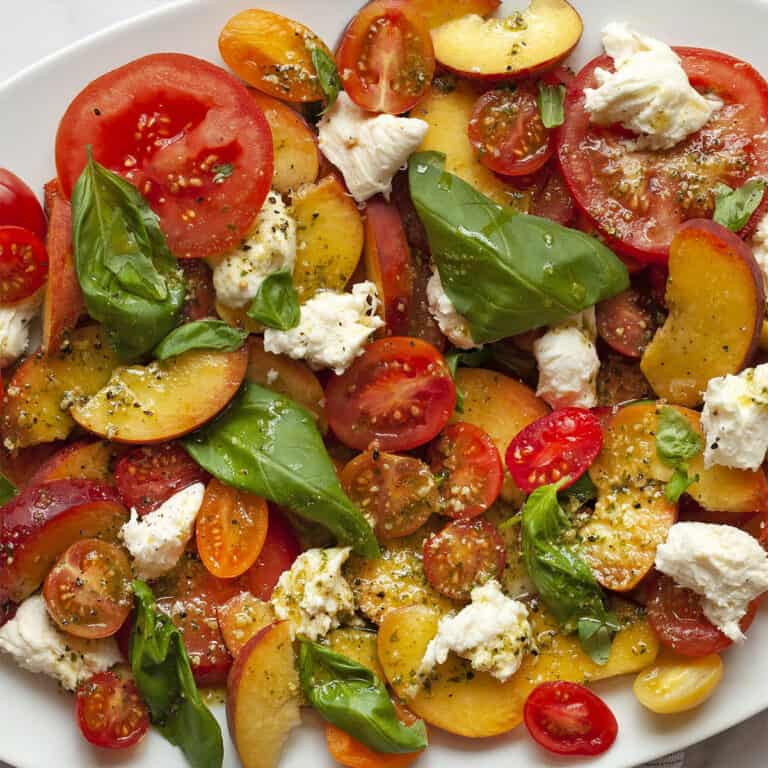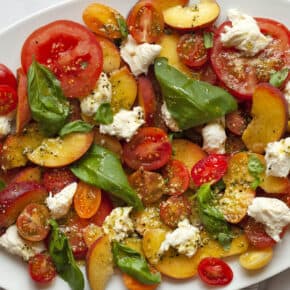 Peach Caprese Salad
Drizzled with pesto vinaigrette, this peach caprese salad has ripe tomatoes and peaches, fresh mozzarella and basil in this version of the classic Italian summer salad.
For recipe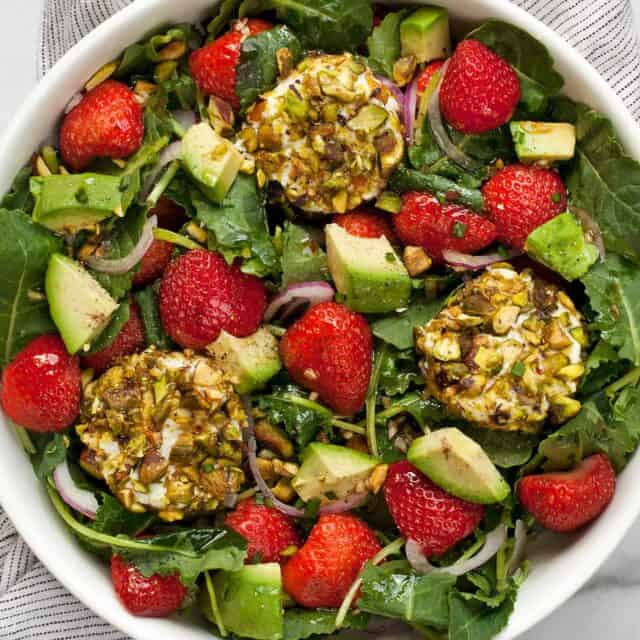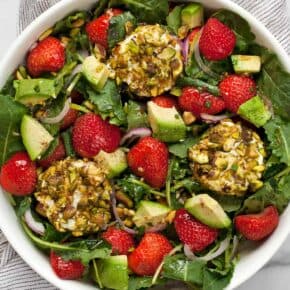 Pistachio Strawberry Goat Cheese Salad
With avocados and honey balsamic vinaigrette, this pistachio strawberry goat cheese salad is the best combination of savory with a little bit sweet.
For recipe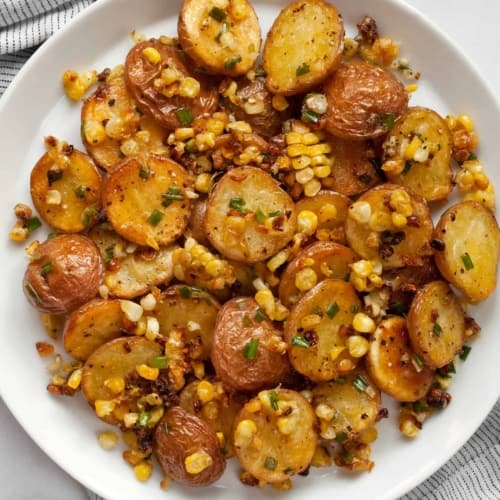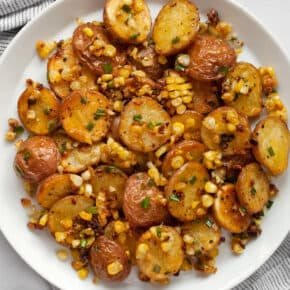 Roasted Red Potato Salad
Dressed in a chive vinaigrette, this roasted red potato salad is an easy side dish where the potatoes and corn roast on the same pan.
For recipe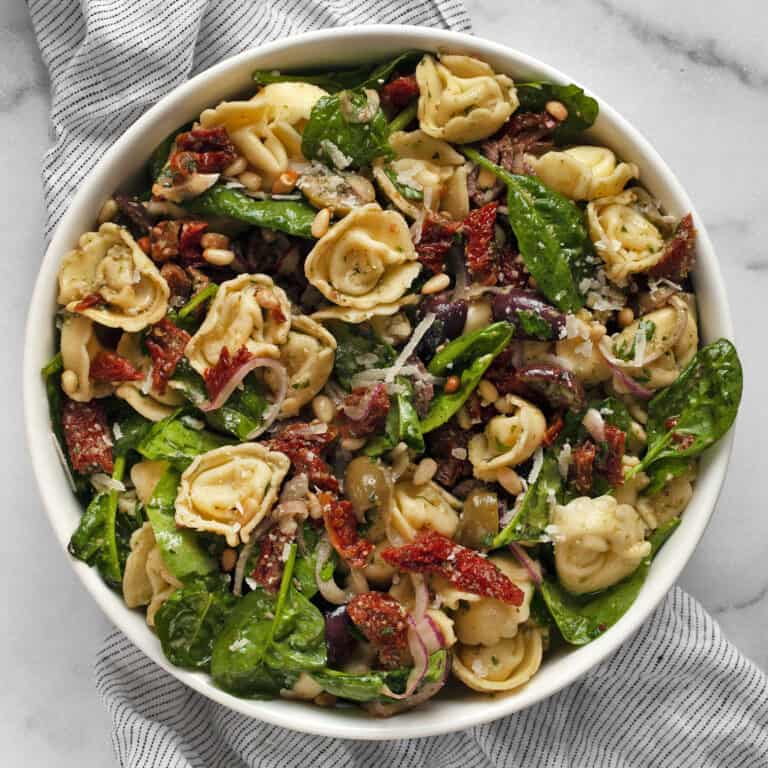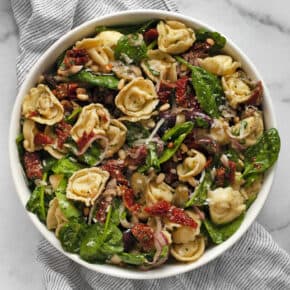 Tortellini Pasta Salad
Tossed in an herby pesto vinaigrette, this easy tortellini pasta salad has sun dried tomatoes, olives, baby spinach, red onions and Parmesan.
For recipe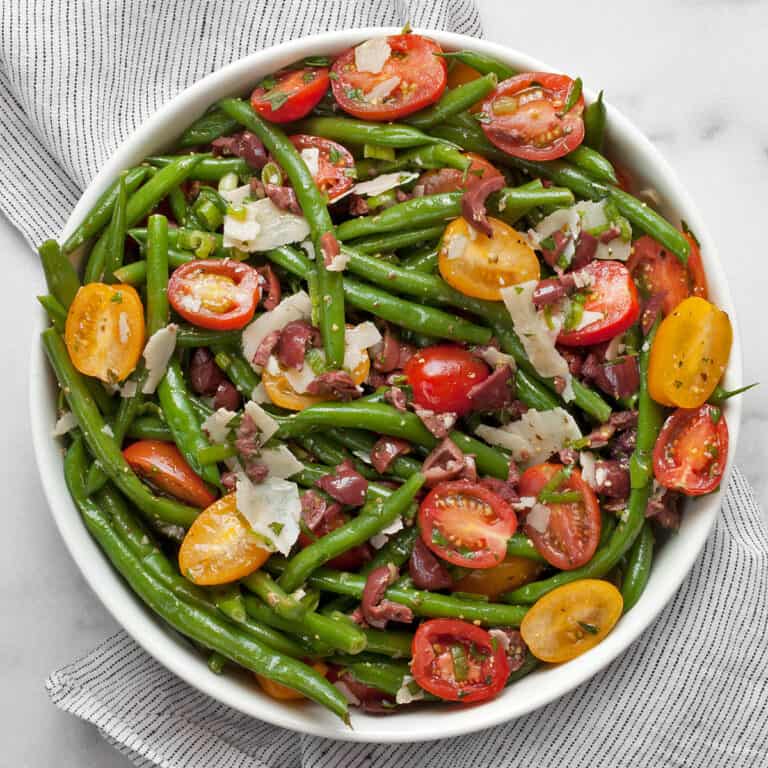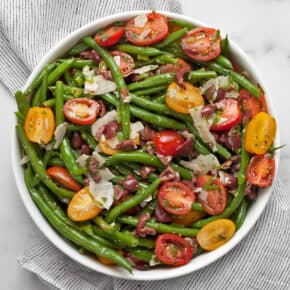 Green Bean Tomato Olive Salad
Ready in 10 minutes, this green bean salad with tomatoes, olives, Parmesan and scallions is fresh and full of crunch. It can be served as a side, too.
For recipe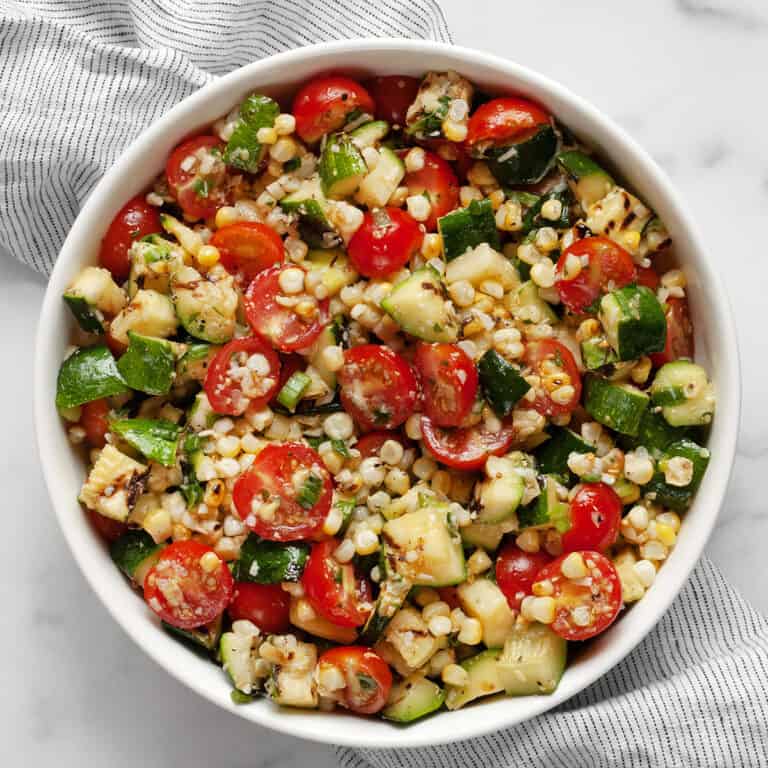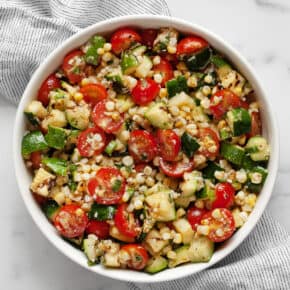 Zucchini Corn Salad
Good for a salad or a barbecue side dish, this grilled zucchini corn salad has cherry tomatoes, scallions, Parmesan and garlic vinaigrette.
For recipe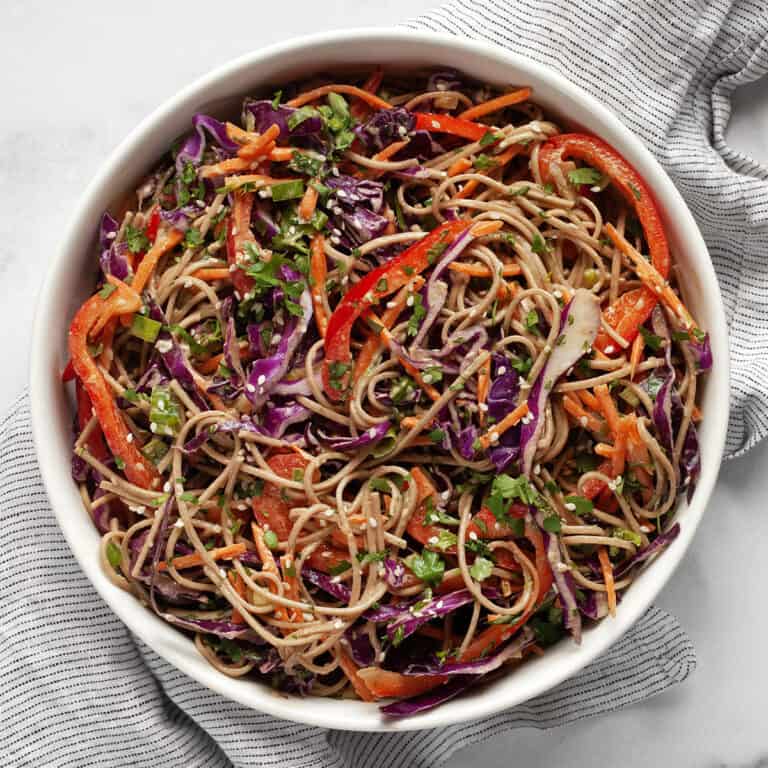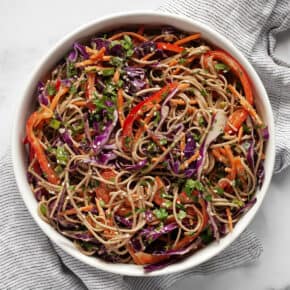 Cold Soba Noodle Salad
This simple cold soba noodle salad recipe has red cabbage, carrots and bell peppers all tossed in a creamy vegan tahini ginger dressing.
For recipe