Fragrant with garlic and scallions, this Mushroom Tomato Farro is a simple mix of grains and vegetables plus chopped kale for hearty greens.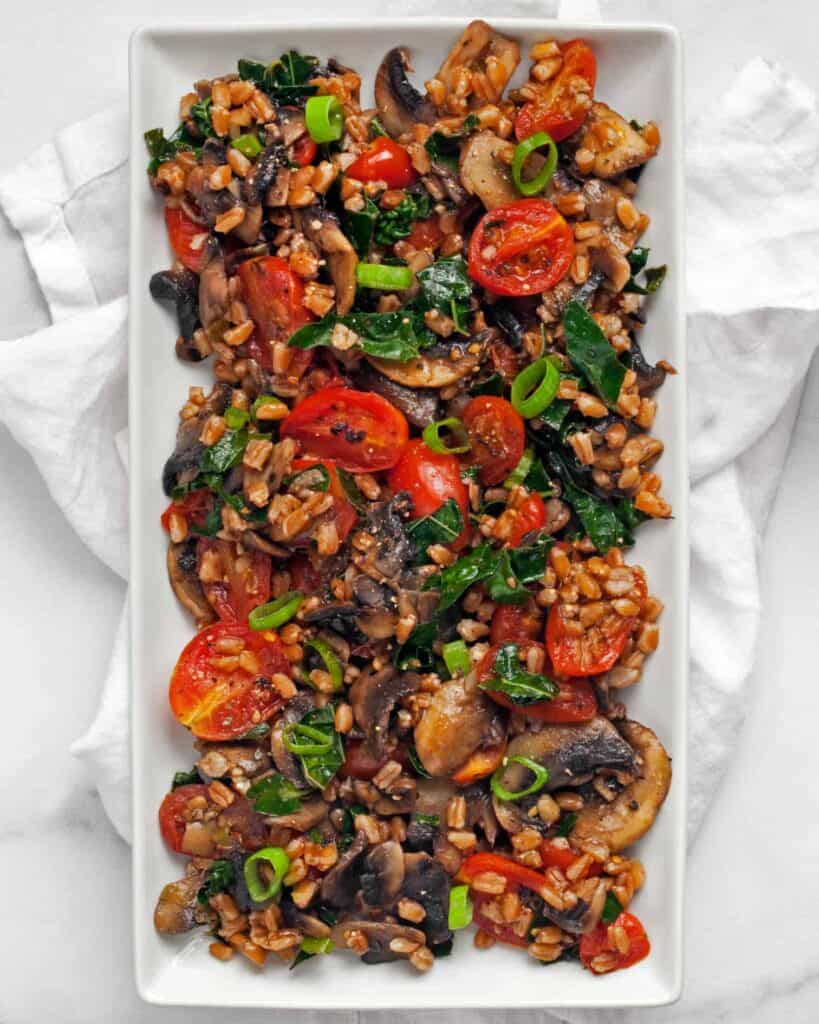 One word to describe my mood lately is reluctant. Maybe stubborn would be a more honest way to put it.

Reality is starting to set in that all cooking will soon move indoors.

I know I'm not the only one who's pushing this out as long as possible. The other night I saw my neighbor over his grill wearing a headlamp. It wasn't even that late, but the days are already shorter.
After I saw him and had a couple nights grilling in the dark, I decided to follow his lead and order one.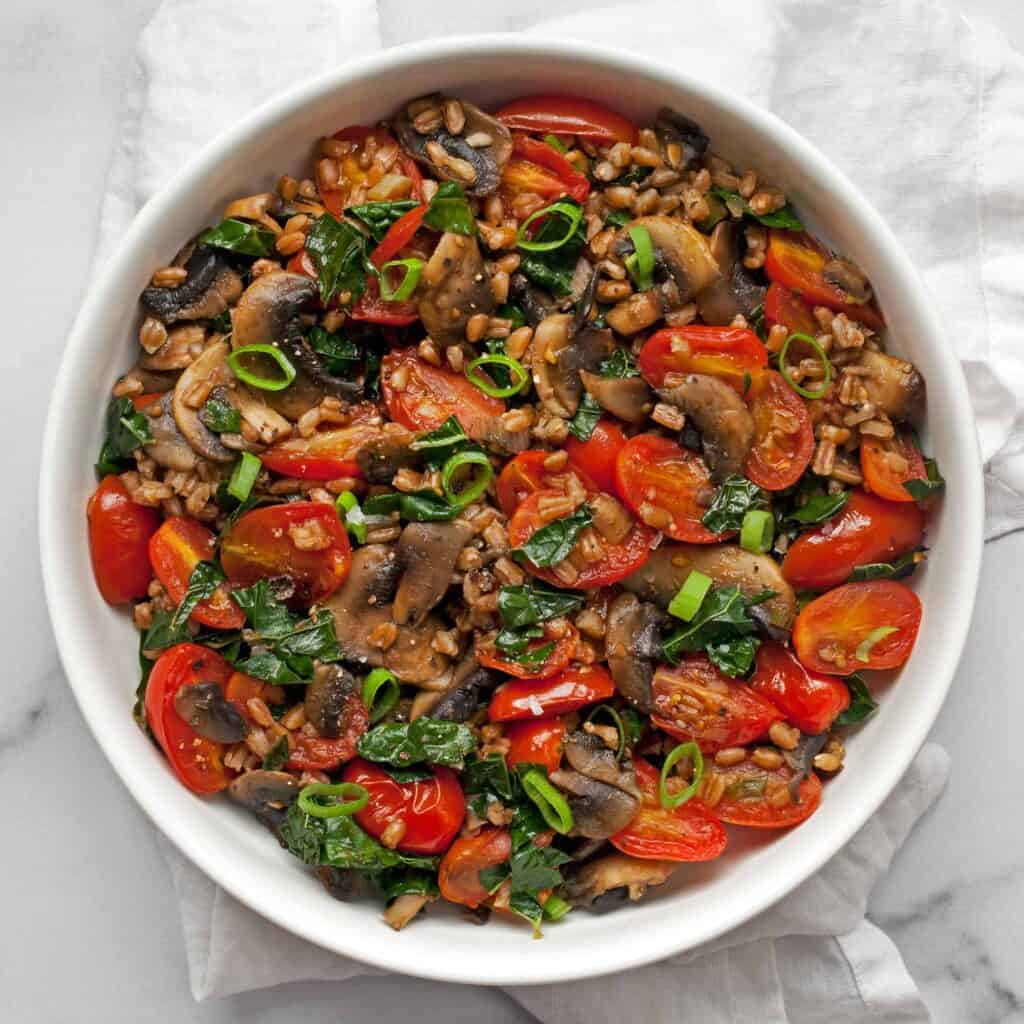 Why should I risk dropping my iPhone onto the hot grates while trying to use the flashlight?
I've started making more things on the stovetop.
My formula is usually some sort of grain paired with a mix of sautéed vegetables.

Last week I made mushroom tomato farro.

I love farro because it is so hearty and filling and has the most wonderful chewy bite.
Farro is an ancient grain with a nutty flavor that's often used in Italian dishes like soups and sides.
I've even done a spin on the classic olive and caper-filled pasta puttancesa using farro instead of noodles.

Mushrooms feel like a good way to transition to fall.
How To Make Mushroom Tomato Farro
First, I put the farro and water in a pot and let them simmer. When the grains were almost tender, I got started on the veggies.
In a big skillet, I sautéed scallions along with sliced cremini mushrooms.

I've been very into mushrooms lately because they have so much flavor on their own with out adding much else.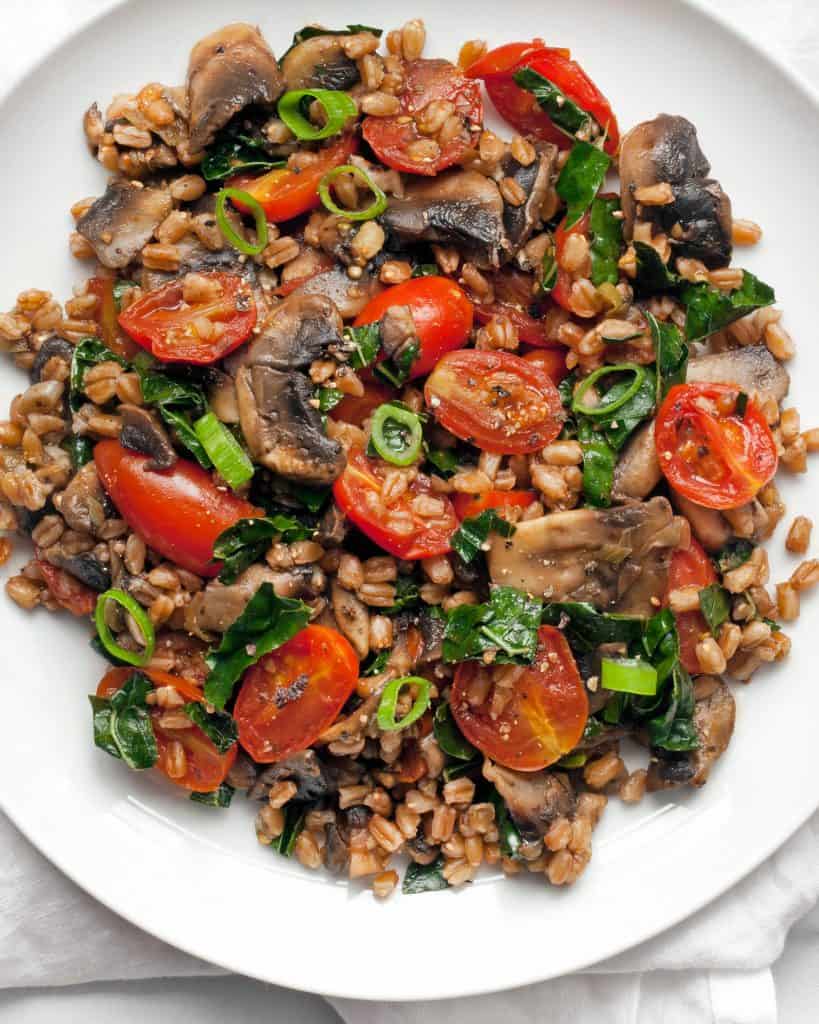 Then came the halved cherry tomatoes and kale. I couldn't make this mushroom tomato farro without adding greens.

Lacinato kale is great because it's strong enough to hold its shape when it's sautéed.
I waited until the end to add the garlic giving it a minute or so to get fragrant with the rest of the veggies.

When everything was ready, I stirred in the farro and green scallions.
Print
Mushroom Tomato Farro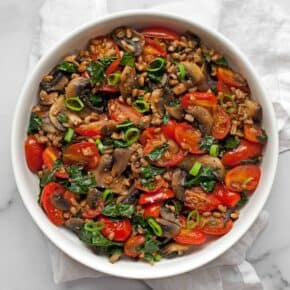 Author:
Prep Time:

5 minutes

Cook Time:

20-25 minutes

Total Time:

25-30 minutes

Yield: Serves

4

1

x
Scale
Ingredients
1 cup farro, rinsed
3 cups water
1 tablespoon olive oil
2 scallions, thinly sliced, white and green parts separated
8 ounces cremini mushrooms, sliced
2 cups halved cherry tomatoes
1 cup chopped Lacinato kale
1 garlic clove, minced
1 teaspoon kosher salt
1/2 teaspoon black pepper
Instructions
Combine the farro and 3 cups water over high heat. Bring to a boil, reduce the heat to simmer and cover. Let the grains cook for 20-25 minutes until tender. Drain any remaining water.
Heat the olive oil in a large skillet over medium high heat. Add the white parts of the scallions and mushrooms. Sauté for 3-4 minutes until the mushrooms start to brown. Add the tomatoes and kale and continue cooking for 5-7 minutes until the tomatoes turn a bit juicy and the kale has wilted slightly. Add the garlic, salt and pepper, sautéing until fragrant, about 1 minute.
Stir in the farro and the green scallions.
SHARE THIS