Black and White Ice Cream Sandwiches

What's your favorite summer sandwich? Mine is comprised of a thick layer of ice cream squashed between two cookies. Nothing beats an ice cream sandwich! They are the best way to use leftover homemade cookies, if you manage to save some, for that pint of ice cream stashed deep in the back of the freezer. I usually cut them into quarters once they are frozen, so they last a bit last longer.
For these black and white ice cream sandwiches, I baked thin chocolate cookies in rounds. Of course, I could have cut them into rectangles, but that required a ruler and too much precision for my laidback, summer vibe. I did take the time to freeze a layer of chocolate followed by a stripe of vanilla ice cream. I ended up with a lot of leftover two-tone ice cream scraps, but those marbled extras didn't go to waste.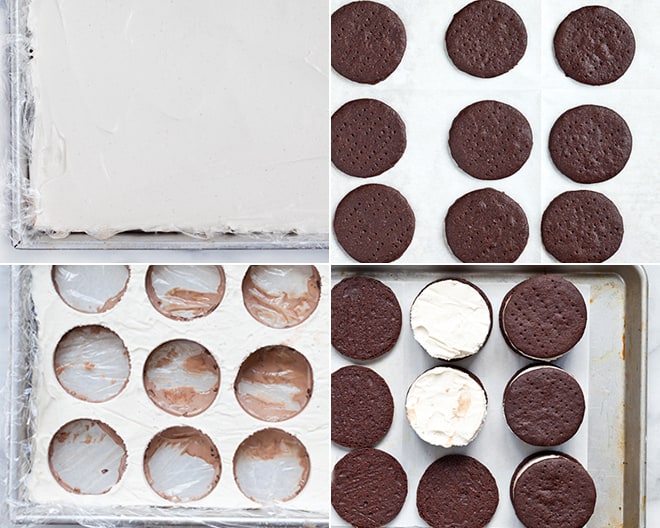 Black & White Ice Cream Sandwiches
Adapted from Bon Appetit July 2017
Makes 12 2-1/2-inch round sandwiches
2/3 cup unsweetened cocoa powder, sifted
3/4 teaspoon kosher salt
1/2 teaspoon baking powder
1-1/4 cups all-purpose flour
1/2 cup (1 stick) unsalted butter at room temperature
1/2 cup packed light brown sugar
2/3 cup granulated sugar
1 large egg at room temperature
1 teaspoon vanilla extract
2 pints chocolate ice cream
2 pints vanilla ice cream
For the cookies, combine the cocoa powder, salt, baking powder and flour in a medium bowl. In the bowl of a stand mixer fitted with the paddle attachment, cream the butter and both sugars until pale, about 3-4 minutes. Beat in the egg and vanilla extract, until the mixture is light and fluffy. Pat the dough into a 1/2-inch-thick disk and cover with plastic wrap. Chill in the refrigerator for at least two hours. (The dough can be made up to 2 days in advance).
For the ice cream, line a 13-inch x 9-inch baking pan with two sheets of plastic wrap. Let the chocolate ice cream soften for 5-10 minutes. Transfer the ice cream to a large bowl and whisk until smooth like thick cake batter. Use an offset spatula to spread the ice cream in an even layer in the prepared baking pan. Let the ice cream freeze until firm, about 20-30 minutes before repeating the same process with the vanilla ice cream. Cover and freeze until solid, about 8 hours.
Preheat the oven to 350 degrees F. On a lightly floured work surface, roll out the dough until it is 1/8-inch thick. Use a 2-1/2 inch round cookie cutter to cut out 24 cookies, rerolling the scraps as needed. Transfer to a parchment paper-lined sheet pan, spacing them 1-inch apart. Prick the tops of the cookies with the tines of a fork. Bake for 12-15 minutes. Cool completely on the baking sheets.
To assemble the sandwiches, turn over half the cookies. Use the 2-1/2 inch round cookie cutter to carefully cut out the ice cream. (Save the extra ice cream for another use). Wipe off the cookie cutter each time to avoid smearing the ice cream layers. Use a spatula to place an ice cream disc on each of the turned over cookies. Place another cookie on top right side up. Work quickly to limit ice cream melting. Freeze 2 hours before covering with plastic wrap and freezing for an additional 8 hours.
SHARE THIS