Chickpea Kidney Bean Snap Pea Salad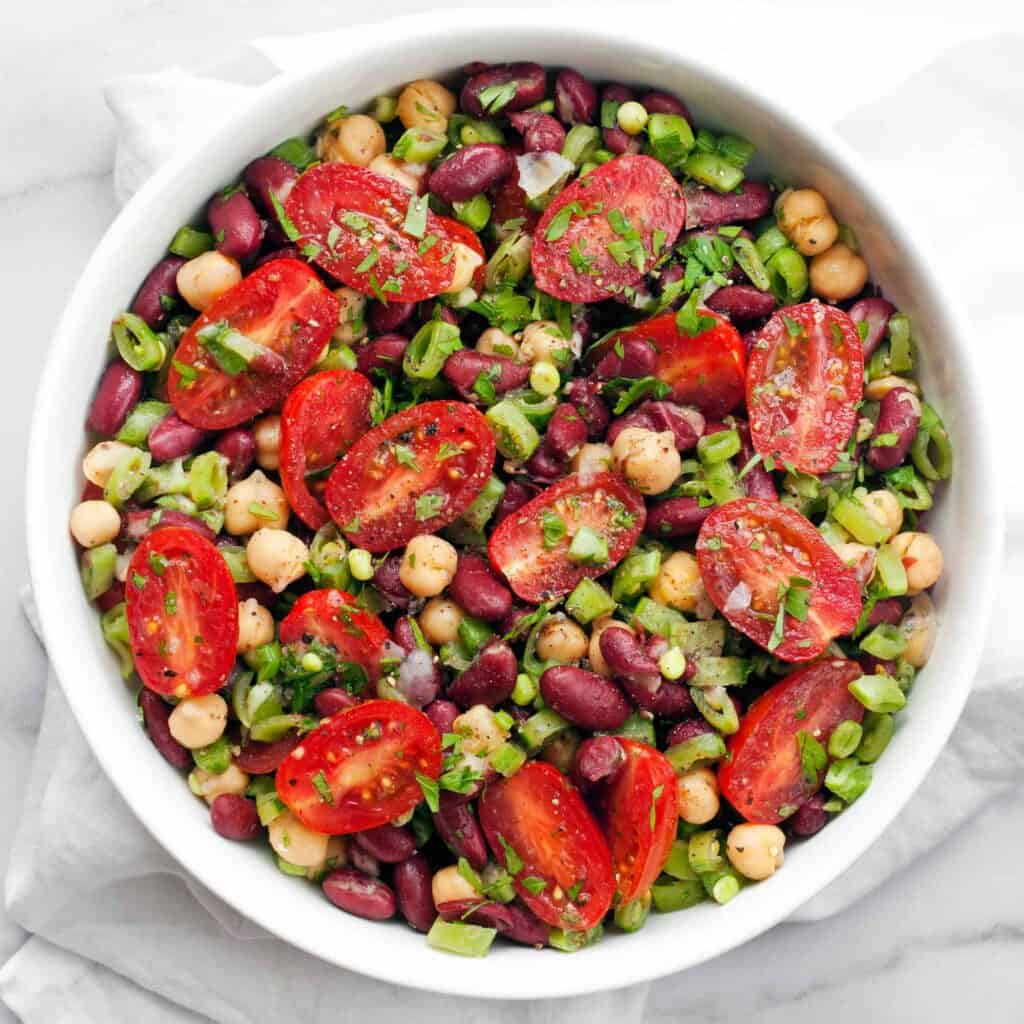 Summer is the season when the oven should be off more often than it is on.
I can't say that I've been following this rule.
My obsession with roasted tomatoes is in full swing.
I have so many of these tomatoes that when we went away for vacation for 4th of July, I ended up freezing sheet pans worth of them. There wasn't enough time for me to eat my way through the tomatoes.
Now that we're back from our holiday at the beach, I figured I should try to keep the oven switched off.
Well, at least for a few days.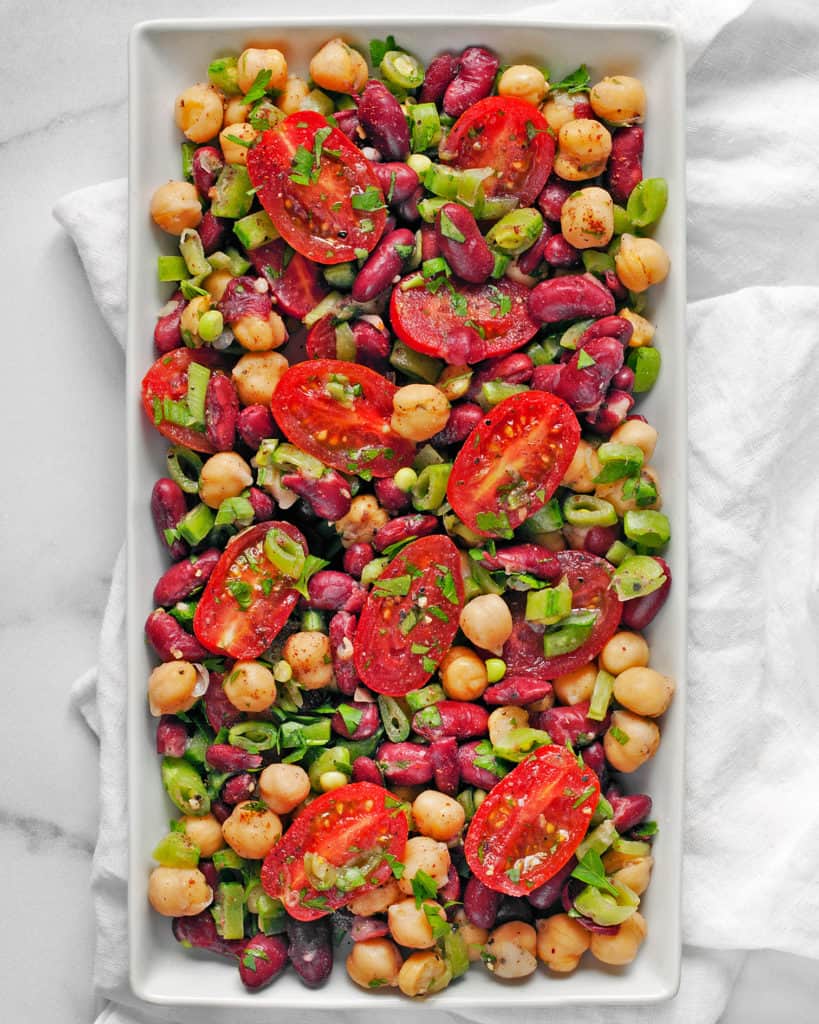 The three bean salad is a mainstay at potlucks and barbecues, and I understand why.
It's filling and works with different mains from burgers to grilled chicken.
Plus it's hearty enough to withstand sitting outside at a picnic in the heat.
I wanted to make a bean dish, but I didn't feel the need to include the traditional three.
Chickpeas were at the top of my list of requirements.
I consume chickpeas on a daily basis. They are my throw-it-in-whatever kind of ingredient that instantly turns a sweet potato or greens into a true meal.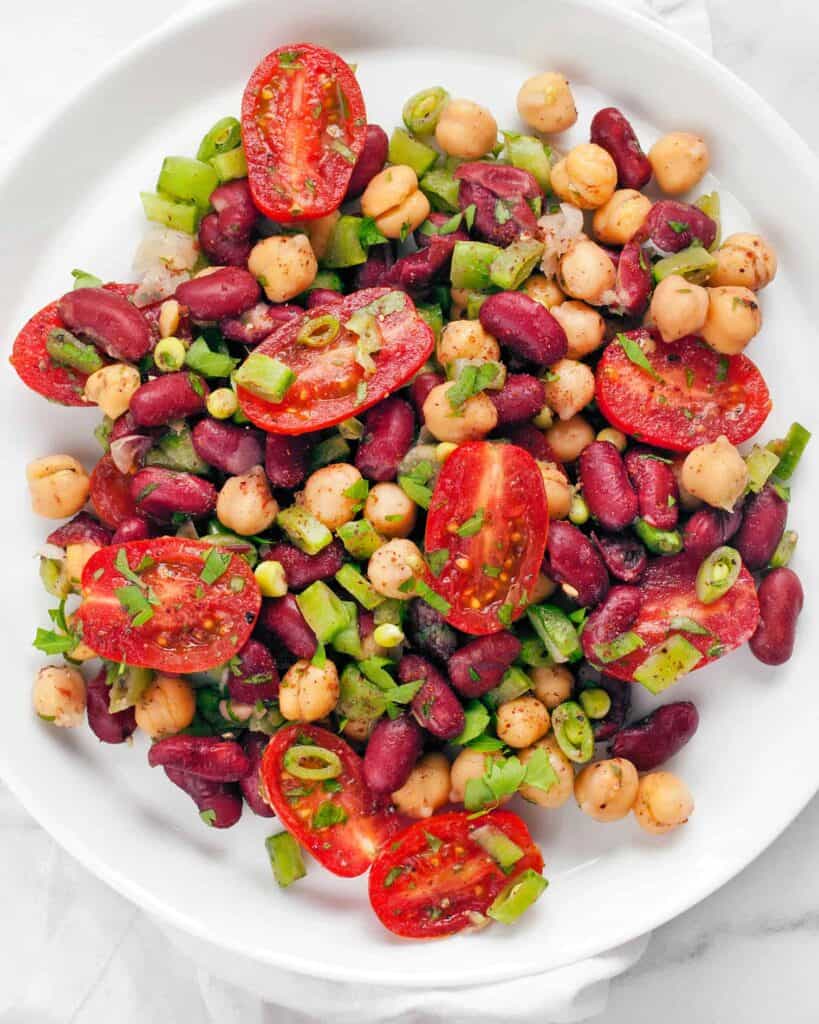 I made a chickpea kidney bean snap pea salad. Try saying that three times fast. It's a total mouthful.

The components of this trio don't all fall into the bean category, but it doesn't matter.
Each bite was a mix of bites and crunch. I also added halved cherry tomatoes.
To dress everything, I just squeezed on fresh lemon juice. Then I sprinkled everything with salt, pepper and sumac.
I made a fattoush salad a couple months ago. Ever since I've been on a sumac kick because of its bright, tart flavor.

I also added chopped fresh parsley and sliced scallions.

What I love most about this chickpea kidney bean snap pea salad is that there is no cooking required. It's just a matter of combining the ingredients in one bowl.
Print
Chickpea Kidney Bean Snap Pea Salad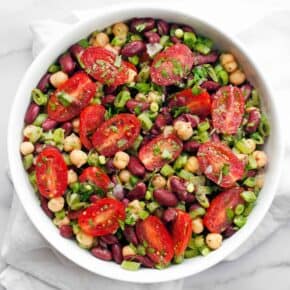 Prep Time:

10 minutes

Total Time:

10 minutes

Yield: Serves

4

1

x
Scale
Ingredients
1–15.5 ounce can chickpeas, drained and rinsed
1-15.5 ounce can kidney beans, drained and rinsed
4 ounces sugar snap peas, trimmed and roughly chopped
2 scallions, thinly sliced
1/4 cup roughly chopped parsley
1 teaspoon kosher salt
1/2 teaspoon black pepper
1/2 teaspoon sumac
Juice of 1/2 lemon
Instructions
Combine the chickpeas, kidney beans, snap peas, scallions, parsley, salt, pepper and sumac in a large bowl. Stir in the lemon juice.
SHARE THIS