Worth the wait, these easy slow-roasted tomatoes are the perfect way to savor season. Use them in salads, on pizzas, stirred into pastas and more.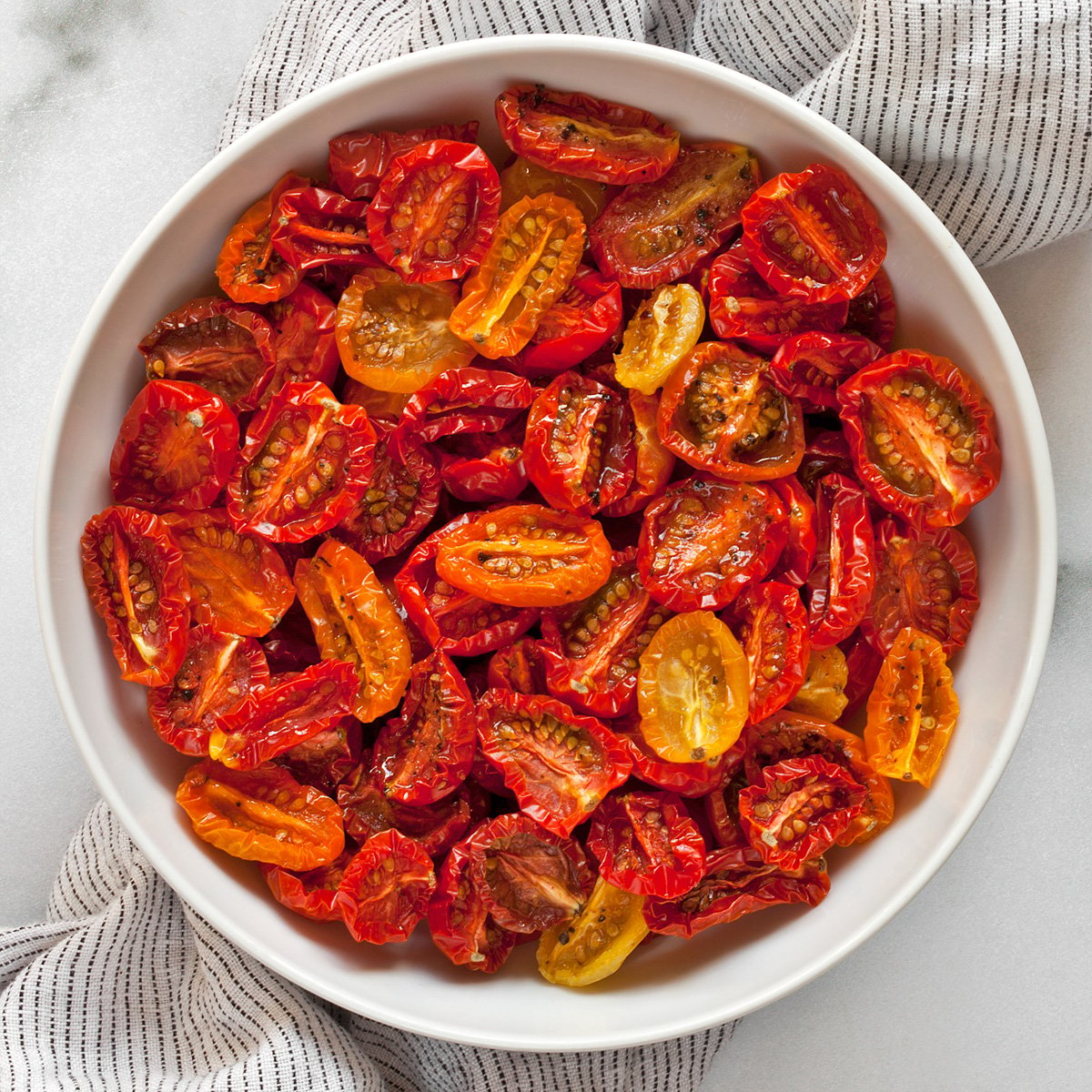 There are so many things to love about summer. The warm weather, abundant sunshine and longer days have me trying to cram everything in, but somehow the pace feels slower. Maybe it's the vacations paired with more spontaneous moments that set the tone to relax, at least a little bit more than normal.
I take that same approach in the kitchen. With all the fruits and veggies in season, summer just makes meal prep and cooking (or not cooking) so easy. You can keep ingredients as is or with a minimal amount of prep, enhance their already incredible flavor and use them in different ways in multiple meals.
That's what I like to do with these slow-roasted tomatoes. Slice them, drizzle them with oil, and then cook them at a low temperature for a while in the oven. The result is intensely tomatoey tomatoes that will have you planning to grow your own garden or making regular shopping trips to the farmer's market.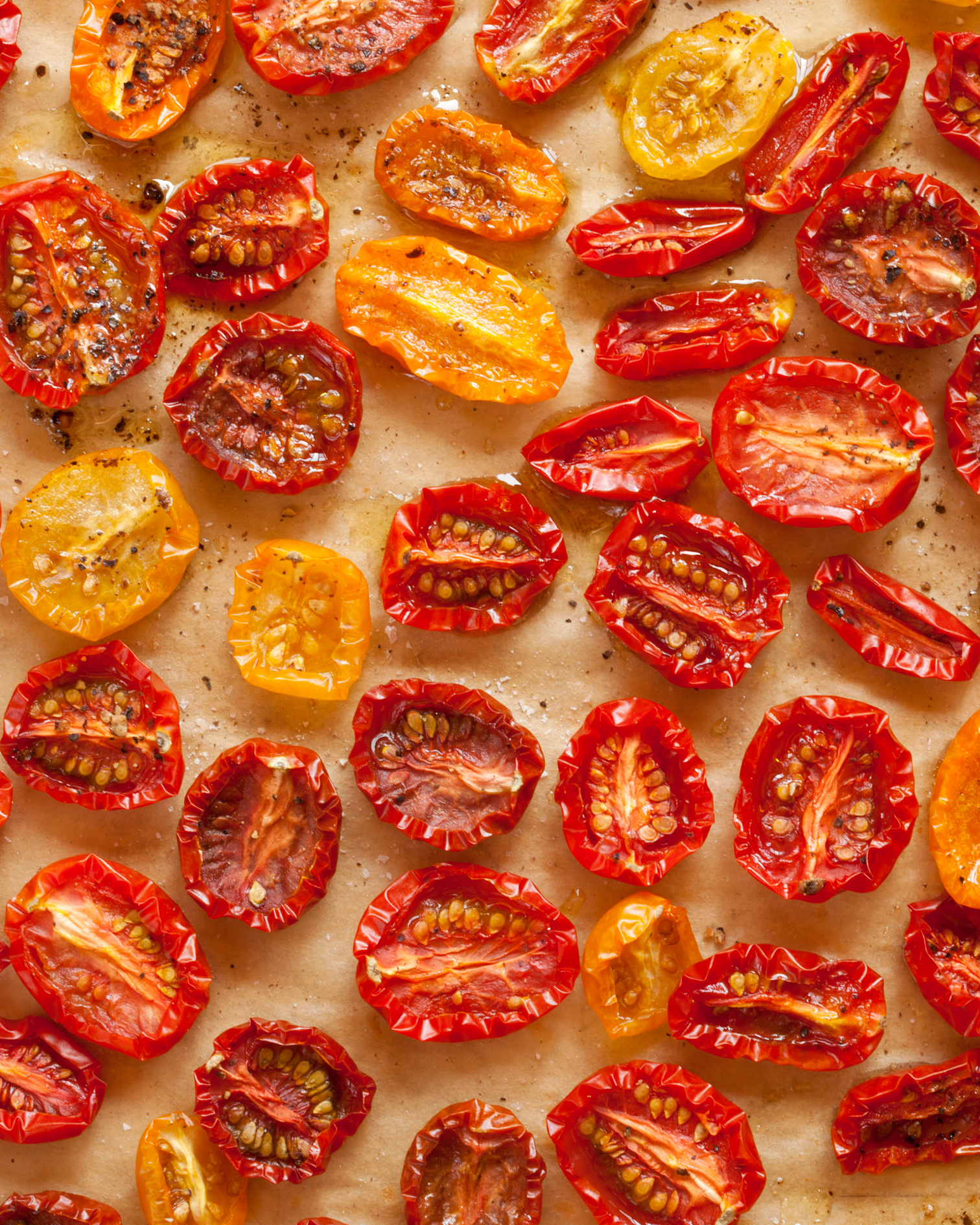 Oven-Roasted Tomatoes: Slow or Quick, Take Your Pick
I don't always slow-roast tomatoes. Sometimes I crank-up the oven hotter to save time. Call it impatience, but it just depends on what else I have going on inside and outside the kitchen. It's impossible for me to pick a favorite. I love roasted tomatoes in any form.
I find that tomatoes roasted at a higher temperature for less time turn out juicier. Slow-roasted tomatoes end up more wrinkled and drier. Some of them will have edges that are almost a touch crisp.
You can't go wrong either way.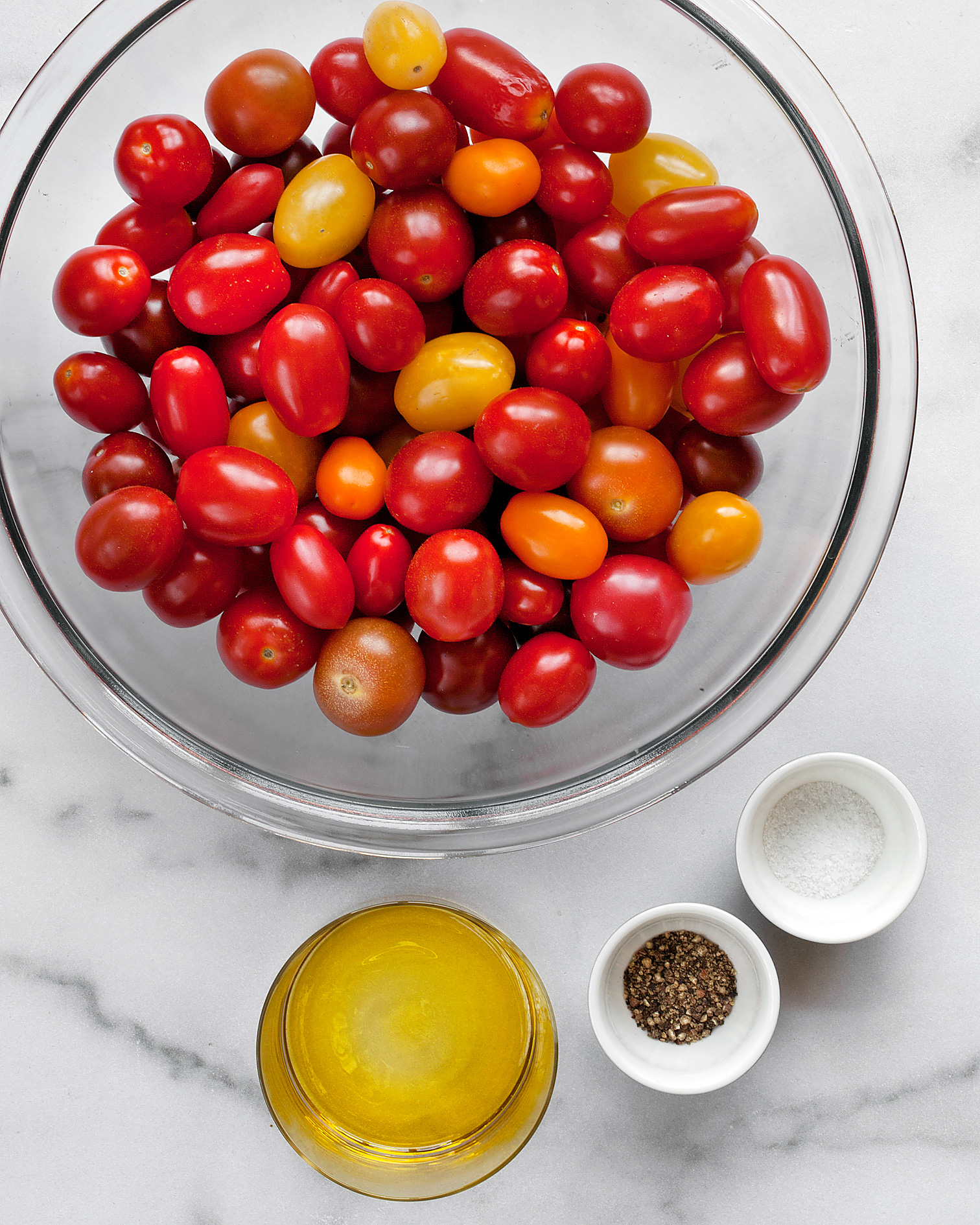 The Best Kinds of Tomatoes to Slow Roast
Small varieties like grape tomatoes and cherry tomatoes are my favorites because you can slice them in half, and they hold their shape once they're roasted.
You can use medium sizes like plum tomatoes and roma tomatoes or larger ones like beefsteaks. And it's ok to mix different kinds on a single baking sheet. Just make sure to slice them the same thickness, so they roast in about the same amount of time.
Ingredients & Optional Additions
This is what you need:
Tomatoes: I will always tell you that slow-roasted cherry tomatoes and grape tomatoes are my go-tos, but size doesn't matter. Medium to large tomatoes are fine as long as you slice those ripe tomatoes the same thickness.
Olive oil: Roast the tomatoes in high-quality extra virgin olive oil for the best taste.
Salt & pepper: In addition to drizzling the tomatoes with olive oil, I also sprinkle them with kosher salt and black pepper before they roast.
Dried spices: It is optional whether you also flavor the tomatoes with one or a combination of spices found in an Italian seasoning blend like oregano, rosemary or thyme. If that goes with the dish you're planning to use the tomatoes in, then add that extra seasoning before roasting.
How To Make Slow-Roasted Tomatoes
Preheat the oven to 220 degrees F. Line a baking sheet with parchment paper.
Arrange the tomatoes on the pan so they are in a single layer. The halved tomatoes should be cut side up.
Drizzle the tomatoes with olive oil and sprinkle them with salt and pepper. At this point, you can also add other dried spices if you are including them.
Roast the tomatoes until they are mostly dried and wrinkled at the edges. This will take 2 hours or so.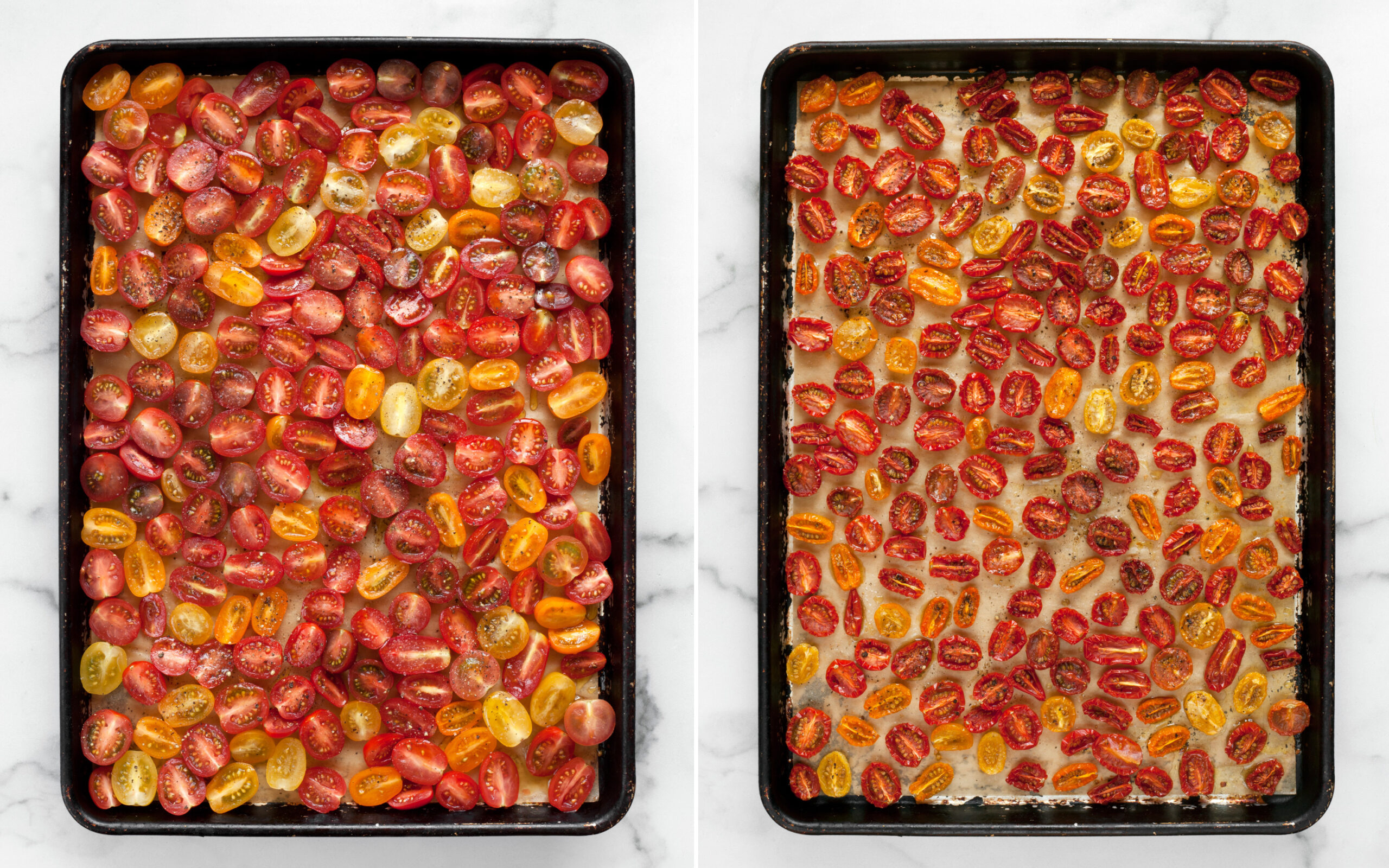 Using These Tomatoes
Pasta and pizza are the most obvious ways to make the most of a batch of roasted tomatoes. You can stir them into al dente noodles with a splash of olive oil, minced garlic cloves and fresh herbs. For homemade pizzas, top them with tomato sauce, mozzarella and basil.
I also include the tomatoes in scrambled eggs with pesto. Put them on top of avocado toast with everything bagel seasoning or on sandwiches.
You can jazz up the most basic arugula salad with tomatoes and crumbled goat cheese. Or use them to garnish soups.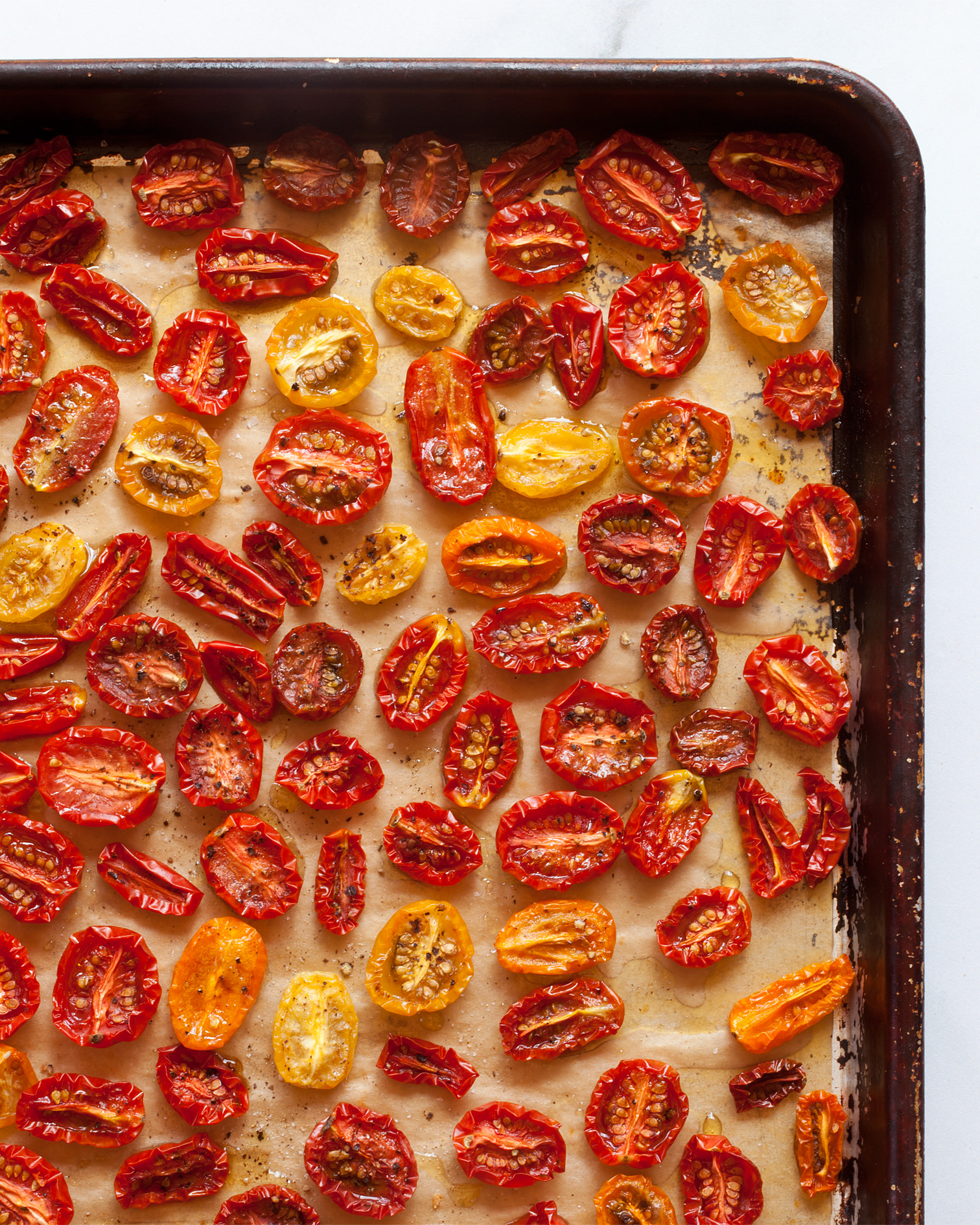 Storing & Freezing
Store slow-roasted tomatoes in an airtight container in the refrigerator up to 2 weeks. A wide-mouthed mason jar is great for this.
To keep them longer, you can freeze the tomatoes. Instead of just throwing them all in a container at once, line them up without touching on a piece of wax paper on a plate or pan. After they are individually frozen, then transfer them to a bag or container.
Slow-Roasted Cherry Tomatoes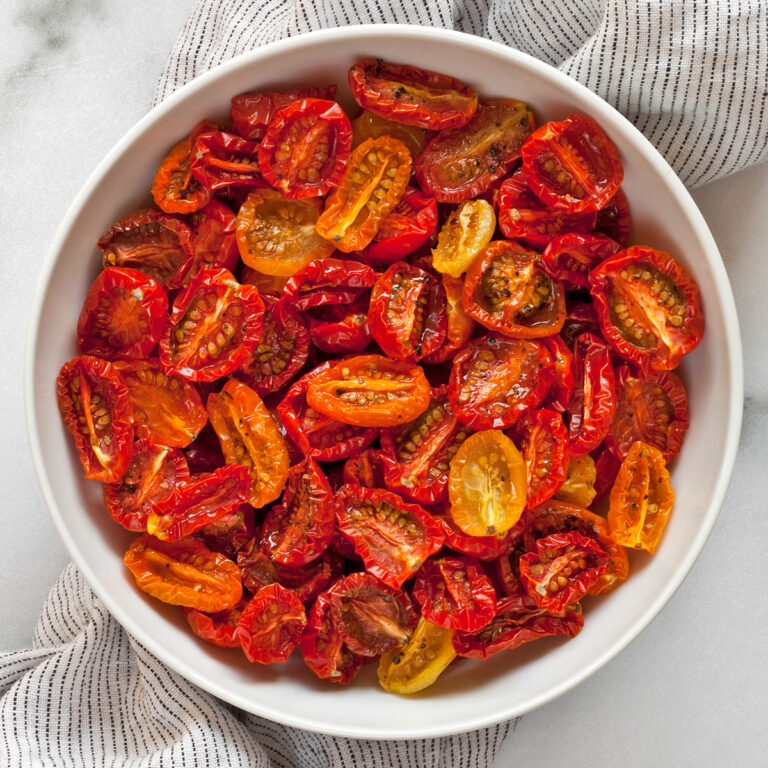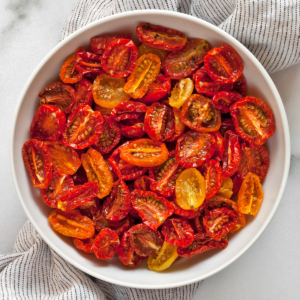 Worth the wait, these easy slow-roasted tomatoes are the perfect way to savor season. Use them in salads, on pizzas, stirred into pastas and more.
Ingredients
2

tablespoons

olive oil

1-1/2 to 2

pounds

assorted tomatoes

cherry & grape tomatoes halved, larger tomatoes sliced 1/4-inch-thick

1/2

teaspoon

kosher salt

1/4

teaspoon

black pepper
Instructions
Preheat the oven to 220 degrees F.

Place the tomatoes in in a single layer on a sheet pan, cut side up if halved. Drizzle with olive oil and sprinkle with salt and pepper. Roast for 2 to 2-1/2 hours until they are wrinkled and just a little bit juicy in the center.
Notes
Recipe makes 1-1/2 to 2 cups.
Let the tomatoes cool to room temperature before you store them.
Roasted tomatoes can be stored in the refrigerator in an airtight container for 2 weeks.
To freeze the tomatoes, place them on a wax paper-lined sheet pan or plate in the freezer. Once they are frozen, transfer them to an airtight bag or container up to 2 months.
Nutrition
Calories:
103
kcal
|
Carbohydrates:
9
g
|
Protein:
2
g
|
Fat:
7
g
|
Saturated Fat:
1
g
|
Polyunsaturated Fat:
1
g
|
Monounsaturated Fat:
5
g
|
Sodium:
302
mg
|
Potassium:
539
mg
|
Fiber:
3
g
|
Sugar:
6
g
|
Vitamin A:
1890
IU
|
Vitamin C:
31
mg
|
Calcium:
23
mg
|
Iron:
1
mg
Nutrition information is automatically calculated, so should only be used as an approximation.