Chickpea Spinach Stuffed Sweet Potatoes

Roasting the main ingredients side-by-side makes these Chickpea Spinach Stuffed Sweet Potatoes an easy vegan multi-tasking recipe. They are finished with a drizzle of tahini.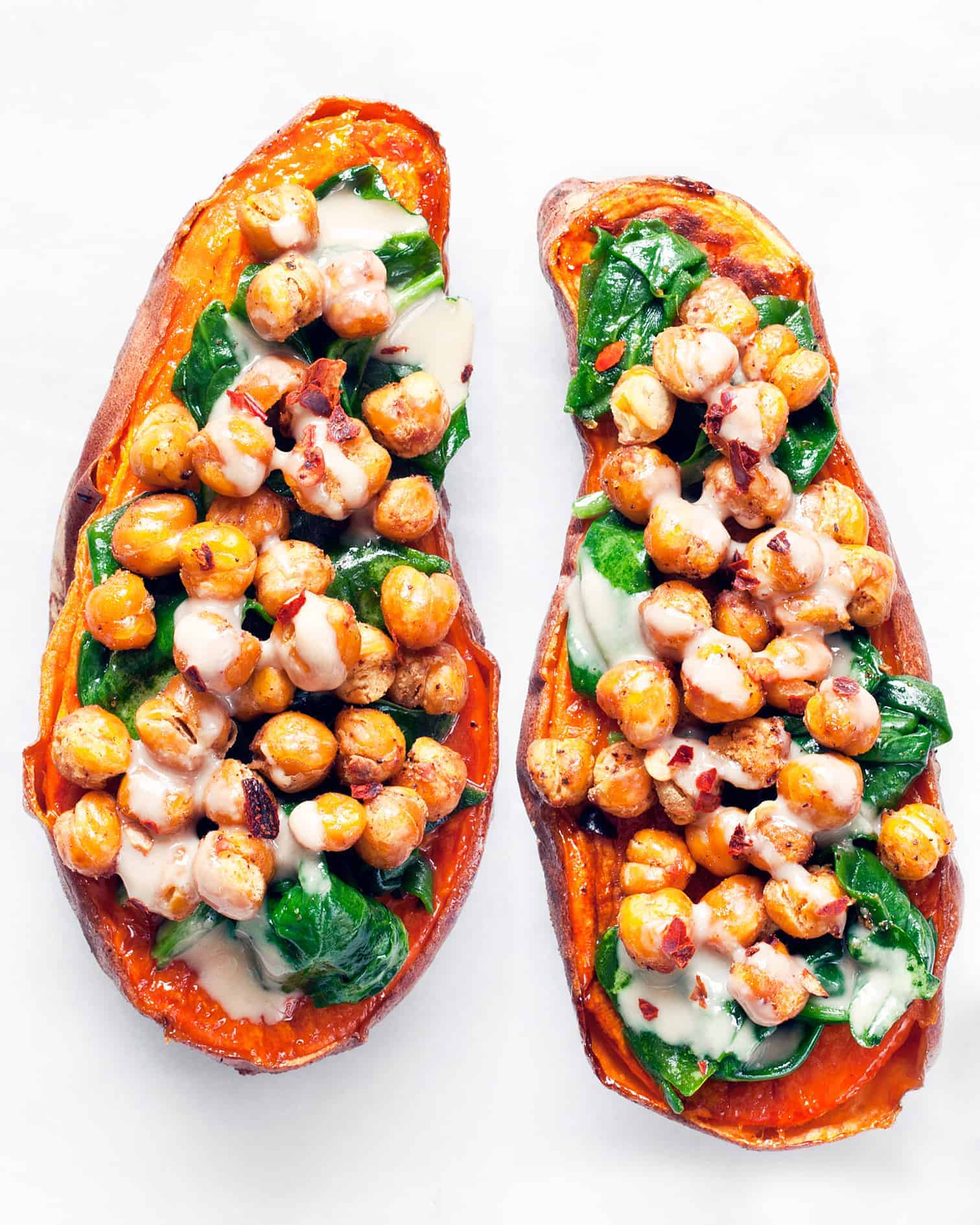 I've been known to turn toast into a meal.
It's just a matter of stacking a slice high with all sorts of spreads, veggies and other nibbles. Then it earns the right to be given the title of lunch or dinner.
Eating things on toast is my go-to when I'm looking for a meal in a hurry. I find that I can get such a variety of veggies on single piece of bread. Then I just pair it with a simple mixed greens salad.
Done and done!
Now that roasting season is really getting going, I've swapped out whole wheat toast using sweet potatoes instead.
There's so much more nutrition, and more importantly flavor, in a sweet potato than a boring slice of bread.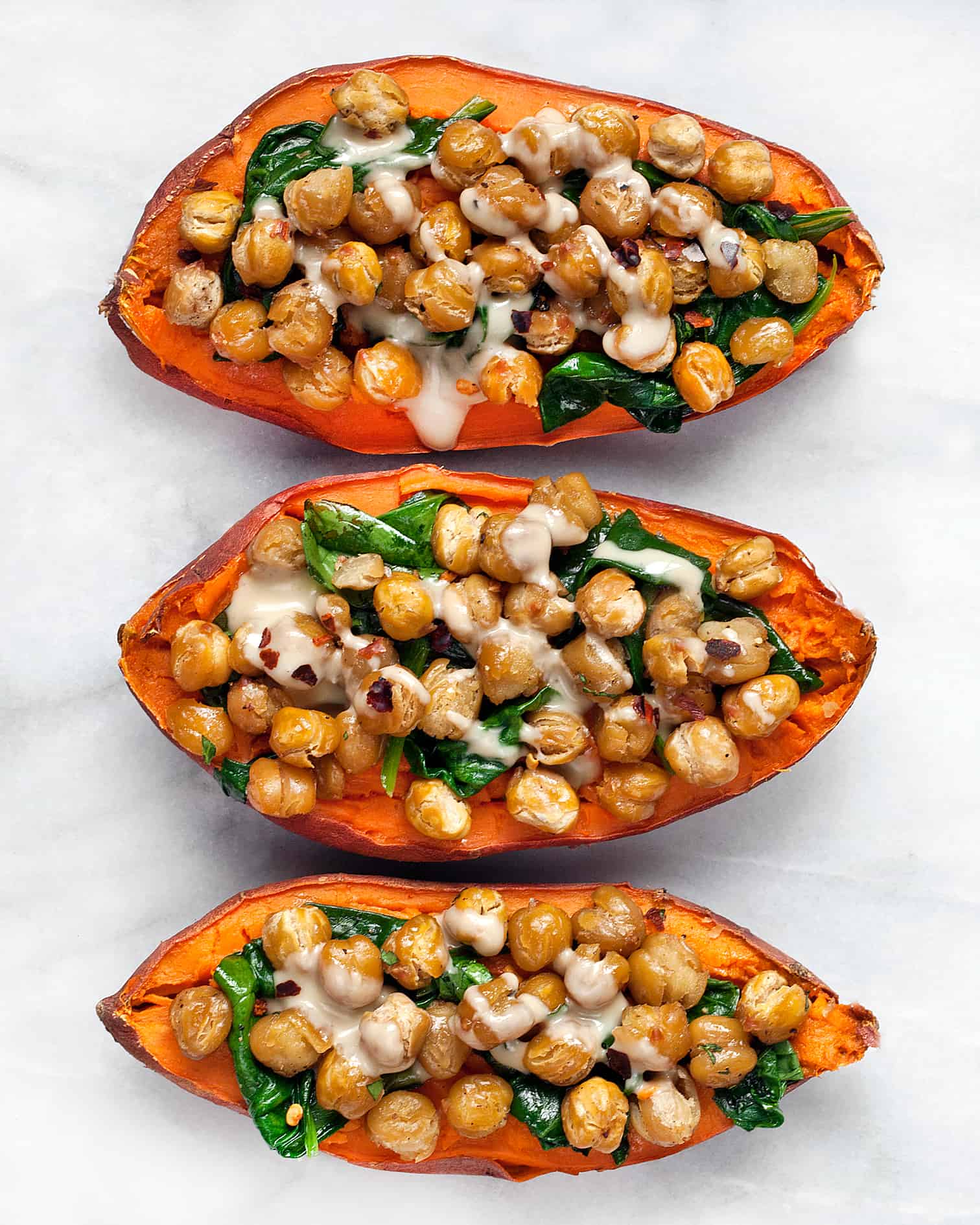 Also, a potato is way more sturdy to stand up to all sorts of toppings.
With toast, the base tends to be the forgotten bottom layer. It deserves a lot more attention.
I've had these chickpea spinach stuffed sweet potatoes on repeat for a while now because I love all their different textures and bites.
How To Make Chickpea Spinach Stuffed Sweet Potatoes
The recipe involves my kind of multitasking with two different ingredients in the oven at once.
The chickpeas and sweet potatoes roast side by side, which makes the entire recipe seem very efficient. That gives me a chance to focus on the spinach.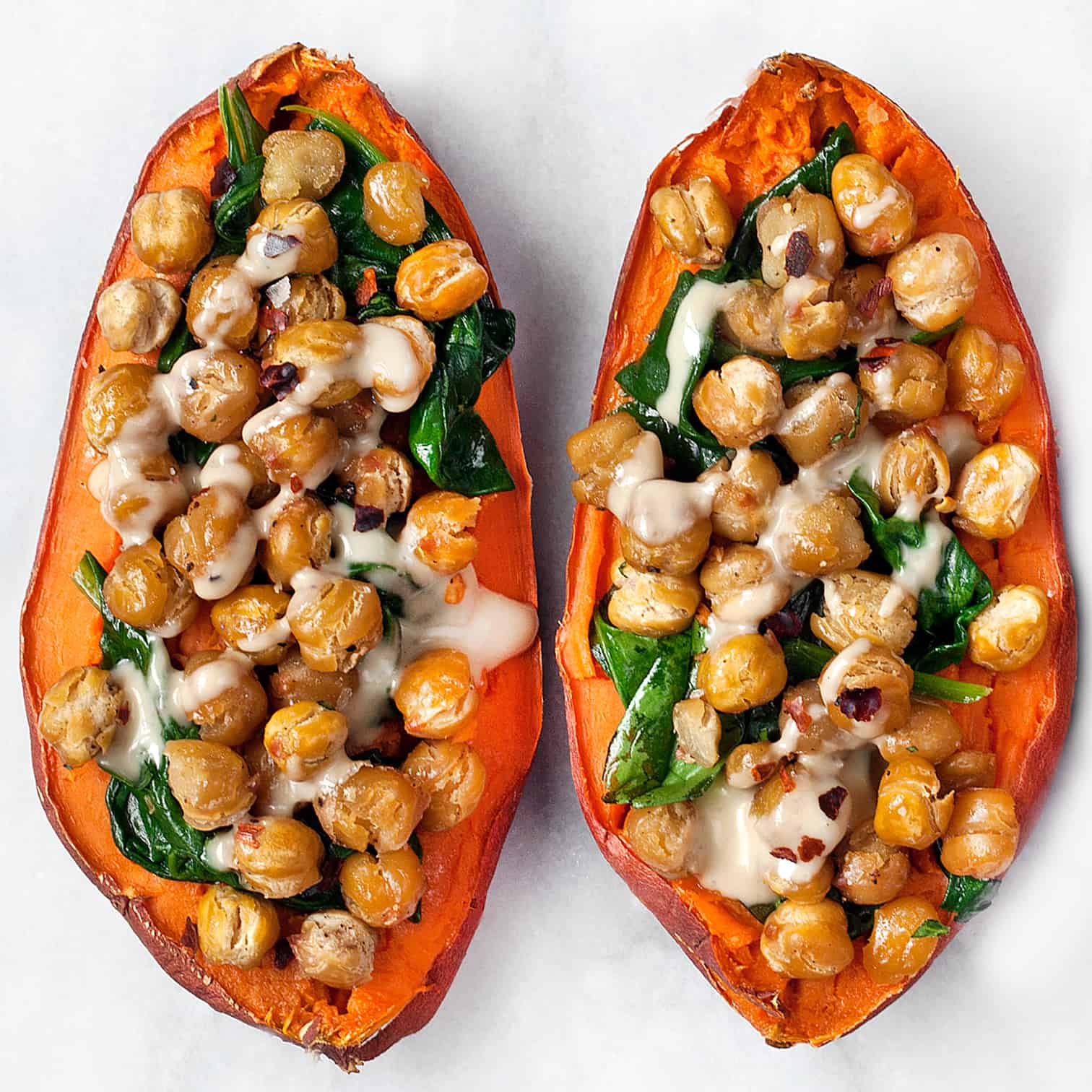 I sauté roughly chopped spinach in a skillet with a little minced garlic, salt and pepper until it has just wilted.
It doesn't take long. The spinach is ready in minutes.
Once the potatoes are tender, I slice them in half and use a fork to fluff up their flesh.
Then they are ready to be stuffed full. I start with the spinach followed by the crispy roasted chickpeas.
To finish off these chickpea spinach stuffed sweet potatoes, I spoon on a generous drizzle of tahini and sprinkle on red pepper flakes.
Print
Chickpea Spinach Stuffed Sweet Potatoes
Prep Time:

10 minutes

Cook Time:

1 hour

Total Time:

1 hour 10 minutes

Yield: Serves

4

1

x
Scale
Ingredients
4 medium sweet potatoes
1-15 ounce can chickpeas
1 tablespoon olive oil
1 teaspoon kosher salt
1/2 teaspoon black pepper plus more for serving
1/2 teaspoon cumin
1 cup baby spinach, roughly chopped
1 garlic clove, minced
2 tablespoons tahini
Flaky sea salt for serving
Crushed red pepper flakes for serving
Instructions
Preheat the oven to 375 degrees F. Prick the sweet potatoes with a fork and roast for 45-55 minutes until they are just tender. Let the sweet potatoes cool for 5-10 minutes before halving them lengthwise and fluffing their flesh with a fork.
While the sweet potatoes are roasting, make the crispy chickpeas. Drain and rinse the chickpeas. Pat them dry with paper towels. Remove any loose outer skins. In a small bowl, toss the chickpeas with 1/2 tablespoon olive oil, 1/2 teaspoon kosher salt, 1/4 teaspoon black pepper and cumin. Spread them in a single layer on a parchment paper-lined sheet pan. Bake for 25 – 35 minutes until crisp and browned, gently shaking the pan about halfway through cooking.
While the sweet potatoes and chickpeas are roasting, heat the remaining olive oil in a large skillet over medium high heat. Sauté the spinach until the leaves start to wilt, about 2 minutes. Add the garlic and remaining salt and pepper, and continue cooking until fragrant, about 1 minute.
Top each of the sweet potato halves with chickpeas and spinach. Drizzle with tahini and sprinkle with flaky sea salt and red pepper flakes before serving.
SHARE THIS