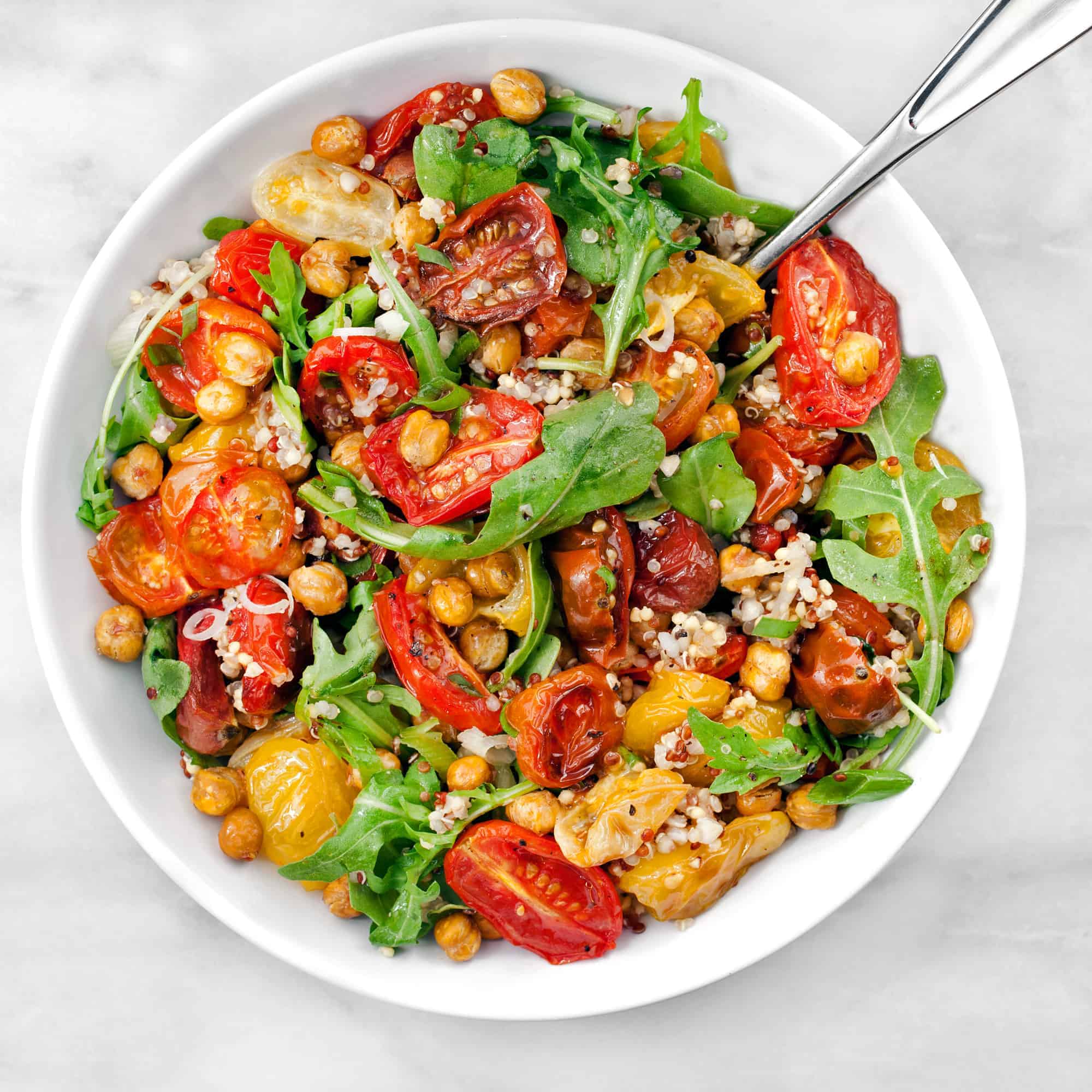 When I went to the farmers market over the weekend, I thought it would have been pumpkins and gourds everywhere, but I was wrong.
I was absolutely thrilled to see tomatoes taking up most of the stands.
Summer isn't over yet. Thank goodness, I'm just not ready yet.
On my to-do list is to consume every last bit of the season.
Of course I will be polite and gracious come fall. I do have manners.
All those autumn flavors will be a warm welcome in the form of fragrant cinnamon and apples.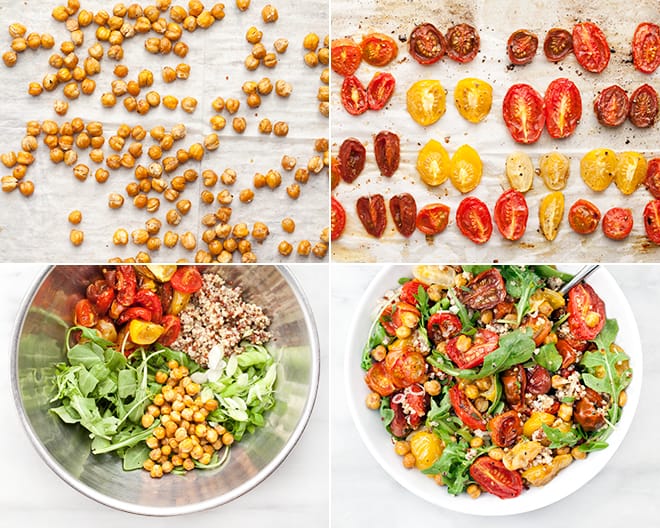 I swear I love them so much, but I'm not prepared for them to takeover.
My pantry is never without at least one can of garbanzo beans, but I had a brief moment of panic when I thought I had run out.
I dug deep in the pantry for the last can of those precious beans for this tomato chickpea salad. It was hiding from me.
How To Make A Tomato Chickpea Salad
Yes, I could have kept both the chickpeas and tomatoes raw, but I wanted to give them a little something more.

I switched on the oven and lined two sheet pans with parchment paper.
For the chickpeas, I tossed them with olive oil, cumin, salt and pepper. Then I drizzled the tomatoes with olive oil, salt and pepper.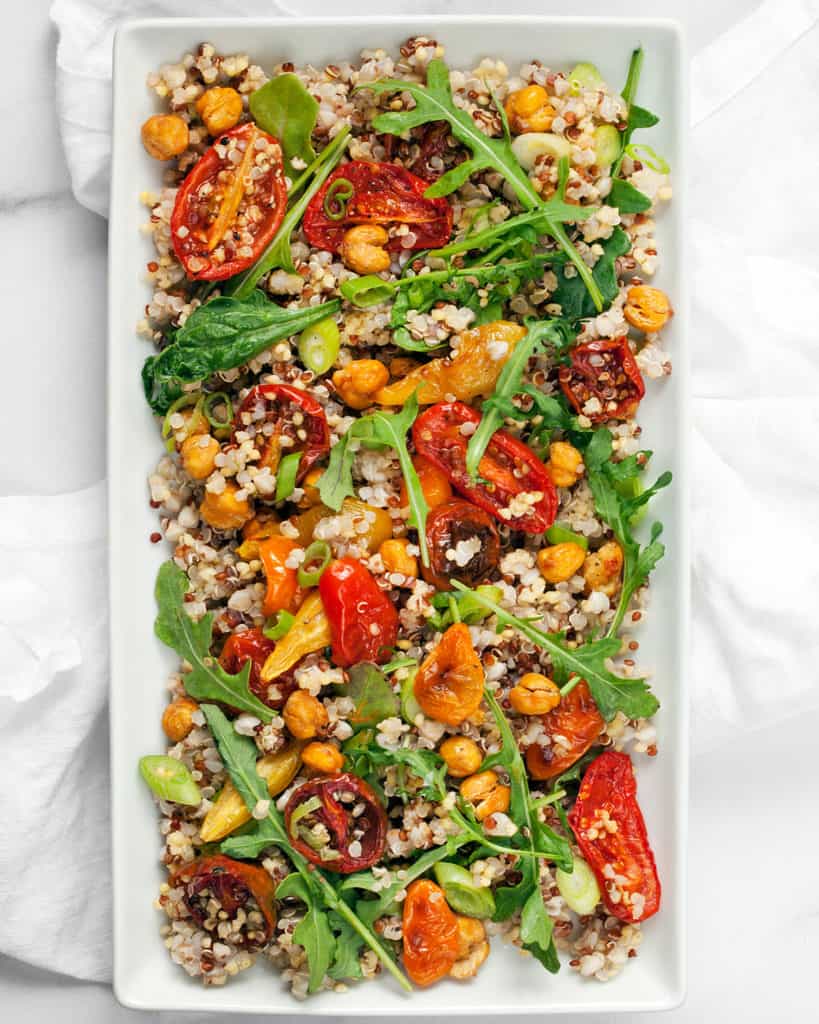 I roasted the chickpeas and tomatoes together at the same time.
While they cooked, I cooked quinoa to bulk up the salad and make it more filling.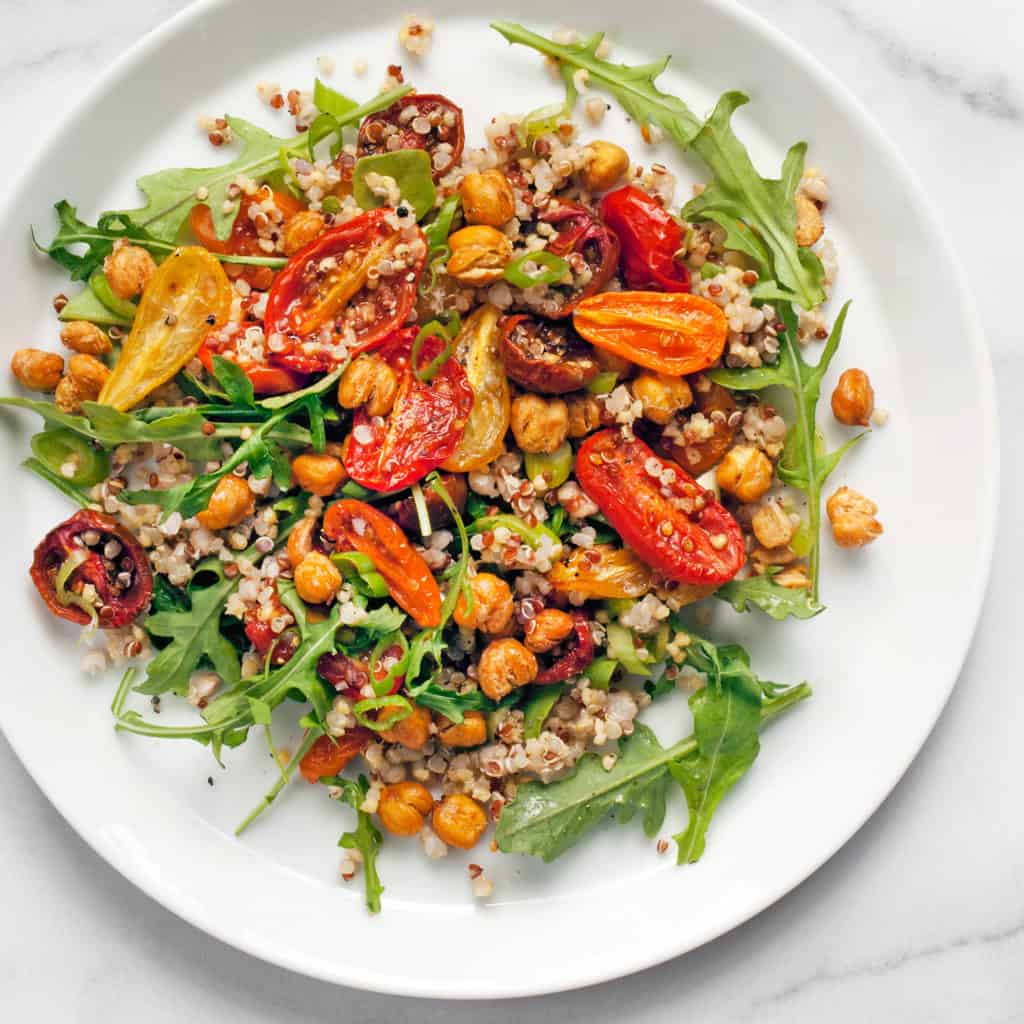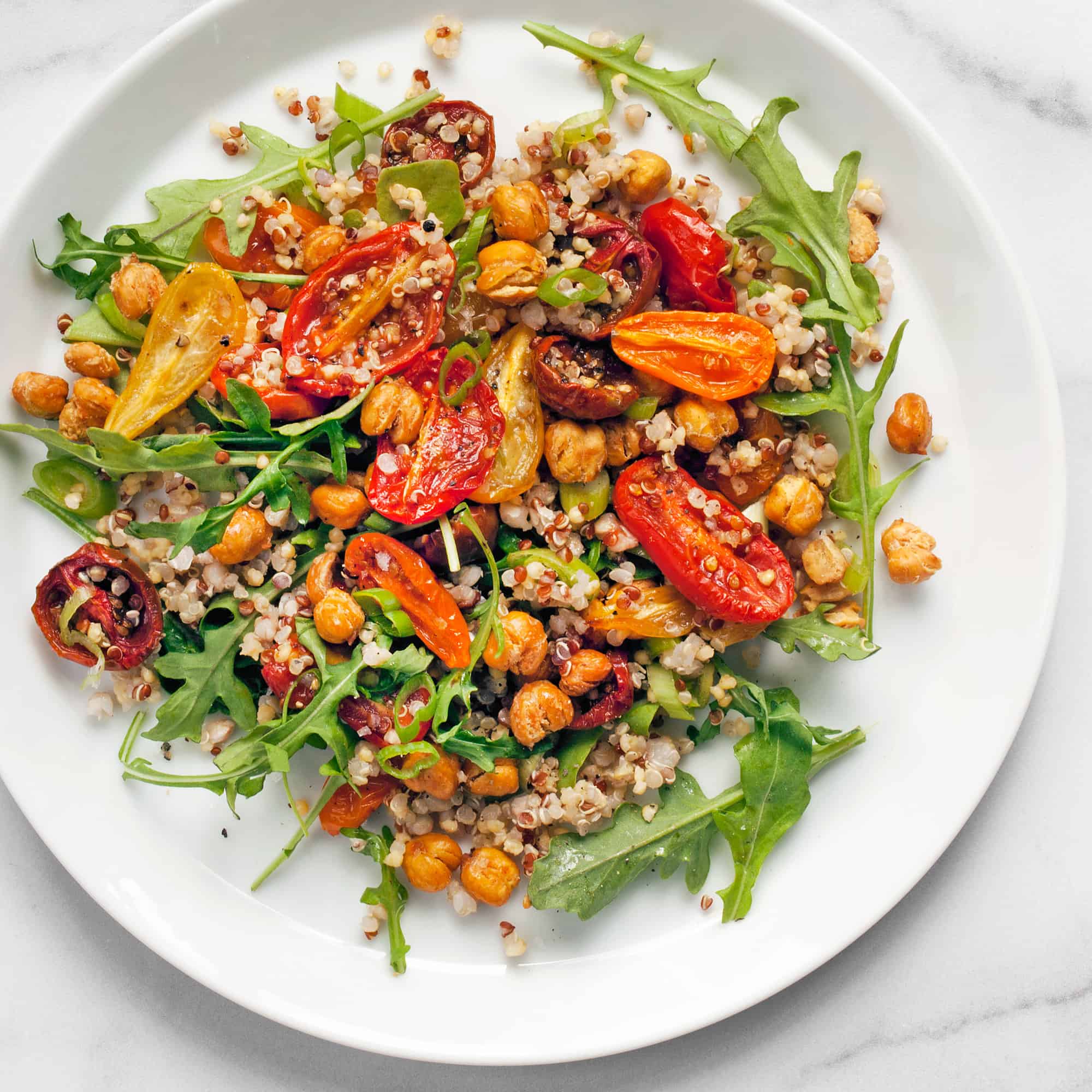 In a large bowl, I folded together the chickpeas, tomatoes, quinoa, arugula and scallions.
Since the tomatoes were warm, they broke up a bit while I stirred them with the rest of the ingredients. Their juices took the place of dressing.
The salad is best served warm or at room temperature. The chickpeas will lose their crisp bite if you let them sit too long.
Print
Tomato Chickpea Salad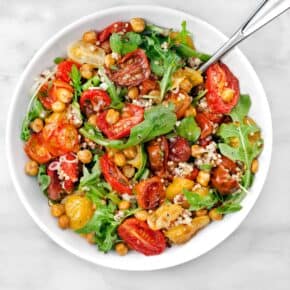 Prep Time:

10 minutes

Cook Time:

20-25 minutes

Total Time:

30-35 minutes

Yield: Serves

4

1

x
Scale
Ingredients
1–15 ounce can chickpeas
1-1/2 tablespoons olive oil
1/2 teaspoon ground cumin
1-1/2 teaspoons kosher salt
3/4 teaspoon black pepper
1 pint cherry tomatoes, halved
3/4 cup quinoa, rinsed and drained
1-1/2 cup water
1/2 teaspoon kosher salt plus more for serving
1/4 teaspoon black pepper plus more for serving
2 scallions, thinly sliced
3 ounces baby arugula
Instructions
Preheat the oven to 400 degrees F. Line 2 sheet pans with parchment paper.
Drain and rinse the chickpeas. Pat them dry with paper towels. Remove any loose outer skins. In a small bowl, toss the chickpeas with 1/2 tablespoon olive oil, cumin, 1/2 teaspoon salt and 1/4 teaspoon black pepper. Spread in a single layer on one of the prepared sheet pans.
Place the cherry tomatoes in a single layer on the other prepared sheet pan. Drizzle with 1 tablespoon olive oil and sprinkle with 1/2 teaspoon kosher salt & 1/4 teaspoon black pepper.
Roast the chickpeas and tomatoes for 20-25 minutes. The chickpeas should be crisp and browned. Make sure to gently shaking the pan about halfway through cooking. The tomatoes should be slightly wrinkled at the edges.
In a small saucepan over medium high heat, bring the quinoa and water to a boil. Add the salt & pepper. Cover and simmer for 12-15 minutes until the quinoa is tender and the water has been absorbed. Fluff with a fork and let the quinoa cool to room temperature.
In a large bowl, carefully stir together the chickpeas, tomatoes, quinoa, scallions and arugula. The tomatoes will fall apart a little bit. Season with additional salt & pepper as desired.
SHARE THIS