Chipotle Roasted Red Pepper Tomato Soup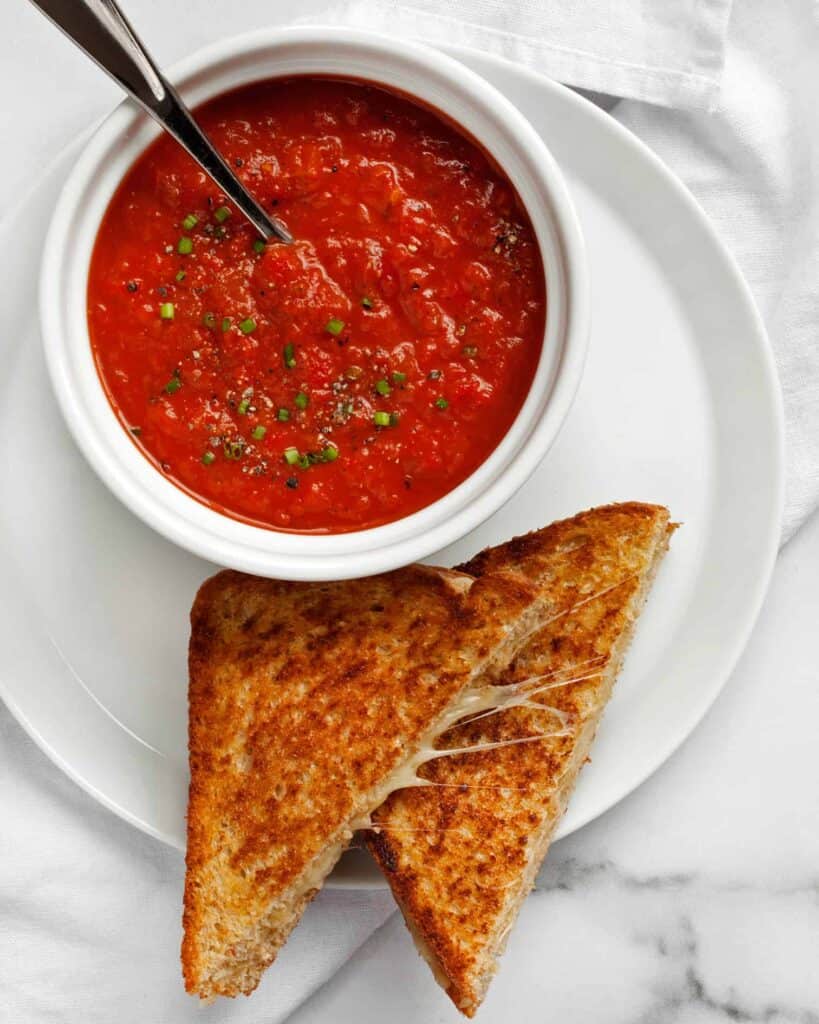 My pantry is never without at least one can of tomatoes at all times.

Canned tomatoes are the ultimate come-to-the-rescue ingredient that you can turn into a meal with just a few other things like garlic and onions.

And most importantly, they get me through the long stretch that's not tomato season.

Come summertime I will go headfirst into eating raw tomatoes from the farmers market or hopefully ones that we grown in the container garden on our back deck.
Canned tomatoes aren't the only thing I like to keep a constant supply of. Jarred roasted red peppers also come in handy for pastas, sandwiches and pizzas.

Yes, you can roast your own red peppers in the oven, but it's such a great timesaver to just buy a jar at the grocery.

I decided to experiment with pairing two of my favorite pantry ingredients: tomatoes and peppers.

After some trial and error, I came up with chipotle roasted red pepper tomato soup.

It really was a matter of getting the balance of these strong flavors just right for a simple soup.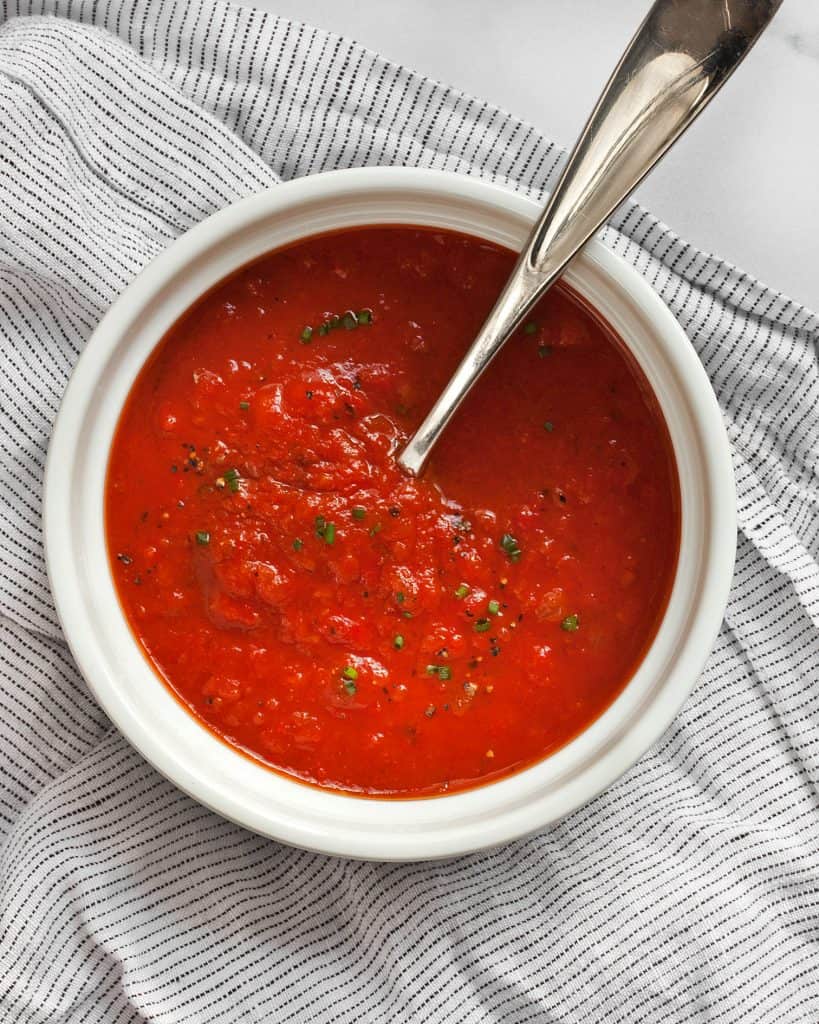 How To Make Chipotle Roasted Red Pepper Tomato Soup
To start, I sauté onions in olive oil and then add minced garlic.

The soup continues to get more fragrant when you add chipotle en adobo sauce, roasted red peppers and fire-roasted tomatoes.
Depending how spicy you like your soup, you can use 1 to 2 tablespoons of chipotle sauce. I am a fan of soup with some heat that makes your mouth buzz, so I add 2 tablespoons.
To thin out the soup and give it less of a sauce like consistency, I add 2 cups of water and let the mixture bubble for about 15 minutes or so.
In this time the chipotle roasted red pepper tomato soup will thicken a little.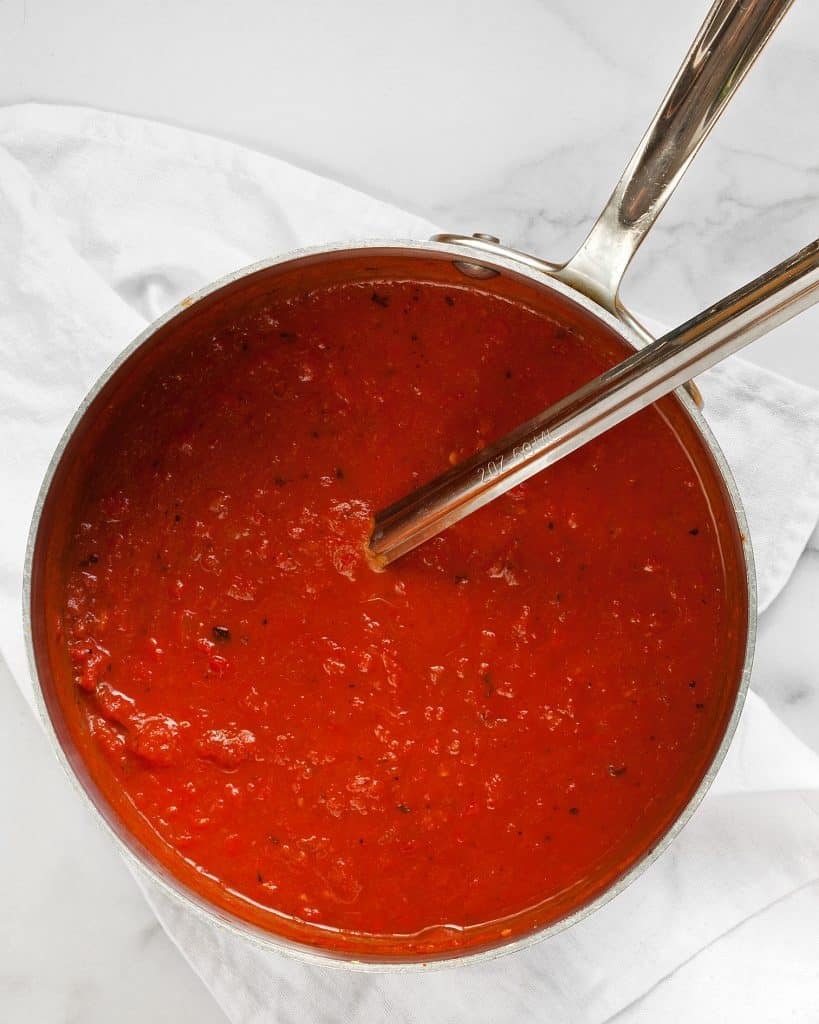 Then I use an immersion blender to puree the soup. I like to keep it a little bit chunky.

No surprise, red pepper and tomato soup works perfectly with a grilled cheese sandwich.

You never can go wrong with grilled cheese and tomato soup!

I absolutely love the smoky, spiciness that the chipotle sauce adds to this soup.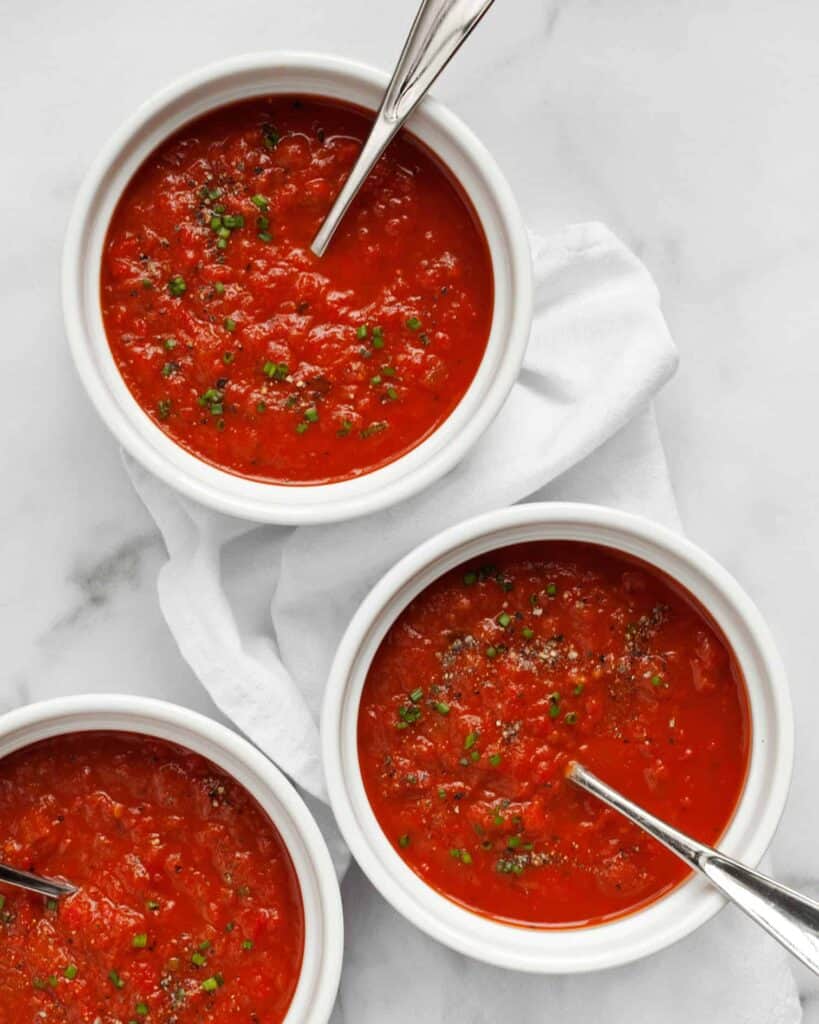 Try Another Tomato-Based Soup
Whether more like broth or a veggie puree, canned tomatoes are always a good choice for the base of so many soups. Try one of these:

Hearty Vegetable Soup

Tuscan Ribollita Soup
Print
Chipotle Roasted Red Pepper Tomato Soup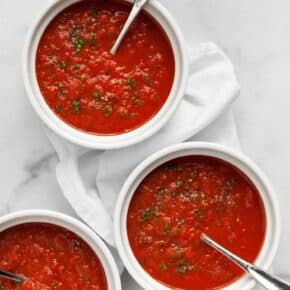 Prep Time:

5 minutes

Cook Time:

21-27 minutes

Total Time:

26-32 minutes

Yield: Serves

4

1

x
Scale
Ingredients
1 tablespoon olive oil
1 small white onion, roughly chopped
1 garlic clove, minced
1-2 tablespoons chipotle en adobo sauce
1-16 ounce jar roasted red pepper strips, drained
1-28 ounce can crushed fire-roasted tomatoes
2 cups water
1 teaspoon kosher salt
1/2 teaspoon black pepper
Minced chives for serving
Instructions
Heat the oil in a large saucepan over medium heat.
Add the onions and sauté for 5-6 minutes until they start to soften. Stir in the garlic and cook until fragrant, about 1 minute. Add the chipotle en adobo sauce, red peppers, tomatoes, water, salt and pepper. Bring the mixture to a boil, reduce the heat and simmer until thickened, about 15-20 minutes.
Use an immersion blender or transfer the soup to a blender to puree to your desired consistency.
Divide the soup into bowls and sprinkle with chives before serving.
SHARE THIS