White Bean Sweet Potato Tomato and Kale Soup

With quinoa in a wonderfully tomatoey broth, this White Bean, Sweet Potato, Tomato and Kale Soup is a hearty, satisfying pantry soup that's easy to make.
My New Year's resolution happened back in April. I don't love making promises at the beginning of the year because the pressure of an official resolution means it's almost inevitable that it will be broken.
The best thing that ever happened to me was when my gym closed last March. Having a 5-year-old at home meant that I only got there on weekends and even that was tough with morning swim lessons and birthday parties.
Also, when I did workout, it's what I call "lazy cardio." Thirty minutes on the elliptical while watching one of my many guilty pleasures on Bravo. I wasn't breaking a sweat.
After a few weeks of not exercising, I knew I needed to find something to get my heart pumping and my body moving. Motivation has never been my problem. Time and logistics were preventing me from working out on a regular basis.
I browsed Amazon Prime for free workout videos, so I didn't have to leave home. Yes, I was being cheap, but it kind of helped limiting my choices.
After testing out a few of them, I found my match with CardiYoFit, a video series that's a combination of yoga, pilates and kick-boxing. These workouts have changed my life. I feel fit, and dare I say, like an athlete.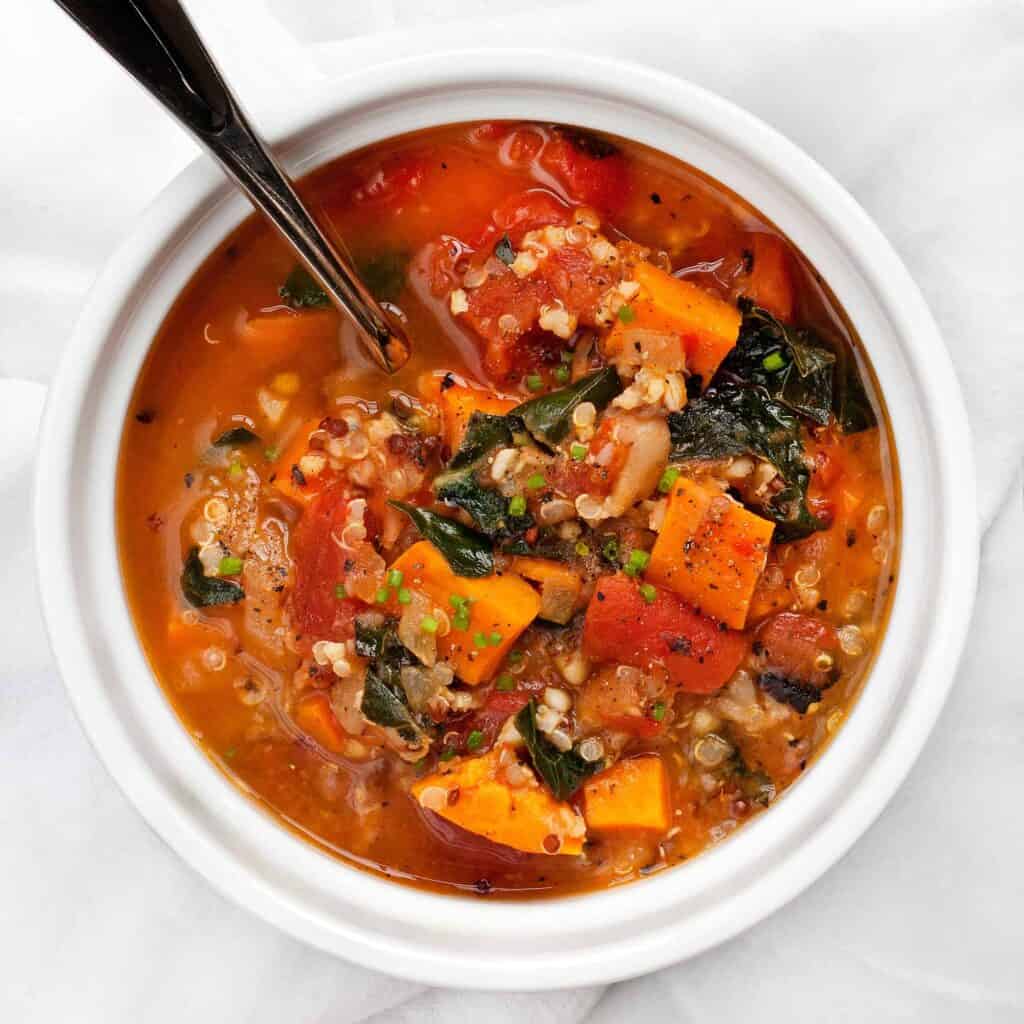 The best part is that I do the videos on a yoga mat in the living room every morning. If my son is awake he will play Legos right next to me. There's no excuse not to exercise.
Since April I've only missed one day working out. I have a travel yoga mat, so if I'm away I can still exercise. In September I started spinning a few times a week, which is the most fun, sweaty, cardio dance party on a bike. No choreography required.
Weight loss has happened, but it was not my primary goal when I started this new fitness routine. I wanted to be more healthy, energetic and positive.
Fortunately, I have a tall frame that can handle ups and downs on the scale. At 5'-9", my weight has fluctuated in an acceptable range whether the Freshman 15 or pregnancy.
There isn't a scale at our house, so I haven't been obsessively keeping track of my weight loss. What's gotten me more excited is how my clothes fit and the muscle definition that I never thought was possible. I like feeling strong and fit.
A Soup With Pantry Ingredients
I'm a pretty good eater. I love vegetables and whole grains, but I also love pizza, pasta and dessert.
That's ok. There's nothing wrong with having a brownie. I don't workout to lose the exact calories of a cookie, but I do exercise to continue enjoying food.
I have been more conscious about what I eat since I've embraced fitness. There's no crazy diet plan. It's just thoughtful eating. That's it.
And yes, I workout everyday because it makes me feel like I can take on anything.
Seasonal ingredients are at the heart of my diet, so January and the rest of the winter months can be tough. I rely on soup for a warming dose of veggies.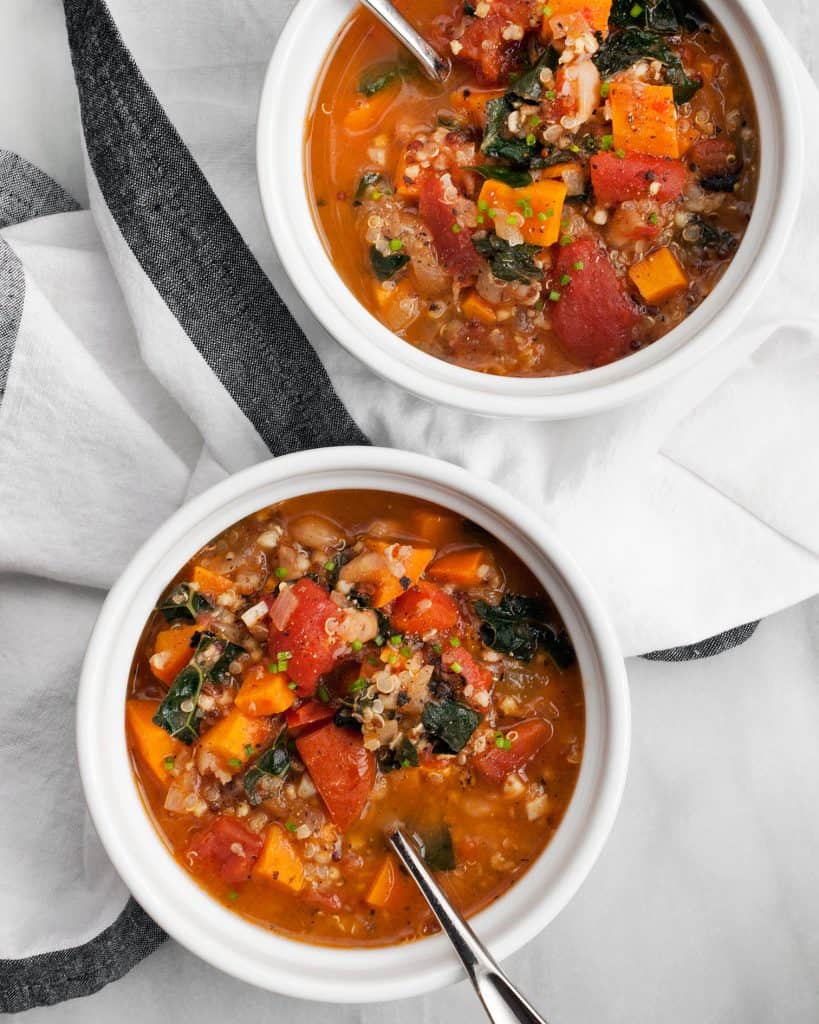 How To Make White Bean Sweet Potato Tomato and Kale Soup: Pantry Ingredients
Seasonal ingredients are at the heart of my diet, so January and the rest of the winter months can be tough. I rely on soup for a warming dose of veggies.

My latest creation was this white bean, sweet potato, tomato and kale soup. It's really a pantry soup.

I always make sure my cupboard is stocked with canned tomatoes and beans because they are so handy to create a satisfying meal.
I wasn't shy about the red pepper flakes in the soup. It turned out pretty spicy. Don't hesitate to adjust to your tolerance.
To make it even more filling, I decided at the last minute to add quinoa, and I'm glad I did.
I devoured the soup for a few dinners and then froze the rest. With leftovers stashed away for the near future, then I have something healthy and nutritious to reach for at any moment.
Print
White Bean, Sweet Potato and Kale Soup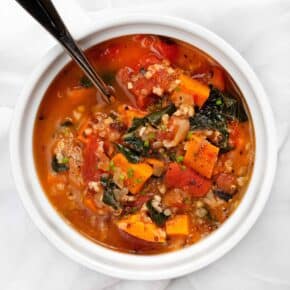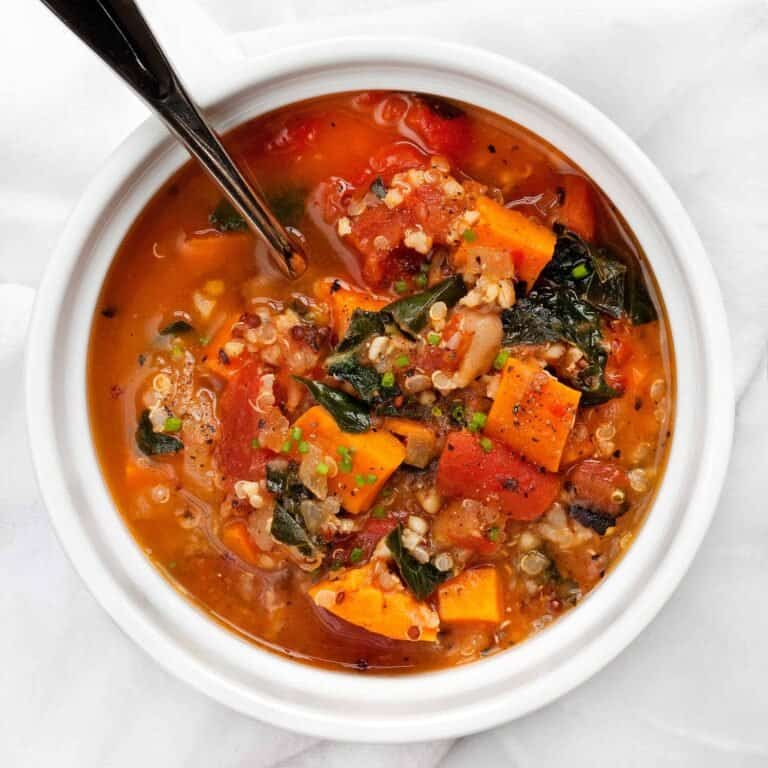 Total Time:

35-40 minutes

Yield: Serves

6

1

x
Scale
Ingredients
1 small white onion, roughly chopped
2 garlic cloves, minced
1/2 teaspoon crushed red pepper flakes
1 teaspoon kosher salt plus more for serving
1/2 teaspoon black pepper plus more for serving
1-14.5 ounce can fire-roasted diced tomatoes
5 cups vegetable stock
1 medium sweet potato, peeled and diced
1-15.5 ounce can cannellini beans, drained and rinsed
3/4 cup quinoa, rinsed in cold water
2 cups roughly chopped Lacinato kale, stems removed
Instructions
Heat the olive oil in a large saucepan over medium high heat. Sauté the onions until they start to soften, about 3-5 minutes. Add the garlic, red pepper flakes, salt, pepper and cook for another minute until fragrant.
Stir in the tomatoes, stock, sweet potatoes and beans. Bring to a boil, reduce heat and simmer for 15 minutes. Add the quinoa and continue simmering for 10 minutes. Stir in the kale and simmer for 5 minutes until it has wilted.
Season with additional salt and pepper to taste before serving.
SHARE THIS