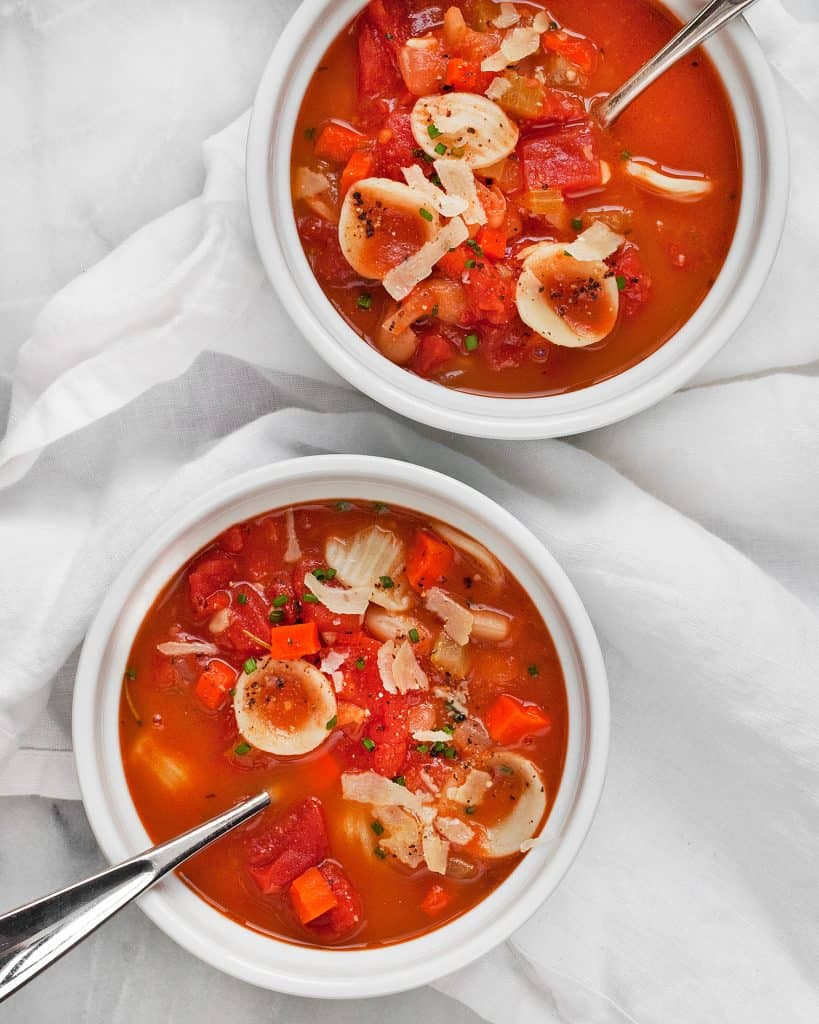 The hustle and bustle of the holiday season is nearing a close for the year. I have been trying to enjoy what's left.
While there is still that sense of excitement in the air, we are only moments away from the winter doldrums that inevitably hit come January.
The bitter cold is not as bearable when the celebrations and get-togethers are over. Warm weather feels so far away.
It's no wonder people go into hibernation mode.
I go out of my way to plan outings and activities to make the most of what can be an underwhelming few months.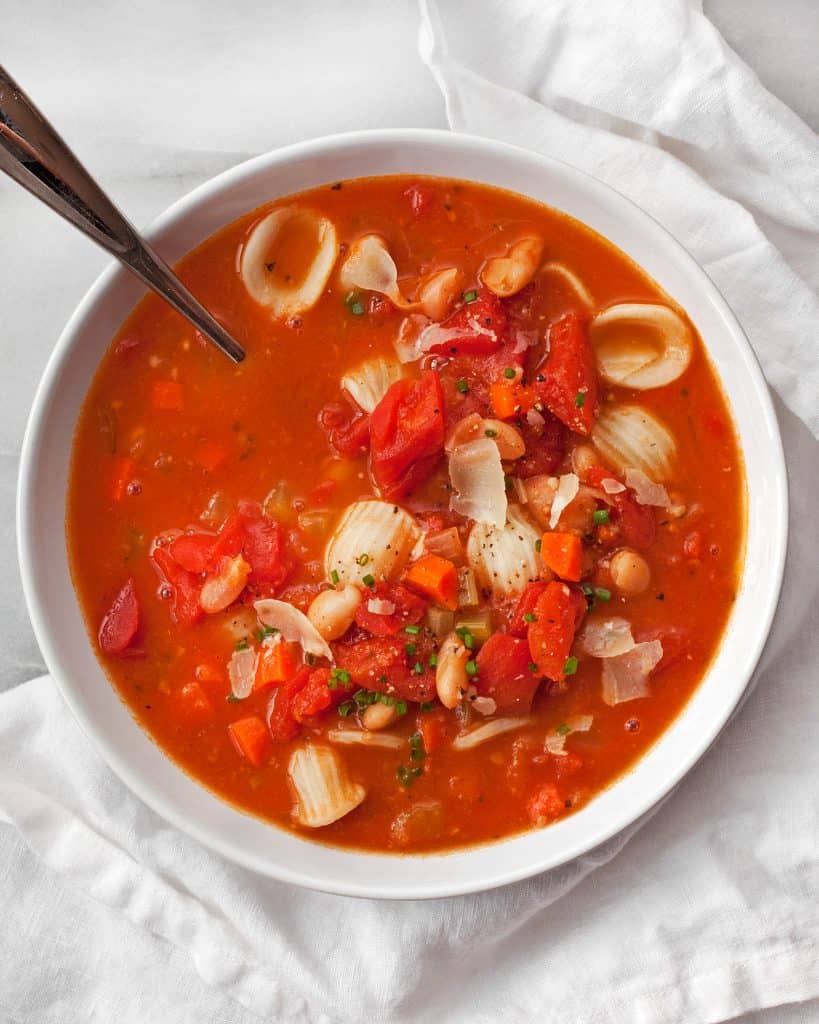 A trip to the grocery in single digit temperatures can be tough.
I always fill my shopping lists with ingredients that will stay fresh for a long time just in case I don't get to the store as often as I want to.

I love canned ingredients like tomatoes and beans.

Getting the car out of our garage can be a challenge.
We are on a very narrow alley, and there is a big speed bump right in front of our door. City living!

When it snows, we have to wait for most of it to melt, or the car might get stuck.

I find myself gravitating toward what I have on-hand to throw together something to eat rather than venturing out on these super treacherous wintery days.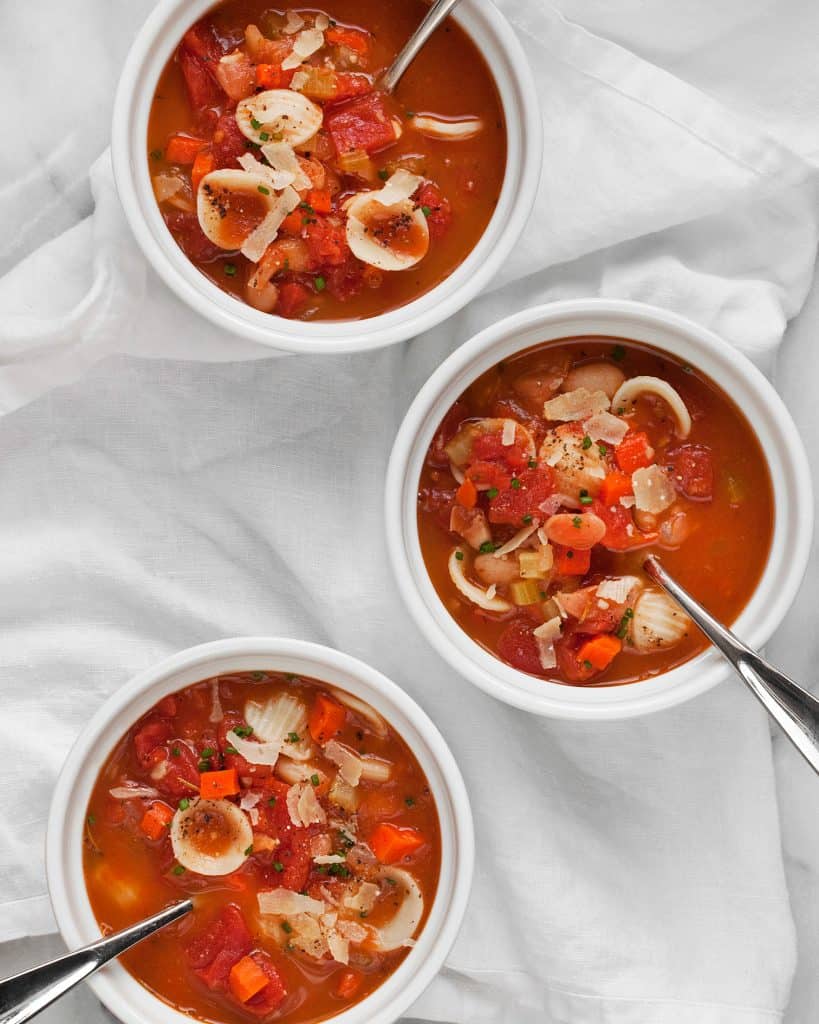 How To Make Pasta e Fagioli Soup
This quick version of pasta e fagioli is one of my go-to pantry soups.

To start, I sauté onions, onions, carrots and garlic. Then I pour in a big can of diced tomatoes, cannellini beans, vegetable broth and spices to the pot.

The dried spices are a mix of rosemary, oregano, salt and pepper.

The soup starts to thicken after simmering for 5 minutes. After that, I add dried orecchiette noodles.

These little shells scoop up the soup, and they help to thicken it.

Once the pasta is al dente, my pasta e fagioli is ready.
I enjoy each satisfying spoonful of the tomato-laced broth because they are packed with warm and hearty bites of cannellini beans and orecchiette.

If you want to make the soup in advance, wait to cook the dried pasta in the broth until you reheat it.
Print
Pasta e Fagioli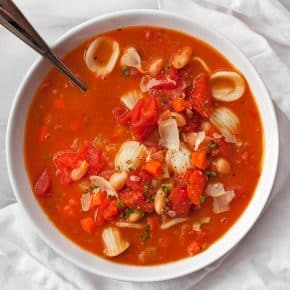 Prep Time:

10 minutes

Cook Time:

20 minutes

Total Time:

30 minutes

Yield: Serves

4

–

6

1

x
Scale
Ingredients
1 tablespoon olive oil
1 small onion, roughly chopped
1 medium carrot, peeled and roughly chopped
2 garlic cloves, minced
1–28 ounce can diced tomatoes
1–15 ounce can cannellini beans
3 cups vegetable stock
1/4 teaspoon dried rosemary
1/4 teaspoon dried oregano
1/4 teaspoon salt
1/4 teaspoon black pepper
4 ounces dried orecchiette
Shaved Parmesan and minced chives for serving
Instructions
In a large saucepan, heat the olive oil over medium heat. Sauté the onions and carrots until they start to soften, about 5 minutes. Add the garlic and continue cooking until the onions and carrots are completely soft, another 3 minutes.
Add the tomatoes, beans, stock, rosemary, oregano, salt and pepper. Bring the soup to a boil. Reduce the heat and simmer for 5 minutes until the soup thickens slightly. Add the orecchiette and continue simmering until the pasta is al dente.
Garnish with Parmesan and minced chives before serving.
SHARE THIS