There's no need for lima beans in corn edamame succotash. Grilled corn, edamame & lemon vinaigrette replace the ingredients in this updated classic.
I am seriously considering changing Last Ingredient to a tomato and corn focused blog.
Yep, it's specific, I know, but I have a total obsession with those two ingredients.
Right now it feels like I could turn every post into something involving tomatoes or corn or both.
Who knows what that would mean for the fall and winter months!

Maybe I would just have a seasonal addiction to certain fruit and veggies depending on the time of year.
I think what makes tomatoes and corn so special is that they technically are a late spring to summer to even an early fall thing.

Their appearances can seem fleeting, so in these moments I have to go all in. Just like I try to maximize the opportunities I have to wear shoes with no socks.
As a born and bread Midwesterner, my upbringing involved learning to appreciate the swings and the beauty of the hottest and sweatiest August day to the most frigid, layered day in January.
Yesterday at the farmers market I picked out 4 ears of corn and a bunch of scallions.
We are basking in major tomato surplus in our garden, so I am trying to balance it out with other fresh fruit and veggies.

I can't think a more delightful problem to be forced to deal with.
Having too many tomatoes is an absolute dream. Fingers crossed we can recreate this magical soil mix, so we have the same bounty next summer.
When I was about to pay for everything at the market, the farmer said I should grab 2 more ears of corn, because 4 were the same price as 6.
I like to shop the same stands at the market, so we can get to know each other.
How To Make Corn Edamame Succotash
I didn't read the sign to see the deal. It was great that he pointed that out to me.
My mind already started racing about what to do with all that corn.
At home I fired up the grill and made corn edamame succotash. The classic version uses lima beans, but I had a partial bag of edamame stashed in my freezer.
Edamame is also great for snacks or even pesto.
No offense to lima beans, but edamame is way more interesting.
When the corn was off the grill and cooled a little, I sliced off the kernels.
Then I combined them in a big bowl with the edamame, cherry tomatoes, scallions and chives.
Finally, I stirred in lemon vinaigrette to bring together this mix of veggies.
I loved eating leftovers of this corn edamame succotash with greens and quinoa.
Print
Corn Edamame Succotash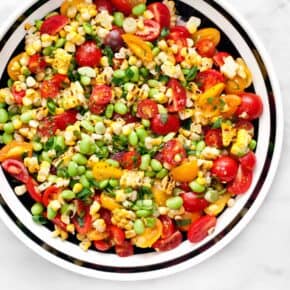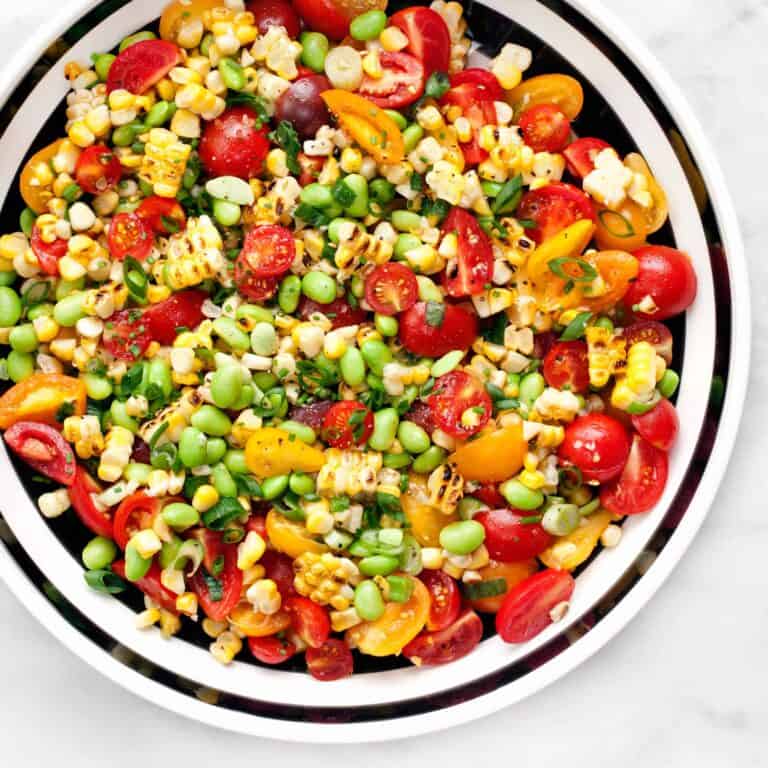 There's no need for lima beans in corn edamame succotash. Grilled corn, edamame & lemon vinaigrette replace the ingredients in this updated classic.
Author:
Prep Time:

10 minutes

Cook Time:

5-7 minutes

Total Time:

15-17 minutes

Yield: Serves

4

–

6

1

x
Scale
Ingredients
3 ears corn, shucked
1 teaspoon plus 2 tablespoons olive oil
Juice of 1/2 lemon
1 garlic clove, minced
1/2 teaspoon kosher salt plus more for serving
1/4 teaspoon black pepper plus more for serving
1–1/2 cups shelled edamame, cooked
1 pint cherry tomatoes, halved or quartered, if large
2 scallions thinly sliced
2 tablespoons chives
Instructions
Preheat a gas or charcoal grill on high heat.
Rub the corn with 1 teaspoon olive oil and grill until lightly charred, about 5-7 minutes. Let the corn cool slightly before slicing the kernels off the cob.
In a small bowl, whisk together the lemon juice, garlic, salt, pepper and the remaining olive oil.
In a large bowl, combine the corn, edamame, tomatoes, scallions and chives. Stir in the lemon vinaigrette. Taste and add more salt and pepper if necessary.
SHARE THIS