Grilled Eggplant Corn Tomatoes

With grilled garlic vinaigrette, arugula and scallions, these grilled eggplant corn tomatoes make a great vegan side dish to feed a crowd.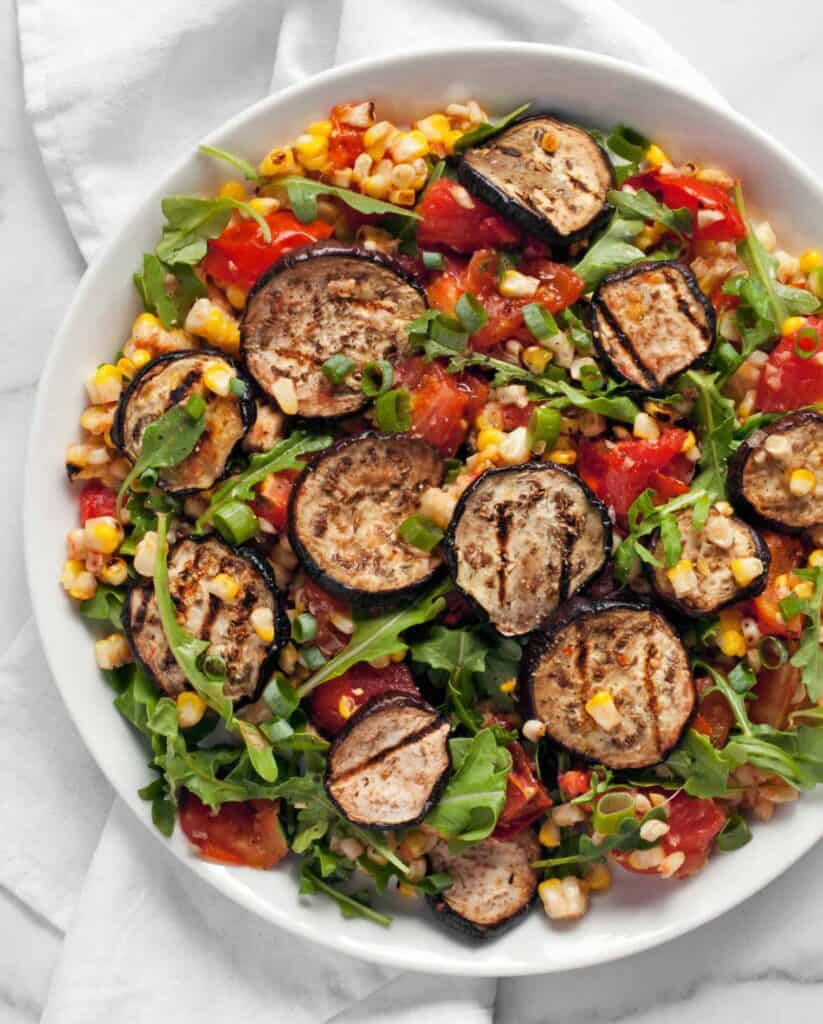 No matter the time of year, I am always about sides.
It could be Thanksgiving, the Super Bowl of sides, or the height of summer. My mind goes straight to the selections of grains, veggies and salads.

After that I can pay attention to the main dish.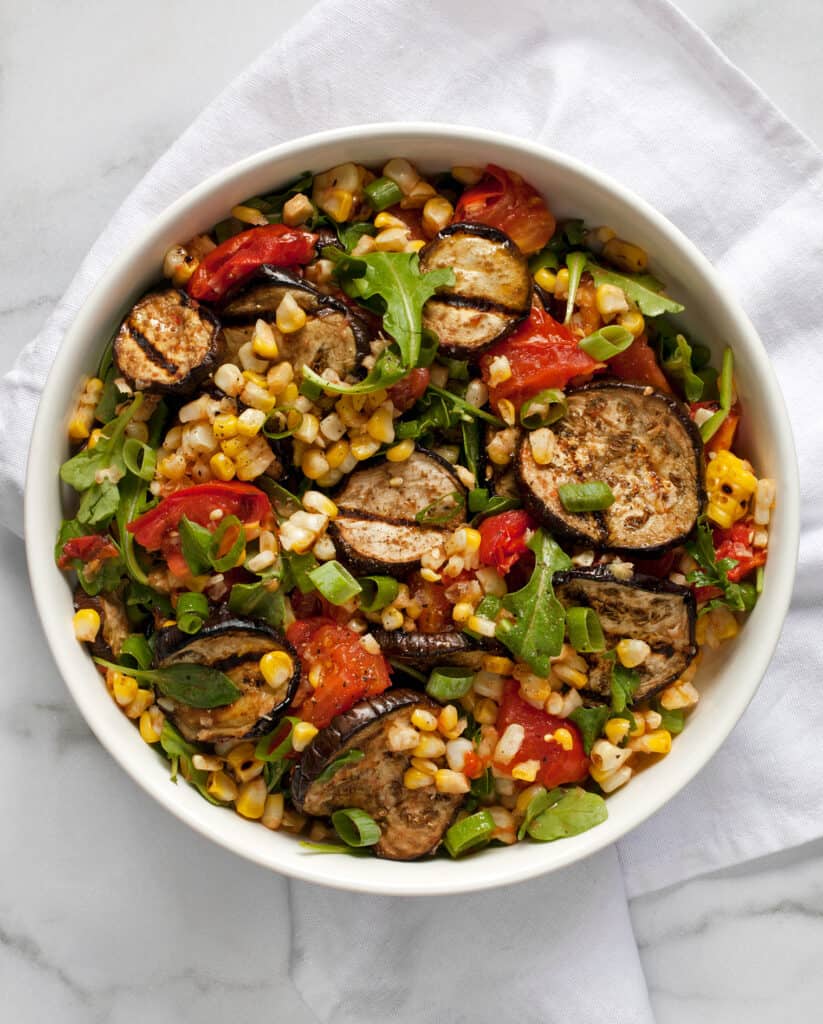 What makes a good side?

During June, July and August, the more fruits and vegetables the better. There are so many things in season that you can do a bunch of smaller one or two-vegetable sides.
Or you can serve a single bigger side that involves a lot of veggies.
And that's my strategy with this platter of grilled eggplant corn tomatoes.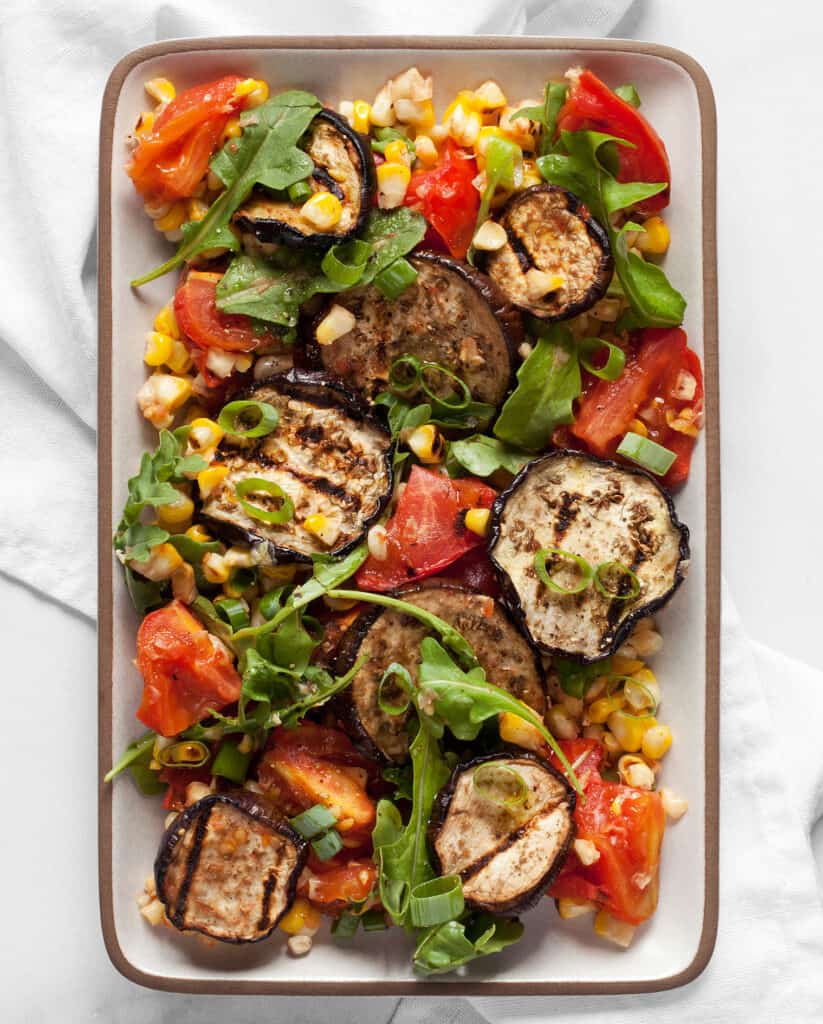 Since June I have had a couple bowls on my kitchen island that I use to show off and store my farmers market buys and weekly CSA goodies.

Of course I aspire to have them perfectly styled and organized, but usually it is a mess that spills out onto the counter.

My version of cleaning is creating recipes that use a lot at once.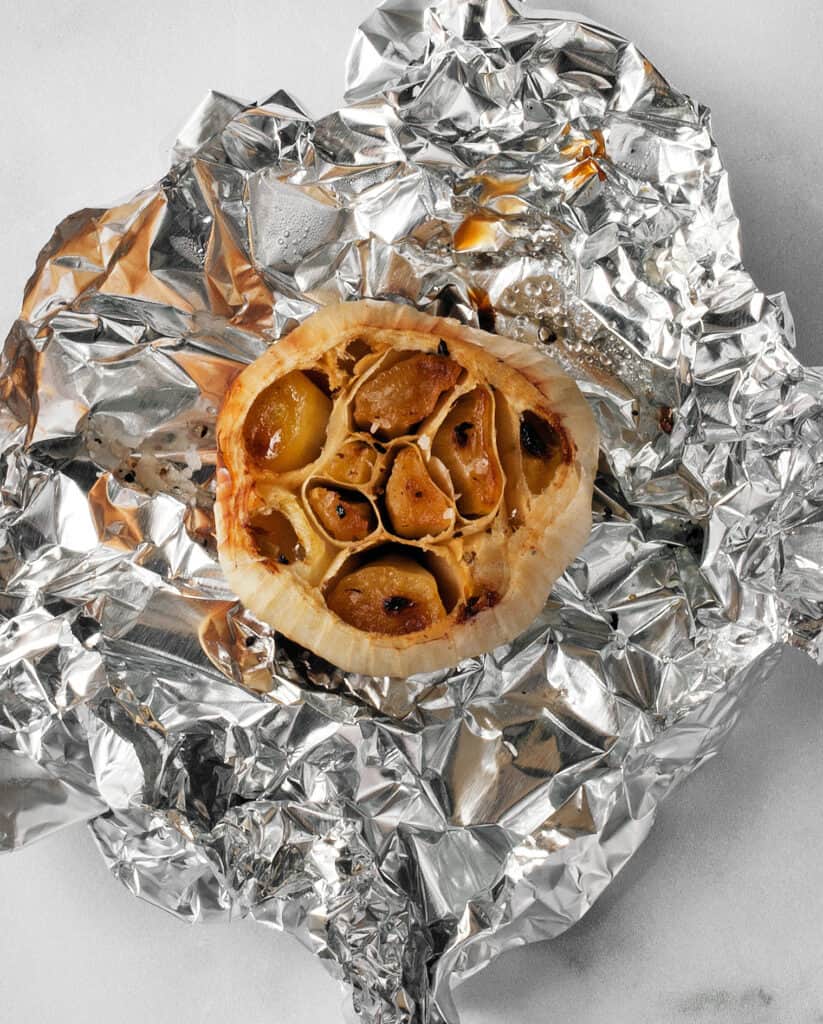 How To Make Grilled Eggplant Corn Tomatoes
When I fired up the grill and got to work, I didn't start with eggplant, corn or tomatoes.
Instead I sliced the top off a head of garlic revealing its cloves all cozy and tucked into their papery skins.

Then I drizzled the garlic with olive oil and sprinkled it with a pinch of salt and pepper.
I put a small sheet of aluminum foil on the grates and grilled it for a few minutes cut-side down before flipping the head of garlic over and wrapping it into a foil packet.

I scooted the garlic to a cooler part of the grill and let it cook while I grilled the vegetables.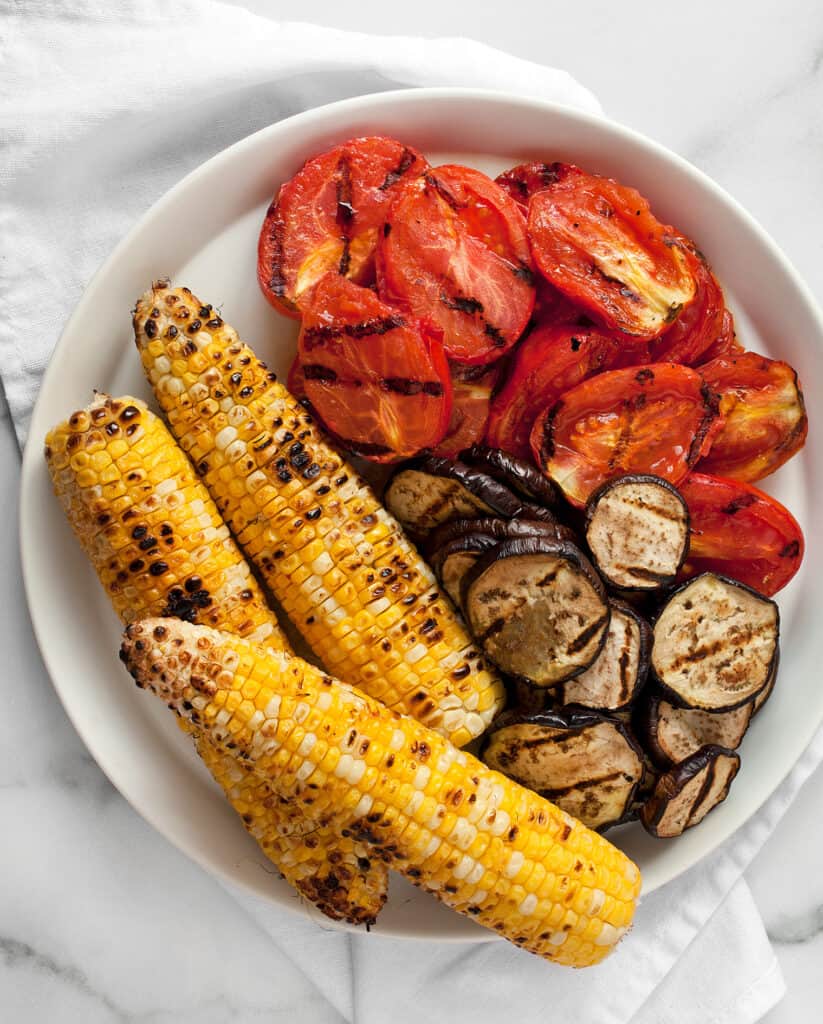 For the grilled eggplant corn tomatoes, I tossed everything in olive oil, salt and pepper.
I sliced the eggplant 1/4-inch thick and halved the plum tomatoes lengthwise.
Then I cooked the vegetables letting them get grill-marked and lightly charred.
When the veggies were cool enough to handle, I sliced the corn off the cobs and roughly chopped the tomatoes discarding any loose skin.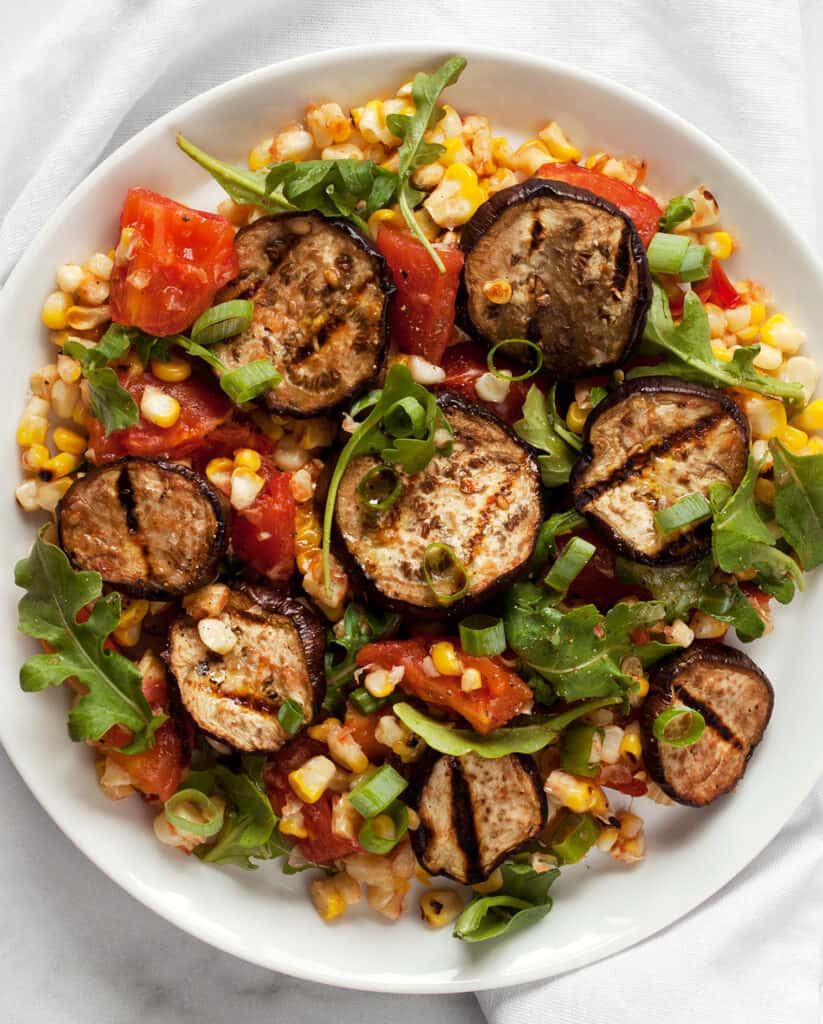 After all that it was time to get back to my grilled garlic to make vinaigrette.

I popped out a few cloves and mashed them with a fork before whisking in olive oil and white wine vinegar.

Part of the reason I make this grilled garlic dressing is to end up with extra garlic. Those mellow soft cloves are dream spread onto crusty bread.
To finish, I folded the eggplant, corn and tomatoes together along with the garlic vinaigrette, arugula and scallions.
Print
Grilled Eggplant Corn Tomatoes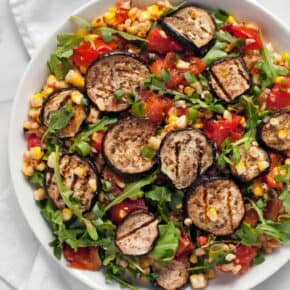 Author:
Prep Time:

15 minutes

Cook Time:

25-30 minutes

Total Time:

40-45 minutes

Yield: Serves

4

–

6

1

x
Scale
Ingredients
For garlic
1 head garlic
1 teaspoon olive oil
Pinch of kosher salt
Pinch of black pepper
For vegetables and vinaigrette
1 medium eggplant, cut into 1/4-inch thick slices
3 ears corn, shucked
1 pound plum tomatoes, halved lengthwise
4 tablespoons olive oil
1–1/4 teaspoons kosher salt
1/2 teaspoon black pepper
2 scallions thinly sliced
1 generous handful arugula
1 tablespoon white wine vinegar
Instructions
Preheat the a gas or charcoal grill on medium high heat.
Slice the top off the garlic, so the cloves are visible. Drizzle with 1 teaspoon olive oil and sprinkle with a pinch of salt and pepper. On a piece of aluminum foil, grill the garlic cut side down for 3 minutes before wrapping it in a loose foil packet. Move to a cooler spot on the grill over indirect heat. Grill for 25-30 minutes until the cloves are tender.
While the garlic is cooking, toss the eggplant, corn and tomatoes with 1 tablespoon olive oil, 1 teaspoon kosher salt and 1/4 teaspoon black pepper. Grill the corn until it is lightly charred about 5-7 minutes. Grill the eggplant and tomatoes until they have grill marks, the eggplant is tender and the tomatoes are juicy, about 4 minutes per side.
When they are cool enough to handle, slice the corn off the cobs and roughly chop the tomatoes, discarding any loose skins.
In a small bowl, mash 2-3 garlic cloves into a paste. Whisk in the white wine vinegar, 3 tablespoons olive oil, 1/4 teaspoon salt and 1/4 teaspoon black pepper.
In a large bowl, combine the eggplant, corn, tomatoes, scallions and arugula and fold in the garlic vinaigrette.
Notes
Extra garlic cloves can be used as a spread on bread, in pasta or on pizza.
SHARE THIS