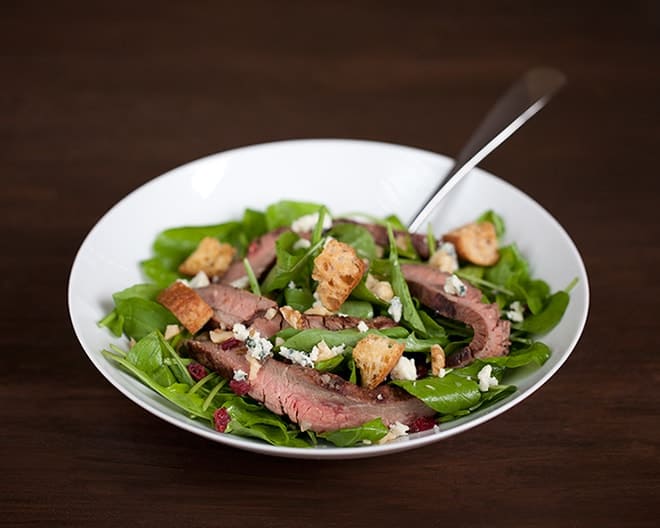 Steak is not something that I have very often, but it is not because I do not like steak. At a restaurant steak seems like a very decadent thing to order, and at home it is reserved for special occasions given the health implications and cost. I am not a meat and potatoes kind of eater. Dishes focused on veggie components are far more interesting. When I do have a hankering for steak, I always make steak salad because it satisfies the carnivore in me and my love of greens.
Flank steak is the perfect choice for salad. It is a leaner and less expensive cut. Time spent marinating the meat tones down the toughness and ups the flavor. A shallot was grilled along side the steak to provide a base for slightly smoky vinaigrette. The peppery arugula was topped with blue cheese, a classic match for steak. Dried cherries added a subtle sweetness, and walnuts and croutons gave this flank steak salad an addictive finishing crunch.
Serves 4
For steak
2 sprigs rosemary
4 sprigs thyme
1/4 cup olive oil
1/4 cup low sodium soy sauce
4 garlic cloves, peeled and smashed
1 1-pound flank steak
For shallot vinaigrette
1 shallot, peeled and trimmed
1 teaspoon Dijon mustard
1 tablespoon white wine vinegar
1/4 teaspoon salt
1/4 teaspoon black pepper
1/4 cup olive oil
For salad
8 ounces arugula
2 ounces, blue cheese, crumbled
1/4 cup dried cherries, roughly chopped
1/4 cup toasted walnuts, roughly chopped
Croutons
Bruise the rosemary and thyme with the back of a knife or a mortar & pestle to release the aromatics. Combine the herbs with the olive oil, soy sauce and garlic in a glass or ceramic baking dish. Place the flank steak in the dish, cover and marinate in the refrigerator for 3 – 6 hours occasionally flipping the steak.
Preheat a charcoal or gas grill on high heat. Brush the garlic, herbs and excess marinade from the flank steak. Thread the shallot onto a skewer. (If the skewer is wood, make sure to soak it for 30 minutes before grilling.)
Grill the steak 4 minutes per side for medium-rare. Grill the shallot along side the steak for the last 4 minutes of cooking. Remove the steak and shallot from the grill. Let the steak rest for 10 minutes before cutting against the grain into thin slices.
While the steak is resting, make the shallot vinaigrette. Mince the grilled shallot and combine with Dijon mustard, white wine vinegar, salt and pepper. Slowly whisk in the olive oil until the dressing has emulsified.
To make the salad, divide the arugula into 4 bowls. Top with blue cheese, dried cherries, walnuts, croutons and steak. Toss with shallot vinaigrette.
SHARE THIS