Fresh Spinach Pasta
on Jun 23, 2014, Updated Jul 09, 2023
Blanching baby spinach and mixing it into pasta dough, creates the most vibrant green fresh spinach pasta. Keep it simple with only garlic, olive oil & Parmesan to serve.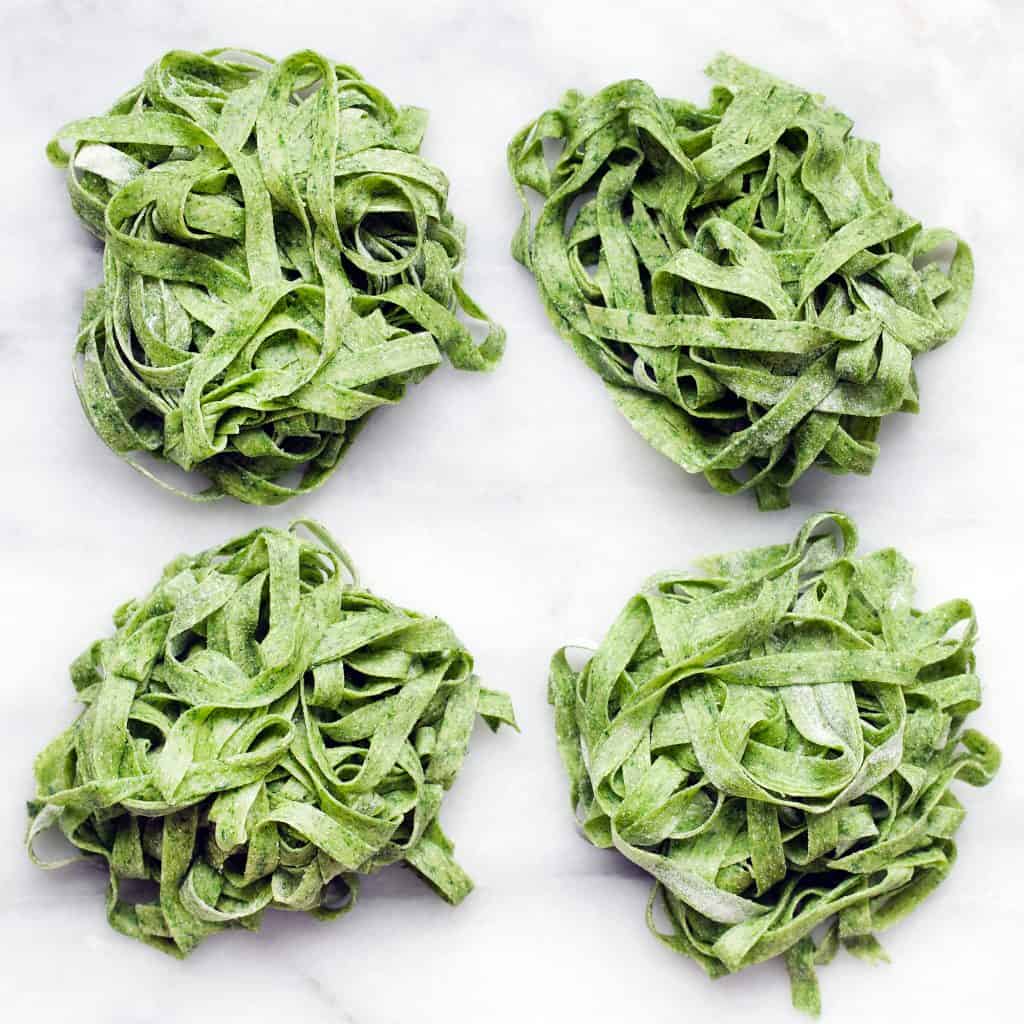 Pasta is my absolute favorite go-to, quick weeknight dinner, but sometimes I do have those carb-heavy cravings on the weekend.
I would eat pasta every single day of the week and never get tired of it.
I try to fit in at least one cooking project a weekend.
When I call it a project, it doesn't mean it's complicated.SaveSaveSaveSave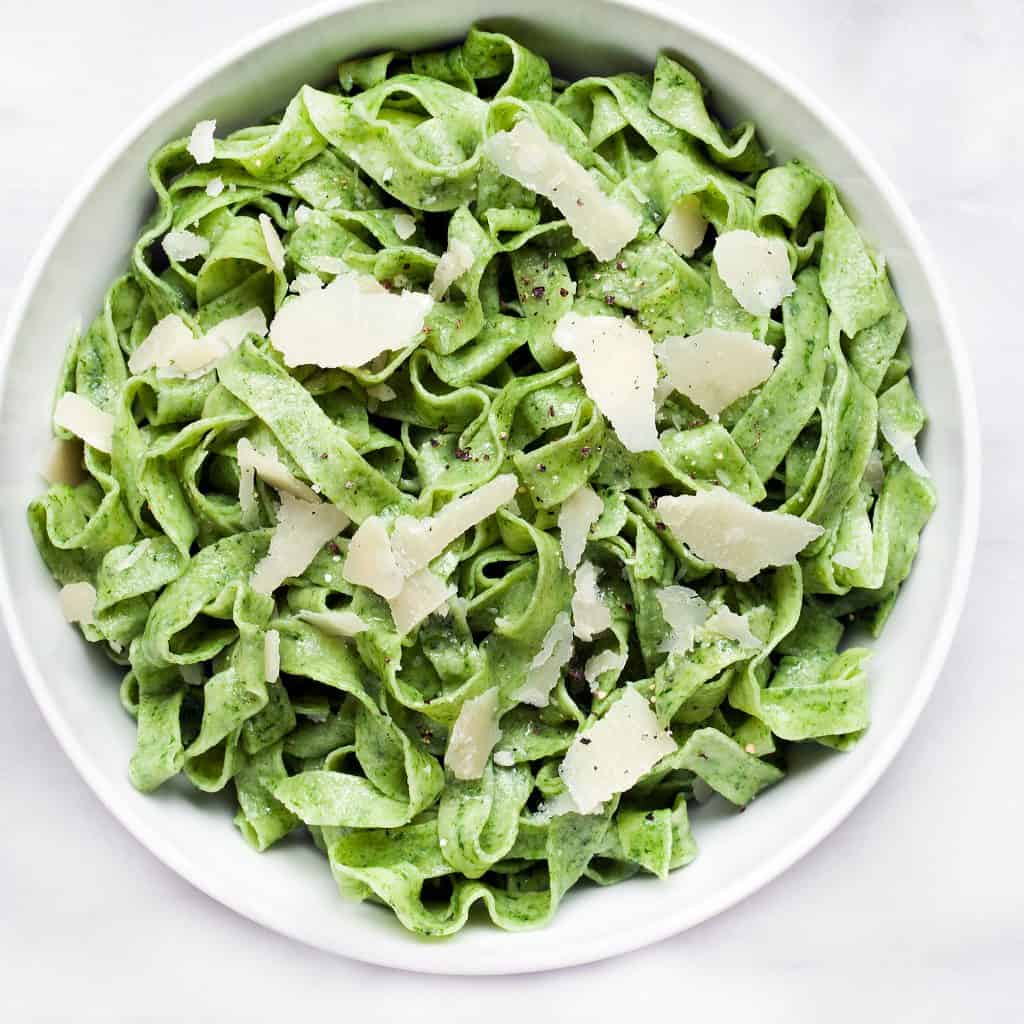 The prep just requires more time than I can find during the week when evenings are filled all sorts of other responsibilities like getting ready for school and work the next day.
It doesn't seem right on a Saturday when making pasta to simply pour a box of dried supermarket spaghetti into a pot of boiling water.
With more time on my hands, I like to get a bit more ambitious and make fresh pasta from scratch.
Again, it's not tough to whip up a batch of pasta dough, and if you haven't done it, you should give it a try.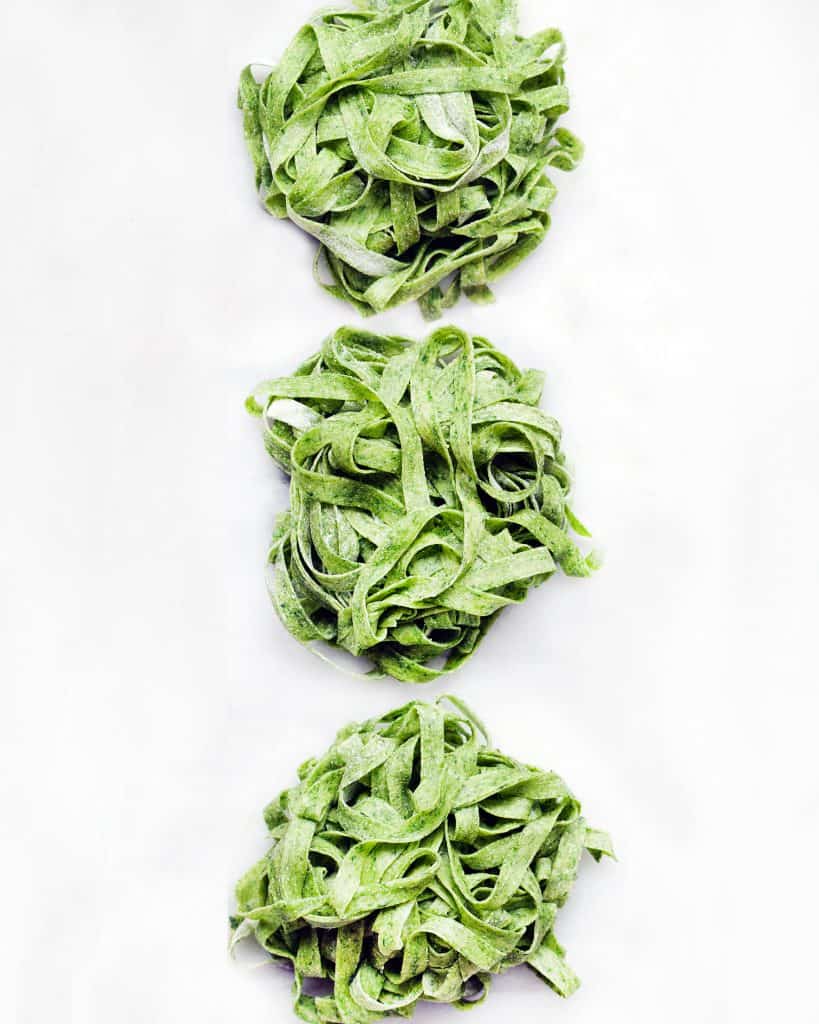 How To Make Fresh Spinach Pasta
Fresh pasta is lots of fun especially if you can get your kids to help crank it out.

You don't even need a pasta machine. The dough can be rolled out thinly with a rolling pin and cut with a knife.
Wanting something different than standard plain pasta, I made fresh spinach pasta that had the most wonderful bright green color.
First, I blanched baby spinach and then pureed it in the food processor.

I added eggs and olive oil followed by the dry ingredients: flour and salt. Before I knew it, I had dough with tiny green flecks.
After I let the dough rest, I rolled it out into thin sheets and cut 1/4-inch wide noodles.
The best part of fresh pasta is that cooks in only 2 minutes.

I kept the final preparation simple by tossing the toothy, al denté noodles in garlicky olive oil and finishing them with Parmesan.
Fresh Spinach Pasta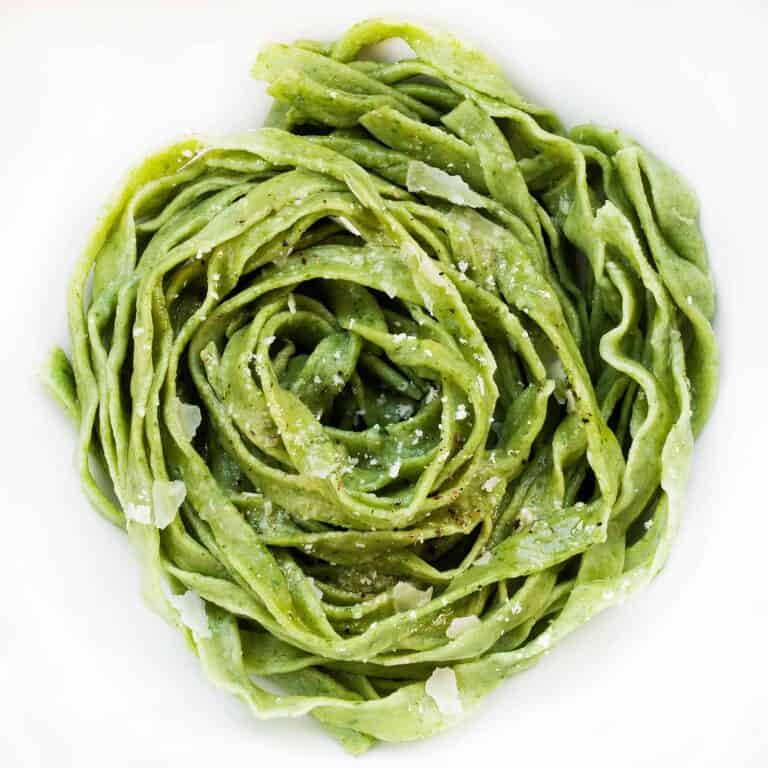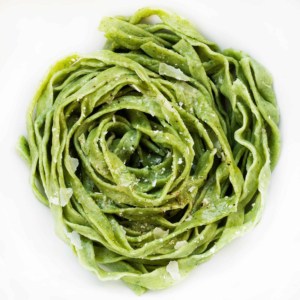 Blanching baby spinach and mixing it into pasta dough, creates the most vibrant green fresh spinach pasta. Keep it simple with only garlic, olive oil & Parmesan to serve.
Ingredients
5

ounces

baby spinach

3

large eggs

1

teaspoon

olive oil

2-1/2

cups

all-purpose flour

Pinch

of salt
Instructions
Blanch the spinach in a large pot of boiling salted water. Shock the spinach in cold water and drain.

Puree the spinach in a food processor with the eggs and olive oil. Add the flour and salt. and mix until combined. Run the food processor until the dough forms. Turn the dough onto a lightly floured work surface and knead for a couple minutes until the dough is smooth. Form the dough into a round disk and cover with plastic wrap. Allow the dough to rest at room temperature for 30 minutes or refrigerate overnight. (If the dough is refrigerated, make sure to let it come to room temperature before rolling out the pasta.)

Divide the pasta dough into 4 pieces keeping them covered. Working with one piece of dough at a time, flatten slightly and feed through the smooth rollers of a pasta machine starting at the widest setting. Fold the pasta sheet in half each time it is fed through at a narrower setting until the pasta sheet is very thin but does not tear. Place the pasta sheets on a floured work surface to dry for 10 minutes. (Note: If you do not have a pasta machine, you can roll out the sheets of pasta with a rolling pin on a floured work surface.)

Cut the pasta sheets into 12-inch lengths. Sprinkle the sheets with flour and roll them up loosely. Using a knife or pizza cutter, trim the rough edges and cut into 1/4-inch wide strips. Unroll and place the strips on a floured sheet pan. Repeat with the remaining dough.

Bring a large saucepan of salted water to a boil. Cook the pasta for 2 minutes until al denté and then toss with desired sauce and garnish.
Nutrition
Calories:
349
kcal
|
Carbohydrates:
61
g
|
Protein:
13
g
|
Fat:
5
g
|
Saturated Fat:
1
g
|
Polyunsaturated Fat:
1
g
|
Monounsaturated Fat:
2
g
|
Trans Fat:
0.01
g
|
Cholesterol:
123
mg
|
Sodium:
76
mg
|
Potassium:
327
mg
|
Fiber:
3
g
|
Sugar:
0.5
g
|
Vitamin A:
3503
IU
|
Vitamin C:
10
mg
|
Calcium:
65
mg
|
Iron:
5
mg
Nutrition information is automatically calculated, so should only be used as an approximation.