I love to pair pasta with the goodies from the olive bar to make Antipasto Spaghetti. With olives, tomatoes and more, nothing beats a quick and easy meal.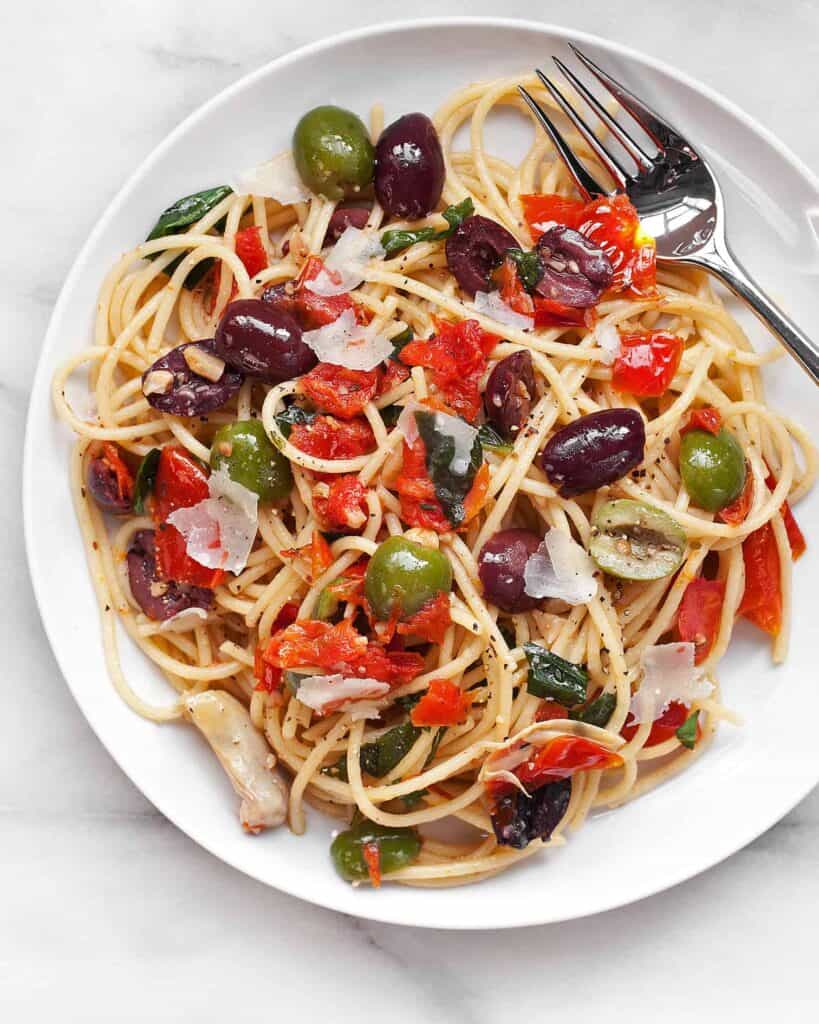 The past month has been kind of crazy. With travel, the start of school and more work commitments than usual, I am desperate for a normal week.
Too bad that won't happen anytime soon, according to our calendar.
Since I've been thrown off my routine, I've had to skip my usual grocery stops and shop in unfamiliar stores.

That involves wandering the aisles in search of my pantry and fridge staples.
I am such a creature of habit that I get all turned around when I don't shop where I'm a regular. Even though I have a list, I still manage to forget at least a few items.
When I'm lost in a new supermarket, I do have a strategy. I stick to the perimeter first to get my bearings.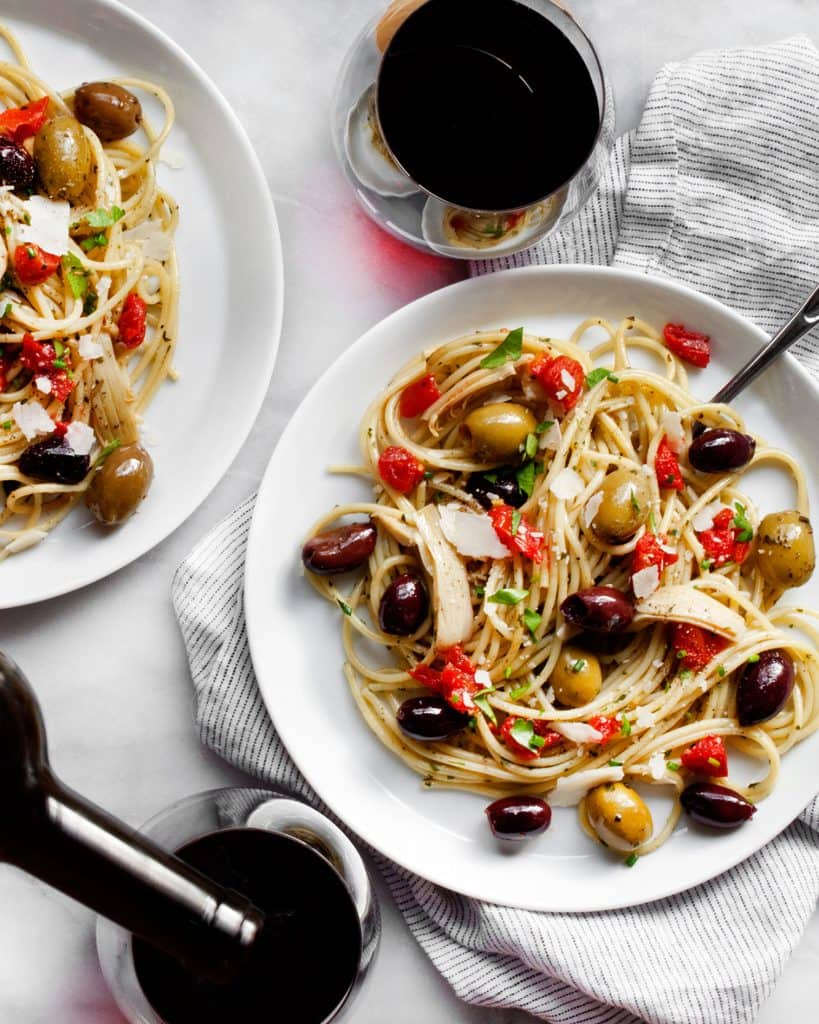 Once I find the fruits & veggies, I head straight to the olive bar where everything is already cured, marinated and full of flavor.

This is me in shortcut mode, doing anything I can to save some precious time.
Even when I don't have a planned meal in mind, I fill a container with roasted garlic, tomatoes, artichokes, peppers and olives.

I know I can come up with something that will make everyone at home happy.
I realize you can order just about any meal and have it delivered, but I'm not a carry-in person.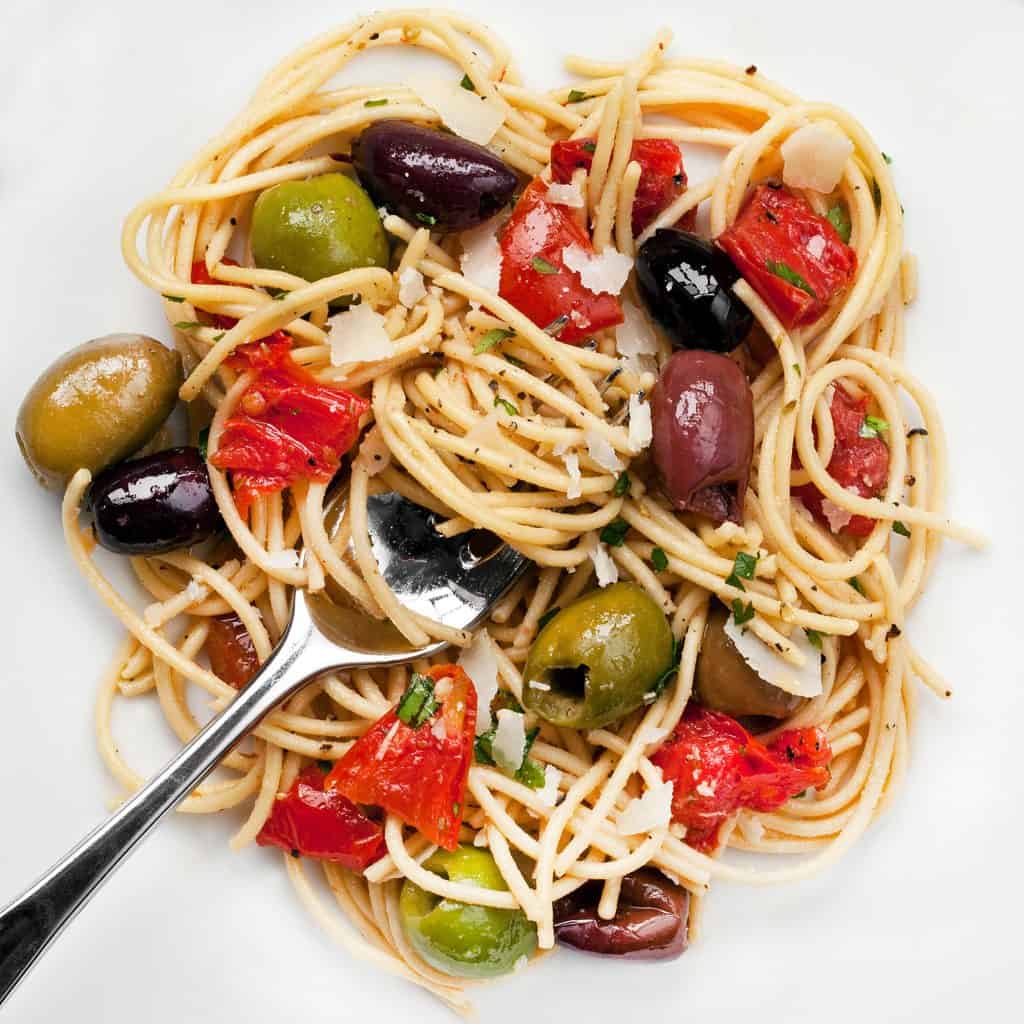 Antipasto Spaghetti: A Quick & Easy Meal
If I want restaurant food, then I would like to go to the actual restaurant to enjoy the atmosphere while I eat my meal.
No matter how tired I am or how low we are on food, I come up with something whether it's eggs for dinner or our number one go-to: pasta.
Pasta is a pantry item that I always stock no matter what.
I love to pair pasta with the goodies from the olive bar to make antipasto spaghetti. It is a weeknight dinner in regular rotation for so many reasons.
Not only is it satisfying and tasty, but I can customize it. Nothing gets better than that!

Full disclosure: we have antipasto spaghetti at least once a week.
Print
Antipasto Spaghetti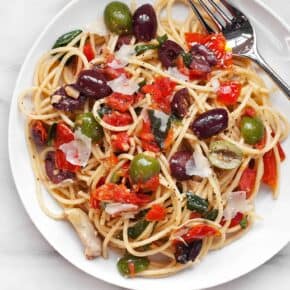 Prep Time:

5 minutes

Cook Time:

15 minutes

Total Time:

20 minutes

Yield: Serves

4

1

x
Scale
Ingredients
12 ounces spaghetti
2 tablespoons olive oil
8 ounces assorted antipasti including garlic pitted olives, tomatoes, artichokes & peppers)
1 teaspoon kosher salt
1/2 teaspoon black pepper
Shaved Parmesan for serving
Torn basil for serving
Instructions
Cook the spaghetti according to package instructions.
In a large skillet, heat the olive oil over medium high heat. Add the roasted garlic and sauté until fragrant, about 30 seconds. Add the rest of the antipasti and continue cooking until everything is heated through, about 3-5 minutes. Stir in the cooked spaghetti, salt and pepper.
Top with Parmesan and basil before serving.
SHARE THIS