Antipasto Pasta
on May 02, 2022, Updated Jul 08, 2022
Ready in 15 minutes, this antipasto pasta is packed with tasty ingredients from the olive bar like roasted tomatoes, artichokes and olives. Since they are already roasted, marinated or cured, they are simple additions with so much flavor.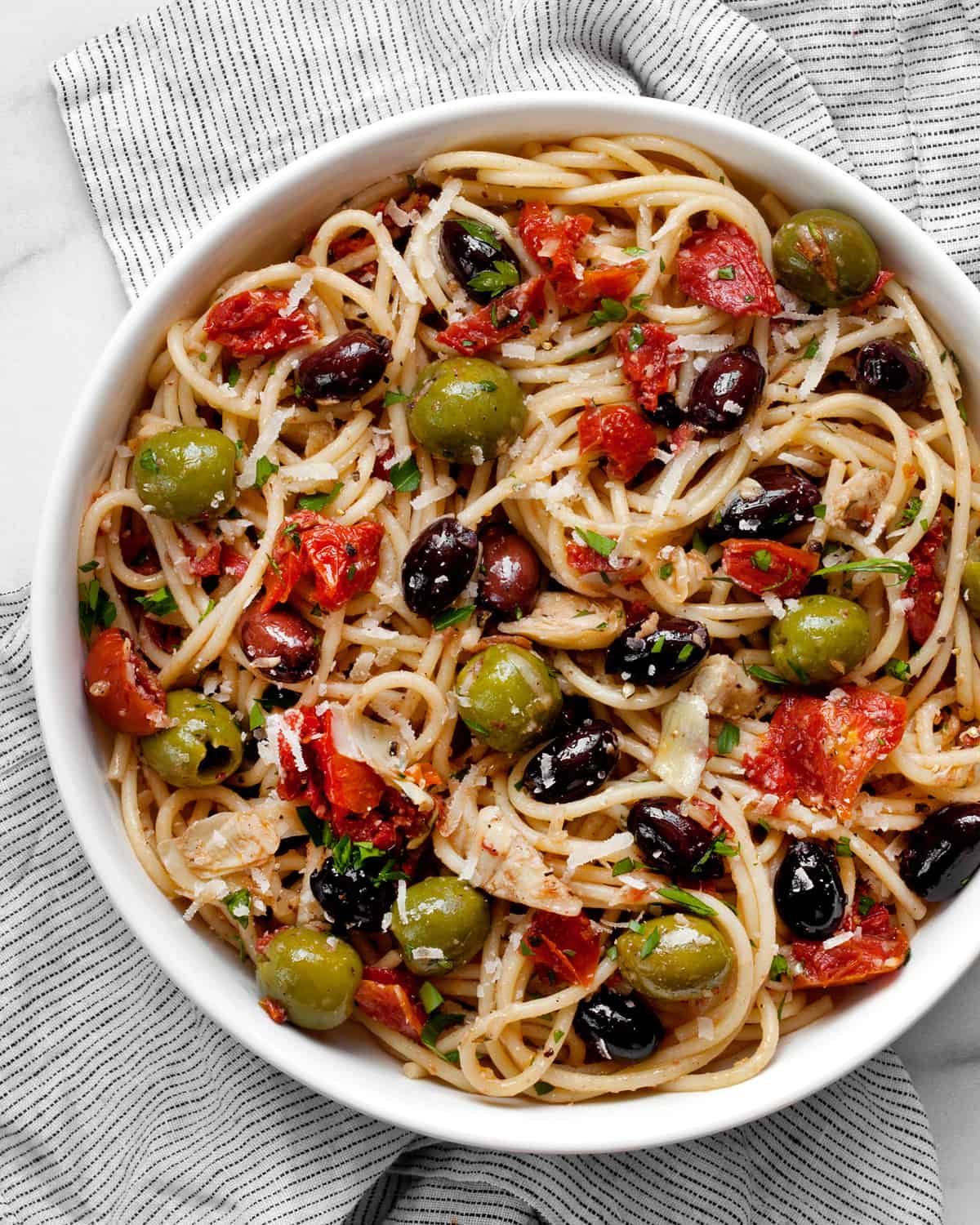 Pasta doesn't have to be complicated. In fact, there are ways that you can make an already simple recipe even more simple. Yes, it is possible. All you have to do is be a smart shopper and have a stocked pantry, specifically with a variety of antipasti.
These aren't just any ingredients. They include olives, roasted tomatoes and so much more. What they all have in common is that they are cooked, marinated and doctored up, so they don't require much else.
These are just what you need to stir into pasta. It doesn't get any easier than that. This is the kind of weeknight recipe when you think you have nothing at home to make when you really do.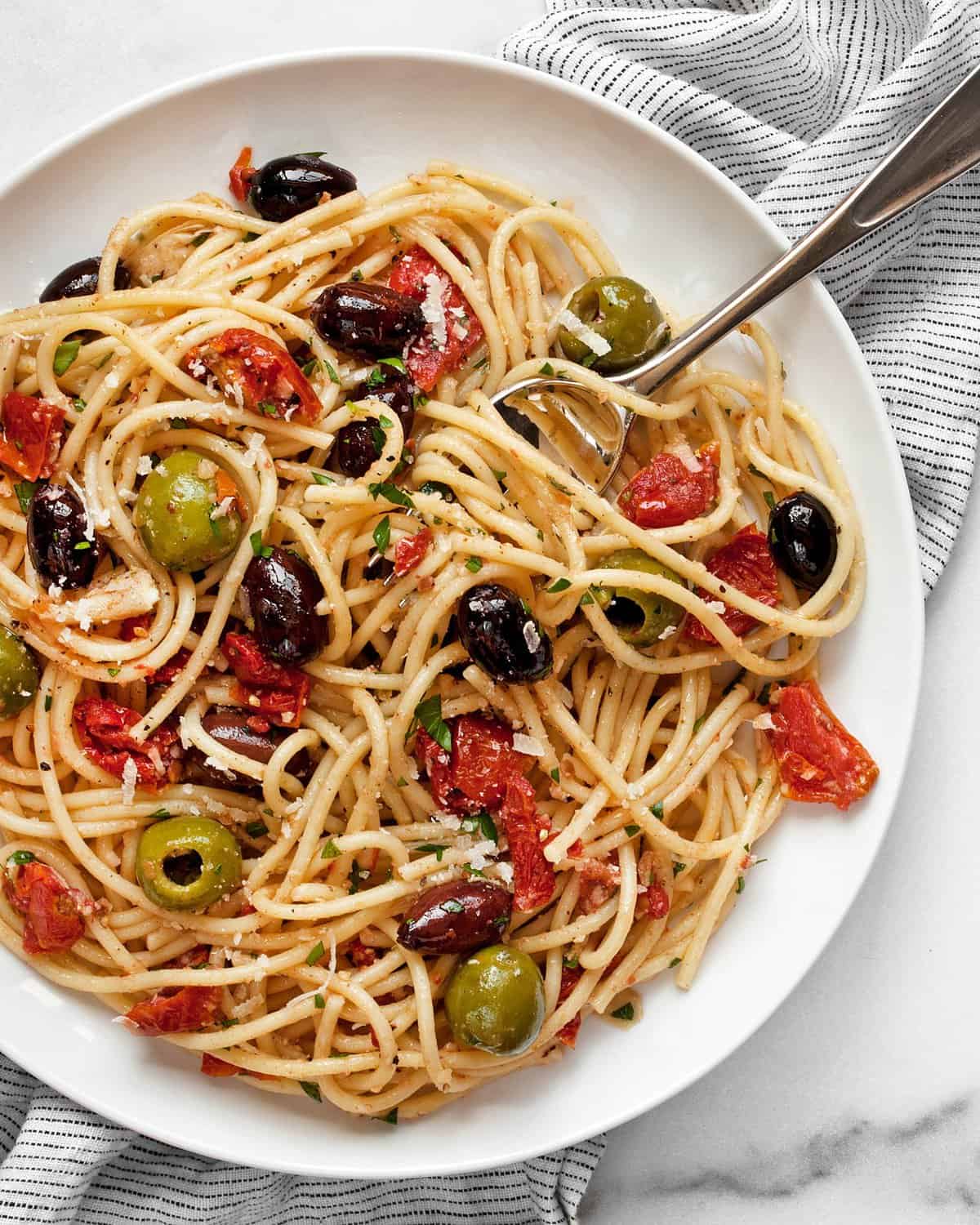 What Is Antipasti?
These Italian bites are usually served as an appetizer or first course. Think of a beautiful antipasto platter. They don't involve pasta, so pairing them with spaghetti might not make sense. But they are too good to pass up not mixing into noodles. It seems almost obvious.
They include olives soaked in brine, marinated artichokes, roasted tomatoes and roasted peppers. This is a very abbreviated list. At the grocery, you can find them at the olive bar in tubs or in the Italian food section in jars.
Fresh mozzarella and other cheeses also fit into the broad category of antipasti.
Even though this recipe is vegetarian, another type of antipasti is cured meat. You can add salami, prosciutto and other charcuterie depending on your dietary preferences. This recipe is easily customizable depending on your taste and everyone else you're serving.
Ingredients & Substitutions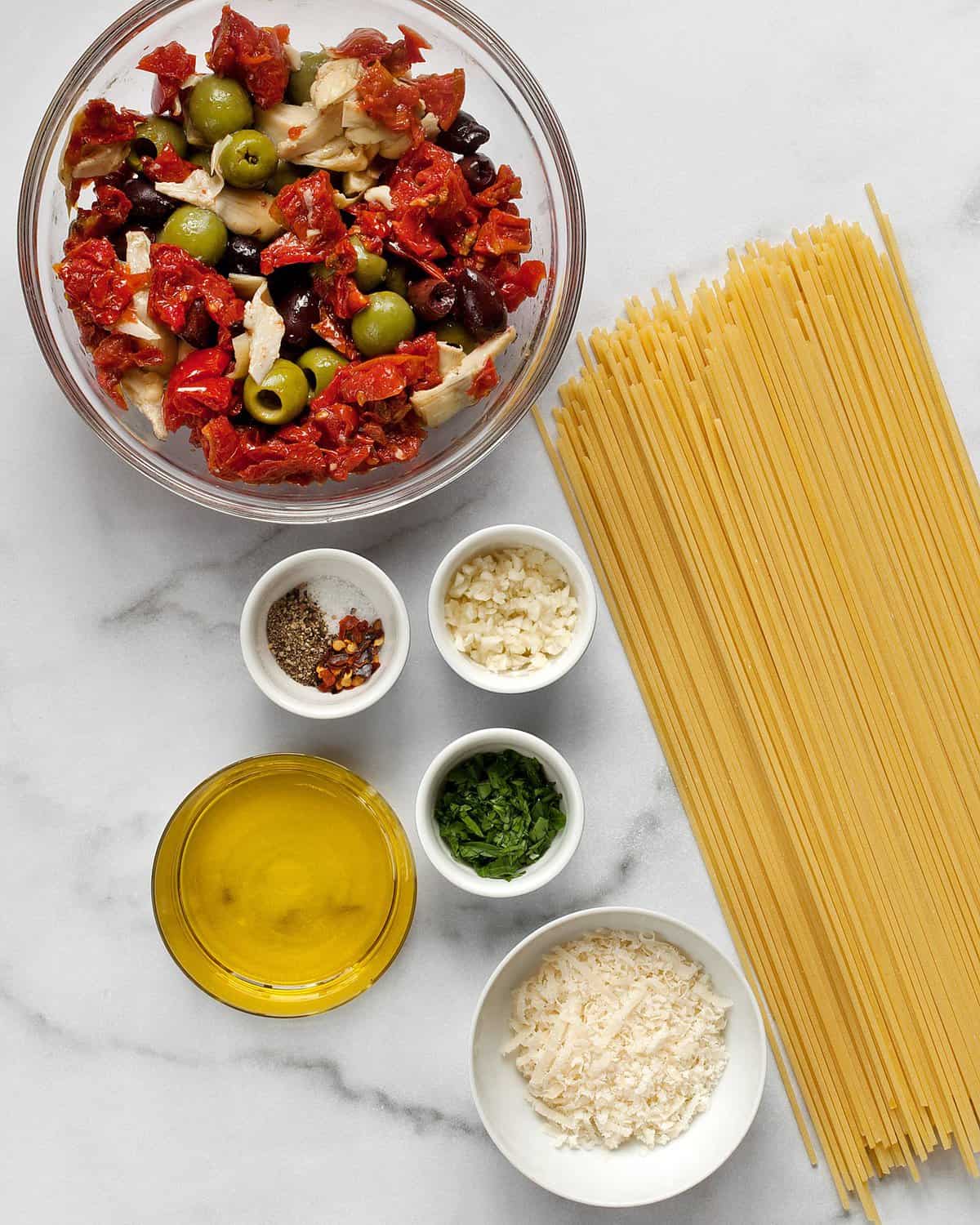 This is what you need:
Antipasti: The mix is up to you. My recommendation is to start with a base like green olives, kalamata olives, roasted tomatoes and artichoke hearts. Then you can add other optional extras.
Pasta: Spaghetti is my top choice, but you can really choose any shape. Other great ones are fettuccine and linguine for long noodles and fusilli, rotini or penne for something shorter. If you want to go a bit fancier and more filling, but without the work, use tortellini.
Garlic: You may wonder why minced garlic is necessary on top of the already flavor-packed antipasti. Nothing beats the taste of freshly minced garlic sautéed in olive oil. Trust me, it won't be too much.
Olive oil: Since this is a short ingredient list in an uncomplicated recipe, I like the taste of extra virgin olive oil.
Parmesan seems like the obvious choice for cheese. You could also use pecorino.
Red pepper flakes, salt & pepper make up the spice mix. Red pepper flakes add a touch of heat. Since the antipasti has been marinated or roasted in Italian seasoning like oregano you don't need to go too heavy with extras here.
Parsley gives the pasta an herby finish. Also try torn fresh basil leaves.
How To Make This Antipasto Pasta Recipe
Cook the pasta. Follow the recommended cooking time on the package. And make sure not to overcook the noodles. You want them to be al dente and still have some bite.
Prep the antipasti. While the pasta is simmering, sauté the garlic, red pepper flakes, salt and pepper. After 30 seconds, they will be fragrant. This is your signal to add the antipasti to the skillet and sauté, warming everything. Since the ingredients are already cooked, this will take only 3-5 minutes.
Add the spaghetti. I like to use tongs to take the noodles straight from the pot into the skillet. If you have a shorter pasta shape, try doing moving them with a slotted spoon. This allows a little pasta water, with its magical starch, to cling to the noodles. Then toss around the pasta in the antipasti.
Stir the Parmesan and fresh parsley into the spaghetti.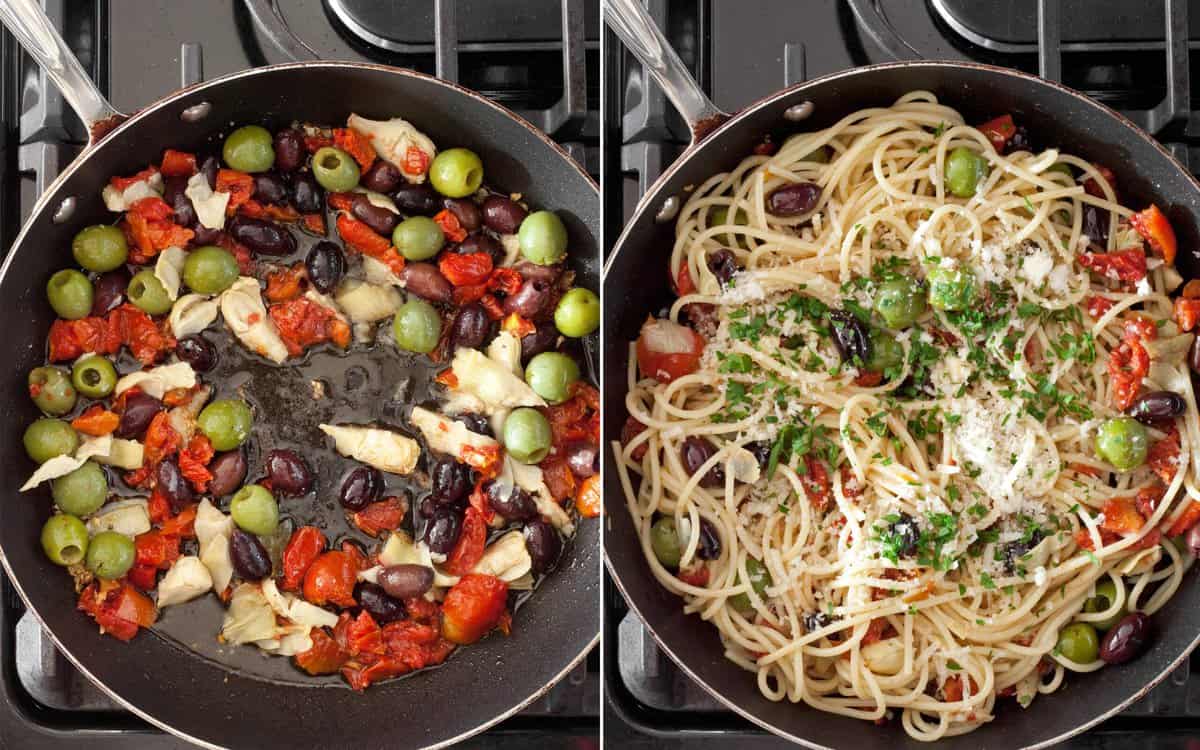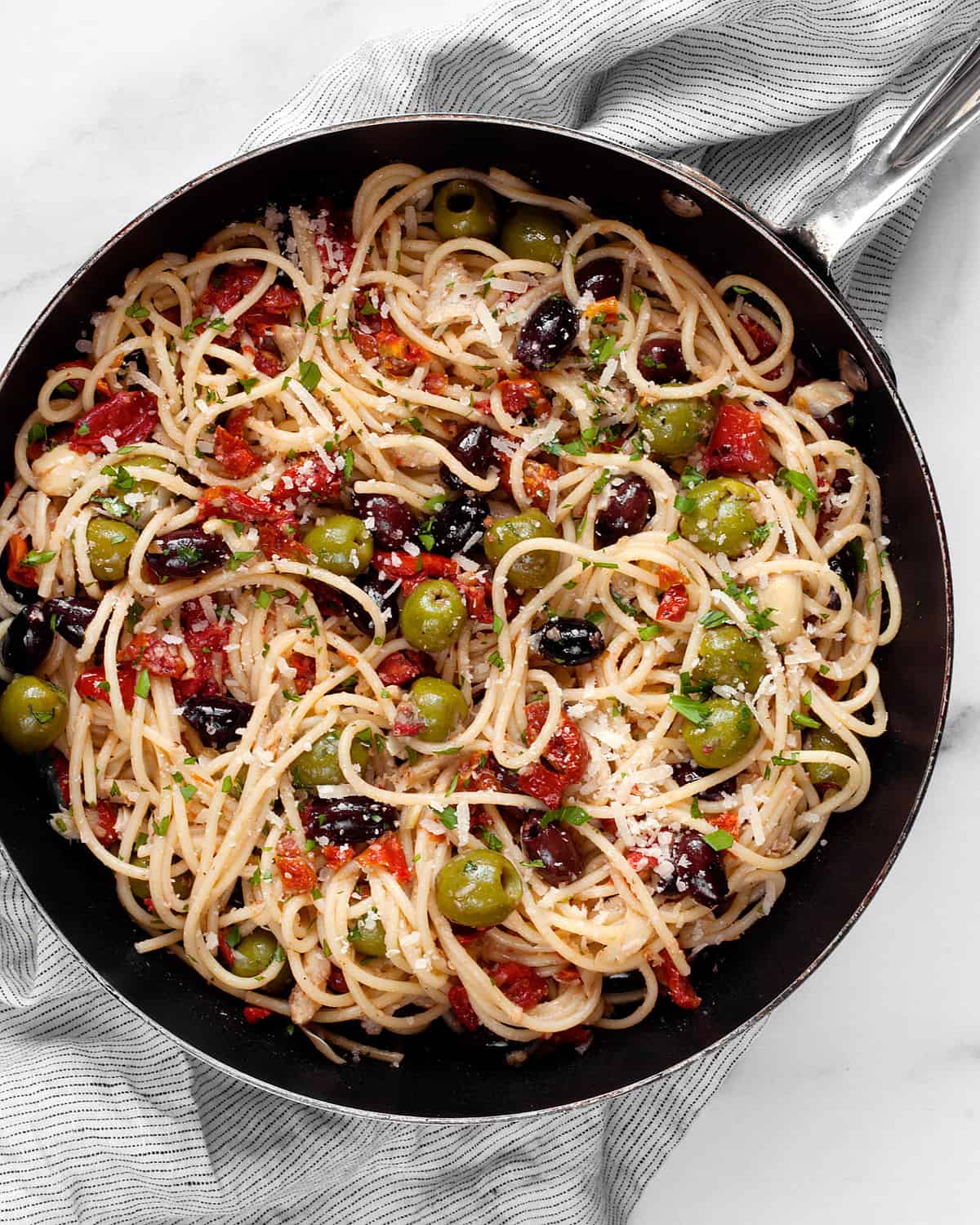 Serving Antipasto Pasta
In the spirit of keeping things easy and approachable, I love pairing this pasta with the most basic (and fantastic) arugula salad with lemon vinaigrette. You can make the dressing ahead of time, so then it's just a matter of assembling and dressing the leaves when you are ready to eat the meal.
Leftovers & Storage
If you have any pasta left over, you can keep it in an airtight container in the fridge for 3 days. You can warm it in the microwave or with a little olive oil in a skillet on the stove.
You can eat leftovers cold like an antipasto pasta salad and drizzle in Italian dressing or a splash of balsamic vinegar.
More Easy Pasta Recipes
Rigatoni with Tomato Sauce
Baked Gnocchi with Mushrooms and Spinach
Burst Tomato Pasta with Cherry Tomatoes
Lemon Kale Orzo
15-Minute Vegan Avocado Pasta
Lemon Garlic Mushroom Spaghetti
Sun-Dried Tomato Pasta
Antipasto Pasta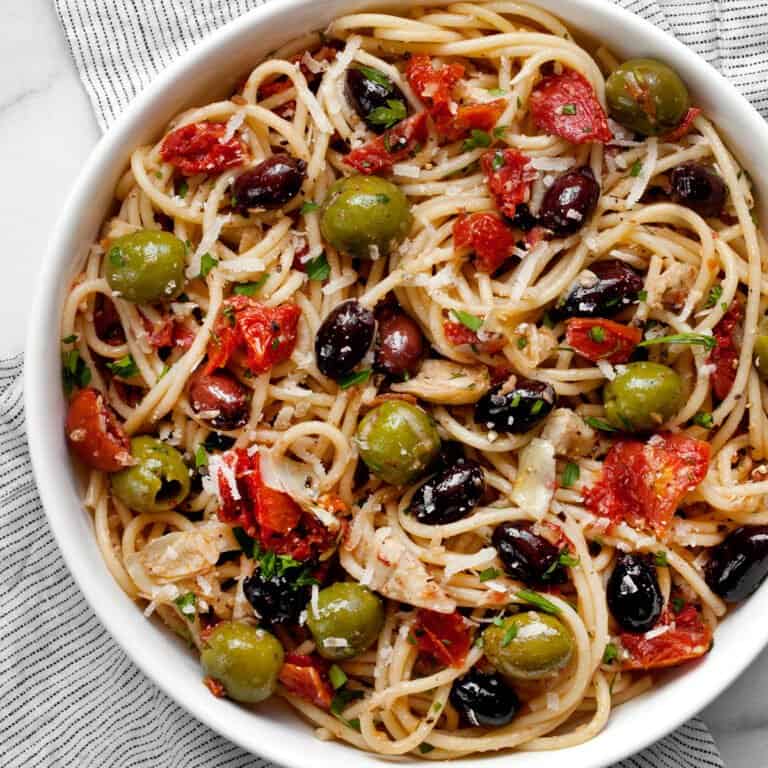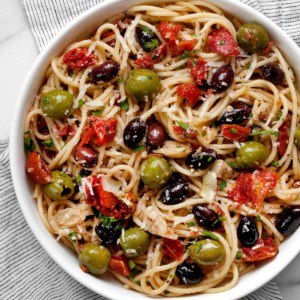 Ready in 15 minutes, this antipasto pasta is packed with tasty ingredients from the olive bar like roasted tomatoes, artichokes and olives, of course.
Ingredients
8

ounces

spaghetti

2

tablespoons

olive oil

3

garlic cloves

minced

1/4

teaspoon

red pepper flakes

1

teaspoon

kosher salt

1/2

teaspoon

black pepper

2

cups

assorted antipasti including pitted olives, chopped roasted tomatoes and quartered marinated artichokes

1/4

cup

grated Parmesan plus more for serving

1

tablespoon

chopped parsley
Instructions
Cook the spaghetti in salted boiling water until al dente according to package instructions.

While the pasta is cooking, heat the olive oil in a large skillet over medium heat. Add the garlic, red pepper flakes, salt and pepper, cooking until fragrant, about 30 seconds.

Stir in the antipasti and sauté for 3-5 minutes until everything is heated through.

Use tongs to transfer the spaghetti from the pot to the skillet, tossing in the olive oil and antipasti.

Stir in the Parmesan and parsley.

Top with additional Parmesan cheese before serving.
Notes
Store leftovers in the refrigerator in an airtight container up to 3 days. Warm in the microwave or in a skillet with a small amount of olive oil on the stove.
Nutrition
Calories:
401
kcal
|
Carbohydrates:
47
g
|
Protein:
10
g
|
Fat:
20
g
|
Saturated Fat:
3
g
|
Polyunsaturated Fat:
2
g
|
Monounsaturated Fat:
13
g
|
Cholesterol:
5
mg
|
Sodium:
1750
mg
|
Potassium:
187
mg
|
Fiber:
4
g
|
Sugar:
2
g
|
Vitamin A:
442
IU
|
Vitamin C:
2
mg
|
Calcium:
110
mg
|
Iron:
1
mg
Nutrition information is automatically calculated, so should only be used as an approximation.