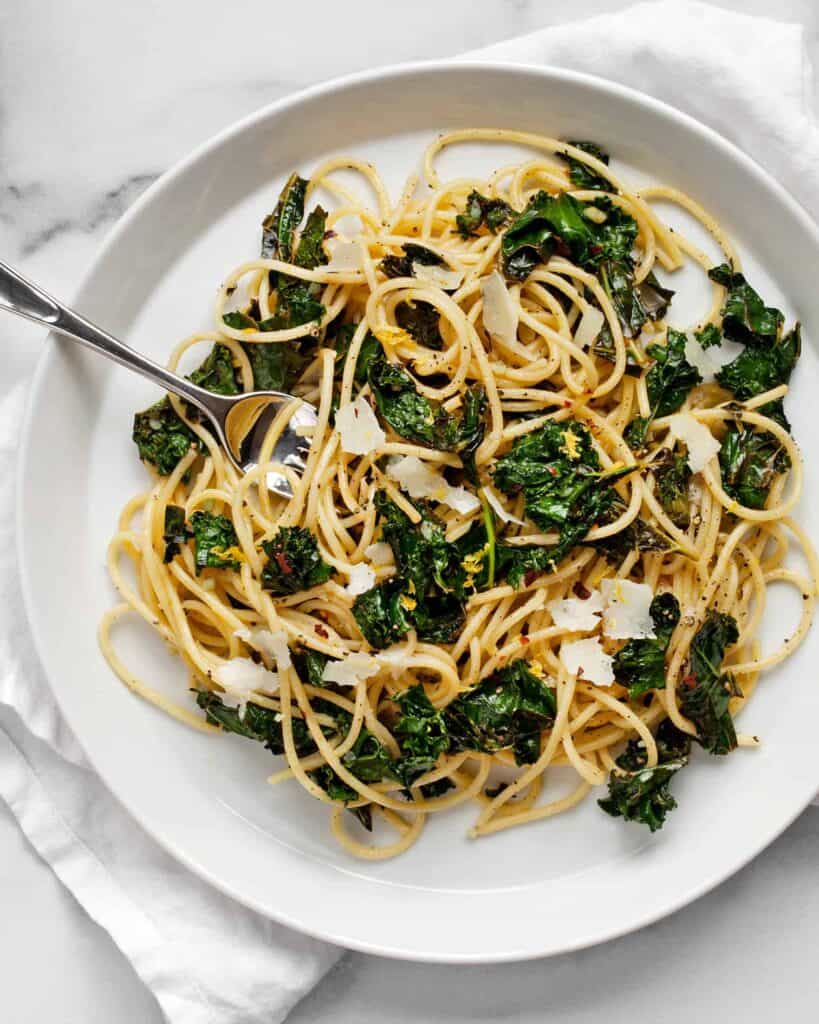 As I am writing this, I feel exhausted. Physically from the usual routine of running around and mentally from a very busy start to the year.
My habit of staying up late and getting up early doesn't exactly provide me with the sleep I need to properly recharge.
I'm sure some of you might be in the same place, too!

Our to-do lists get longer. We let things slide. And that's ok.
It's taken years to ease my Type-A tendencies—at least by a smidge.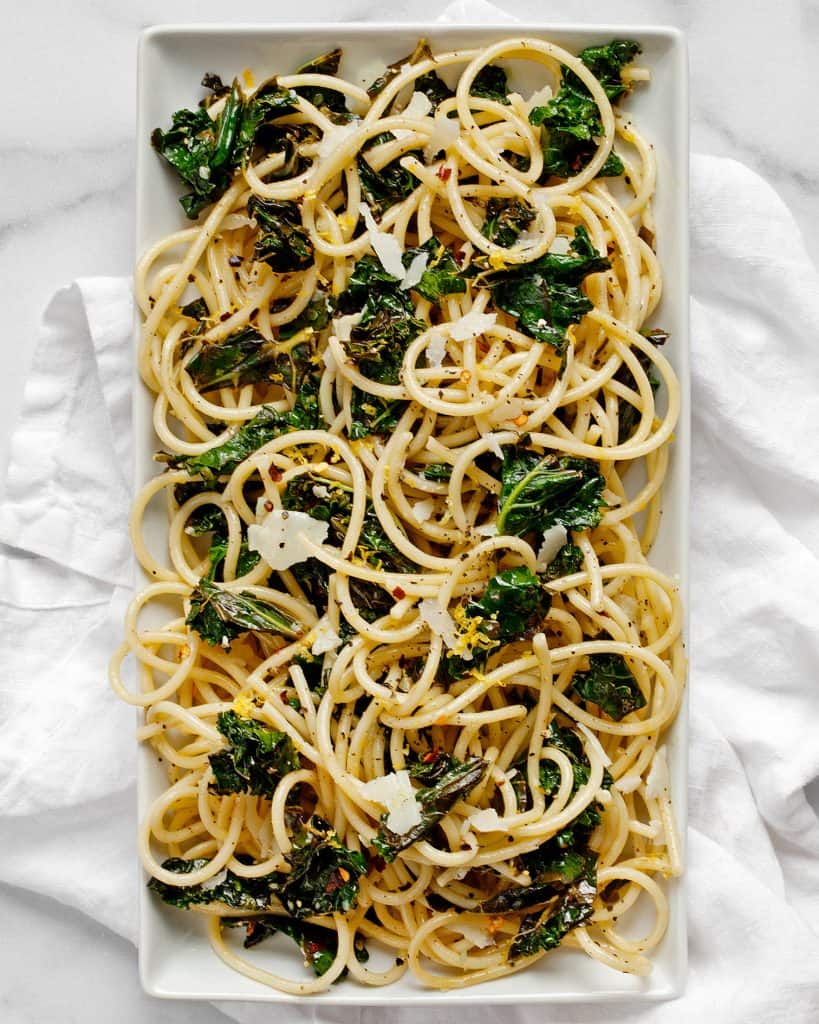 In these moments, I look for dinners that can be ready in less than 20 minutes with fresh ingredients that have a shelf life that buys me more time than just a couple days. Then I have some flexibility on when I can fit them in.
That's why pasta always comes to the rescue.
I was at the grocery last week and was amazed by the choices far beyond standard noodles. There is everything from lentil to corn to quinoa. Chickpea pasta is my favorite of the non-wheat varieties.
If you are gluten-free, simply watching your carbs or in need of protein, there is an option for you.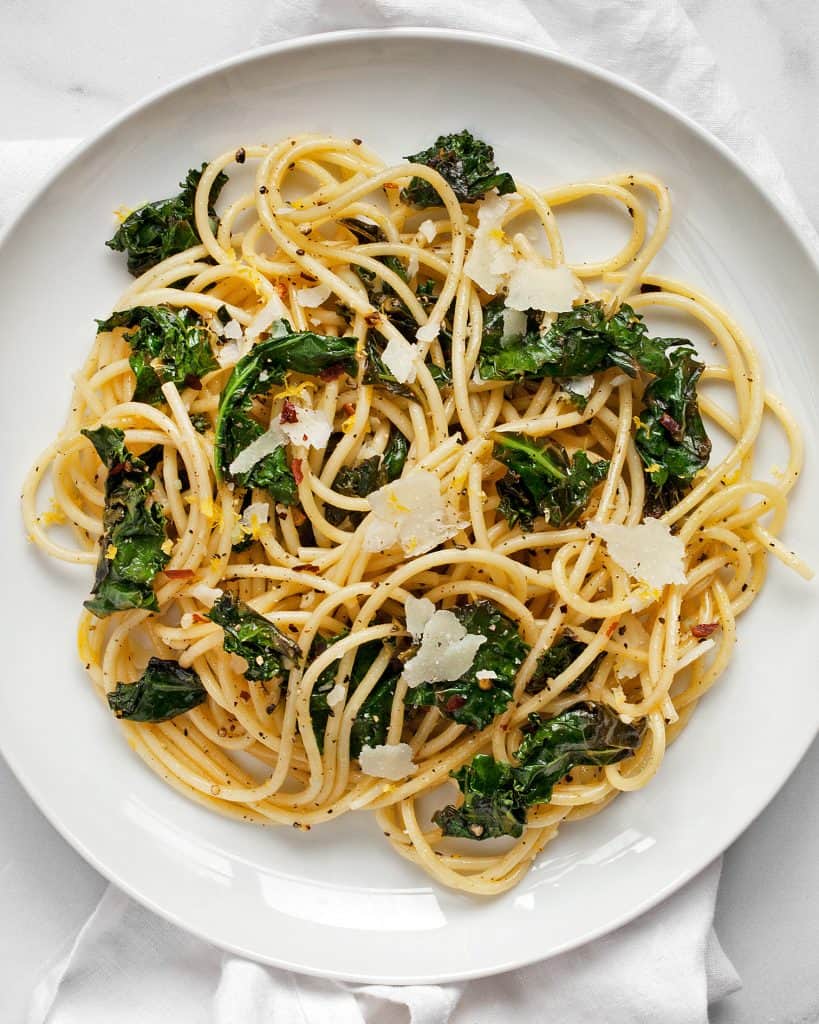 Olive oil is my best friend for quick pastas because there is no need to simmer a sauce and wait.

For this lemon pepper spaghetti, I pair citrus with olive oil.

I was inspired by a lemon pasta dish I had at a restaurant a few weeks ago.

Since then I have been all about adding lemon juice and zest to whatever I can. It's the freshness I crave during the winter months.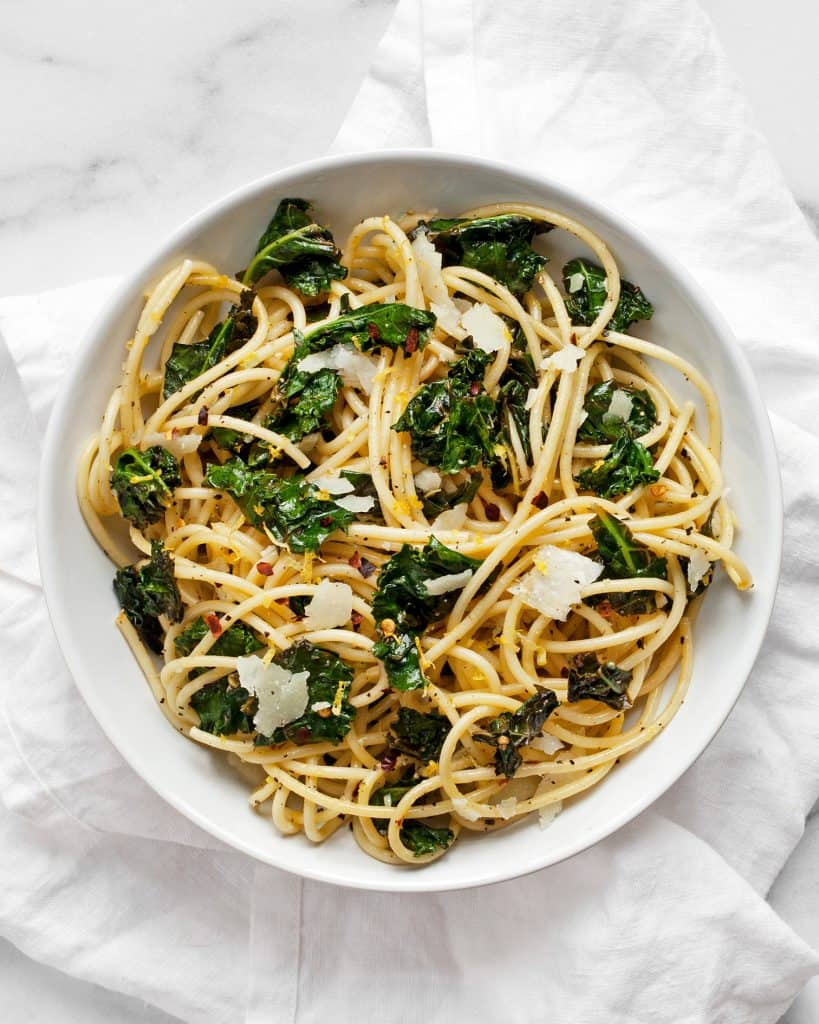 How To Make Lemon Pepper Spaghetti
To start, I cook spaghetti in a big pot on the stove. Bucatini and linguini also work, or you can use a different pasta shape.
In a skillet on another burner, I sauté curly kale leaves in olive oil and then add minced garlic, red pepper flakes, black pepper and salt.
Hearty greens like kale tend to last a little longer in the fridge unlike more delicate greens. I don't worry as much about them going bad.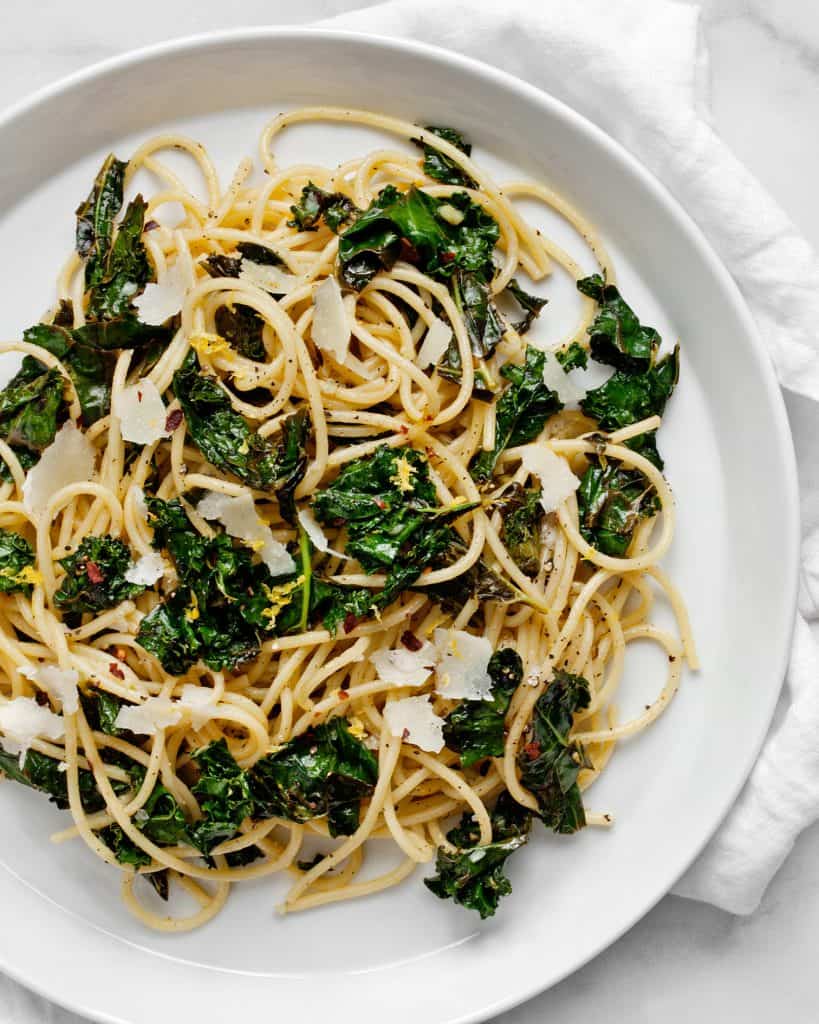 Then I squeeze in the juice of a lemon and use tongs to transfer the spaghetti straight from the pot to the skillet.
Doing it this way lets some of the pasta water stay on the noodles, which helps the lemony and garlicky olive oil cling to it.
After that, I fold in lemon zest and shaved pecorino cheese.

The final result is lemon pepper spaghetti with leafy greens that's basically a lighter version of the traditional Italian pasta cacio e pepe.
Print
Lemon Pepper Spaghetti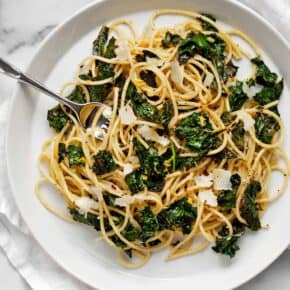 Prep Time:

5 minutes

Cook Time:

10 minutes

Total Time:

15 minutes

Yield: Serves

4

1

x
Scale
Ingredients
8 ounces spaghetti
3 tablespoons olive oil
1-1/2 to 2 cups torn curly kale leaves
2 garlic cloves, minced
1 teaspoon red pepper flakes
1 teaspoon kosher salt
1 teaspoon black pepper
Juice and zest of 1 lemon
1 ounce shaved pecorino cheese
Instructions
Cook the spaghetti until al dente according to package instructions.
While the pasta is cooking, heat the olive oil in a large skillet over medium heat. Sauté the kale until the leaves just start to soften, about 5 minutes. Add the garlic, red pepper flakes, salt and paper and continue cooking until fragrant, about 1 minute. Then add the lemon juice.
Use tongs to transfer the spaghetti from the pot to the skillet. Toss to coat in the olive oil mixture. Stir in the lemon zest and pecorino cheese.
SHARE THIS