Lemon Garlic Mushroom Spaghetti

Ready in 15 minutes, this Lemon Garlic Mushroom Spaghetti uses flavorful sautéed mushrooms and lemon juice for an easy dinner for any and every night of the week.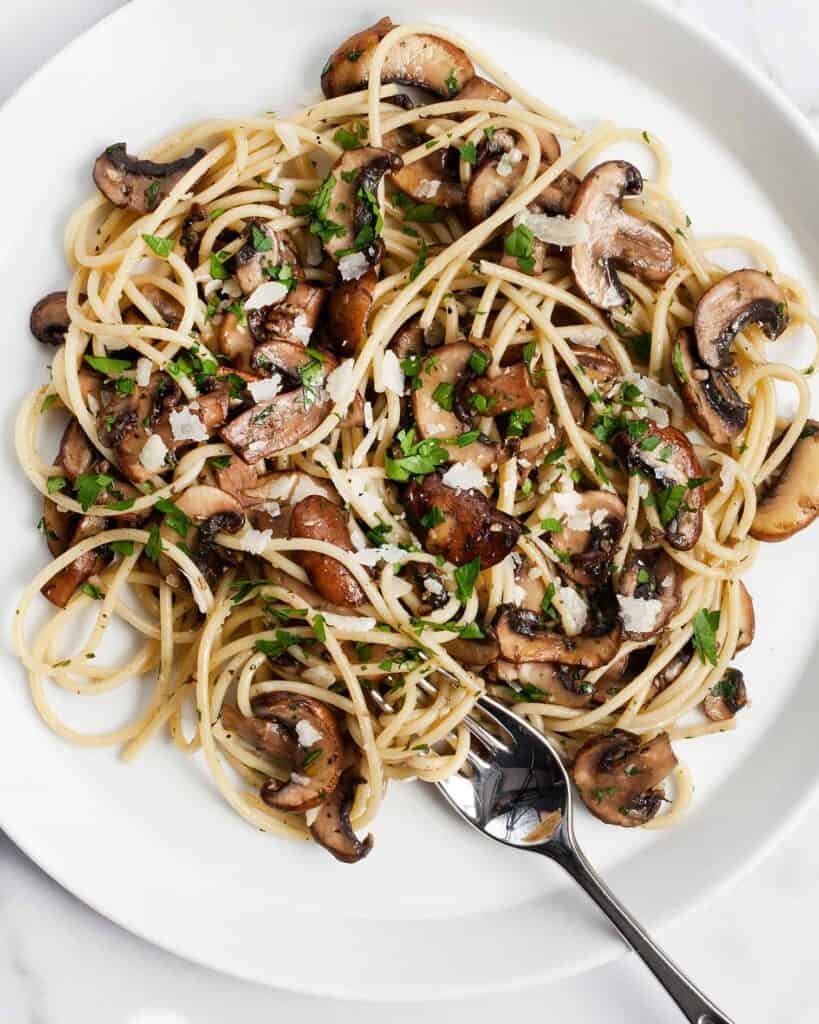 My pantry is never without at least 5 different shapes of pasta. It's always our go-to weeknight meal.
The only problem is that everyone has a preferred noodle.

My husband likes spaghetti and would eat it every night of the week of I didn't insist on some variety.

Our five-year-old likes shorter shapes, which is the best choice. Whenever I see him attempting to maneuver long strands of spaghetti, I have visions of a giant laundry pile that requires a stain stick for the olive oil spots.

To please everyone, I use the same pot of water for these pastas.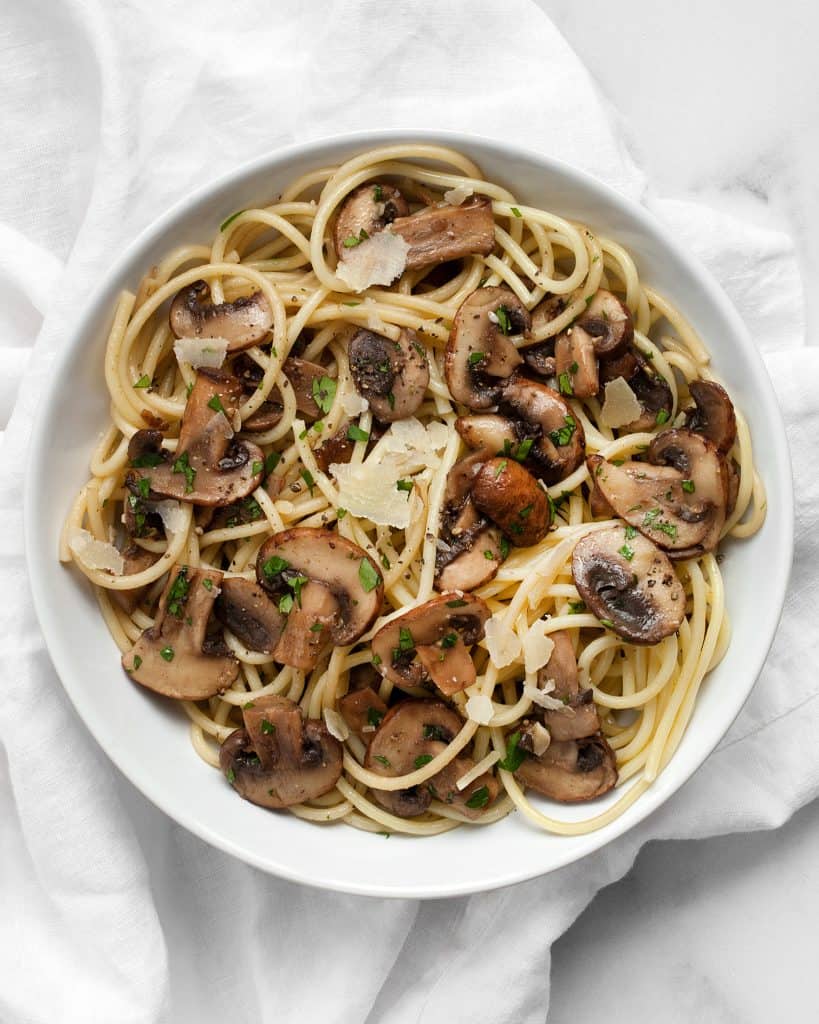 Of course I cook them separately starting with our little guy.
That gives me time to come up with a sauce or some sort of topping for the adults.
For most people, mushrooms are a love-it hate-it kind of thing. Whether it's the taste or the texture, they're not to everyone's taste.
I'm the exception, and I fall somewhere in the middle.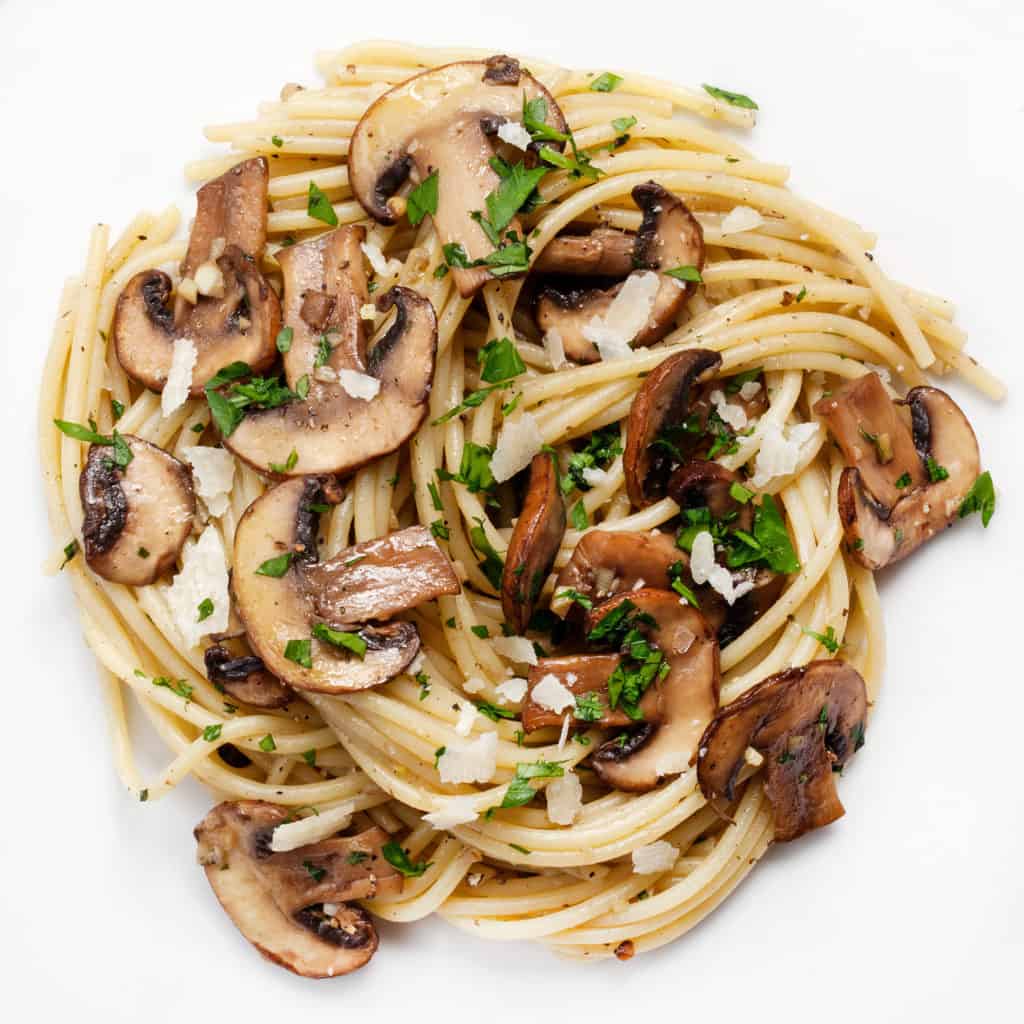 Lemon Garlic Mushroom Spaghetti: The Ingredients
The great thing about mushrooms is that they cook very fast. It makes them perfect for pasta since you can multitask and have everything ready to serve in the time it takes for the noodles to be al dente.
To start, I drop dried spaghetti in a pot of salted boiling water. Then I get to work on the mushrooms.

Since this is such a quick recipe, I have them sliced and the rest of the ingredients ready to go.
I heat olive oil in a large skillet and add the mushrooms. It always seems like a lot in the pan, but after a few minutes, they start to get smaller and deepen in color.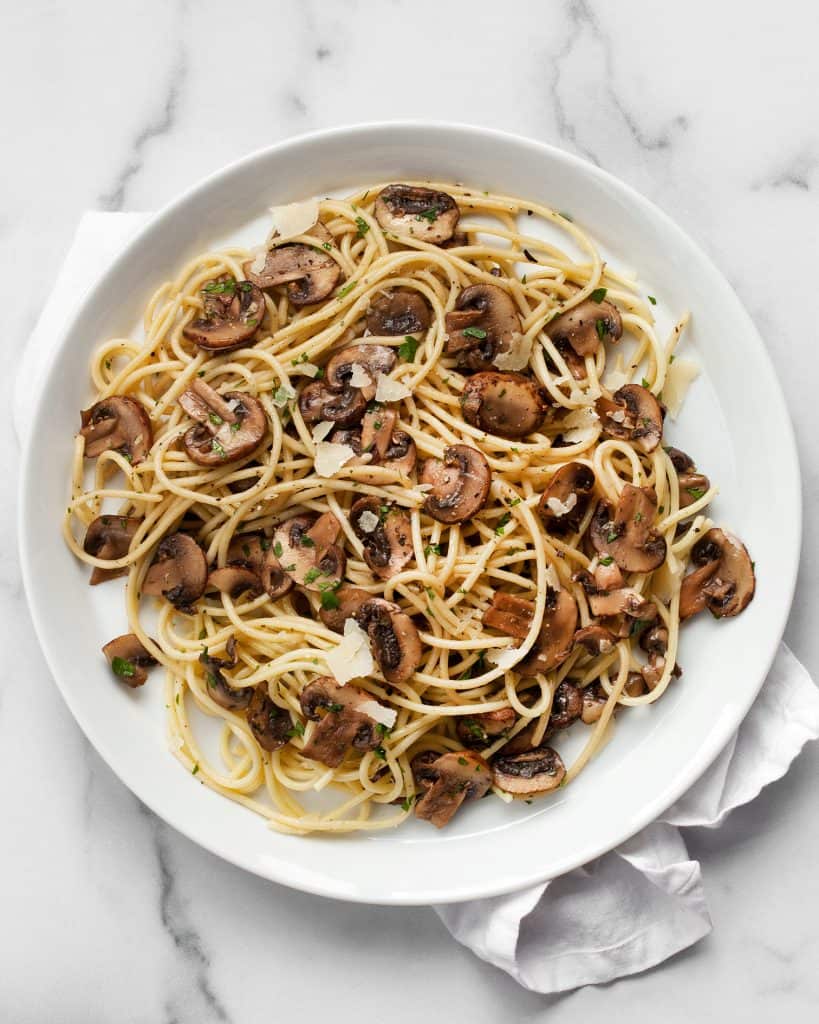 At that point I stir in garlic that's finely minced into almost a paste. When the mushrooms are fragrant and cooked, I squeeze in lemon juice.
The timing is quick, but it always seems to work out that when the mushrooms are ready, so is the spaghetti.

I use tongs to transfer the cooked spaghetti to the skillet. This is the best way to keep the right amount of starchy cooking water on the pasta.

Also, then I don't have to wash a strainer.
I give the mixture another splash of olive oil and toss everything together with Parmesan, parsley, salt and pepper.

This lemon garlic mushroom spaghetti is one of my weeknight night favorites!
Print
Lemon Garlic Mushroom Spaghetti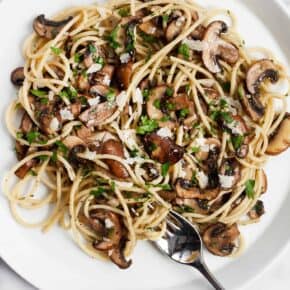 Prep Time:

5 minutes

Cook Time:

10 minutes

Total Time:

15 minutes

Yield: Serves

4

1

x
Scale
Ingredients
12 ounces spaghetti
2 tablespoons olive oil
8 ounces cremini mushrooms, sliced
1 garlic clove, finely minced into a paste
Juice of 1 lemon
1-2 tablespoons chopped fresh parsley
1 teaspoon kosher salt
1/2 teaspoon black pepper
Grated Parmesan for serving
Instructions
Bring a large pot of water to a boil and cook the spaghetti according to package instructions.
In a large skillet, heat 1 tablespoon olive oil over medium high heat. Add the mushrooms and sauté for 5 minutes until the mushrooms start to brown. Stir in the garlic and continue cooking for a few minutes until the mushrooms are caramelized and fragrant. Add the lemon juice.
Use tongs to transfer the cooked spaghetti directly from the pot to the skillet with the mushrooms. Toss with the remaining olive oil, parsley, salt and pepper. Top with grated Parmesan before serving.
SHARE THIS