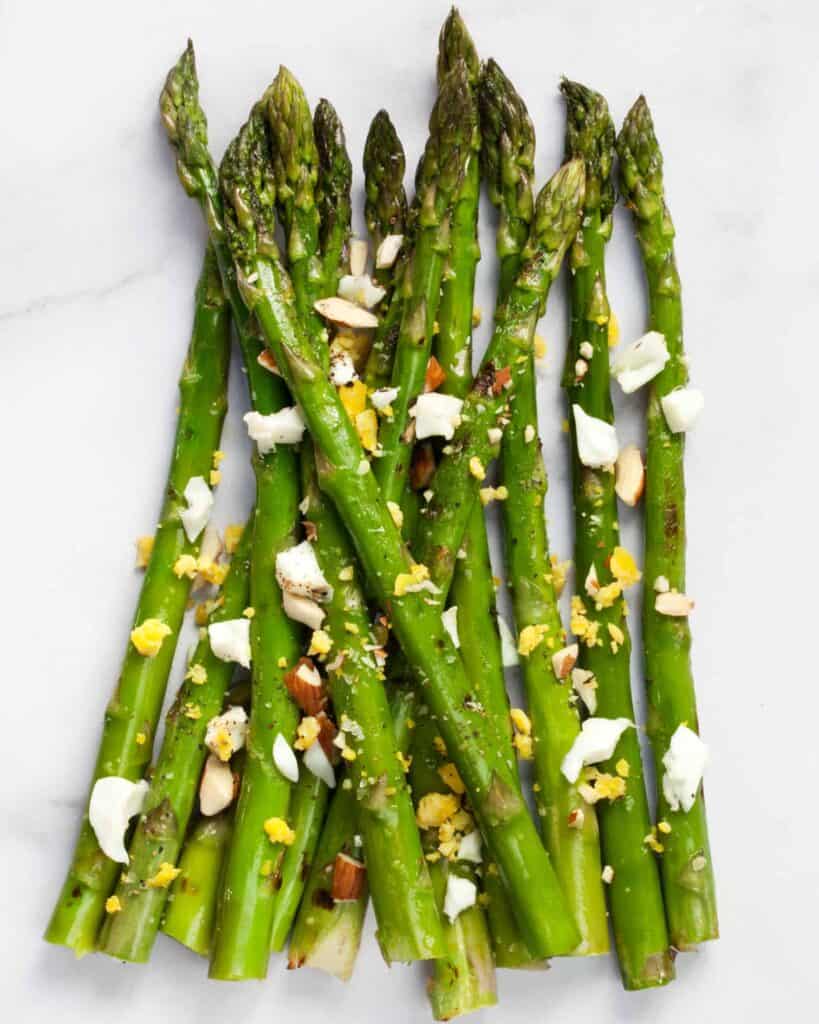 Monday to Friday at least one of my daily meals involves a peanut butter and jelly sandwich and carrot sticks.
Don't get me wrong, that PBJ is and will always be one of my favorites, but it's a product of necessity.
I need to eat, and there are moments when I don't have time for much else.
Things are so hectic that I only have the capacity to whip up one creative meal a day during the week.
Peanut butter and jelly sandwiches are my break.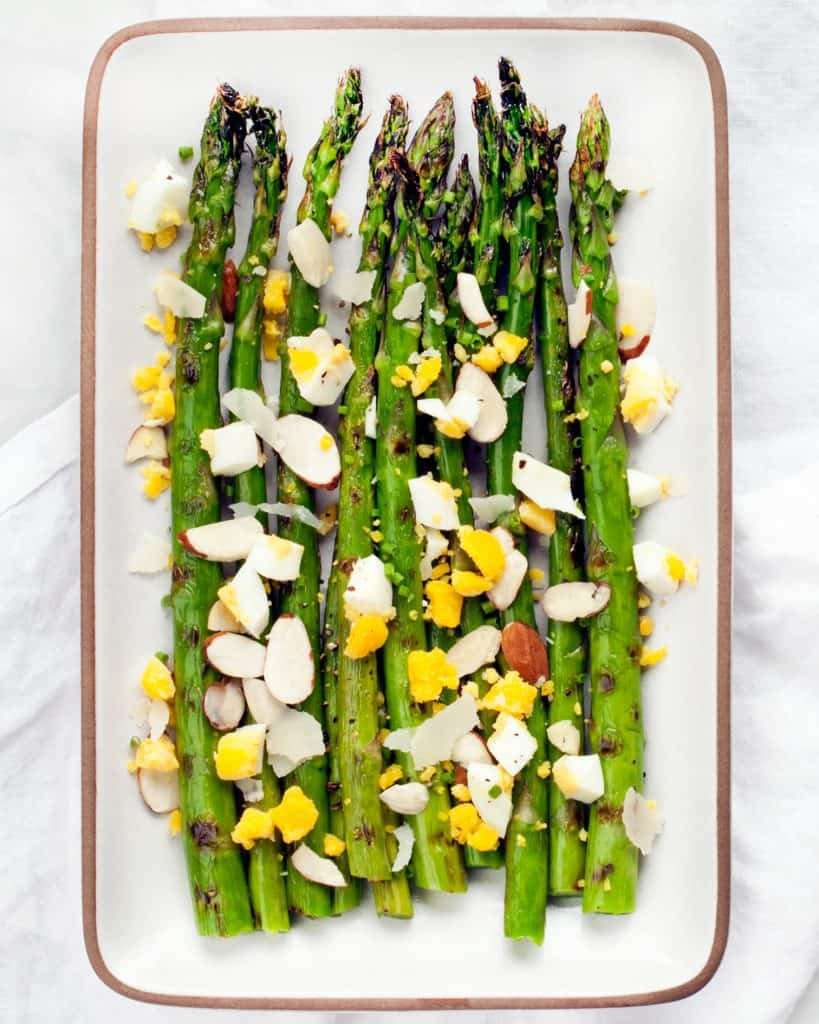 Weekends are a completely different story. Thank goodness!
Since we have a toddler with a 7:00 p.m. bedtime, sometimes we do post-nap late lunches that we also think of as very early dinners.
Our son's afternoon naps always start later than planned. They can go so long that we enter the early bird special time zone. The day gets totally thrown off.
The past few Saturday mornings we've been at the farmers market first thing buying all sorts of veggies.
Then we use our market purchases in that late afternoon / early dinner meal.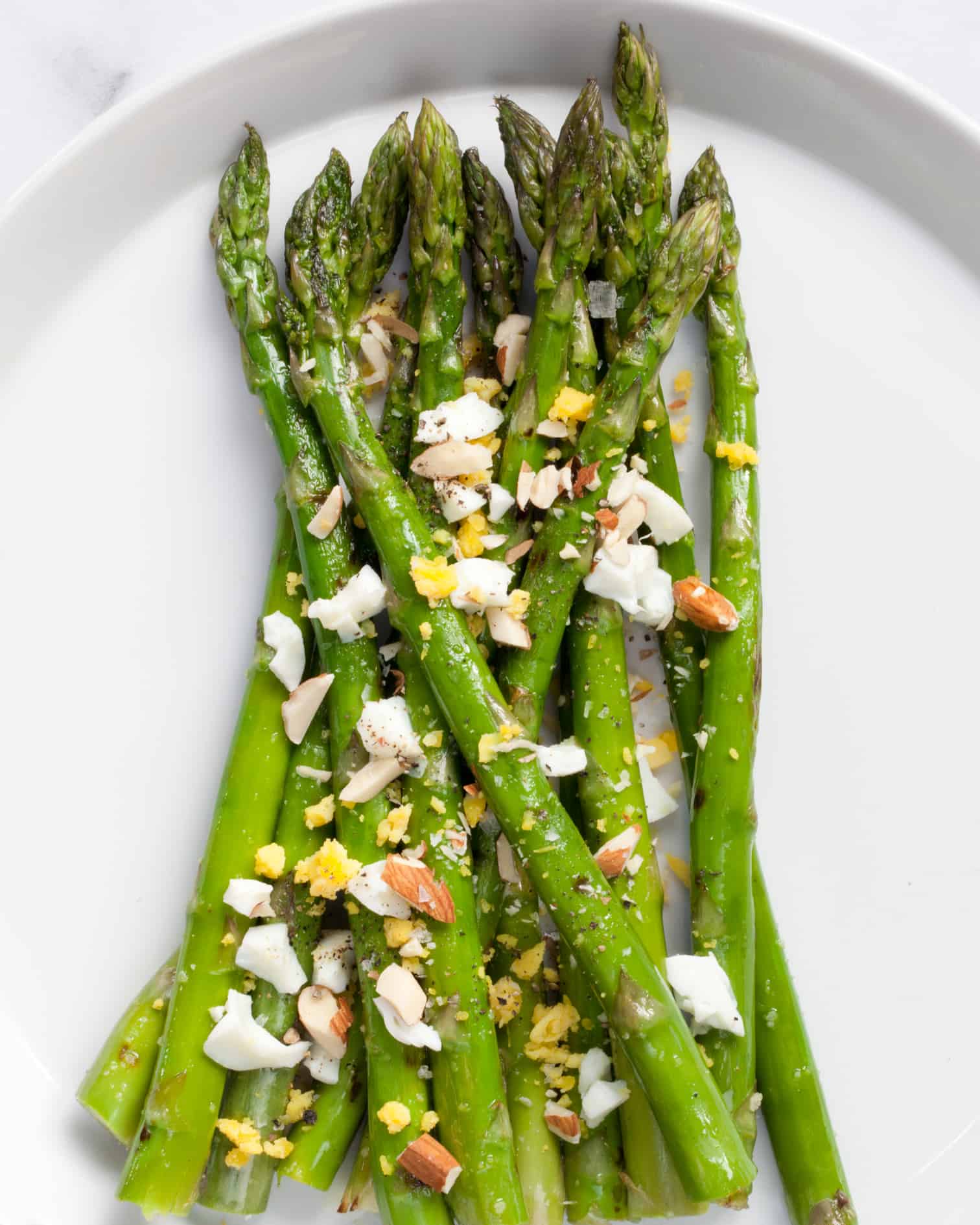 I have been fully embracing asparagus season.
On my last few shopping trips I haven't been able to leave without buying at least one bunch. How could I resist when it's finally spring?
I love roasting asparagus and sometimes turning it into soup.
This past weekend I decided to just grill it. Instead of going outside, I kept things inside.
How To Make A Grilled Asparagus Salad
I tossed a bunch of asparagus in olive oil, salt and pepper. Then I cooked the stalks on a grill pan. In minutes they were stripes with grill marks.
To dress my asparagus, I tossed it lemon vinaigrette with Dijon mustard and minced shallots.
With the stalks arranged on a serving plate, I topped them with almonds and chopped hard-boiled egg to finish off this grilled asparagus salad.
Print
Grilled Asparagus Salad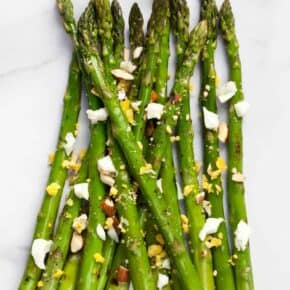 Prep Time:

5 minutes

Cook Time:

5-7 minutes

Total Time:

10-12 minutes

Yield: Serves

4

1

x
Scale
Ingredients
1 pound asparagus, trimmed
1 tablespoon + 1/4 cup olive oil
1/2 teaspoon kosher salt
1/2 teaspoon black pepper
1 tablespoon fresh lemon juice
1/2 teaspoon Dijon mustard
1 tablespoon minced shallots
2 hard-boiled eggs, whites and yolks separated and roughly chopped
2 tablespoons roughly chopped almonds
Instructions
For the asparagus, preheat a grill pan over medium high heat.
Toss the asparagus with 1 tablespoon olive oil, salt and pepper. Grill the asparagus, turning occasionally, until it is cooked through and has grill marks, about 5-7 minutes.
For the vinaigrette, in a small bowl, combine the lemon juice, mustard and shallots. Whisk in 1/4 cup olive oil until fully combined.
Drizzle the asparagus with the vinaigrette and top with egg and almonds.
SHARE THIS