Balsamic Tomato Peach Salad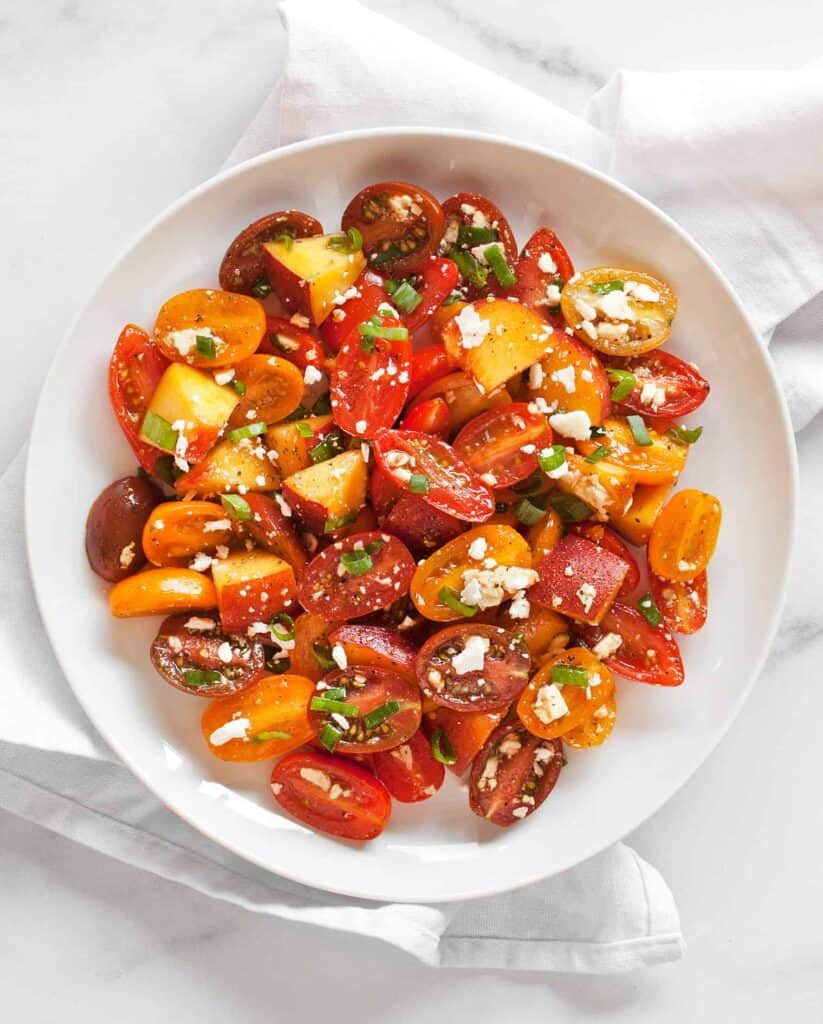 Uneventful weekends have become the norm this summer, and I don't mind.

We spent most of our Saturday and Sunday on the back deck, our patch of outdoor space in the city.

Next to our patio furniture, we managed to squeeze in a 5-foot-wide inflatable pool.

My 6-year-old was very excited because it arrived in the mail a week earlier than we expected.
The pool took a while to blow-up even with using the inflator from an air mattress.

Then filling it up with water took even longer.

And hose water is cold! We still had fun laughing and splashing.

It's no replacement for swim lessons at an actual pool, but I have a feeling we will have more lasting memories from it.
While we were relaxing on the deck, I spotted the first bright red cherry tomato on the tallest of our tomato plants.

It was tucked in a hiding spot covered by dense leaves.

My impatience took over. I picked the tomato and devoured it in one bite.
Now I can't wait for more. I have a feeling it's going to be like summer a few years ago when we had more tomatoes than we could eat.

Of course, we found a way to roast and store our way through them.

But the best way to eat those tomatoes minutes after they've been plucked from the vine is raw.

I love pairing tomatoes with other fruits and veggies that are at their peak like in this balsamic peach tomato salad.
How To Make A Balsamic Tomato Peach Salad
Since it has no leafy greens, it's a salad that benefits from a little time soaking up the vinaigrette.

First, I combine halved cherry tomatoes and diced peaches into a large bowl.

In a separate small bowl, I whisk together balsamic vinegar, olive oil, salt and pepper.

Then I pour the vinaigrette into the tomatoes and peaches tossing them around, so they are coated.

I let that marinate for 15-20 minutes, and the tomatoes get super juicy.

To finish this easy balsamic peach salad, I stir in plenty of sliced scallions and salty crumbled feta.
Print
Balsamic Tomato Peach Salad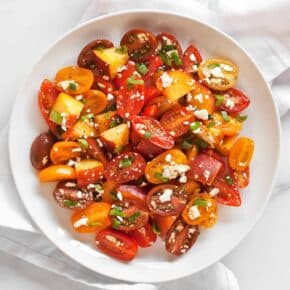 Prep Time:

5 minutes

Cook Time:

15-20 minutes

Total Time:

20-25 minutes

Yield: Serves

4

1

x
Scale
Ingredients
2 pints cherry tomatoes, halved
2 peaches, pitted and diced
1 tablespoon balsamic vinegar
2 tablespoons olive oil
1 teaspoon kosher salt
1/2 teaspoon black pepper
3 scallions sliced
1/4 cup crumbled feta
Instructions
Place the tomatoes and peaches in a large bowl.
In a small bowl, whisk together the balsamic vinegar, olive oil, salt and pepper. Pour the mixture over the tomatoes and peaches, tossing to coat.
Let the tomatoes and peaches marinate for 15-20 minutes. Fold in the scallions and feta before serving.
SHARE THIS