Grilled Pizza with Caviar and Smoked Salmon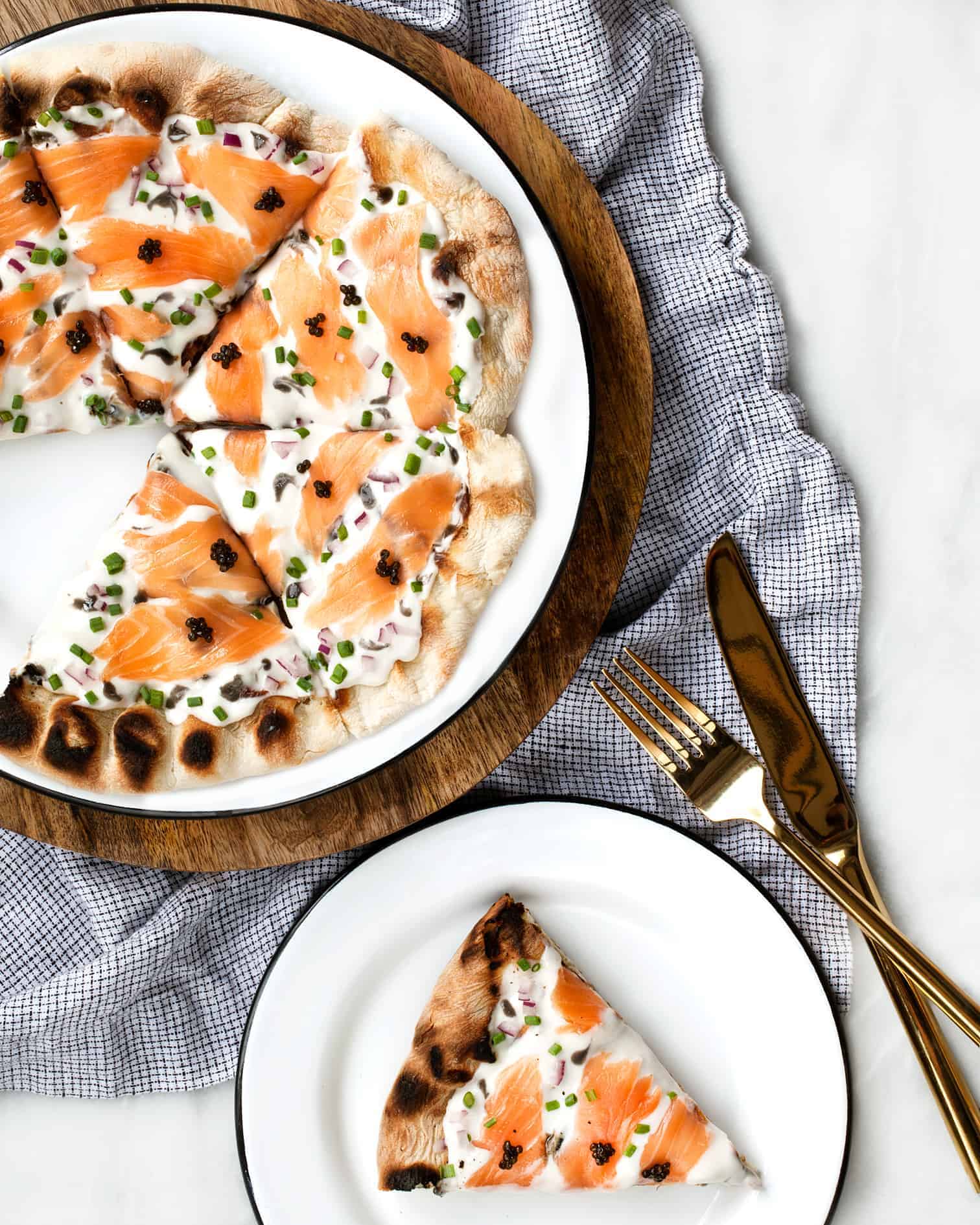 My thoughtful, kind husband is already asking me about Mother's Day—how I want to celebrate; where I would like to go; what I would like to eat; and of course, what I want. Like most moms, I would love something sentimental. A framed family photo or a macaroni necklace crafted by our 4-year-old would fill my heart with so much joy, but yes, I admit, a gift to go along with that would be appreciated, too.
It's not like we need more stuff, so for gifts our family has been on a kick coming up with ideas for experiences instead of objects. I'm suggesting things like a class, a museum membership, a trip or a meal that we can share together. My friends at Petrossian must have read my mind when they sent a box filled with all sorts of goodies from caviar to smoked salmon.

I had a bunch of different ideas about what to do with such special ingredients. If you know me, you know I'm obsessed with grilled pizza, and now that it actually feels like spring in Chicago, I am doing my best to grill just about everything. For this grilled pizza with caviar and smoked salmon, I started by grilling the dough on both sides until it puffed up and had plenty of grill marks.
After letting the crust cool off, it was on to the toppings. I spread crème fraiche as a base leaving a border around the edge. Then I careful tore beautifully large slices of classic smoked salmon into smaller pieces that would make the pizza easier to cut. Each salmon slice got a tiny dollop of Petrossian Daurenki Caviar, which has a wonderfully buttery and nutty flavor. I finished off the pizza with minced chives & red onions and a drizzle of TALISMAN Liquid Caviar.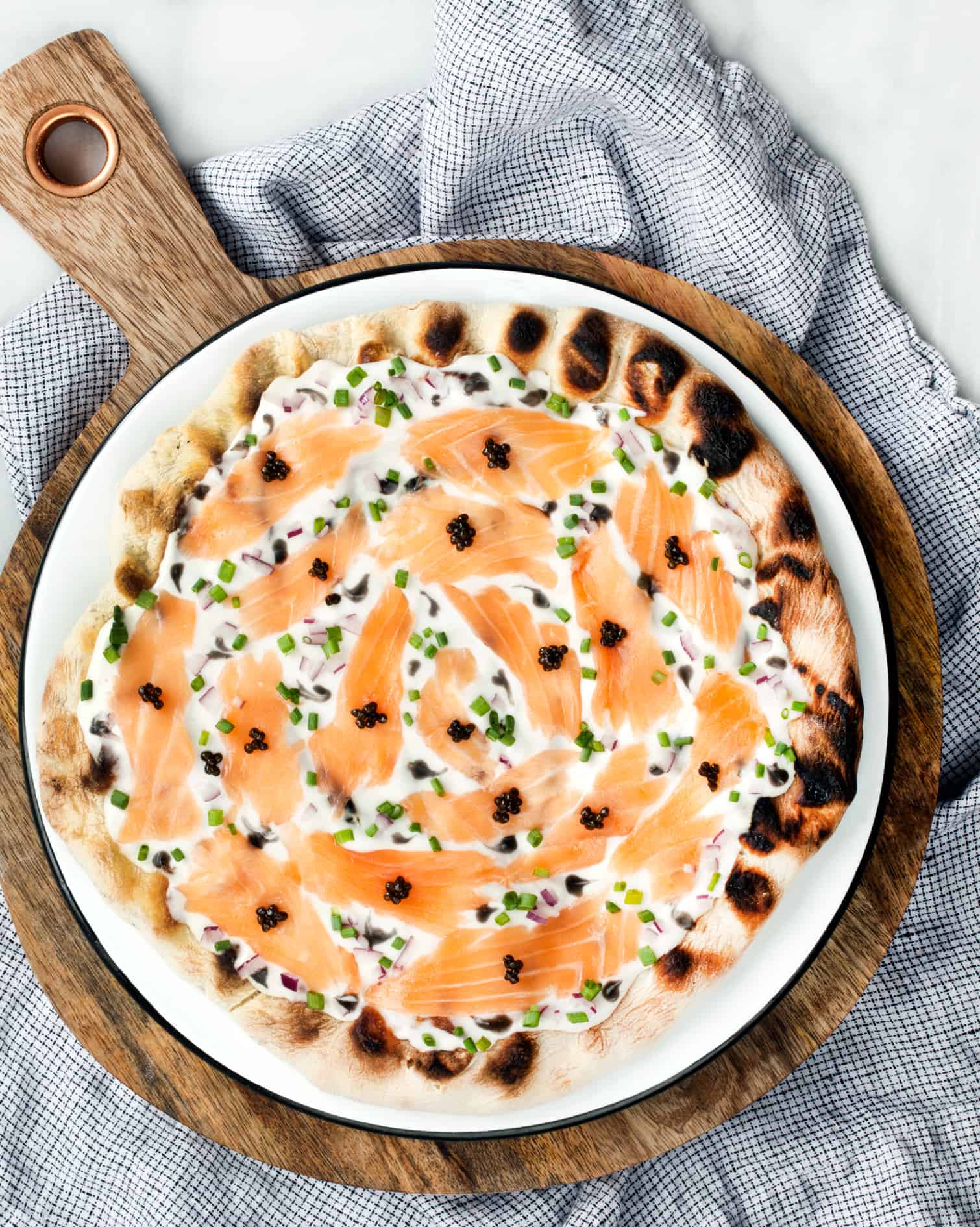 My husband and I enjoyed the pizza for a late weekend lunch. Our little guy was at the table too, but he devoured his own cheese pizza. It was no problem grilling them side-by-side. Plus I was just doing my motherly duty whipping up a kid-friendly version of the adult meal. I didn't mind because we were laughing and eating together, and that's what's important.
Grilled Pizza with Caviar & Smoked Salmon
Makes one 12-inch pizza
1 pound homemade or store-bought pizza dough
Flour for work surface
1/3 cup crème fraiche
3 ounces Petrossian Classic Sliced Smoked Salmon, torn into 3-inch pieces
2 tablespoons Petrossian Daurenki Caviar
1 tablespoon minced chives
1 tablespoon minced red onions
1 teaspoon Petrossian TALISMAN Liquid Caviar
Preheat a gas or charcoal grill on high heat. On a lightly floured work surface, roll out the pizza dough into a 12-inch diameter circle.
Place the dough directly on the grates and grill for 3-4 minutes with the lid closed until the crust has grill marks and has puffed up. Turn over the crust and grill for an additional 2-3 minutes.
Remove the crust from the grill and flip it over so the first side that was grilled is facing down. Let cool for 10-15 minutes.
Spread the crème fraiche over the crust leaving a 1-inch border. Arrange the smoked salmon on top in a single layer. Dollop small spoonfuls of caviar on the smoked salmon. Sprinkle on chives and red onions followed by drops of liquid caviar.
This post is sponsored by Petrossian.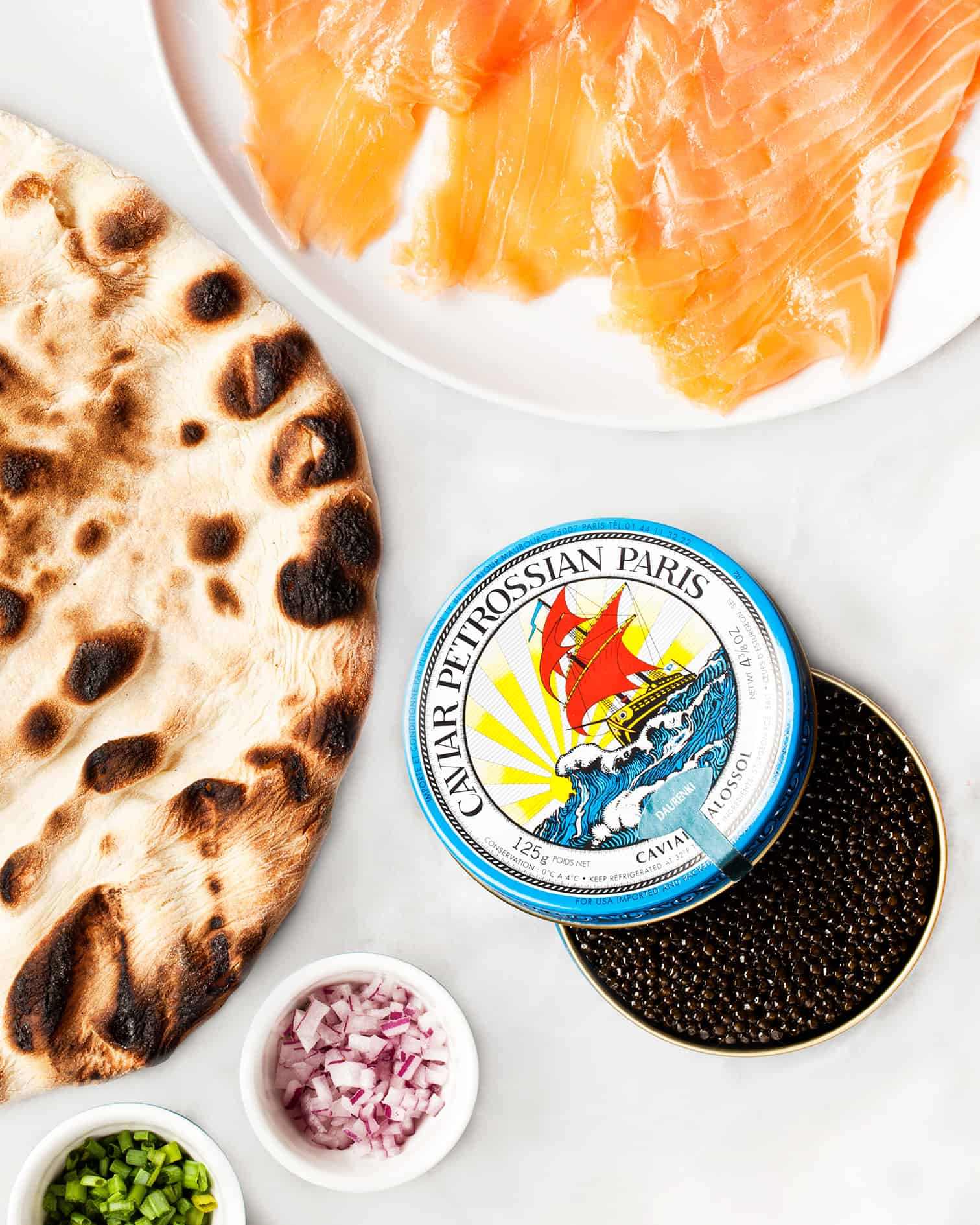 SaveSave
SaveSaveSaveSave
SaveSave
SaveSaveSaveSaveSaveSave
SaveSaveSaveSave
SaveSave
SaveSave
SaveSave
SHARE THIS