Grilled Sundried Tomato and Arugula Pizza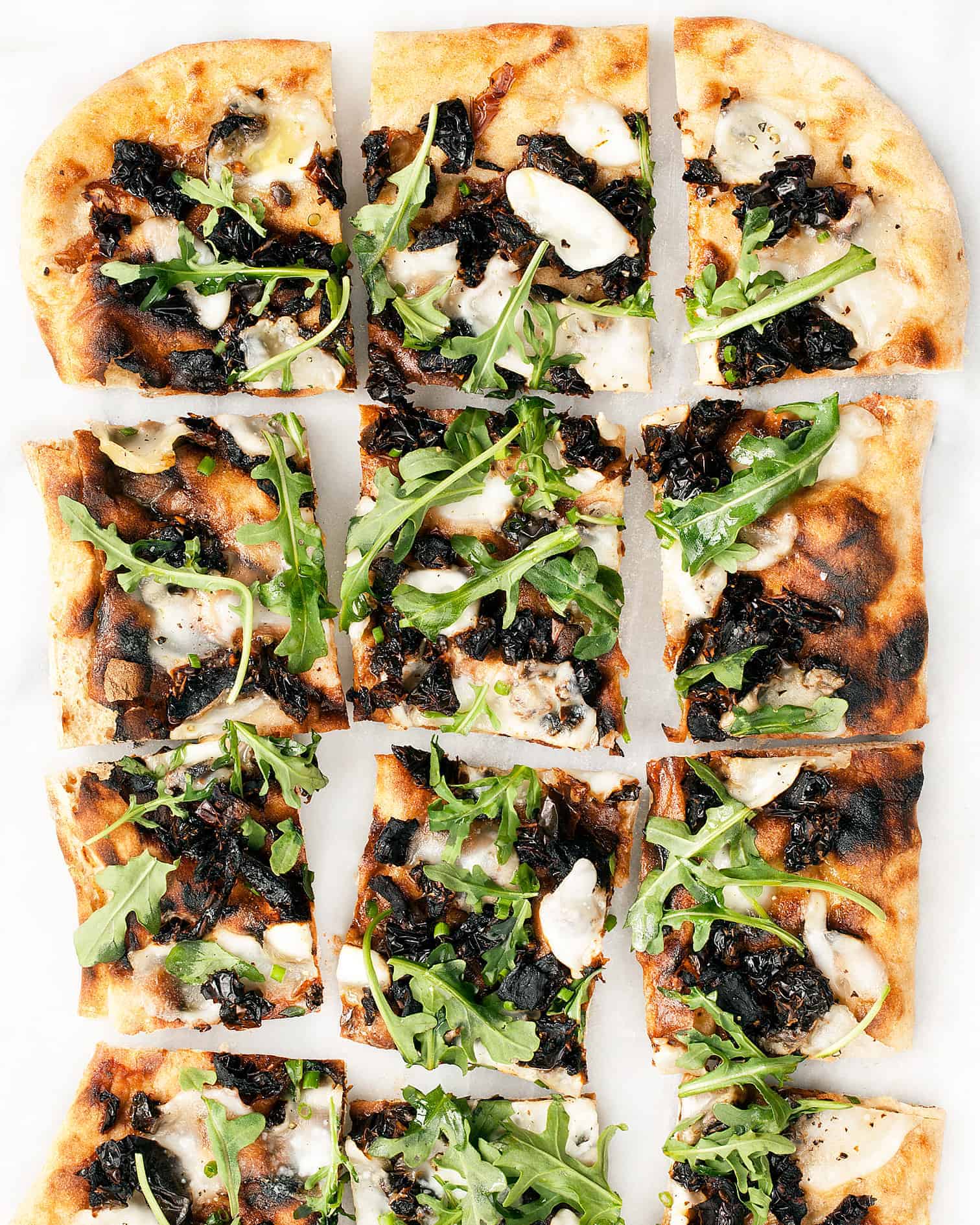 If there's such a thing as tomato guilt, I'm having it. Jarred and preserved tomatoes helped me survive the fall and winter months, but now I've nearly abandoned them. Instead I have gone headfirst into fresh tomatoes devouring them raw and slow-roasted. I discovered a bag of sundried tomatoes hiding in the back of a cabinet, so I cleaned the pantry with a grilled sundried tomato and arugula pizza.
The sundried tomatoes I had were not the ones packed in oil, so they needed to be rehydrated in water. Once they were nice and plump, I chopped them, so they could be scattered across the pizza. I headed outside to the grill, but you also could make it on a stone in the oven. I'm a big fan of adding fresh greens to a pizza once it's been cooked, and arugula added a nice peppery bite.
Sundried Tomato & Arugula Pizza
Adapted from Food & Wine April 2011

2/3 cup warm water
1/2 teaspoon dry active yeast
1 teaspoon granulated sugar
2 teaspoons olive oil plus more for bowl and pizza
1-1/2 cups bread flour plus more for work surface
1/2 teaspoon kosher salt
3 ounces sundried tomato halves (not packed in oil)
1 garlic clove, chopped
1/4 cup olive oil
6 ounces fresh mozzarella, thinly sliced
2 handfuls arugula
1 tablespoon minced chives
Salt and black pepper
In a small bowl, combine the water, yeast, 1/2 teaspoon sugar and 1 teaspoon olive oil. Let stand until foamy, about 5 minutes.
In the bowl of a food processor, pulse the flour and salt. Add the yeast mixture and process until a ball of dough forms. Transfer the dough to an oiled bowl. Cover and let rise until doubled in volume, about 2 hours.
Place the sundried tomatoes in a small saucepan and cover with water. On low heat, simmer them until they are plump, about 5 minutes. Drain and roughly chop the tomatoes. Puree the garlic with the olive oil in a food processor.
Heat a gas or charcoal grill on high heat. On a lightly floured work surface, roll out the pizza dough into a rough circle 12-inch diameter circle.
Place the dough directly on the grates and grill for 2-3 minutes with the lid closed until the crust has grill marks and has puffed up. Turn over the crust and grill for an additional 2 -3 minutes.
Remove the crust from the grill and flip it over so the first side that was grilled is facing down. Drizzle with the garlic olive oil and scatter the tomatoes and mozzarella across the crust leaving a 1/2-inch border. Return the pizza to the grill and cook until the cheese has melted, about 2 minutes. Top with arugula & chives and season with salt and pepper before serving.
SaveSave
SaveSave
SaveSave
SaveSave
SHARE THIS