When it's salad season and grilling season, there is no more perfect time to make a grilled romaine salad. Simply quartering romaine hearts and searing them on the grates gives those leafy greens some char and a lot of signature smoky flavor. And every single ingredient deserves this when it goes on the grill.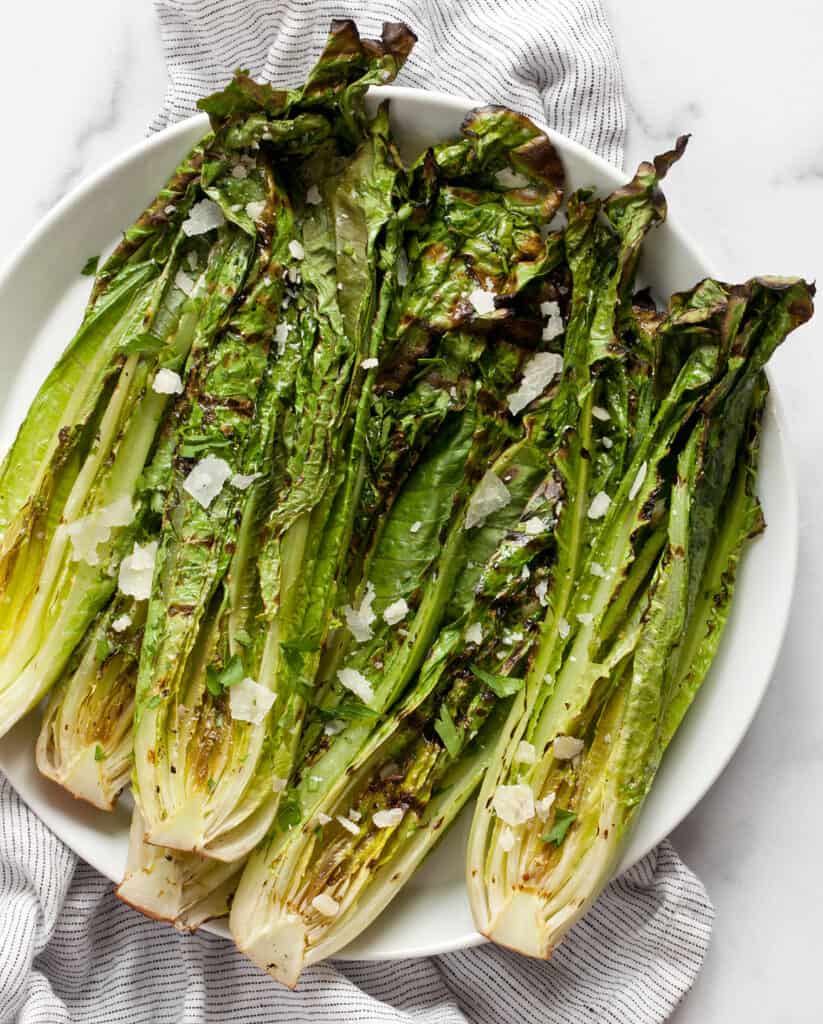 There are a lot of things that end up on the grill in the summer, but lettuce isn't what comes to mind first. Probably the ingredients that actually go with the greens are more likely to get the grill marks. Hello, grilled peach corn quinoa or grilled asparagus tomato salad!
But it turns out romaine is actually one of those lettuces that you can and should grill. Why should the rest of the vegetables and fruits have all the fun? Something smoky and magical happens even when that romaine is on the hot grill grates for the shortest amount of time.
Why You Need To Make This Recipe
It's a fancy salad that's easy. If you are looking for a way to make a basic vinaigrette salad with Parmesan more interesting try grilling. Of course, there is absolutely nothing wrong with an arugula salad with lemon vinaigrette, but why not take advantage of the grill if you have it fired up.
This romaine salad recipe is a salad and a side dish. The moment you do a little cooking, the romaine becomes a cousin to other cooked green side dishes. Spring and especially summer are all about casual, informal meals, so there is no need to start with a salad. You can put everything on the table at once, so it's even better when the lines are blurred.
What Is Romaine?
A common type of garden lettuce, romaine is tall and slender. Often times the outer leaves are removed and it is sold as hearts of romaine. The tips of the leaves are darker greens and they lighten to pretty much white the closer you get to the stem.
Romaine is a great all-purpose lettuce. It's affordable and easy to find. I love it in an Italian chopped salad, a roasted corn salad or a baked falafel salad. It's a lettuce that does well in the background, but can be so much more than just that.
That stem end is what makes romaine so good for grilling. In this recipe, you take a romaine hearts and slice them into quarters lengthwise. There's no avoiding losing a few leaves, but the stem is what holds everything together.
The Ingredients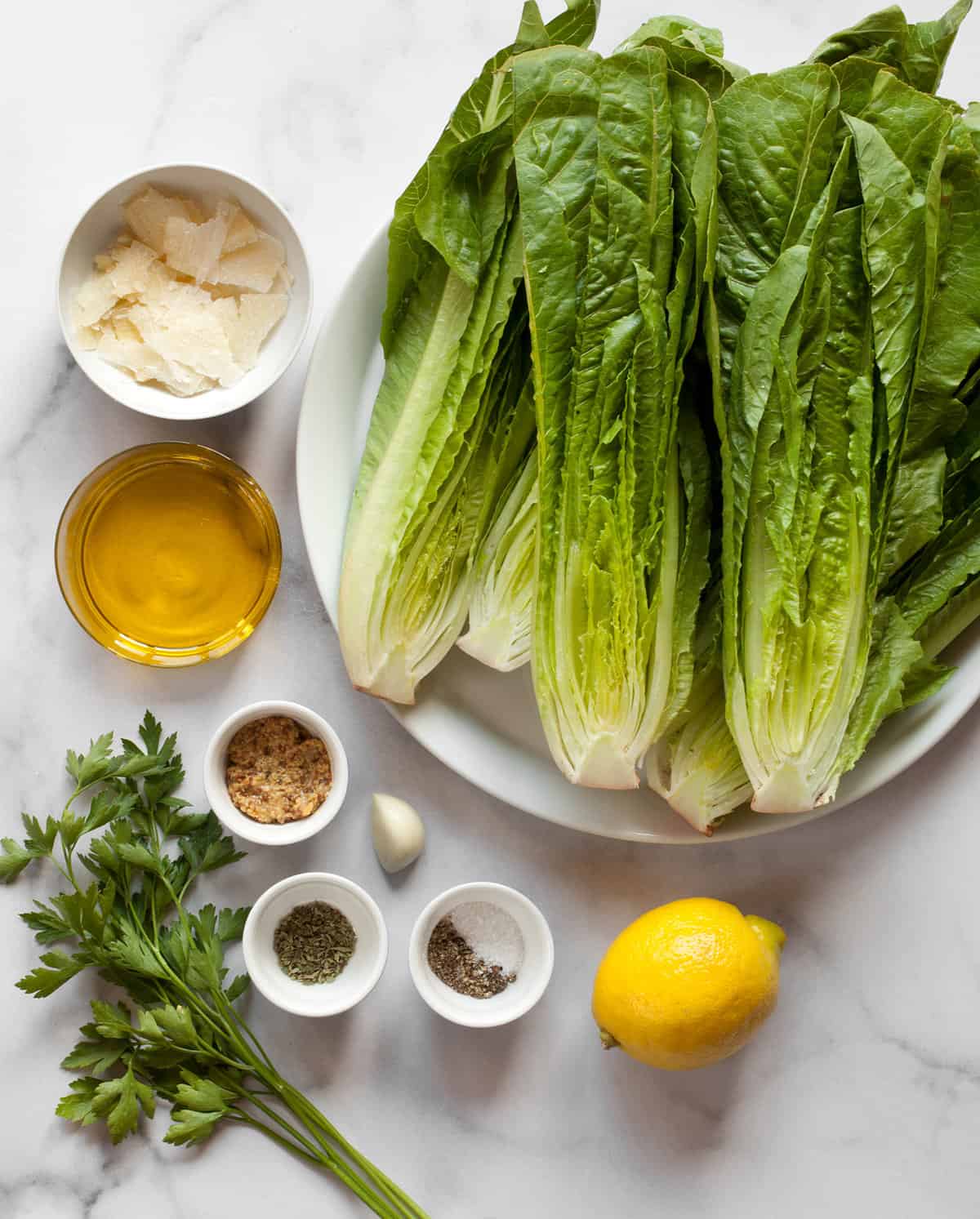 This is what you need:
Romaine: There are no substitutes here. You need to use romaine. If you end up buying full heads instead of just the hearts, I recommend pulling off the looser outer leaves. Fresh romaine will be a vibrant green. Avoid any that shows signs of rust or limp leaves.
Olive oil is the base of the dressing. Use high quality extra virgin olive oil.
Lemon juice is bright and citrusy in the dressing. If you don't have a lemon, you can use a couple tablespoons of white wine vinegar or red wine vinegar instead.
Mustard: Whole grain Dijon mustard not only adds flavor to the dressing, but it also emulsifies it and keeps it from separating.
Garlic: The flavors of this salad are practically begging for the minced garlic clove that's included in the dressing.
Salt & pepper are important to season the dressing and the overall salad.
Parmesan: Rather than grating the Parmesan, I prefer shaving it into thin pieces. You can do this with a knife or a vegetable peeler. Then I like to take the cheese and sprinkle and crumble it a bit over the salad before I serve it. If you like something stronger, you can swap in blue cheese crumbles.
Parsley: Along with the cheese, I garnish the salad with chopped fresh herbs. Parsley as well as chives are great on this salad.
Optional Additions
You can keep it minimal with lettuce, dressing, cheese, and herbs, or you can also add:
Halved cherry tomatoes
Chopped nuts
How To Make A Grilled Romaine Salad
Preheat a gas or charcoal grill on high heat.
1. Make the dressing. In a small bowl, whisk the fresh lemon juice, olive oil, mustard, garlic, oregano, salt and pepper.
2. Brush the dressing on the romaine hearts. This acts almost like a marinade to do this before the romaine hits the grill.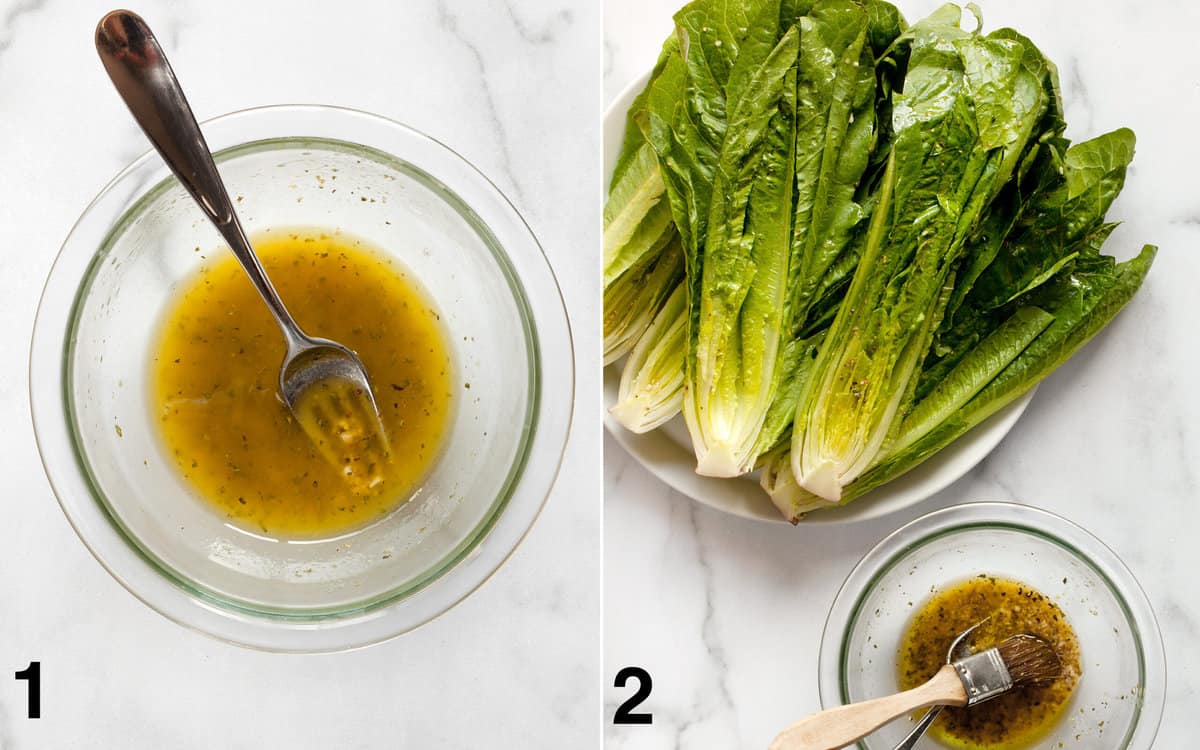 3. Grill the romaine. This will only take about a minute per side. You are just searing it, so it has grill marks and caramelized edges.
4. Drizzle the salad with additional dressing and finish with Parmesan cheese and chopped parsley.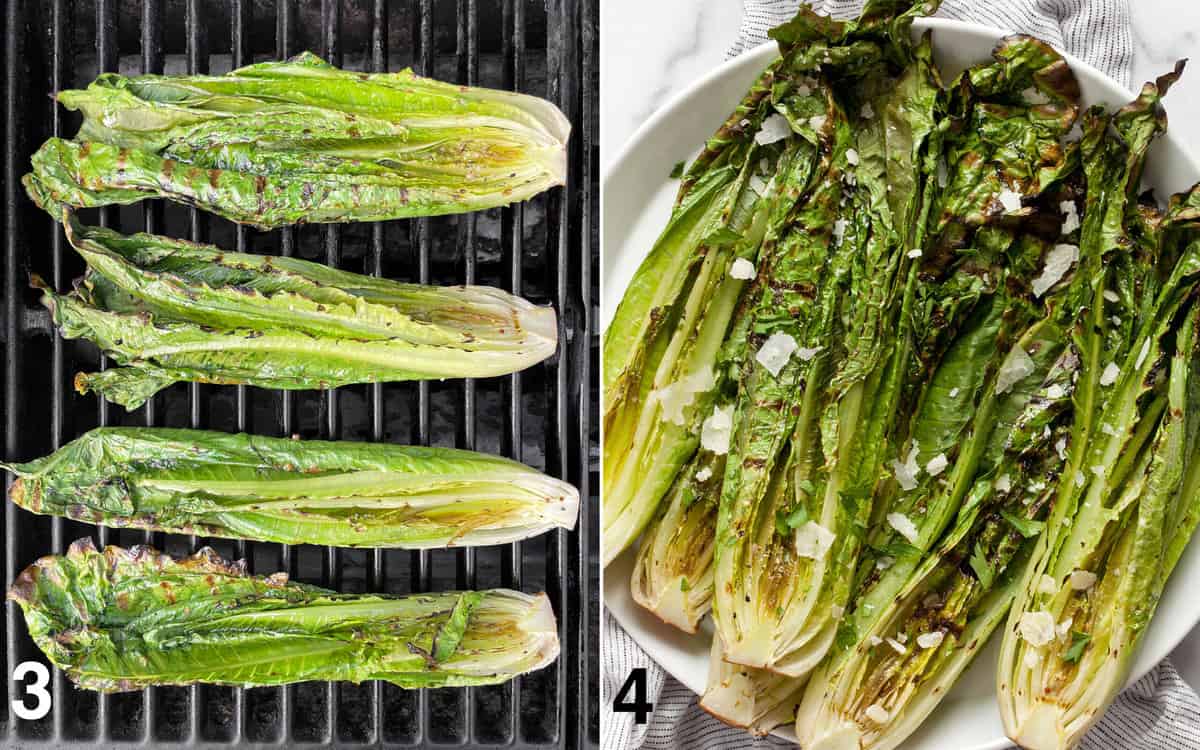 Serving
You have 2 choices when you are serving this salad. You can present the grilled romaine hearts on a serving platter or you can chop them. It's really up to you depending on how many people you are feeding and if you want it to look more like a salad or a side dish.
The romaine hearts look beautiful served whole to individual people. Chopping them will probably help them go father with a bigger group since the portion size can be more up to each person.
Leftovers
Grilling romaine sacrifices some of its crispness all to get that smoky taste and caramelization. It is best served right after it is grilled. I don't recommend lettuce leftovers, but you can save extra dressing in an airtight container in the refrigerator up to 3 days.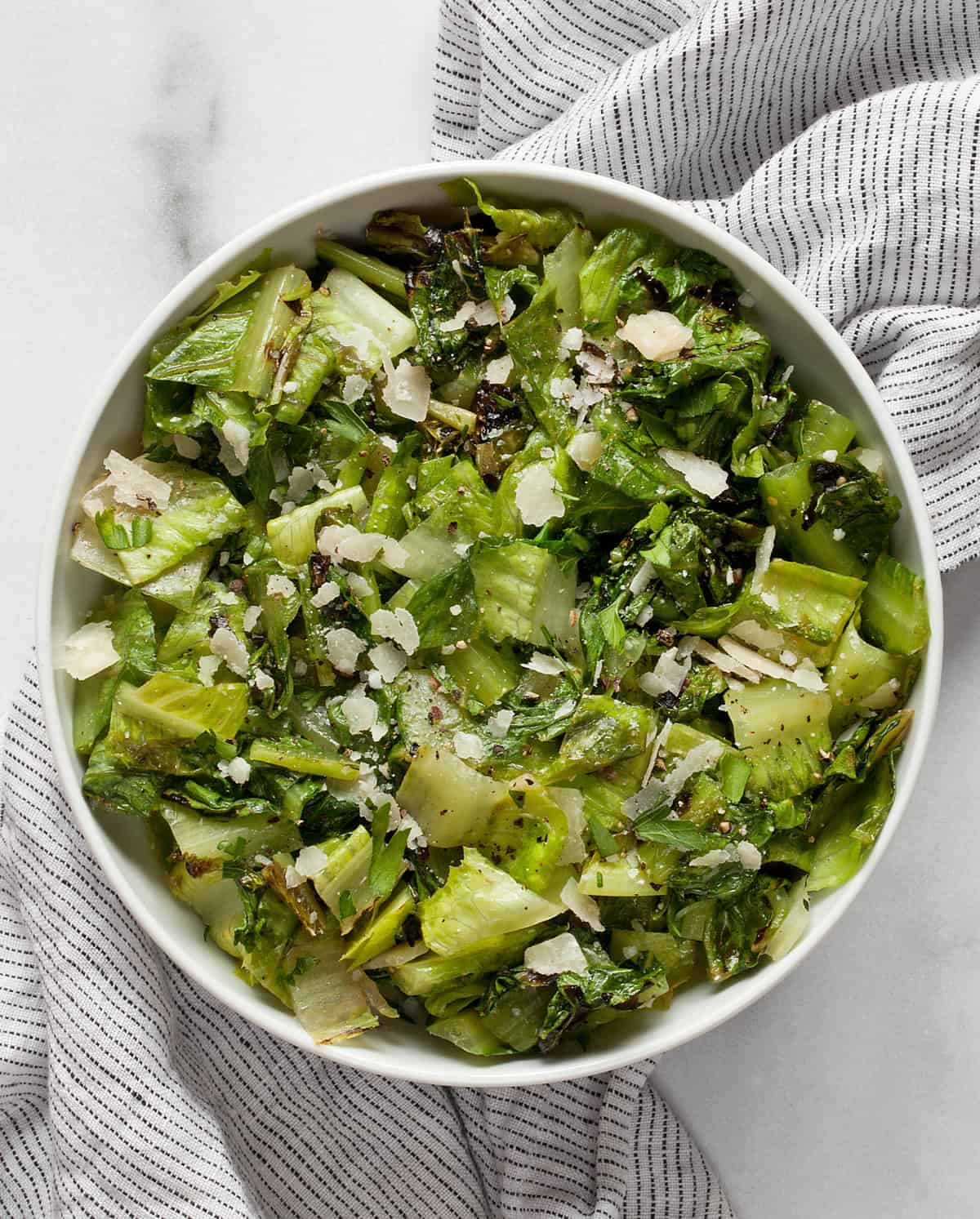 More Grilled Salads
Grilled Vegetable Orzo Pasta Salad
Blueberry Salad with Grilled Corn
Grilled Asparagus Salad
Black Bean Corn Salad
FAQs
Can you use a stovetop grill pan to grill romaine?
Yes. Just make sure to preheat your grill pan on the stove, so it is very hot. The point of grilling lettuce is to sear it quickly with a lot of heat.
Do you wash romaine before grilling it?
Give the romaine hearts a light rinse over the sink and pat them dry with a towel. This washes off any lingering dirt.
Let me know if you if you try grilling romaine. Please leave a comment and rating below. Thanks!
Grilled Romaine Salad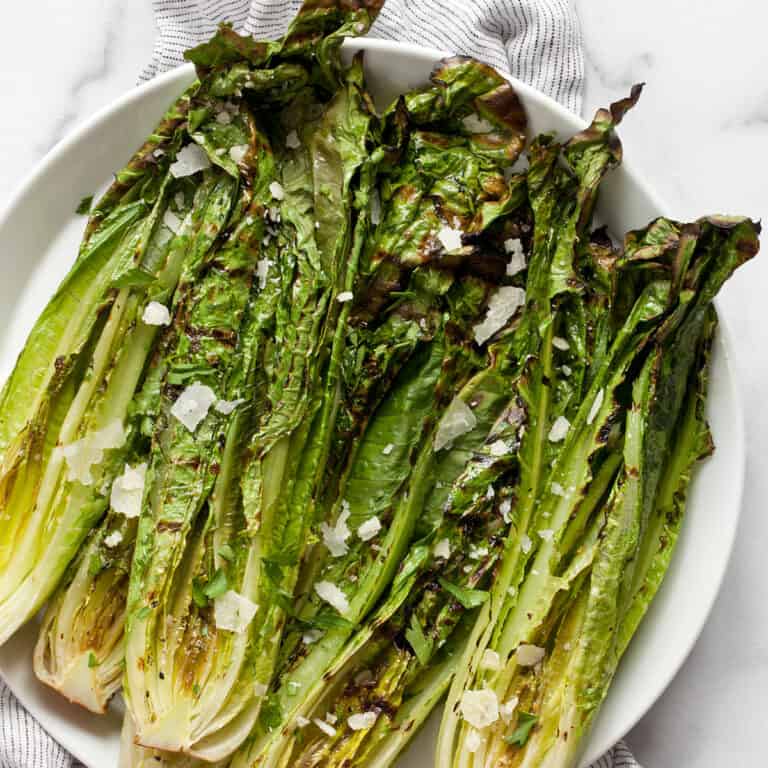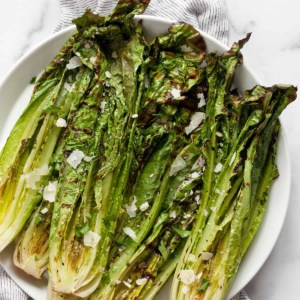 Romaine hearts go straight on the hot grill grates for a quick sear in this simple grilled romaine salad with parmesan and lemon vinaigrette.
Ingredients
Juice of 1 lemon

1/4

cup

olive oil

2

teaspoon

Dijon mustard

1

garlic clove

minced

1

teaspoon

dried oregano

1

teaspoon

kosher salt

1/2

teaspoon

black pepper

3

hearts

romaine

halved lengthwise

Shaved Parmesan for serving

Chopped parsley for serving
Instructions
Preheat a gas or charcoal grill on high heat.

In a small bowl, whisk together the lemon juice, olive oil, mustard, garlic, oregano, salt and pepper.

Brush the romaine with the dressing.

Quickly grill the romaine for about a minute on each side until it is just charred at the edges.

Drizzle with additional dressing as desired. Top with shaved Parmesan and parsley before serving.
Notes
The romaine is best eaten right after it is grilled. You can serve the hearts whole or chop them.
Great additions to the salad include halved cherry or grape tomatoes, homemade croutons, and chopped nuts.
If you have leftover dressing, it can be saved in an airtight container in the refrigerator up to 3 days.
Nutrition
Calories:
128
kcal
|
Carbohydrates:
2
g
|
Protein:
0.4
g
|
Fat:
14
g
|
Saturated Fat:
2
g
|
Polyunsaturated Fat:
1
g
|
Monounsaturated Fat:
10
g
|
Sodium:
610
mg
|
Potassium:
37
mg
|
Fiber:
1
g
|
Sugar:
0.4
g
|
Vitamin A:
80
IU
|
Vitamin C:
7
mg
|
Calcium:
16
mg
|
Iron:
0.4
mg
Nutrition information is automatically calculated, so should only be used as an approximation.