Topped with crumbled feta and fresh herbs, this grilled watermelon is smoky and sweet. If you've never grilled watermelon before, it's a simple way to caramelize it and add flavor along with those all-important grill marks. Then enjoy it as an appetizer, salad or side.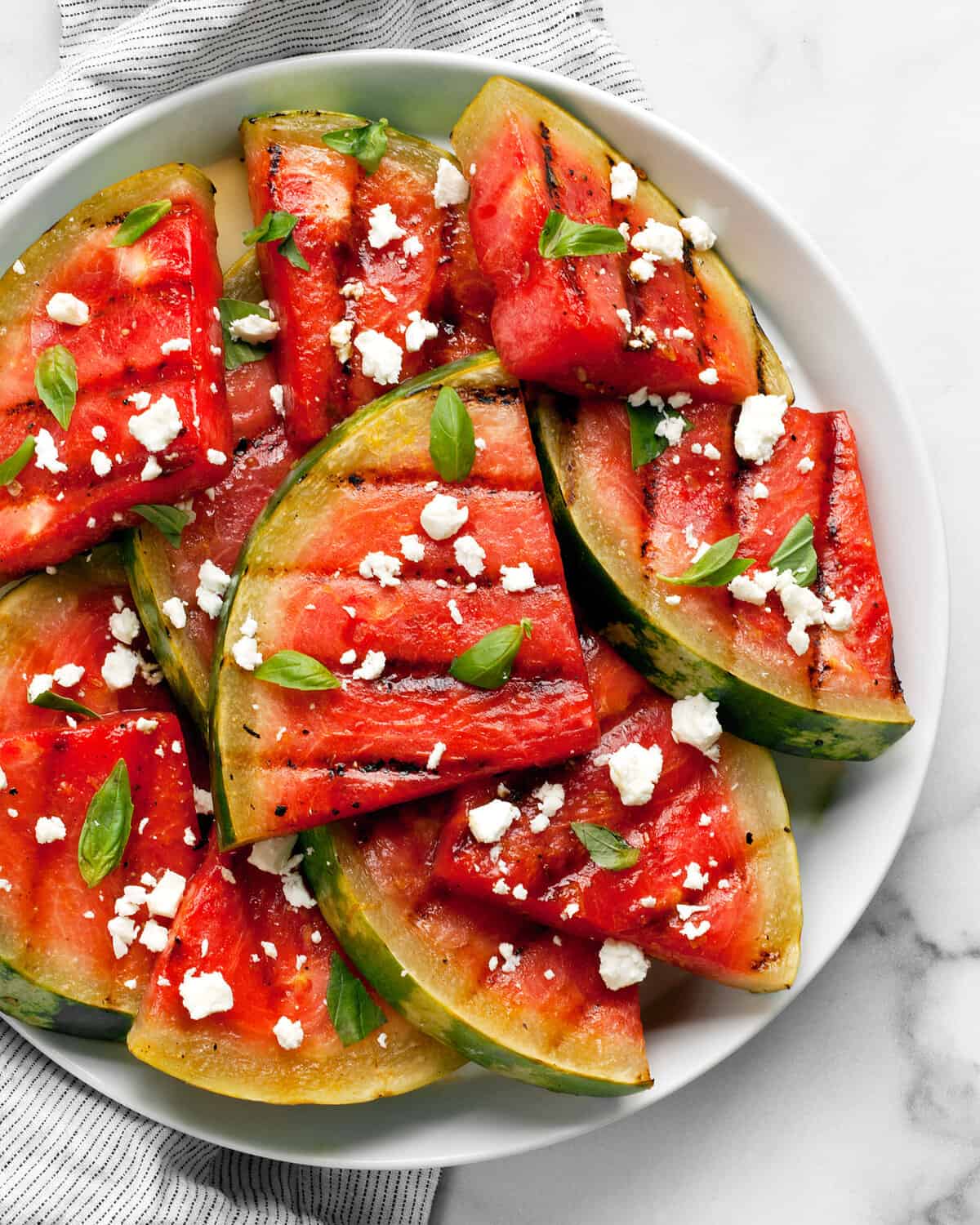 If there were a list of perfect summer foods, watermelon would definitely be on it. Cool, refreshing and endlessly adaptable, this melon can go from dessert to snack to appetizer to salad. And you can do that with something as simple as a sprinkle of flaky sea salt or sugar.
The hardest part is cutting the watermelon, but once you get the hang of it, you will have this recipe on repeat. Even if you don't consider yourself a big melon fan, still fire up your grill. Trust me—watermelon grilled is pretty special.
Why You Need To Make This Recipe
It's easy! The best kind of summer cooking takes advantage of everything that's in season. And there is a lot to choose from. While the grill is heating up, you can prep the watermelon and the marinade. Then just grill it for a couple minutes on each side.
Grilling fruit makes it taste even better. Besides that great smoked flavor, grilling gets fruit even juicier and brings out its natural sweetness. Also, you can grill so much more than melon including a stone fruit in a grilled peach corn salad or tropical fruit in grilled pineapple salsa.
It's an appetizer, side dish or a salad. You don't necessarily need lettuce to call something salad. But if you want, you can serve this recipe for the salad part of the meal with the option of including greens. You can also start the meal with it, or pair it with the main dish.
The Ingredients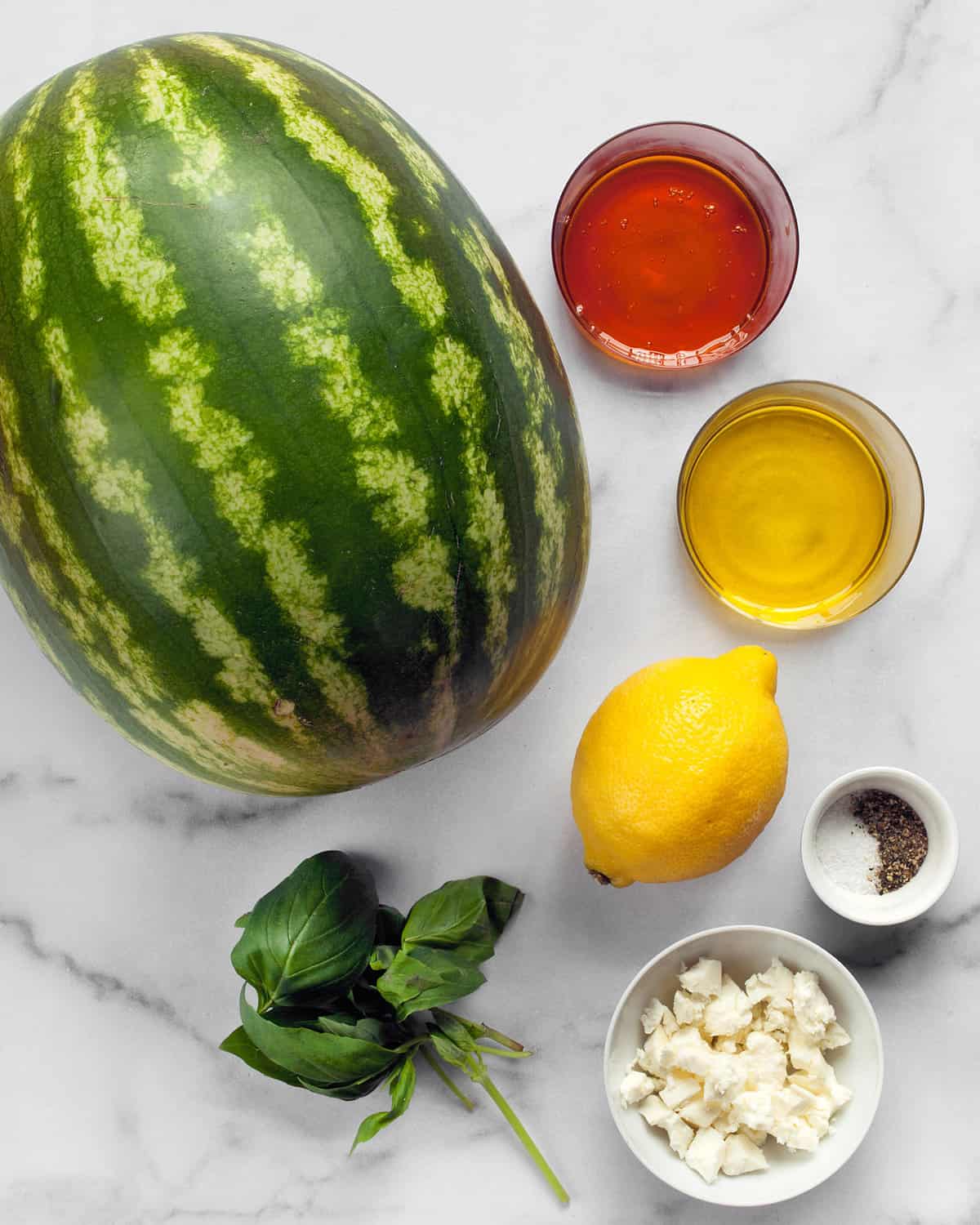 This is what you need:
Watermelon: The recipe calls for a full-sized watermelon, about 5-6 pounds. If you have less people to feed, you absolutely can buy a mini watermelon. When you end up with extra marinade, add a splash of vinegar to go full salad dressing and toss it on greens.
Lemon, both the juice and zest, give the watermelon a nice and bright citrus kick.
Honey enhances the sweetness of the fruit and balances well with the smoky flavor from the grill.
Olive oil: Use a good tasting, high-quality extra-virgin olive oil.
Feta cheese is a salty finishing touch. Goat cheese is a fantastic substitute.
Basil: For an herby garnish, I like torn basil leaves. But you can also include fresh mint leaves, cilantro or a mix.
Salt & pepper in the marinade really push the melon savory.
Variations
You can swap out lemon and use lime juice and zest instead. Then I would also recommend topping it with cilantro and a sprinkle of chili powder in this more Tex-Mex version.
Tips for Picking The Perfect Watermelon
Melon should always feel heavy for its size no matter the type.
When you tap on it, the sound should be deep and hollow.
Look for a creamy yellow field spot. This is the off-color area on the rind where the watermelon sat in the field.
How To Cut Watermelon
1. Slice one end off the watermelon.
2. Put the watermelon on a cutting board, flat side down. Then slice the watermelon in half.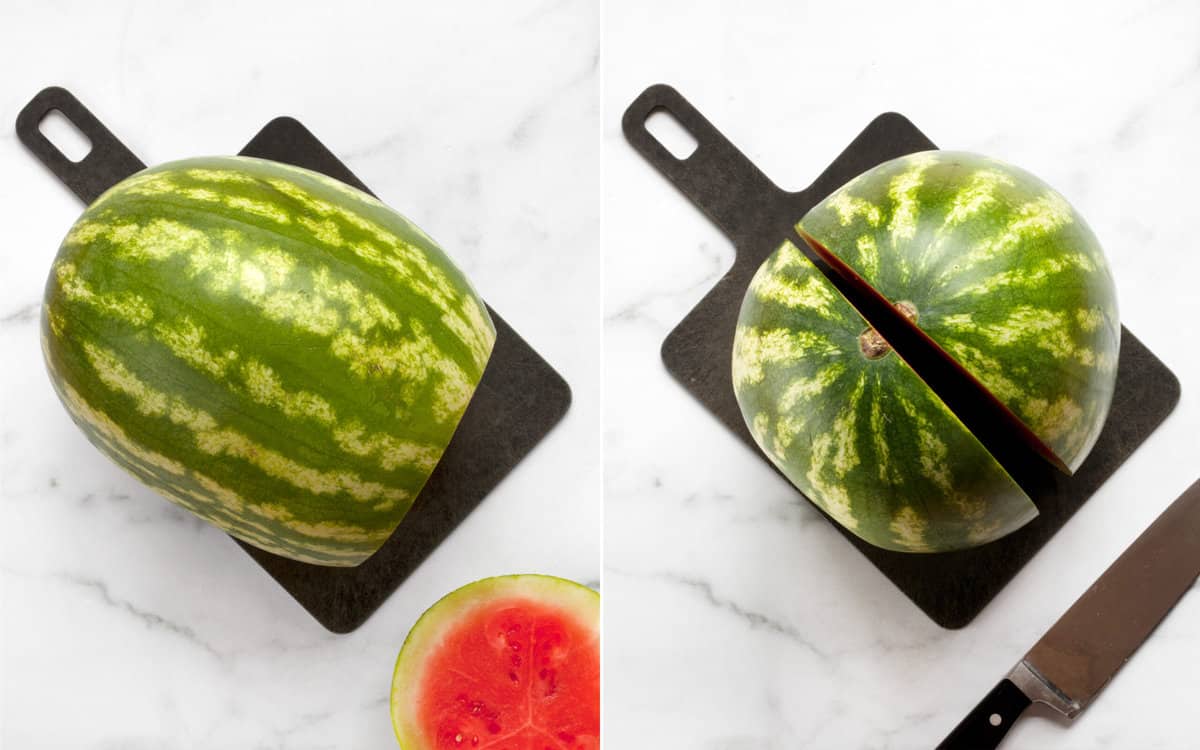 3. Cut the watermelon halves in half lengthwise.
4. Slice the watermelon into wedges.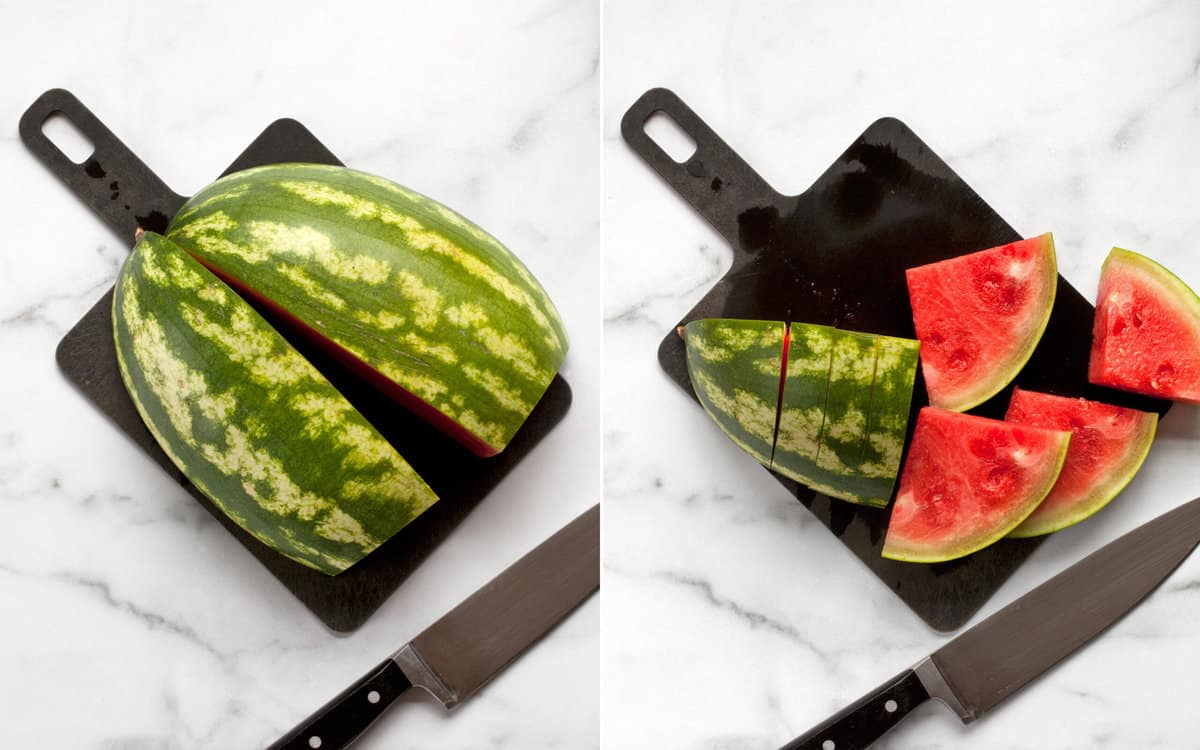 How To Grill Watermelon
Preheat a gas or charcoal grill on high heat. Oil the grill grates.
1. Make the marinade. Whisk together the lemon juice and zest, honey, olive oil, salt and pepper in a small bowl.
2. Brush the marinade on the watermelon slices on both sides.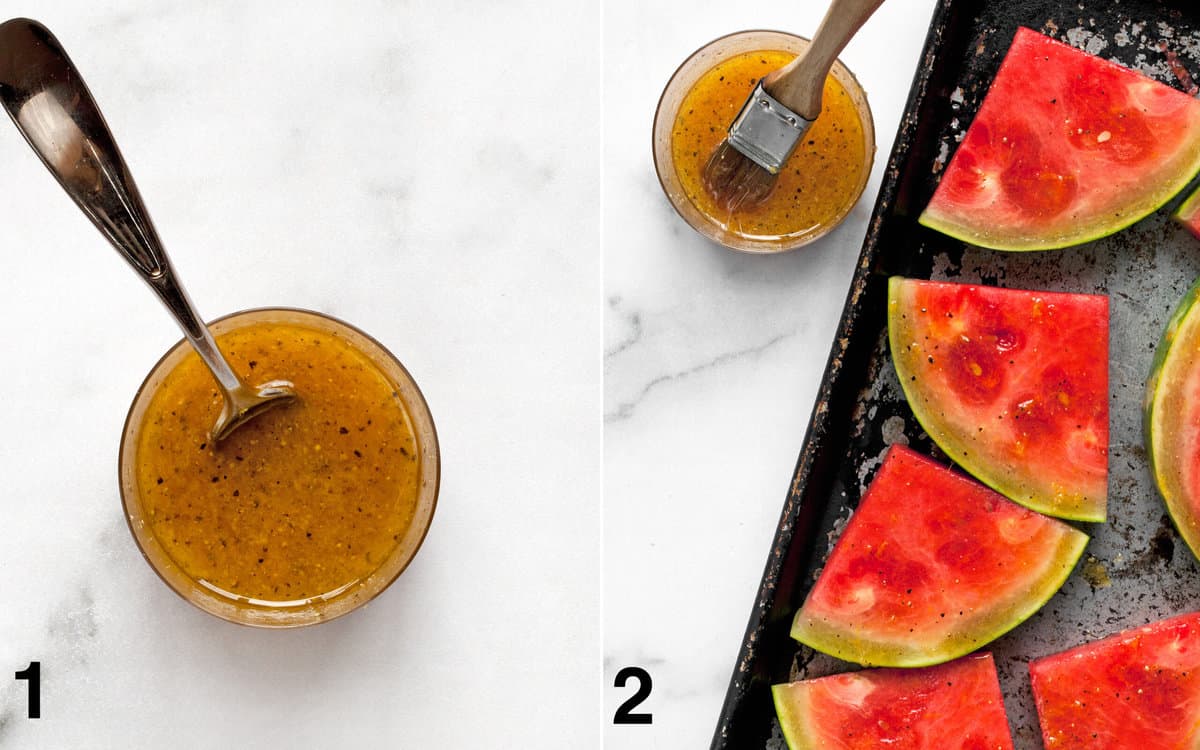 3. Grill the watermelon for a couple minutes per side until it has grill marks.
4. Arrange the watermelon on a serving plate and top with feta and fresh basil leaves.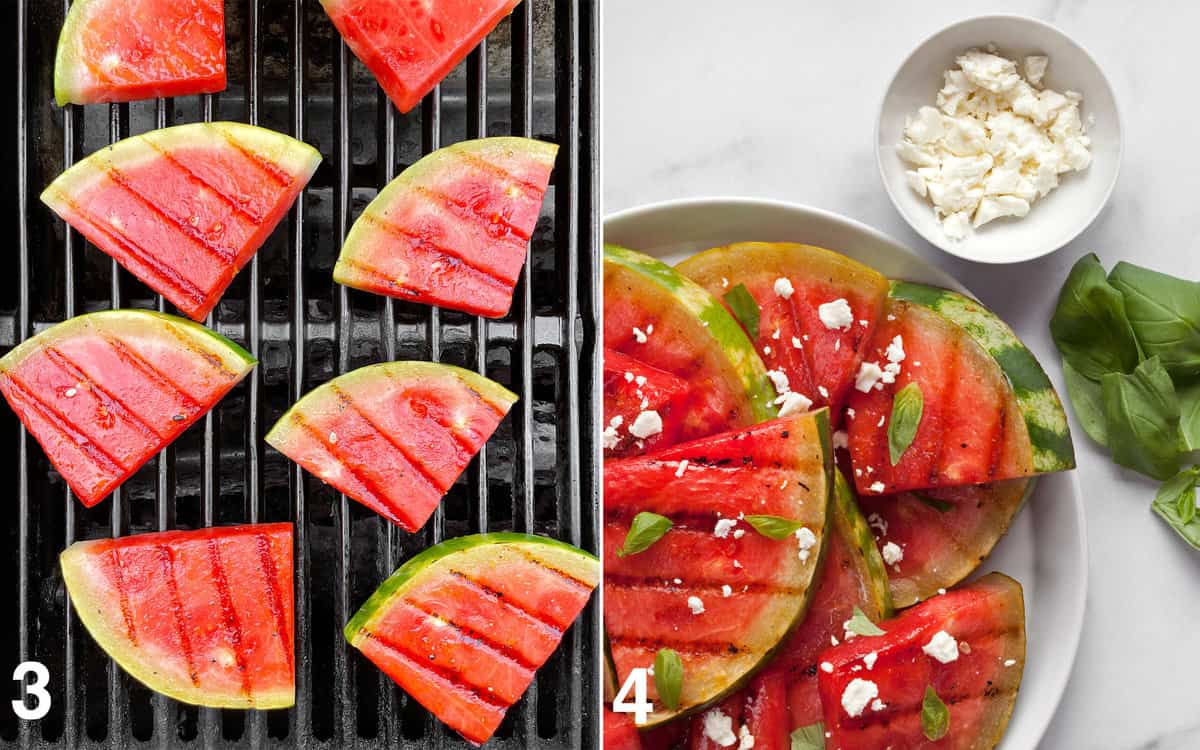 Serving
This is a wonderful summer appetizer to feed a crowd. Everyone can have a couple wedges on their plate. It's a light and refreshing start to a meal.
You absolutely can turn this into a grilled watermelon salad. Add greens like arugula. It's ok to leave the fruit in wedges or cut it into cubes.
Leftovers
If you have extra grilled watermelon, you can store it in the refrigerator in an airtight container up to 3 days. The basil will probably wilt in the cold temperature, so add more fresh herbs when you are about to eat it.
You may know in advance that you're going to end up with leftovers. If this is the case, store the watermelon wedges without sprinkling on the herbs and cheese. Wait for these garnishes until you are serving everything.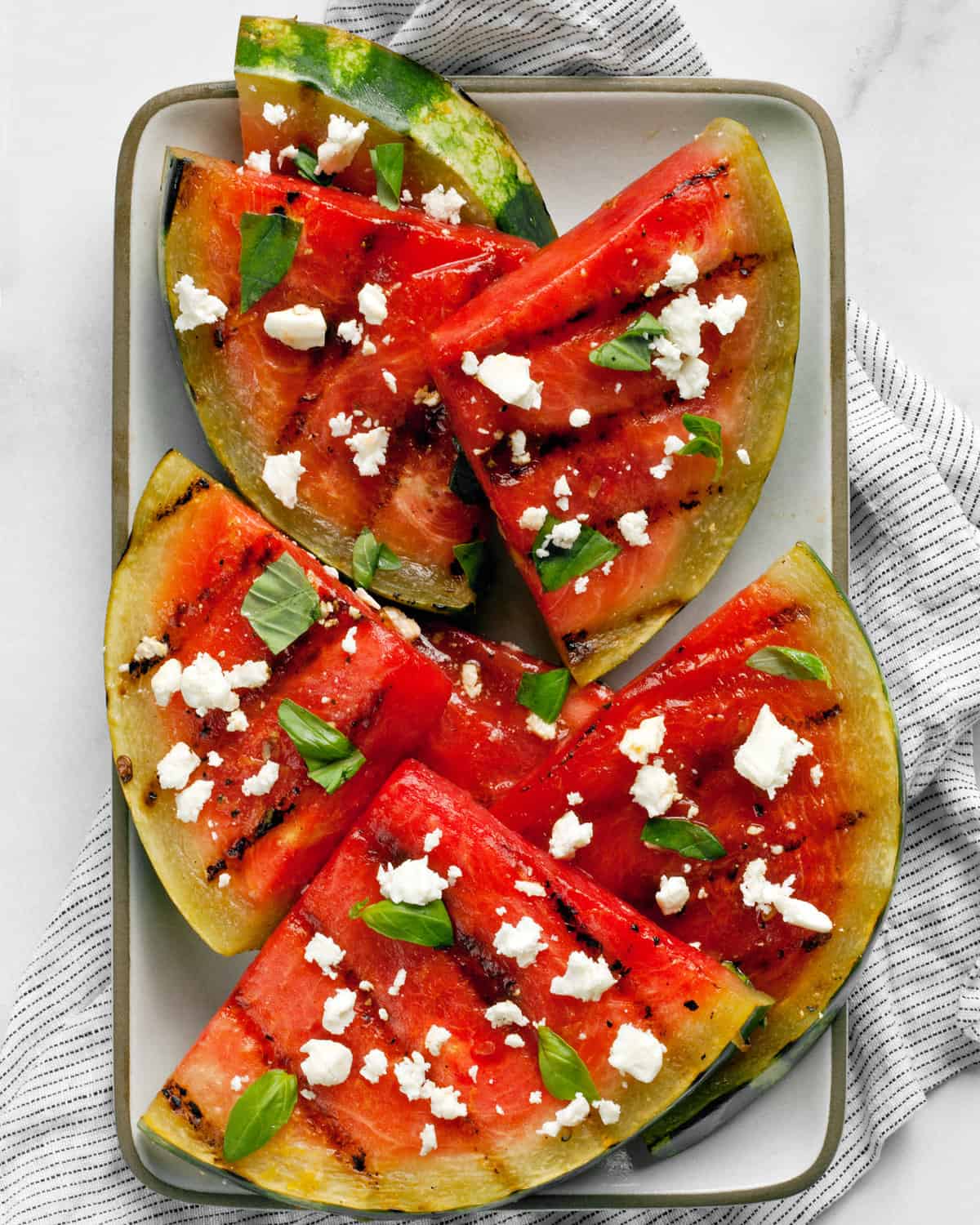 More Melon Recipes
Watermelon Peach Salad
Watermelon Cucumber Corn Salad
Did you try grilling watermelon? Please leave a comment and rating below. Thanks!
Grilled Watermelon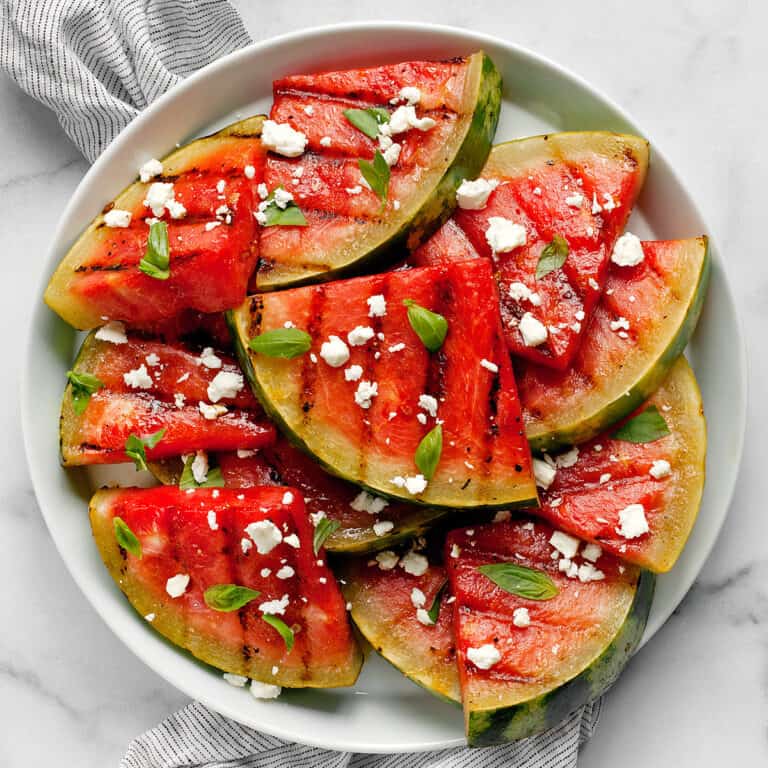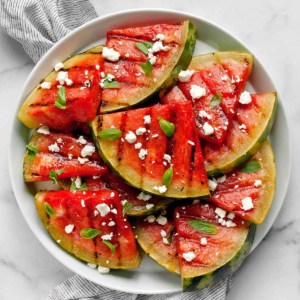 This simple grilled watermelon is sweet and smoky and finished with crumbled feta cheese and torn basil leaves.
Ingredients
Vegetable oil for grill

Juice and zest of 1 lemon

3

tablespoons

honey

2

tablespoons

olive oil

1

teaspoon

kosher salt

1/2

teaspoon

black pepper

1

watermelon

5-6 pounds, cut into 1-inch thick wedges

1/4

cup

crumbled feta

1-2

tablespoons

small basil leaves and torn basil
Instructions
Preheat a gas or charcoal grill on high heat. Grease the grates with vegetable oil.

In a small bowl, whisk together the lemon juice and zest, honey, olive oil, salt and pepper.

Brush the watermelon on both sides with the lemon-honey mixture.

Grill the watermelon about 2 minutes per side until it has grill marks.

Arrange the watermelon on a serving platter and top with crumbled feta and basil.
Notes
Store leftovers in the refrigerator up to 3 days in an airtight container. Add more fresh herbs before you serve the leftovers.
You can turn this into a salad by adding lettuce like chopped romaine, arugula or spinach.
Nutrition
Calories:
236
kcal
|
Carbohydrates:
49
g
|
Protein:
4
g
|
Fat:
5
g
|
Saturated Fat:
1
g
|
Polyunsaturated Fat:
1
g
|
Monounsaturated Fat:
3
g
|
Cholesterol:
4
mg
|
Sodium:
350
mg
|
Potassium:
639
mg
|
Fiber:
2
g
|
Sugar:
41
g
|
Vitamin A:
3221
IU
|
Vitamin C:
46
mg
|
Calcium:
64
mg
|
Iron:
1
mg
Nutrition information is automatically calculated, so should only be used as an approximation.