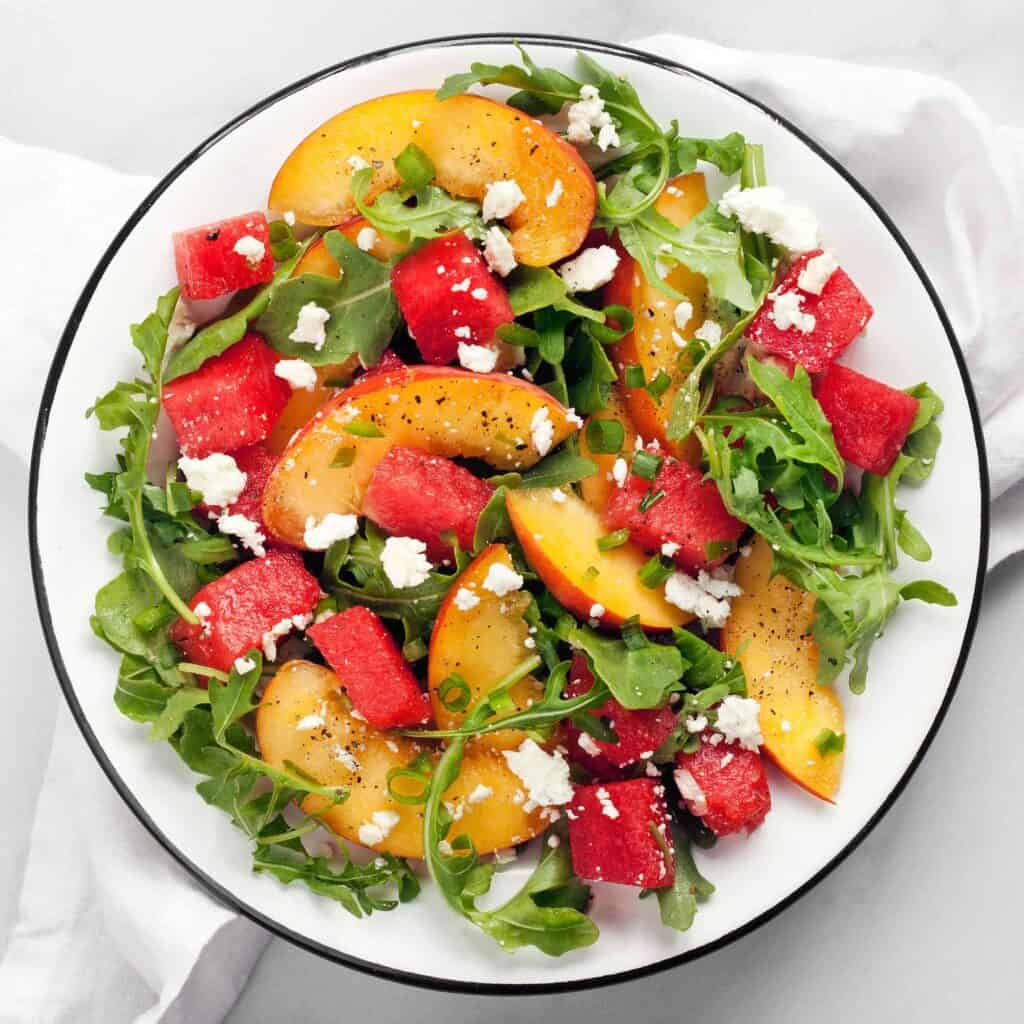 Nothing is worse than getting a fruit bowl that's more melon than berries.
Cantaloupe, honeydew and the rest of their cousins always feel like filler. They are such mellow, go with the flow fruit. And I want more.
Melon is less delicate than any berry. It lasts longer, so there isn't as much risk to it during transit or prep.
I may not be a big melon fan, but my son is. But I should probably phrase that in past tense.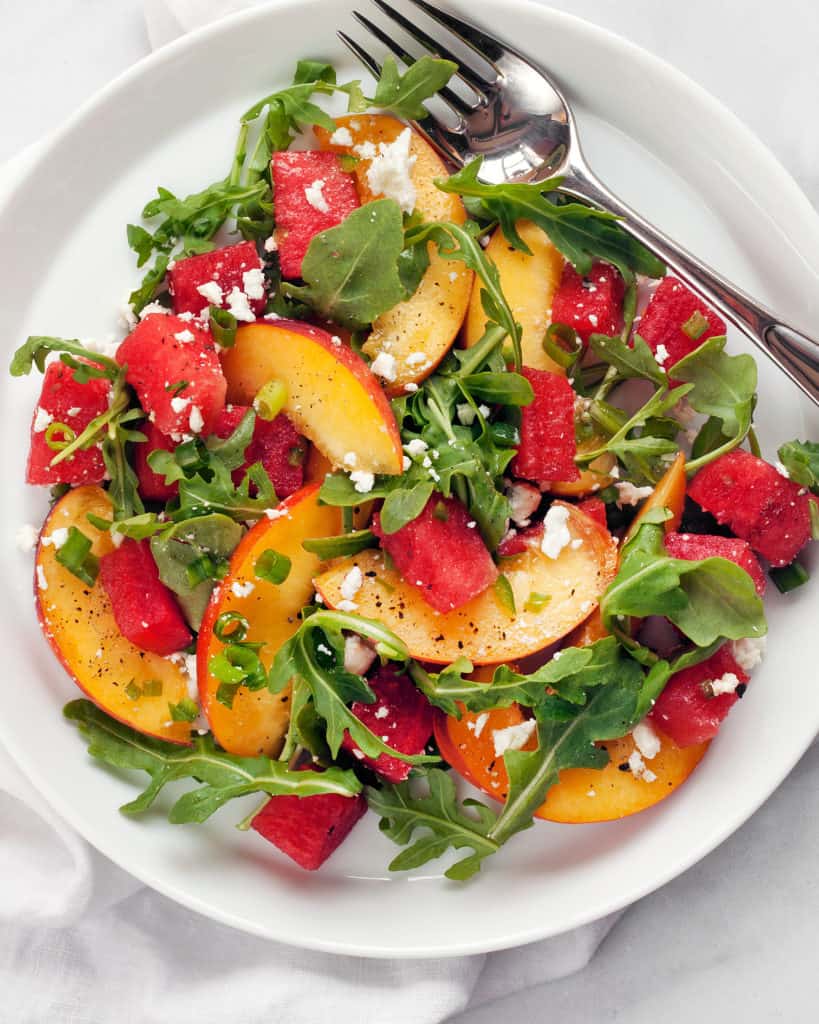 Last week when we went to the grocery, he picked out a watermelon. He's always loved melon. I thank daycare for introducing him to it.
When I tried to give him watermelon to eat, he refused it and requested berries. I have no idea how long this will last.
He's now on a kick that he doesn't like pasta. What!? How can my five-year-old, who's never met a carb he didn't like, turn his nose up at pasta? Stay tuned on this situation.
With a big container of watermelon cubes in the fridge, I knew I needed to figure out how to eat it. And I refused to put it in a fruit bowl.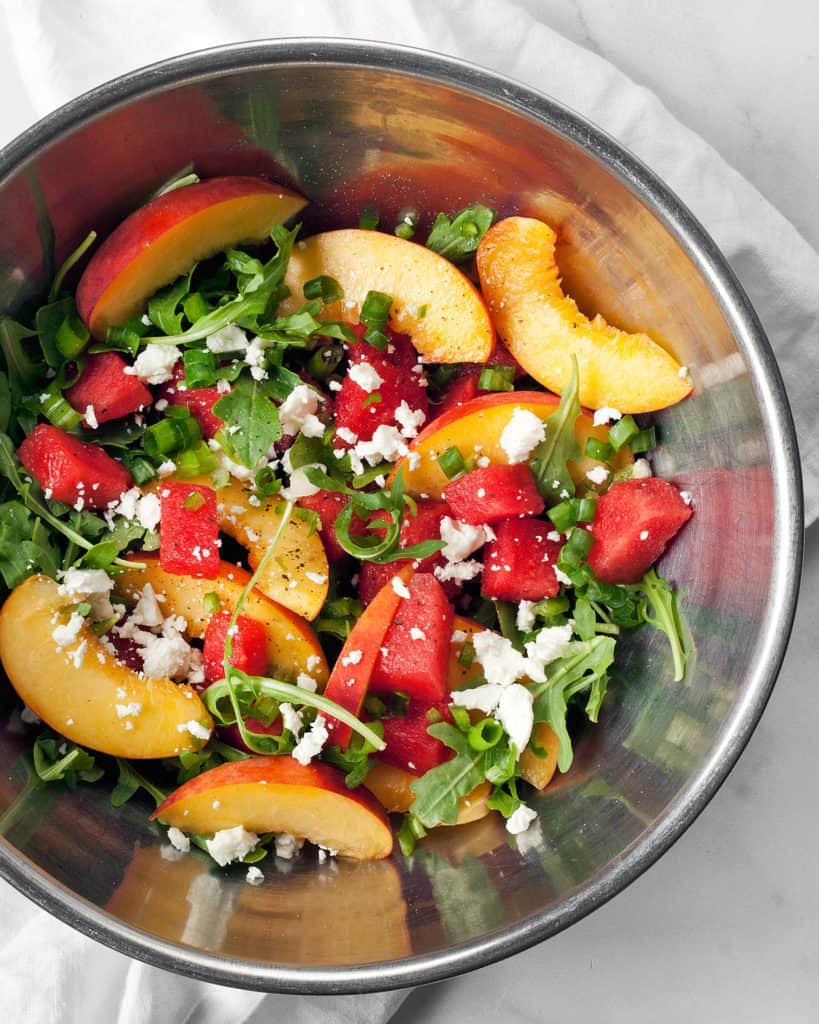 What bothers me about melon in general is that it the flavor seems weak. It lacks personality. Melon can be blah.
So that's when I decided it needed something bold to make it come out of its shell (or rind). And it couldn't be just one thing.
I ended making a watermelon peach salad.
How To Make A Watermelon Peach Salad
That watermelon was begging for salt, heat and a little something sweet.
For salt, I used crumbled feta. I splurged on a higher quality cheese that was more expensive than what I usually buy. Wow, there was a big different! It managed to be crumbly and creamy.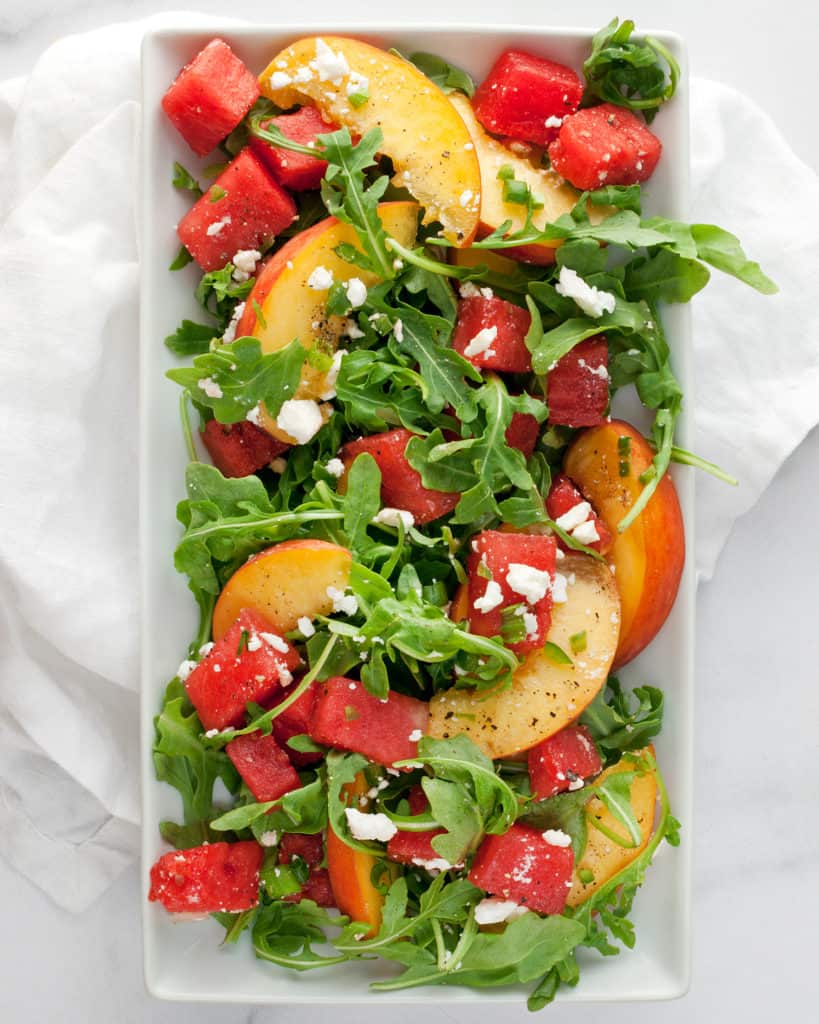 For heat, I whisked together jalapeno lime vinaigrette. It just took some minced fresh jalapeno to add a kick.
And last but not least was the sweet. I used sliced peaches to accompany the watermelon.
I mixed all of these different ingredients together in a bowl with arugula and finished the salad with salt and pepper.
My watermelon peach salad was refreshing and perfect for the peak of summer.
Print
Watermelon Peach Salad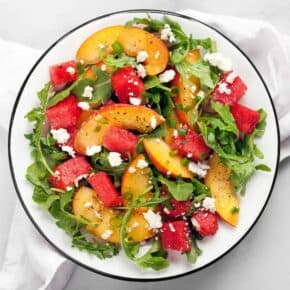 Prep Time:

10 minutes

Total Time:

10 minutes

Yield:

Serves 4
Ingredients
For salad
2 cups cubed seedless watermelon
3 peaches, halved, pitted and sliced into 1/2-inch segments
5 ounces baby arugula
2 scallions, thinly sliced
1 tablespoon minced chives
1/3 cup crumbled feta
For vinaigrette
Juice of 1 lime
1 tablespoon minced jalapenos
1/4 teaspoon kosher salt plus more for serving
1/4 teaspoon black pepper plus more for serving
1/4 cup olive oil
Instructions
In a large bowl, combine the watermelon, peaches, arugula, scallions, chives and feta.
For the vinaigrette, whisk together the lime juice, jalapenos, salt, pepper and olive oil in a small bowl.
Drizzle the vinaigrette over the salad and season with salt and pepper before serving.
SHARE THIS