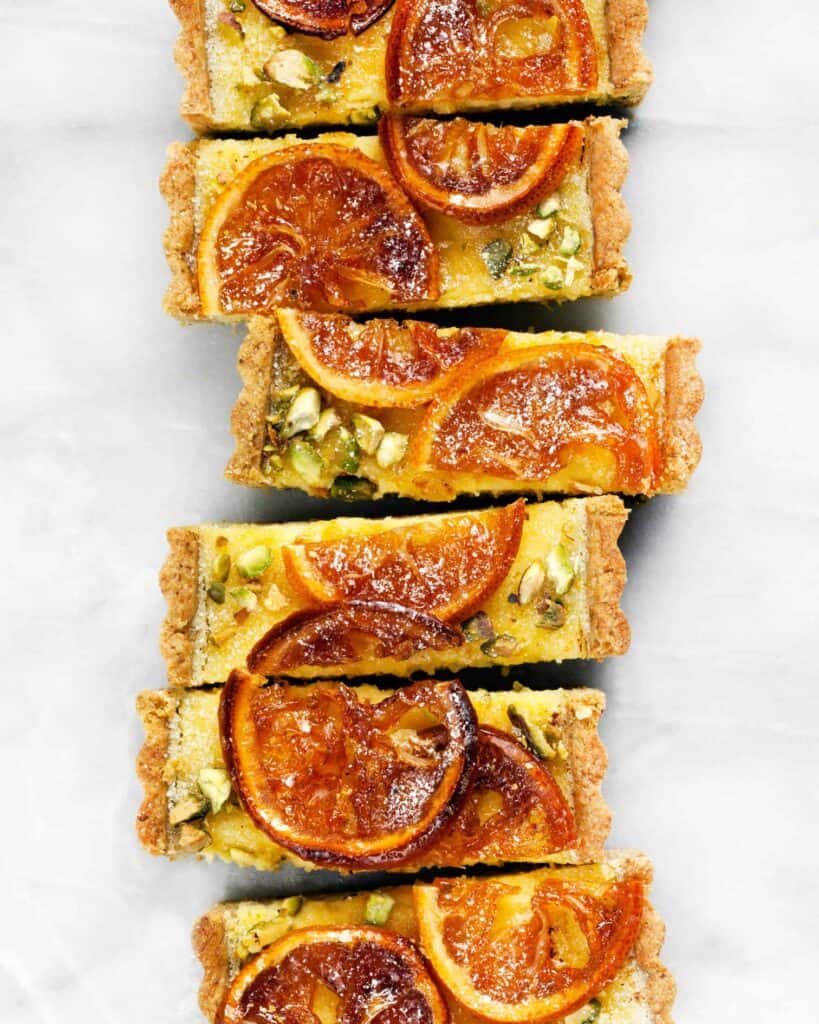 Sundays are my baking day. Obviously time is a big reason, but it's really more about timing.
I love having sweets at home, but I don't want them all for myself. It feels so much better to share.

I am a veggie-obsessed fitness enthusiast with a wicked sweet tooth—not exactly the most compatible combination.

Baking on Sundays means I show up at the office on Monday with lots of goodies to share with my co-workers.

A few weeks ago I had such a busy Monday that I nearly forgot I had an entire chocolate cake in my bag! I know that sounds completely ridiculous.

With the first days of spring here, last weekend's baking took on a much lighter, zippier twist than my go-to rich chocolate desserts. I ended up baking a lemon pistachio tart.

Tarts are so convenient to bake because you can make the dough the day before you need it. For this dough, I ground salted roasted shelled pistachios and sugar in the food processor. The flour went in next followed by cubed cold butter, egg yolk and water.

I patted the dough into a disc, covered it in plastic wrap and chilled it in the fridge.

When I was ready, I rolled out the dough and fitted it into a rectangular tart pan to blind bake.

The lemon filling was a very simple mixture of eggs, sugar, heavy cream, lemon juice and lemon zest. I poured it into the shell and baked it until the filling was just set.

Decorations are optional. You can dust the tart with powdered sugar and be done. Or you can sprinkle it with chopped pistachios.

I decided to do both of those plus I made a batch of candied lemon slices. They had a kind of rustic stained-glass look that really dressed up the lemon pistachio tart.
Print
Lemon Pistachio Tart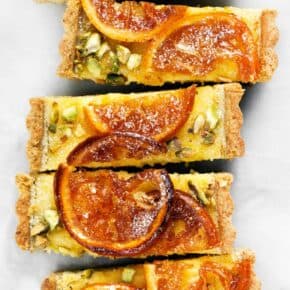 Prep Time:

30 minutes plus chilling

Cook Time:

40-49 minutes

Total Time:

1 hour 10-19 minutes plus chilling

Yield:

One 13-1/2-inch by 4-inch tart
Ingredients
For crust
1/2 cup shelled roasted salted pistachios (about 2 ounces) plus more for decorating
3 tablespoons granulated sugar
1 cup all-purpose flour plus more for work surface
6 tablespoons cold unsalted butter, cubed
1 large egg yolk
1-2 tablespoons cold water
For filling
3 large eggs
1/2 cup granulated sugar
1/3 cup heavy cream
1/3 cup fresh lemon juice
1 tablespoon lemon zest
For candied lemon slices
2 lemons, sliced into very thin rounds, seeds discarded
1 cup granulated sugar
Confectioners' sugar for dusting
Instructions
For the crust, place the pistachios and sugar in a food processor. Pulse until the nuts are finely ground. Add the flour mixing to combine. Pulse the butter until the mixture resembles pea-sized crumbs. Add the yolk. With the motor running, pour in the water until the dough just starts to form.
Gather the dough and pat into a disc. Wrap with plastic wrap and chill in the refrigerator until firm, at least 1 hour or up to 2 days.
Preheat the oven to 375 degrees F. On a lightly floured work surface, roll out the dough into a 15-inch x 5-inch rectangle. Place the dough in the pan pressing into the bottom and sides. Trim the excess dough. Prick all over with a fork. Chill in the freezer for 20 minutes.
Place parchment paper over the tart and fill with pie weights. Bake for 10-12 minutes until the edges are set. Remove the parchment and pie weights and bake for an additional 12-15 minutes until light golden brown.
For the filling, whisk together the eggs, sugar, heavy cream, lemon juice and zest. Pour into the tart shell, and bake until the filling is just set, about 18-22 minutes.
Cool the tart completely on a wire rack. Transfer to the refrigerator to cool for at least 2 hours or overnight.
For the candied lemon slices, bring a small saucepan of water to a boil. Blanch the lemons for 5 minutes. Use a slotted spoon to shock the lemon slices in ice water. Drain and pat dry with paper towels.
In a large skillet, bring the sugar and 1 cup water to a boil letting the sugar dissolve. Add the lemon slices, lower the heat and simmer the lemons for about 30 minutes until they look translucent. Cool completely in the syrup. Store in an airtight container in the refrigerator up to 2 days.
Decorate the tart with confectioners' sugar, chopped pistachios and candied lemon slices.
Store covered in the refrigerator.
SHARE THIS