Chocolate Buttermilk Sheet Cake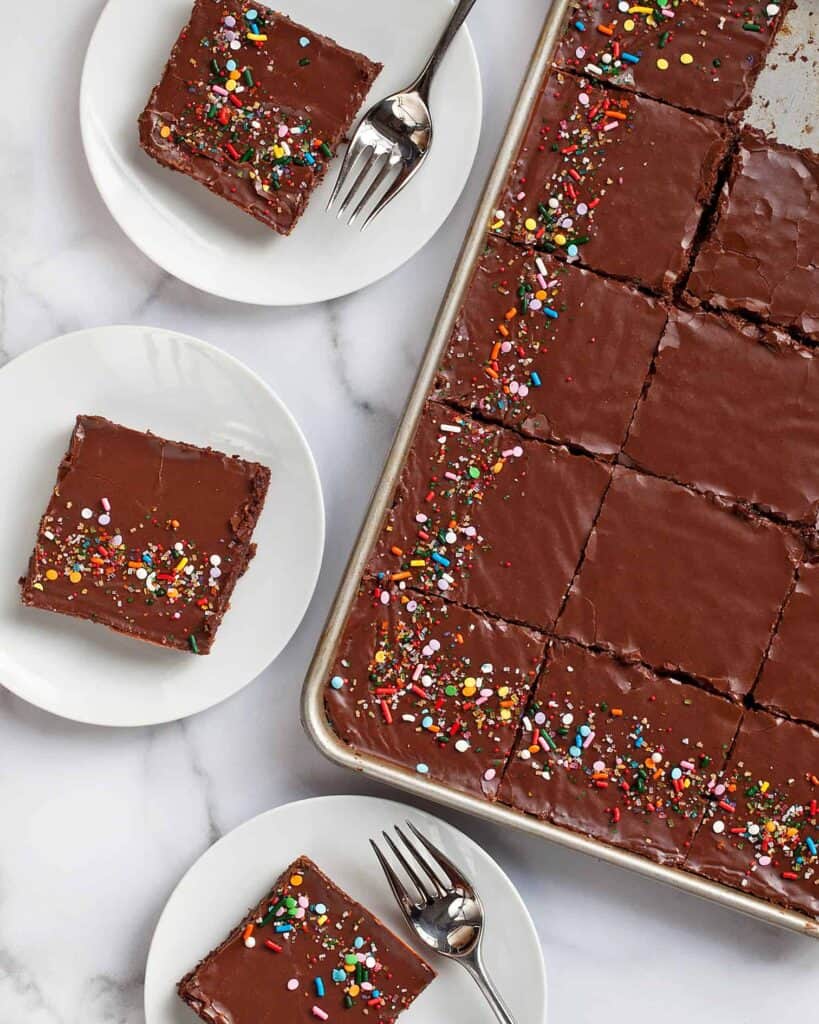 Who knew that motherhood would involve so much cake? My son hasn't reached the drop-off stage yet, so I find myself at a lot of birthday parties on the weekends.

I am basically surrounded by pizza and cake. It takes some serious self-control not to indulge at every opportunity.
My son isn't into cake like I am. He will have maybe a bite or two of a cupcake and then push it to the side of his plate. Popsicles and cookiesare more his thing.
On the flip side, I believe that eating cake is part of being a good guest and enjoying the festivities.
About a month ago, my dad came to visit us for his birthday. He's a big fan of key lime pie, but I really wanted to bake a cake.
I knew my dad would like anything homemade, so I baked a chocolate buttermilk sheet cake.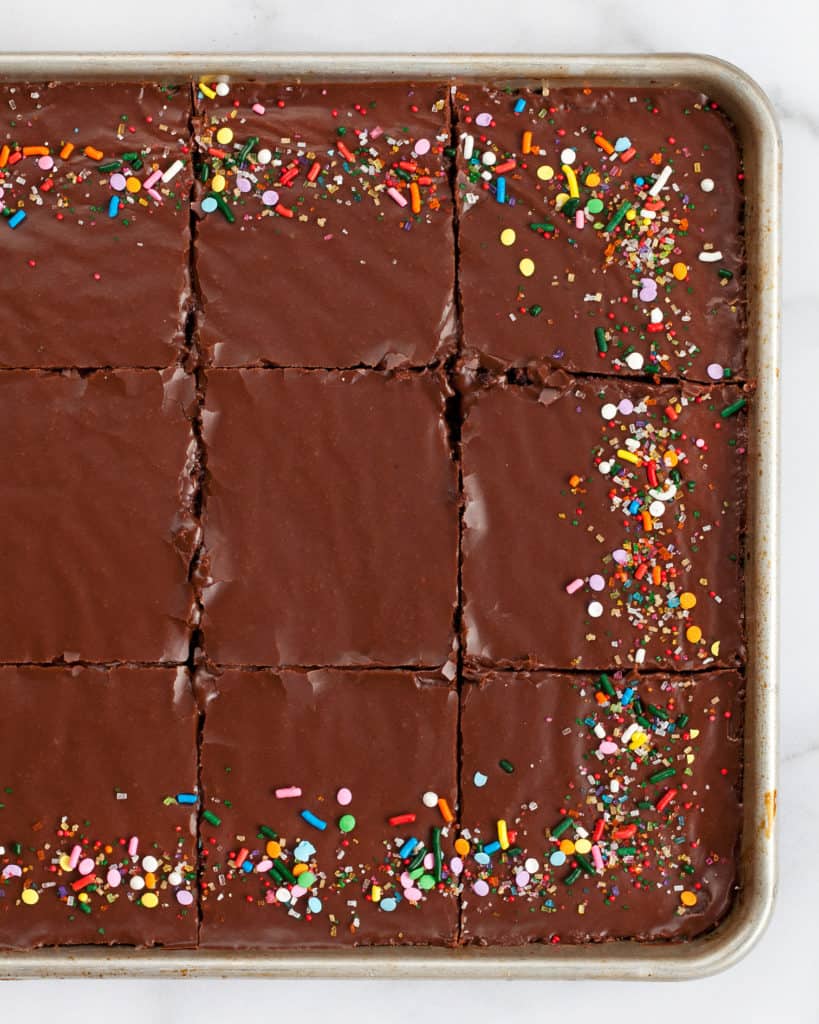 When I debated what to make, I thought about a layer cake. Then I wondered whether a cake could be worthy of a celebration if it didn't have layers. Of course!
In the past I've made sheet cakes in rectangular baking pans. This time I used an actual sheet pan, so it came out thin. That's my excuse for why I cut such big pieces.
First I combined the dry ingredients in a large bowl. Then I melted butter in boiling water and stirred in cocoa powder.
I whisked together buttermilk, egg and vanilla in a separate small bowl. Finally, I carefully folded the buttermilk mixture into the dry ingredients and stirred in the chocolate.
Baking in a sheet pan is fast. The cake was finished in 15 minutes or so.
The best part of this recipe is that you don't have to wait for the cake to cool before you frost it. In fact, you make the frosting while the cake is baking so you can spread it on hot. This style cake is also known as a Texas sheet cake.
I worked quickly with an offset spatula spreading the frosting. Sprinkles were a definite must considering the cake was for a birthday.
The frosting took a couple hours to set and then we were ready to light the candles and dig in.
Print
Chocolate Buttermilk Sheet Cake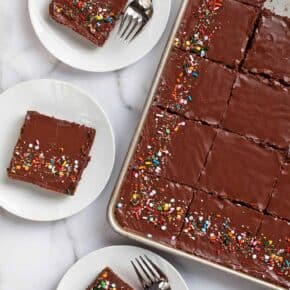 Prep Time:

20 minutes + 2 hours cooling

Cook Time:

15-18 minutes

Total Time:

2 hours 35-38 minutes

Yield:

Serves 12
Ingredients
For cake
Non-stick cooking spray
1 cup all-purpose flour
1 cup granulated sugar
1/2 teaspoon baking soda
1/4 teaspoon sea salt
1/2 cup water
8 tablespoons unsalted butter
3 tablespoons natural unsweetened cocoa powder
1/4 cup low-fat buttermilk
1 large egg
1 teaspoon vanilla extract
For frosting
4 tablespoons unsalted butter
1/4 cup natural unsweetened cocoa powder
1/4 cup low-fat buttermilk
2 cups confectioners' sugar
Sprinkles for decorating, optional
Instructions
Preheat the oven to 350 degrees F. Spray a 9-inch by 13-inch rimmed sheet pan with non-stick cooking spray.
For the cake, combine the flour, granulated sugar, baking soda and salt in a large bowl.
In a small saucepan, bring the water to a boil. Stir in the butter until it has melted followed by the cocoa powder. Remove the pan from the heat.
In a small bowl, whisk together the buttermilk egg and vanilla extract. Fold the buttermilk mixture into the dry ingredients. Stir in the chocolate mixture until just combined.
Spread the batter into the prepared sheet pan. Bake for 15-18 minutes until the cake springs bake when you gently press it.
While the cake is baking, make the frosting. In a medium saucepan over medium heat, melt the butter, Whisk in the cocoa powder and buttermilk. Remove from the heat and stir in the cocoa powder until combined.
Pour the frosting over the hot cake. Use an offset spatula to spread into an even layer. Decorate with sprinkles as desired.
Let the cake cool and the frosting set before serving, about 2 hours.
SHARE THIS