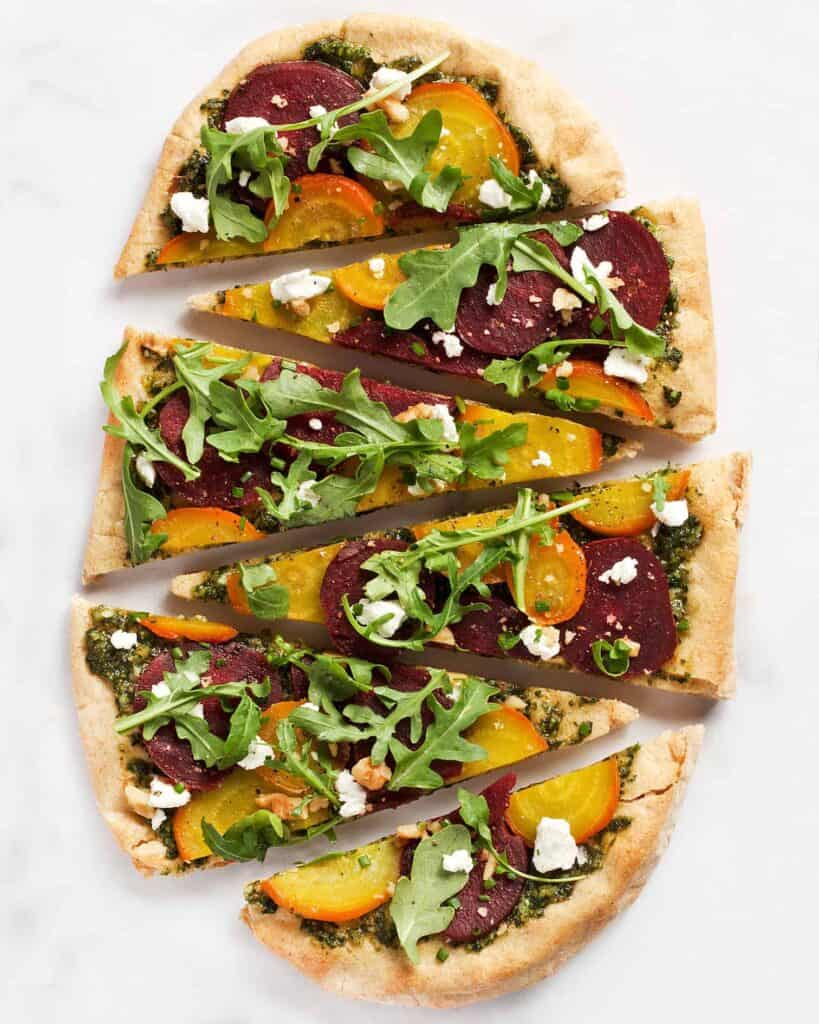 I'm never quite sure if there's a difference between a pizza and a flatbread. Or is it that a flatbread is a kind of pizza?

It's not clear, but I have my own qualification of what makes something a flatbread. When I think of pizza, melted cheese is the first thing that pops into my mind.
With flatbreads, I bake or grill the dough naked without any toppings. Once the crust is ready, then I add the rest of the ingredients.

A flatbread is more likely to have raw spreads and toppings unlike a pizza. Of course there are times when I break my own rules. Please don't go through my recipe index and call me out on this one!

When I made this roasted beet flatbread, I was determined to not only use the beets, but their greens too.

First I got the dough out of the way. While it was rising, I worked on the beets. I placed them in individual foil packets to roast.
When the beets were in the oven, I used their greens to make pesto. It wasn't the first time I've made beet green pesto. I love it with lots of garlic and walnuts.

After the beets were finished roasting, I baked the flatbread crusts until they were light golden brown.

I spread the base of each flatbread with pesto leaving a border. Then I began arranging the sliced roasted beets on top.

I tossed baby arugula in lemon juice and sprinkled that on the flatbread followed by crumbled goat cheese, walnuts and chives.

My feelings won't be hurt if you call this a pizza. The name really doesn't matter.
What I love about this roasted beet flatbread is that it's just all about the beets and what goes with them. The lemony greens, walnuts and creamy goat cheese add so much to their earthy flavor.
Print
Roasted Beet Flatbread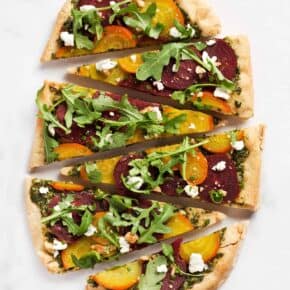 Prep Time:

2 hours 30 minutes

Cook Time:

10-12 minutes

Total Time:

2 hours 40-42 minutes

Yield:

Makes 2 flatbreads
Ingredients
For crust
2/3 cup warm water
1/2 teaspoon dry active yeast
1/2 teaspoon granulated sugar
1 teaspoon olive oil plus more for bowl
1 cup bread flour plus more for work surface
1/2 cup whole-wheat flour
1 teaspoon kosher salt
For beets
4-5 medium beets, greens reserved for pesto
1 tablespoon olive oil
1/4 teaspoon black pepper
1 teaspoon kosher salt
For pesto
4 garlic cloves, peeled
1 bunch beet greens (about 4 ounces), thick stems removed
1/2 cup walnuts
1 ounce Parmesan, grated
1/2 teaspoon salt
1/4 teaspoon black pepper
1/2 cup olive oil
For toppings
2 teaspoons fresh lemon juice
2 handfuls arugula
1/4 cup crumbled goat cheese
1/4 cup chopped walnuts
1 tablespoon minced chives
Instructions
For the dough, in a small bowl, combine the water, yeast, sugar and olive oil. Let stand until foamy, about 5 minutes.
In the bowl of a food processor, pulse both the flours and salt. Add the yeast mixture and process until a ball of dough forms. Transfer the dough to an oiled bowl. Cover and let rise until doubled in volume, about 2 hours.
Preheat the oven to 400 degrees F with a pizza stone inside the oven.
Place each beet on an individual sheet of aluminum foil. Drizzle the beets with olive oil and season with salt and pepper. Fold into loose packets and place on the pizza stone. Roast the beets for 45-50 minutes until they are easily pierced with a knife.
When the beets are cool enough to handle, use a paper towel to rub off the skin. Cut into 1/8-inch-thick slices and set aside.
For the pesto, pulse the garlic cloves in the bowl of a food processor fitted with the metal blade until they are minced. Add the beet greens, walnuts, Parmesan, salt and pepper. Puree the mixture and while the motor is running, drizzle the olive oil through the feeder tube until the pesto is fully combined.
Divide the dough in half. Roll out each one into an oval. Bake on the preheated pizza stone for 10-12 minutes until light golden brown.
Spread the pesto on the flatbreads leaving a 1-inch border at the edges. Arrange the sliced beets on top.
Toss the arugula with the lemon juice in a small bowl and scatter on the flatbreads. Sprinkle with goat cheese, walnuts and chives.
Store in extra pesto in an airtight container in the refrigerator.
SHARE THIS