Roasted Tomato Focaccia
on Jun 20, 2019, Updated Jul 08, 2023
Pre-roasting the tomatoes in this roasted tomato focaccia guarantees they will be full of intense flavor. Serve it as a side or an appetizer.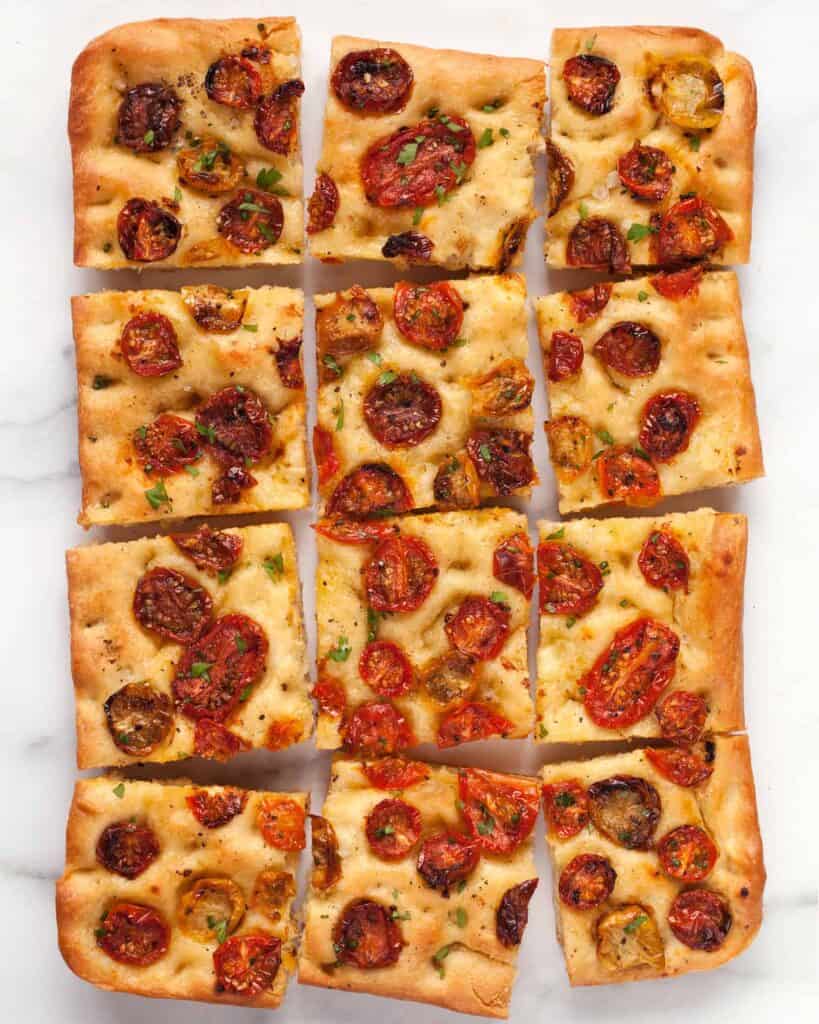 I love baking bread, but I don't claim to be an expert. Far from it.
There's no sourdough starter in a jar in my fridge. I prefer simple crusty loaves of no-knead bread and knots in flavors like garlic, rosemary and everything.

If you're new to bread, focaccia is a great place to start. It's more forgiving.
There's no pressure on kneading or shaping. The more lumpy and bumpy, the better.
And the toppings!

Herbs are always a good idea and so is cheese and even fruit.

During the fall, I bake a blue cheese focaccia with pears and caramelized onions.
I was craving a summer version, so I baked roasted tomato focaccia.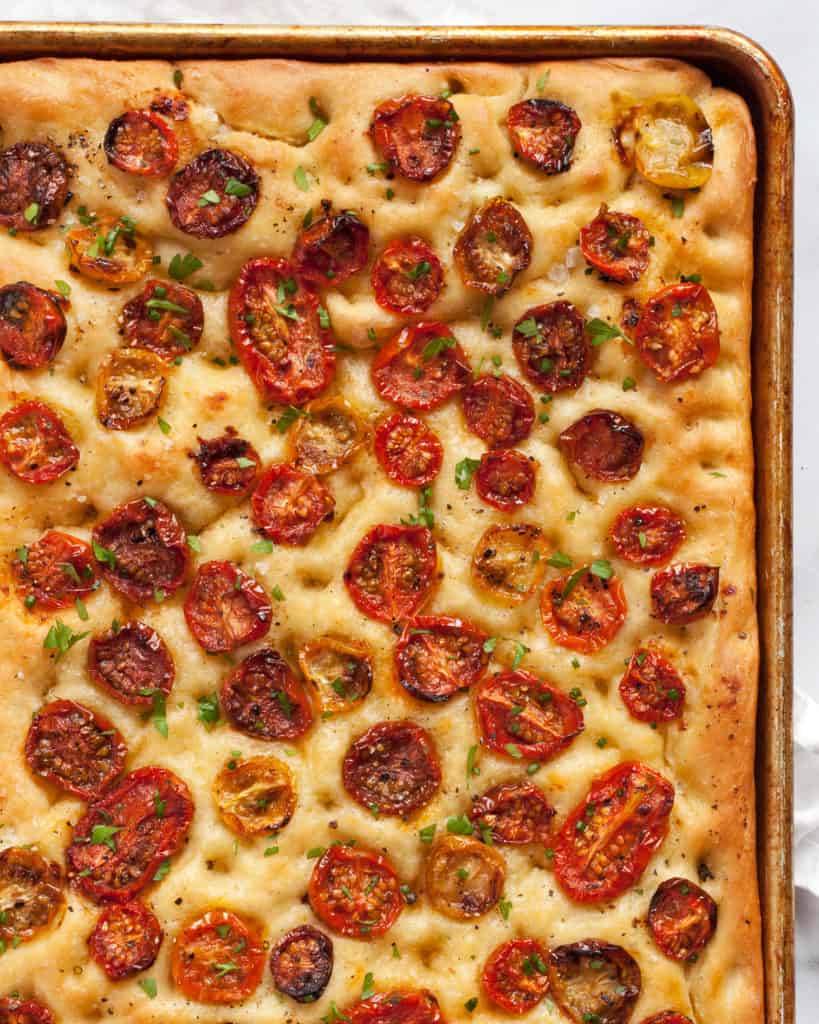 How To Make Roasted Tomato Focaccia
Like any cooking/baking project, I began with the most time-consuming step, making the dough. It is a mixture of all-purpose flour, salt, yeast and of course olive oil, a must for focaccia.

It doesn't take long to make the dough. Waiting for it to rise is the long part.

I knew pressing raw tomatoes on the top of the focaccia wouldn't give them enough time to roast.

Visions of a soggy loaf with semi-raw/roasted tomatoes weren't very appealing.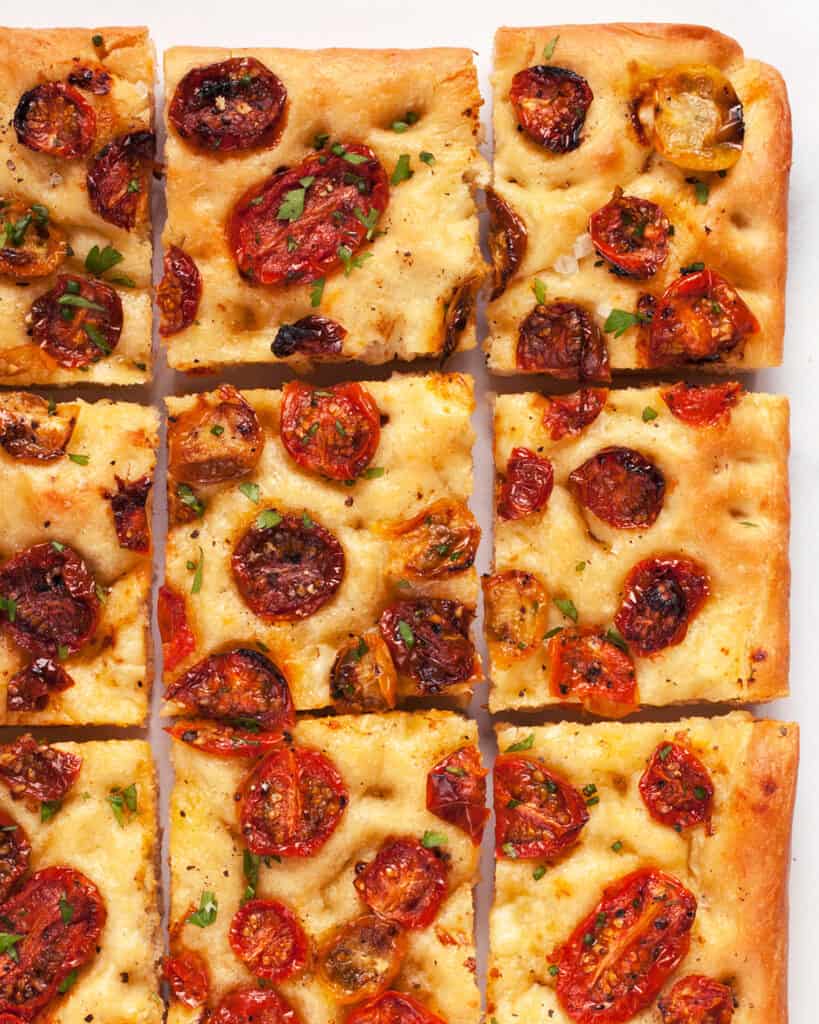 To play it safe, I took advantage of the oven temperature.

I preheated the oven to 400 degrees F and roasted sliced cherry and grape tomatoes. They were finished in just shy of 30-minutes.

After that I cranked up the oven to 450 degrees F in anticipation of baking the focaccia.
I stretched the dough into a 13" x 9" sheet pan. And gave it a little time for a quick second rise.

Then I called in for help.

My five-year-old loves focaccia, so I had him press his fingers into the top to create lots of dimples. Then I tucked in the tomatoes, cut side up.

It didn't take long for the kitchen to fill with the most wonderful, welcoming aroma that is one of the joys of bread from scratch.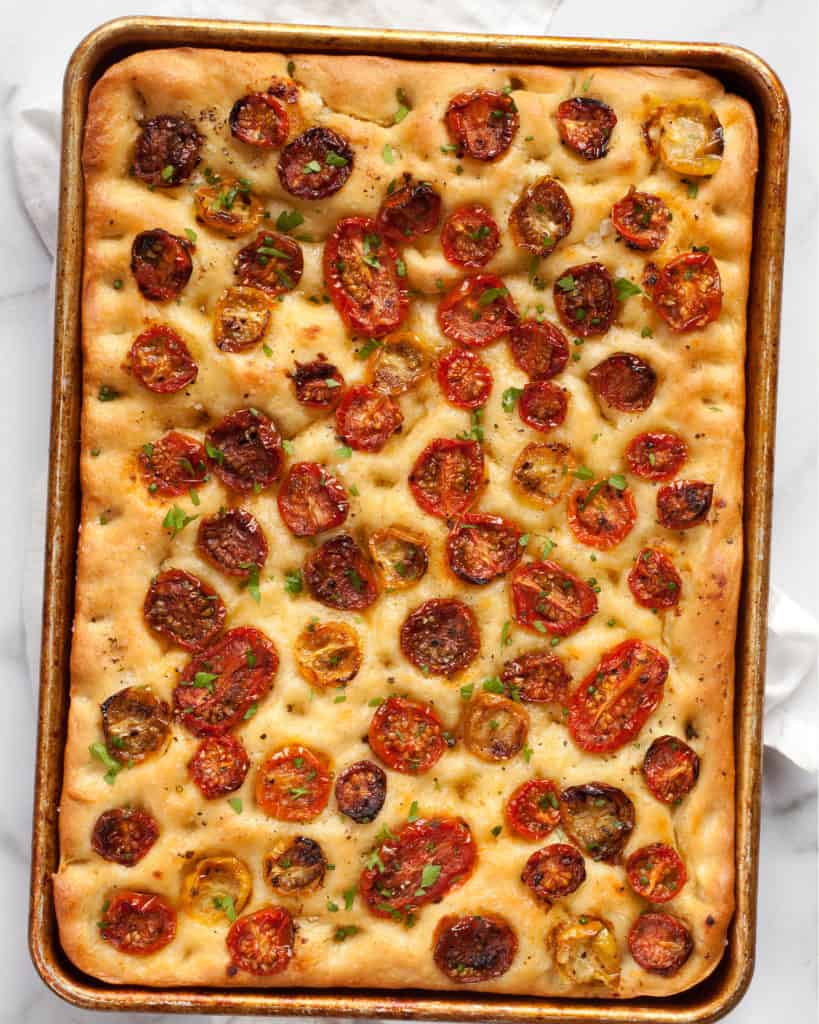 Fresh herbs are a good way to finish off focaccia, so I sprinkled on chopped parsley and chives on the warm loaf.

I am a big fan of this roasted tomato focaccia. You can't go wrong with summer tomatoes and olive oil.

My son had other ideas and made me pick off the tomatoes. He just wanted it plain.
Don't worry—I repurposed those tomatoes for pasta.
Roasted Tomato Focaccia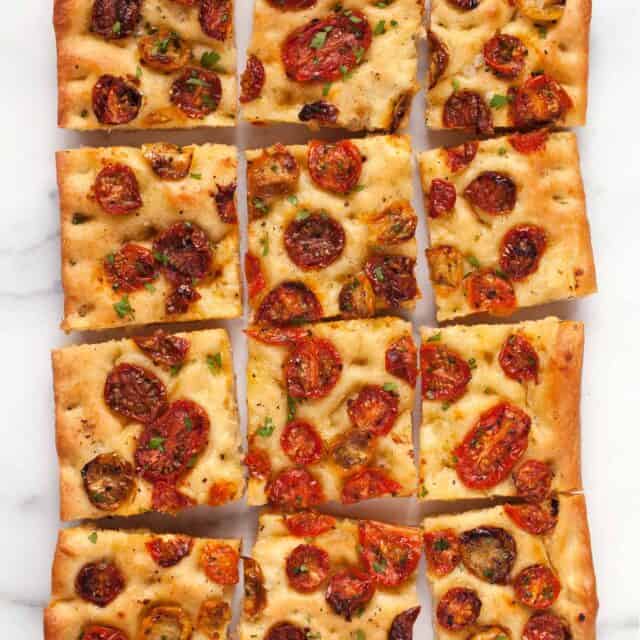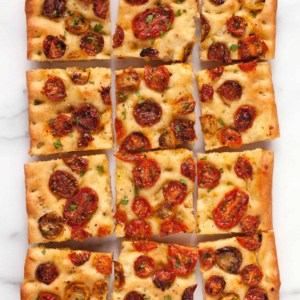 Pre-roasting the tomatoes in this roasted tomato focaccia guarantees they will be full of intense flavor. Serve it as a side or an appetizer.
Ingredients
For focaccia

1

cup

warm water

1

package dry active yeast

1/2

teaspoon

granulated sugar

2-1/2

cups

all-purpose flour

1

teaspoon

kosher salt

1/4

cup

olive oil plus more for oiling bowl and sheet pan

1/2

teaspoon

flaky sea salt

1/4

teaspoon

black pepper

1

tablespoon

roughly chopped parsley

1

tablespoon

minced chives

For tomatoes

1/2

pint

cherry or grape tomatoes

halved

1

tablespoon

olive oil

1/2

teaspoon

kosher salt

1/2

teaspoon

black pepper
Makes:
13
inch
13
x
9
inch
rectangle
Instructions
In the bowl of a stand mixer fitted with a dough hook, combine the water, yeast and sugar. Let stand for 5 minutes until the yeast becomes foamy. Stir in 1 cup flour and 1/4 cup olive oil. Let stand for an additional 5 minutes. Add the remaining flour and 1/2 teaspoon kosher salt and mix on medium speed until a sticky but smooth dough forms. Transfer the dough to an oiled bowl and let rest for 1 hour.

Preheat the oven to 400 degrees F.

Arrange the tomatoes, cut side up in a single layer on a parchment lined-sheet pan. Roast for 25-30 minutes until the tomatoes are wrinkled at the edges, but still juicy in the middle.

Increase the oven temperature to 450 degrees F. Oil a 13-inch by 9-inch sheet pan. Stretch the dough to fit the pan. Use your fingers to press dimples all over the dough. Allow the dough to rise slightly, about 20 minutes.

Press tomatoes into the dough. Drizzle with 2 tablespoons olive oil and sprinkle with 1/2 teaspoon flaky sea salt and 1/4 teaspoon black pepper.

Bake for 20-25 minutes until light golden brown. Transfer to a wire rack to cool. Sprinkle with parsley and chives.

Focaccia can be served warm or at room temperature.
Nutrition
Calories:
225
kcal
|
Carbohydrates:
31
g
|
Protein:
4
g
|
Fat:
9
g
|
Saturated Fat:
1
g
|
Polyunsaturated Fat:
1
g
|
Monounsaturated Fat:
6
g
|
Sodium:
587
mg
|
Potassium:
114
mg
|
Fiber:
1
g
|
Sugar:
1
g
|
Vitamin A:
205
IU
|
Vitamin C:
8
mg
|
Calcium:
12
mg
|
Iron:
2
mg
Nutrition information is automatically calculated, so should only be used as an approximation.