Shaved Cauliflower Arugula Salad
We are officially in shoulder season—those confusing days and weeks when Mother Nature is indecisive.

Is it summer? Not really anymore.Then we're in fall, right? Not quite.
One day I'm in booties and a jacket. The next I'm in a t-shirt and sandals.
I embrace the variety. How great is that nothing seems wrong to wear or eat?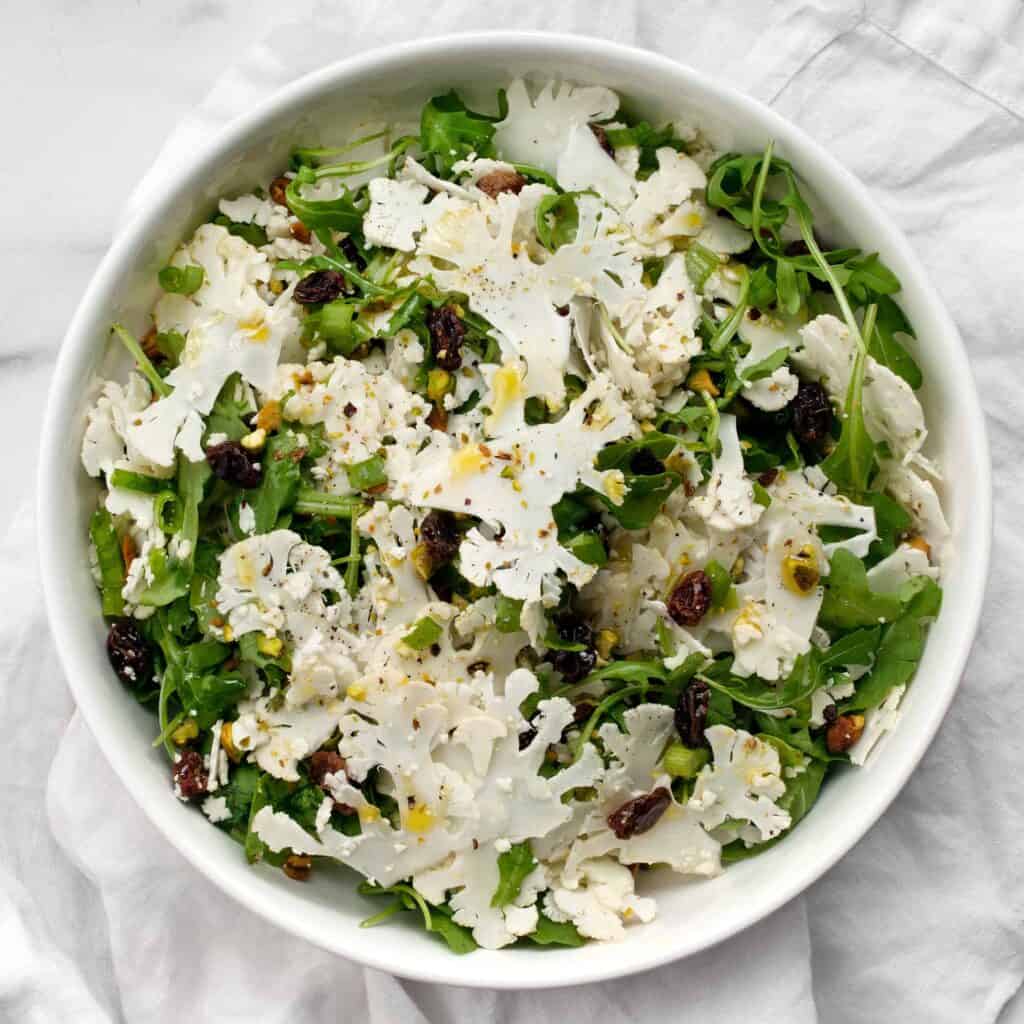 I spent the weekend working on new recipes and revisiting old ones. They ranged from salads to soups and all sorts of dishes in between.

Most of my cooking happens on Saturdays and Sundays, so I'm prepared for the busy week ahead with lots of leftovers.

With so many options, I am all set no matter what kind of day comes at me.

For this shaved cauliflower arugula salad, I pulled out my mandolin. Since I replaced my old one a couple months ago when I made a summer vegetable skillet casserole, I've been using it more than ever.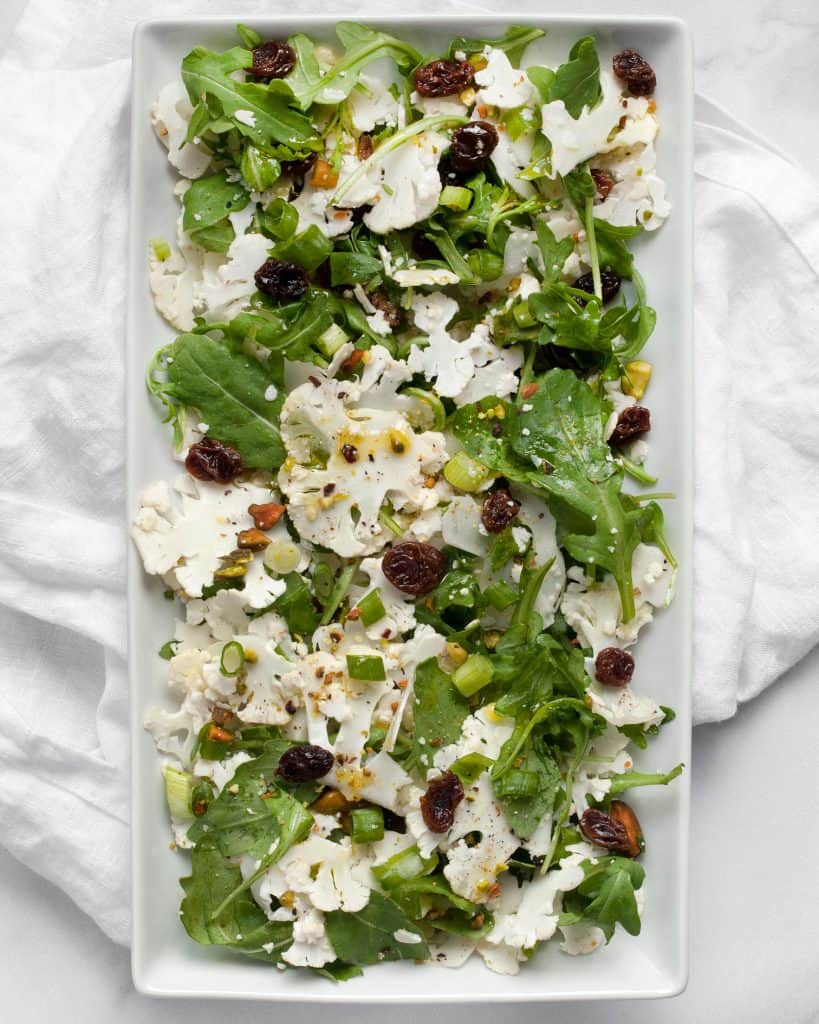 Shaved Cauliflower Arugula Salad: The Ingredients
Nothing cuts with such paper-thin precision.

I know mandolins can be scary, but I take my time giving that kitchen tool 150% of my attention. If I end up with more odds and ends than I should because I'm worried my hand is too close to the blade. I don't care. Safety first.
Before I slice the cauliflower, I soak raisins in champagne vinegar. That helps them plump up. I love the sweet and sour flavor from quick pickling the raisins.
I whisk the leftover vinegar with olive oil, salt and pepper for vinaigrette.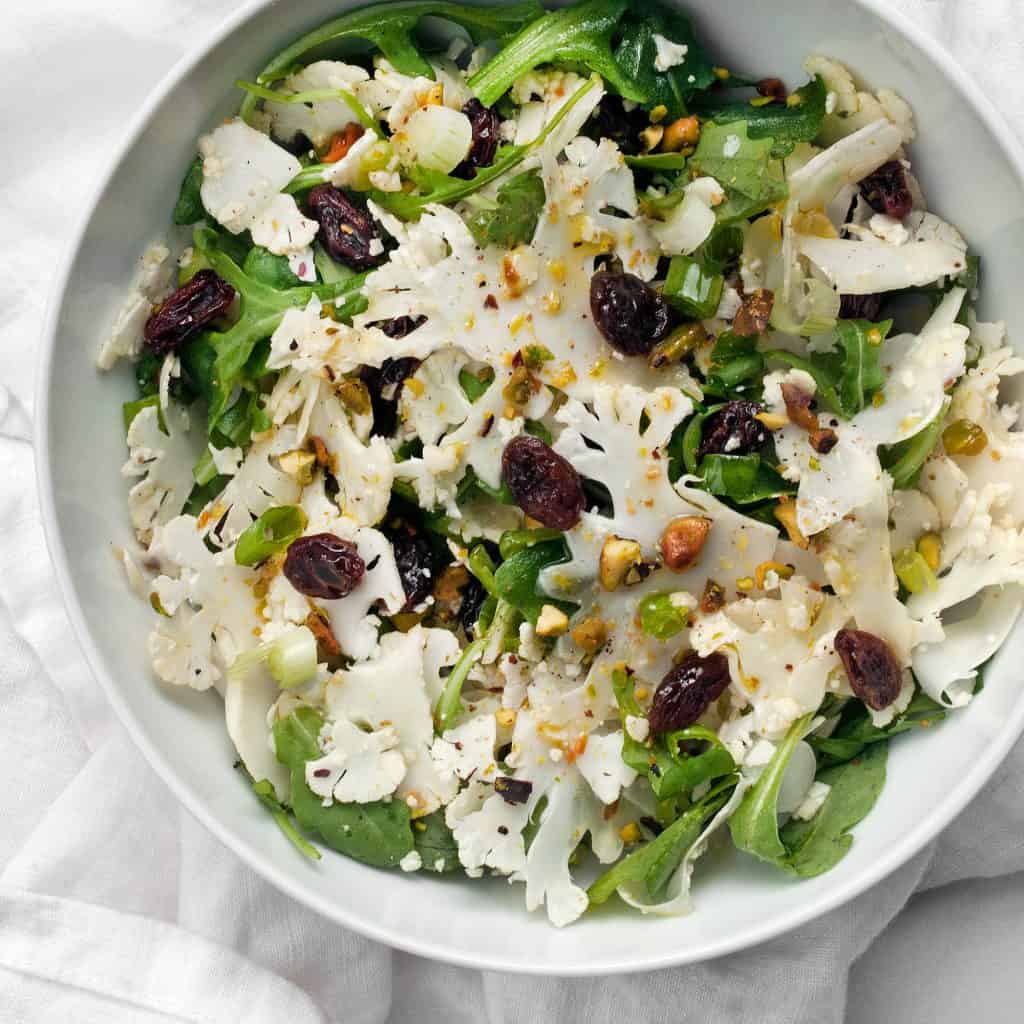 In a big bowl, I toss the cauliflower with baby arugula, sliced scallions, chopped pistachios and the raisins.
This shaved cauliflower arugula salad is very crunchy. It flips the usual ratio of greens to everything else.

Especially going into autumn, it's important to think of other ingredients first. Lettuce is not a requirement for salads.

These are a few of my other fall salad favorites:

Autumn Chopped Salad
Kale Apple Salad
Fall Panzanella Salad
Print
Shaved Cauliflower Arugula Salad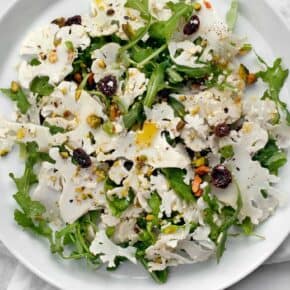 Prep Time:

15 minutes

Total Time:

15 minutes

Yield: Serves

6

1

x
Scale
Ingredients
1/4 cup raisins
3 tablespoons champagne vinegar
2 tablespoons olive oil
1/2 teaspoon kosher salt
1/4 teaspoon black pepper
1 head cauliflower, trimmed and broken into florets
2 ounces baby arugula
3 scallions, thinly sliced
1/4 cup roughly chopped pistachios
Instructions
Place the raisins and vinegar in a small bowl. Let stand for 10 minutes. Spoon out the raisins and set aside.
Whisk the olive oil, salt and pepper into the remaining vinegar.
Use a mandolin to thinly slice the cauliflower florets and place in a large bowl. Toss in the arugula, scallions, pistachios and raisins.
Drizzle the vinaigrette over the salad before serving.
SHARE THIS