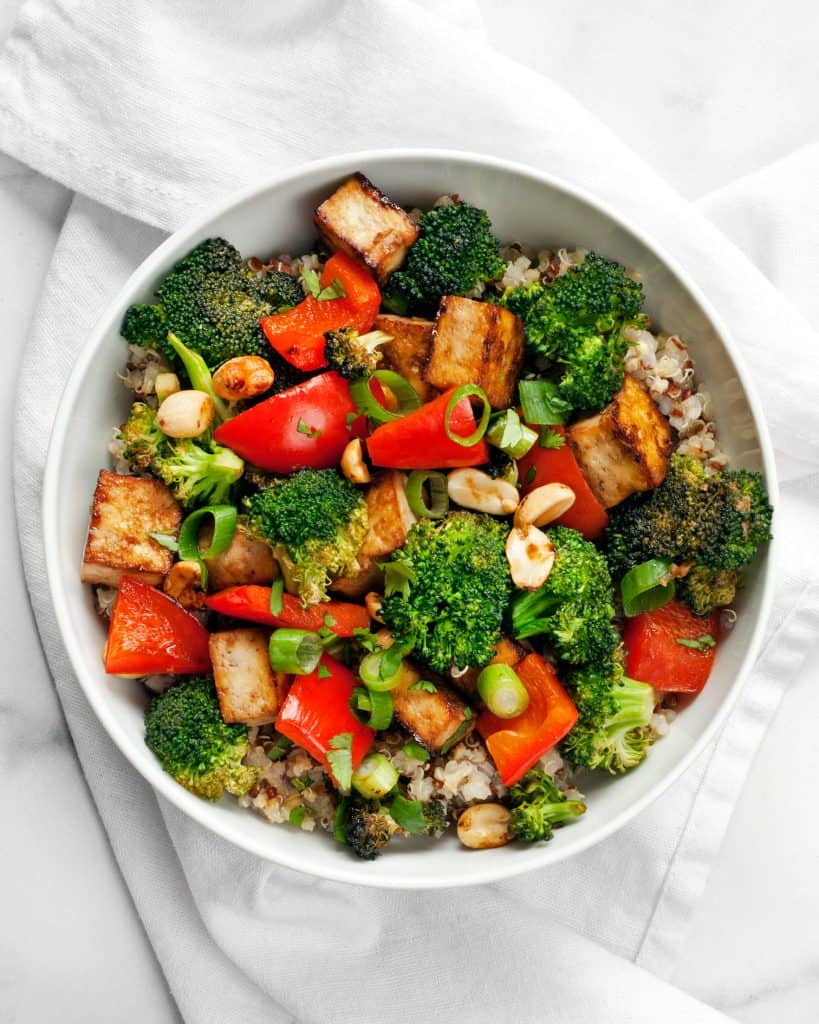 My usual dinner is a side that I treat like a main. Some might think that's kind of weird, but I've never been a meat and potatoes kind of eater.

Even though I'm not a vegetarian, veggies always come first when I'm planning a meal. Grains/carbs are second, and then my mind jumps straight to dessert!

Meat, poultry and fish feel more optional to me. I can take them or leave them.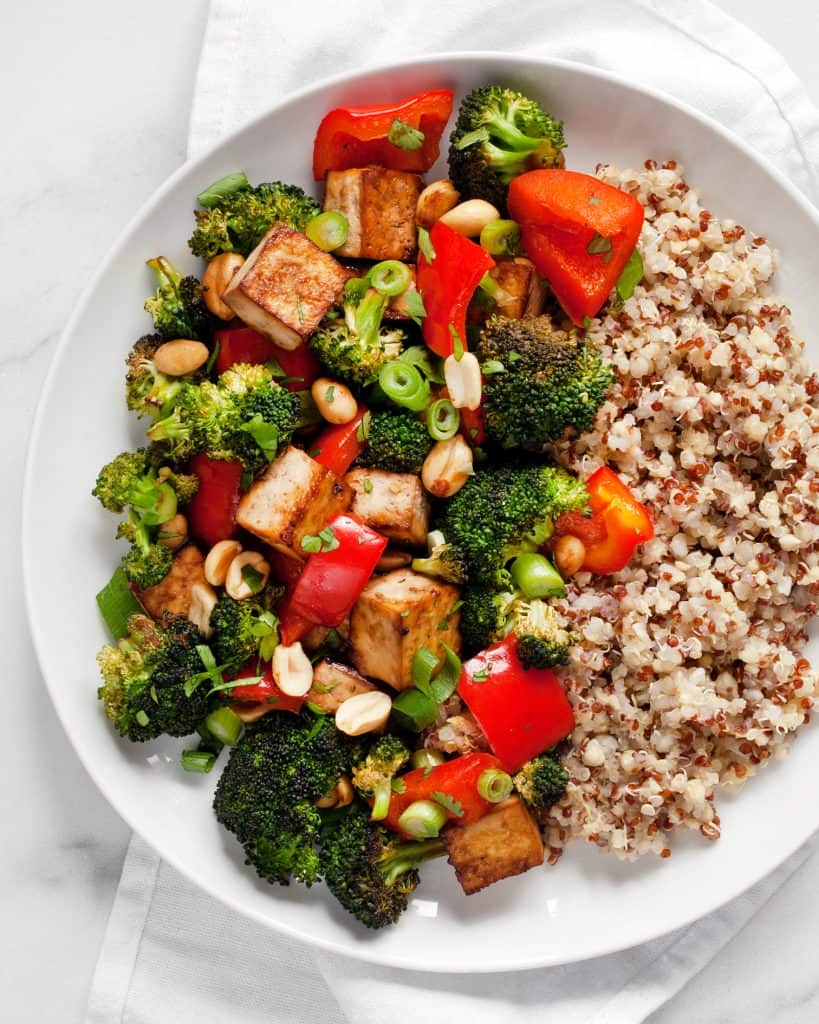 Lately, I have been wanting to up my vegetarian main dish game with things that make more sense for the feature dish.
Sheet pan dinners are popular for a reason. They are easy, and cleanup is minimal. You get pretty much everything on a single pan.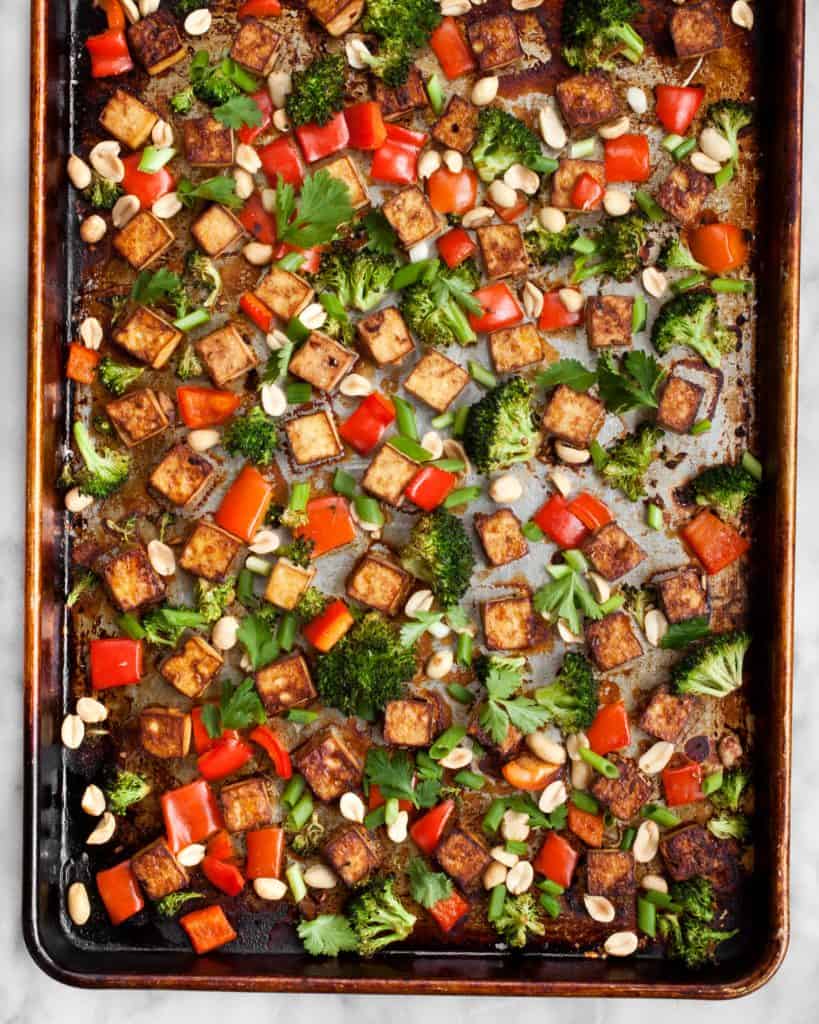 Tofu is not on my regular shopping list, but on my last trip, I stopped and picked up a package. As I continued strolling through the aisles, I brainstormed about what I could do with it.
Kung pao chicken is one of my favorites when we go out for Chinese food, which really isn't that often. I love the vegetables and peanuts, but most of all, I like the spicy sauce.

Instead of using a wok, I made sheet pan kung pao tofu.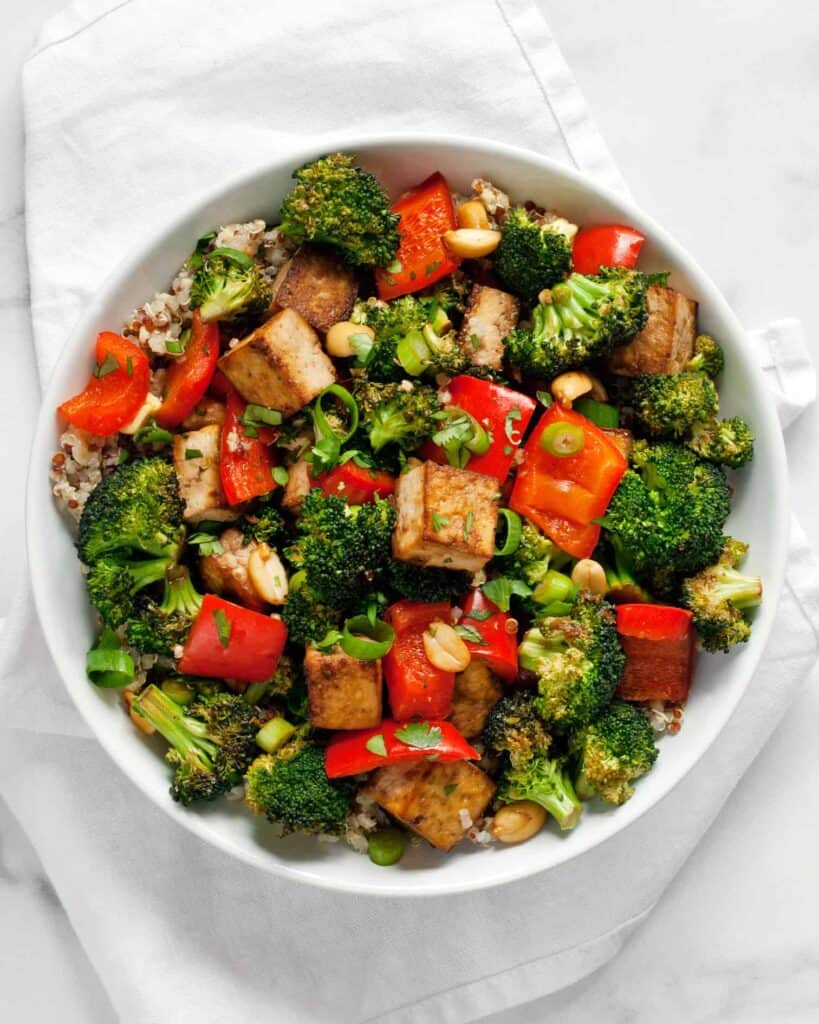 How To Make Sheet Pan Kung Pao Tofu
I started by whisking together the sauce, a combination of soy sauce, hoison, sesame oil, rice vinegar, minced garlic, fresh ginger and red pepper flakes.

I searched high and low for dried Sichuan peppers, but I had no luck. That's why I used red pepper flakes instead.

You can adjust how much you add to the sauce depending on how much heat you can handle.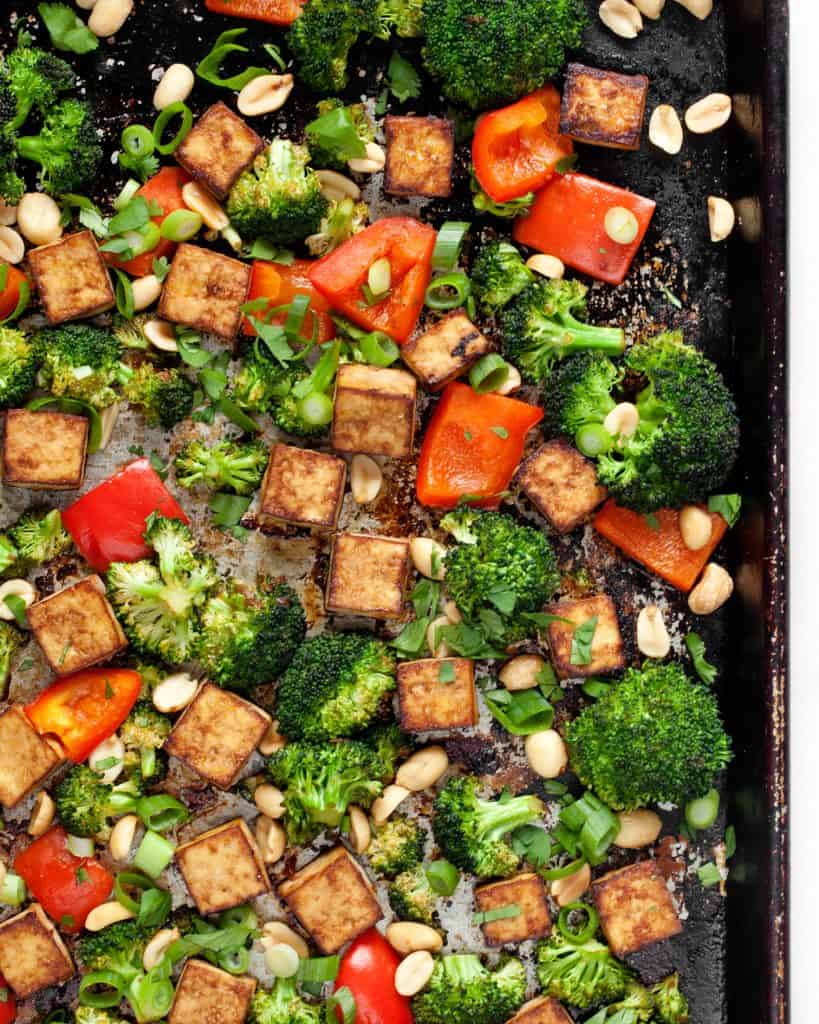 The tofu got a head start in the oven. Then I added the red bell peppers, broccoli florets and peanuts to the sheet pan to finish roasting.

Once everything was cooked and the sheet pan was out of the oven, I sprinkled on scallions and cilantro.

I served my sheet pan kung pao tofu with a quinoa & millet super grain blend. Brown rice would work, too.
Print
Sheet Pan Kung Pao Tofu
Prep Time:

20 minutes

Cook Time:

25 minutes

Total Time:

45 minutes

Yield:

Serves 4
Ingredients
Non-stick cooking spray
1-14 ounce package extra firm tofu
1/2 cup low sodium soy sauce
1 tablespoon hoison sauce
1 teaspoon sesame oil
1 teaspoon rice vinegar
2 garlic cloves, minced
1 teaspoon minced ginger
1/2 – 1 teaspoon red pepper flakes
1 red bell pepper, cut into 1/2-inch dice
1 head broccoli, cut into florets
1/3 cup salted roasted peanuts
2 scallions, sliced thinly
1 handful cilantro leaves, whole and roughly chopped
Brown rice or quinoa for serving
Instructions
Preheat the oven to 450 degrees F. Grease a sheet pan with non-stick cooking spray.
Pat the tofu with a paper towel. Wrap with a dry paper towel and place a cast iron pan or cutting board on top to remove more liquid. Let stand for 15 minutes. Cut the tofu into 1-inch cubes.
In a medium bowl, whisk together the soy sauce, hoison, sesame oil, rice vinegar, garlic, ginger and red pepper flakes.
Toss the tofu in the sauce. Use a slotted spoon to transfer the tofu to the prepared sheet pan. Arrange in a single layer and bake for 10 minutes. Take the pan out of the oven, and flip the tofu to the other side.
Toss the red peppers and broccoli in the sauce. Use a slotted spoon to spread the vegetables across the sheet pan around the tofu. Bake 10 minutes before scattering the peanuts on the pan. Continue cooking until the tofu is browned and the vegetables are tender, about 5 minutes.
Sprinkle the scallions and cilantro on top. Serve with rice or quinoa and the remaining sauce.
SHARE THIS