Slow Cooker Curried Butternut Squash Soup
This post is sponsored by Calphalon.
The start of sweater weather has been influencing my food choices. It took a little time, but I've finished my long goodbye to sandals and tomatoes. Bring on the scarves, root vegetables, and of course, slow-cooking.
I am a big fan of loading up a slow cooker with a mix of all sorts of ingredients and patiently waiting for the ultimate reward, a fragrant flavorful meal without much effort, which I admit might be the best part!
Curried butternut squash soup ticked all my requirements for a slow cooker dish including using lots of aromatic ingredients.
I've partnered with Calphalon to share this recipe using their new Digital Sauté Slow Cooker, which has a removable cooking pot that can go straight on the stovetop no matter if you're working with gas, electric or even induction.
Calphalon just released an entire line of six beautiful small appliances. This slow cooker is one of them, and I've been loving it. The other appliances include a blender, which I also used for this recipe, the Quartz Heat Countertop Oven, Intellicrisp Waffle Maker, Special Brew Coffee Maker and Even Sear Multi-Grill. I love their sleek dark stainless steel finish.
Whether you are cooking vegetables or meat, that first step of browning the ingredients is very important to add flavor and depth. Yes, you can skip this and just let them bubble away in the slow cooker, but you will be missing something.
Being able to sauté right in the non-stick ceramic-coated pot instead of having to do it a separate saucepan makes the prep a total cinch with this slow cooker.
I started by sautéing the onions and carrots until they were lightly browned at the edges. Then I added garlic, ginger and Thai red curry paste.
Once I put the cooking pot back in the slow cooker, it was time to add cubed butternut squash and stock. As the ingredients cooked on high for 3 hours, it wasn't hard to resist the urge to lift the lid to peak because my kitchen was filled with the most wonderful, warming scent.
Once the squash was well-beyond tender, I reached for my Calphalon Auto-Speed Blender to puree the soup and stir in a little coconut milk.
The blender automatically adjusts power to keep a consistent blade speed resulting in silky, perfectly smooth soup. Then I poured it back into the slow cooker and switched on the warm setting.
When I was ready to serve the soup, I gave each bowl an extra swirl of coconut milk. Then I sprinkled on chopped fresh parsley and cilantro, salted roasted peanuts and red pepper flakes for spice.
Print
Slow Cooker Curried Butternut Squash Soup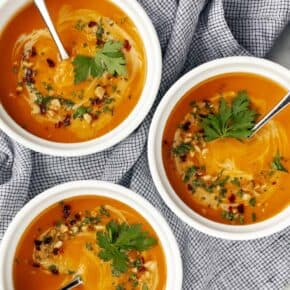 Prep Time:

10 minutes

Cook Time:

2-3 hours

Total Time:

2-3 hours 10 minutes

Yield: Serves

4

–

6

1

x
Scale
Ingredients
1 tablespoon coconut oil
1 small white onion, roughly chopped
2 medium carrots, peeled and roughly chopped
1 garlic clove, minced
1-inch piece of fresh ginger, peeled and minced
2 tablespoons Thai red curry paste
1 butternut squash (about 3 pounds), peeled and diced
4 cups vegetable or chicken stock
1/2 teaspoon kosher salt
1/2 cup light coconut milk plus more for serving
For serving: chopped fresh parsley & cilantro, chopped roasted & salted peanuts, and red pepper flakes
Instructions
Place the coconut oil in the heatproof cooking pot of a slow cooker on the stovetop over medium heat. Sauté the onions and carrots until they soften and are lightly browned at the edges, about 7-9 minutes. Add the garlic, ginger and red curry paste and cook for another minute until fragrant.
Place the cooking pot back into the slow cooker. Add the butternut squash, stock and salt. Place the lid on the slow cooker and cook on high for 2-3 hours until the squash is very tender.
In batches, carefully transfer the soup to a blender to puree until smooth and stir in the coconut milk. Return the soup to the slow cooker and set to warm. Divide the soup into bowls and top with a drizzle of coconut milk, parsley, cilantro, peanuts and red pepper flakes.
SHARE THIS