Roasted Curried Cauliflower
This curried cauliflower roasts in less than 30 minutes and only takes 8 ingredients. Tahini gives it a nutty, sesame taste to go with the mix of curry powder and cumin. This is a simple vegan side dish that's gluten-free too.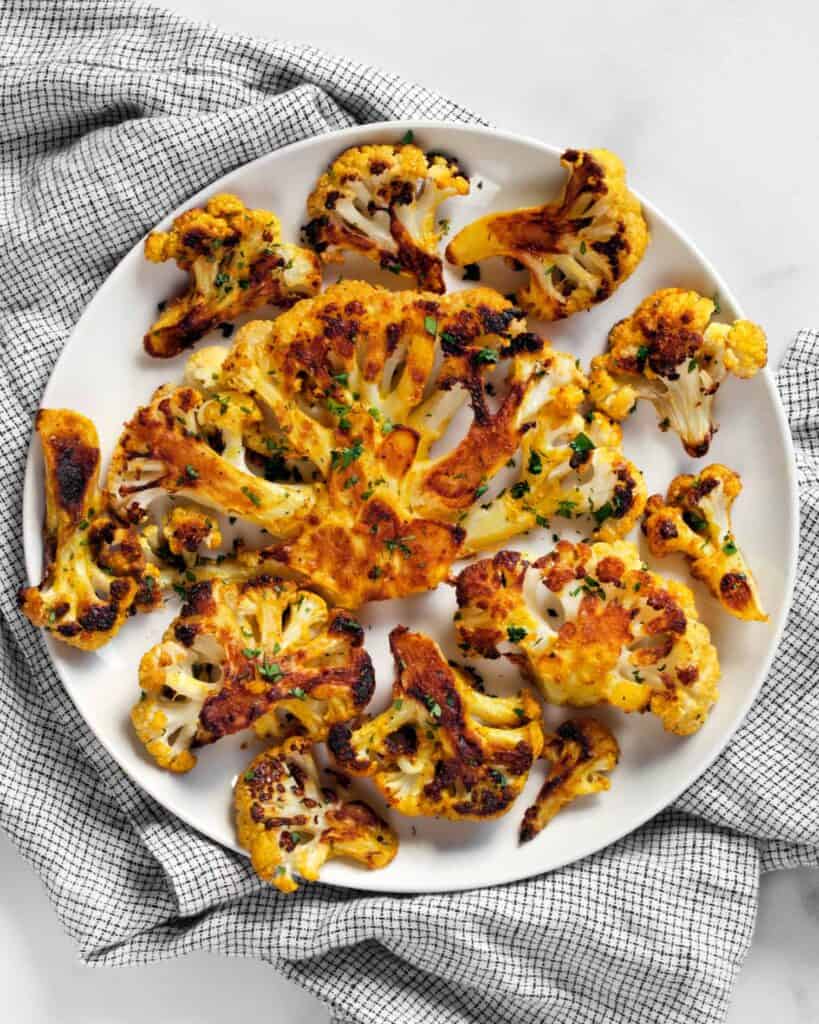 Why You'll Love This Recipe
Roasting cauliflower is a simple way to cook a nutritious vegetable. Loaded with vitamins, high in fiber, low in calories and keto-friendly, it's no surprise that cauliflower is a superfood. With a sheet pan, olive oil and seasonings, it is easy to roast.
Cauliflower is a blank canvas. And that's a compliment. You can add all sorts of spices to it. In this recipe I make a marinade with tahini and curry powder that is wonderful with roasted and caramelized flavors.
It is a versatile side dish that is great for leftovers too. This roasted cauliflower has a lot of personality. You can serve it warm or cold and combine it with greens or cooked grains like rice or barley.
The Ingredients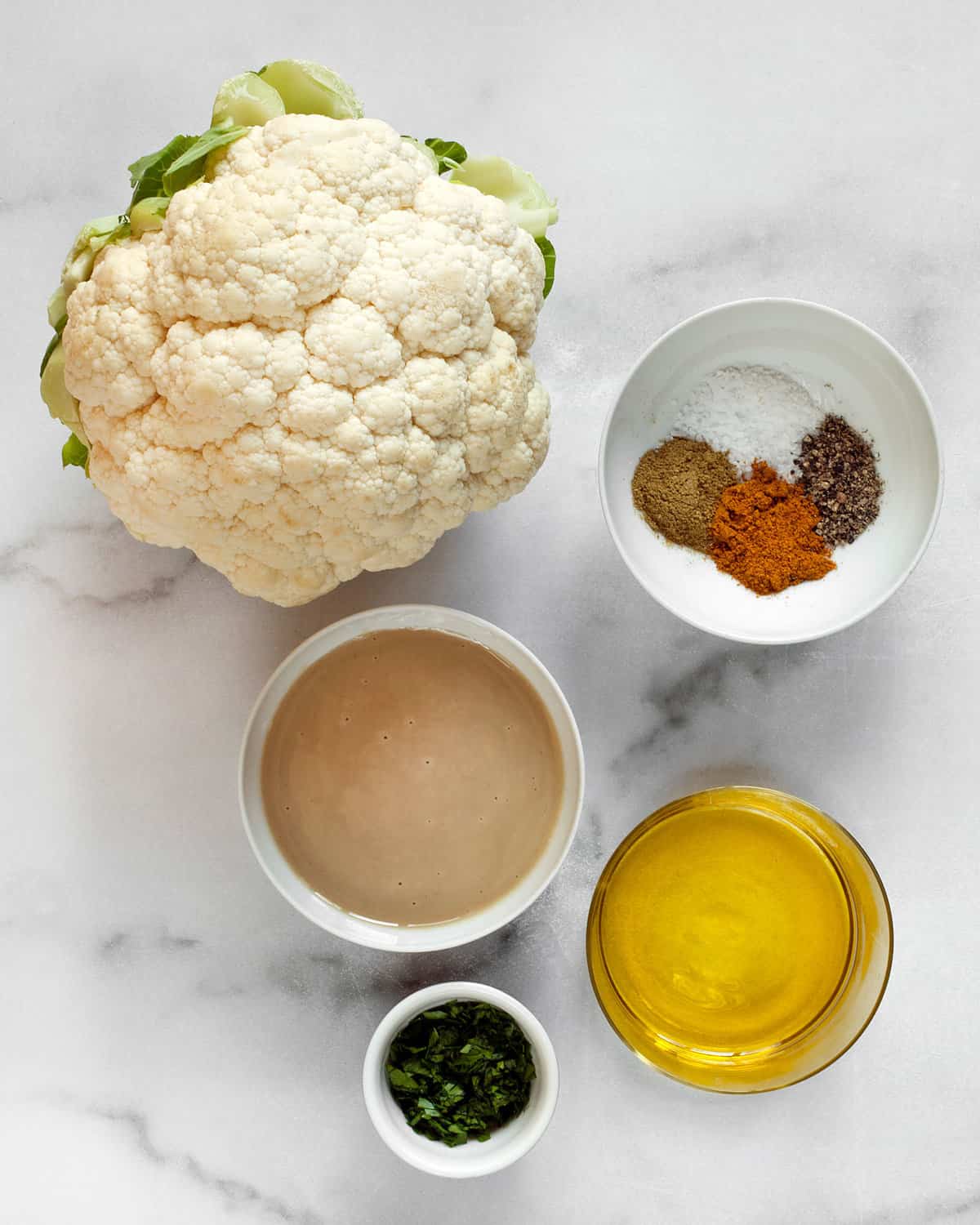 This is what you need:
Cauliflower: When you're picking out a head of cauliflower, it should feel heavy for its size. Also, there shouldn't be any dark spots. You can use any color you want including white, orange, purple or green cauliflower.
Tahini is made with sesame seeds that are ground into a paste. It adds nutty flavor to go with the curry and dried seasonings. It is also a main ingredient in hummus.
Curry powder has beautiful saturated golden orange color. It is a mixture of spices with turmeric as the main ingredient plus cumin, ginger, cinnamon, garlic, mustard seed, fennel seed and black pepper. The amounts vary depending on the spice maker/brand.
Cumin: I still include cumin even if there is some in the curry powder. That's because I love its earthy flavor.
Salt & pepper give the marinade a base level of seasonings that bring out the flavors of the overall dish.
Olive oil: Use extra-virgin olive oil.
Parsley: I garnish the roasted cauliflower with chopped fresh herbs. You can use parsley or cilantro.
How To Make Roasted Curried Cauliflower
Preheat the oven to 425 degrees F.
1. Prep the cauliflower. Instead of cutting the head into florets, just slice it. Those flat sides maximize contact with the pan and browning. Don't worry if some of the pieces break apart. It's good to have the cauliflower in a variety of sizes. Some will caramelize more than others.
2. Make the marinade. Stir together the tahini, olive oil, curry powder, cumin, salt and pepper in a big bowl.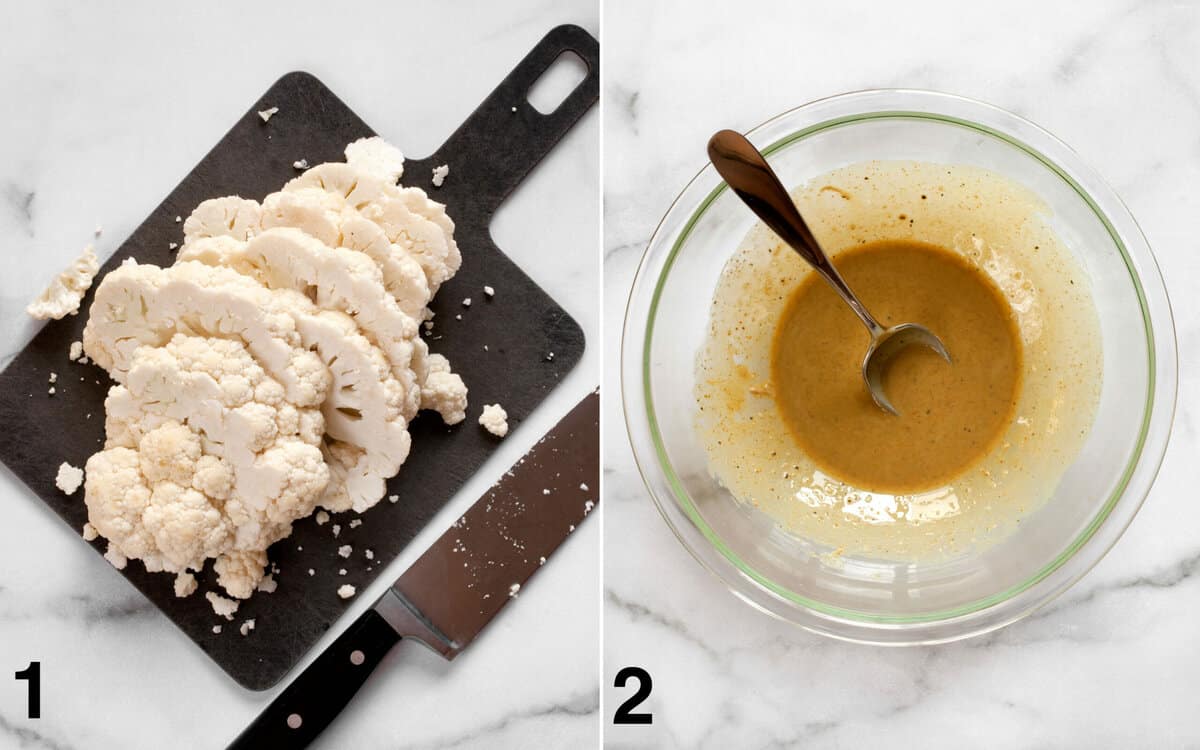 3. Coat the cauliflower in the marinade. Put it into the bowl and stir it as best as you can. I like to use my hands to toss it around.
4. Put the cauliflower on a baking sheet. Each piece should be directly on the pan. Avoid any overlapping. This will help with roasting.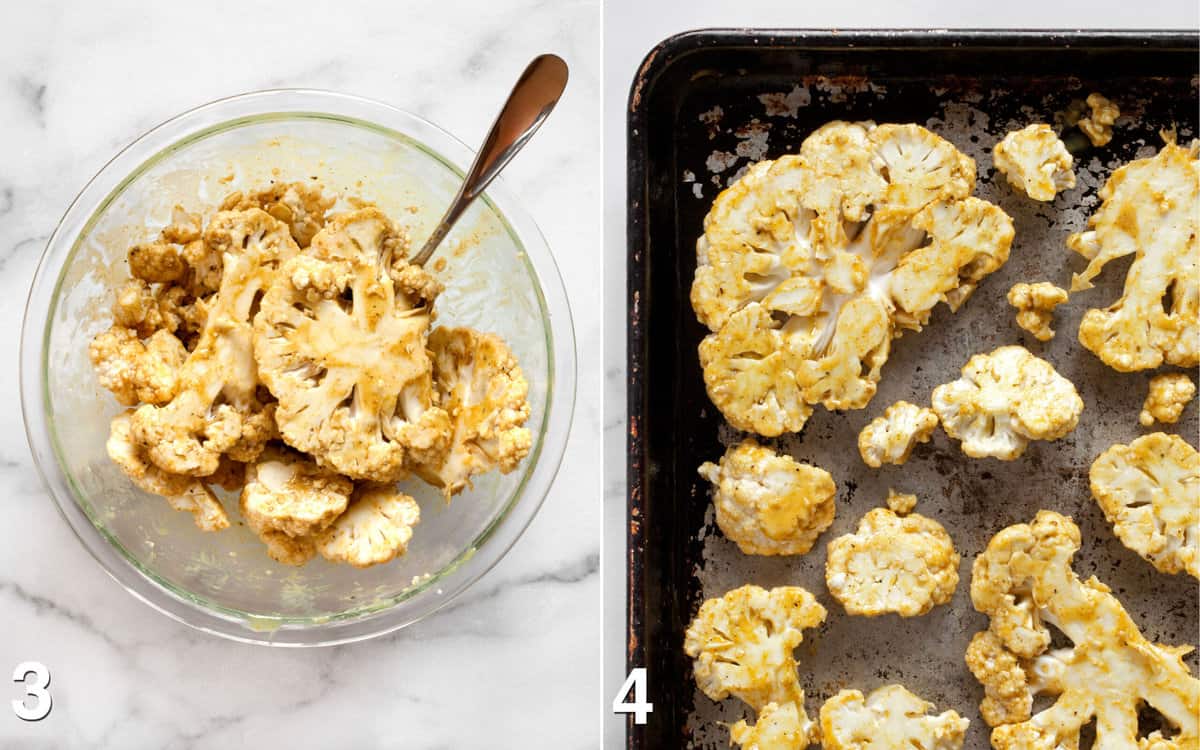 4. Roast the cauliflower, flipping halfway through roasting. It will take about 20-25 minutes to brown and caramelize.
5. Garnish with chopped parsley before serving.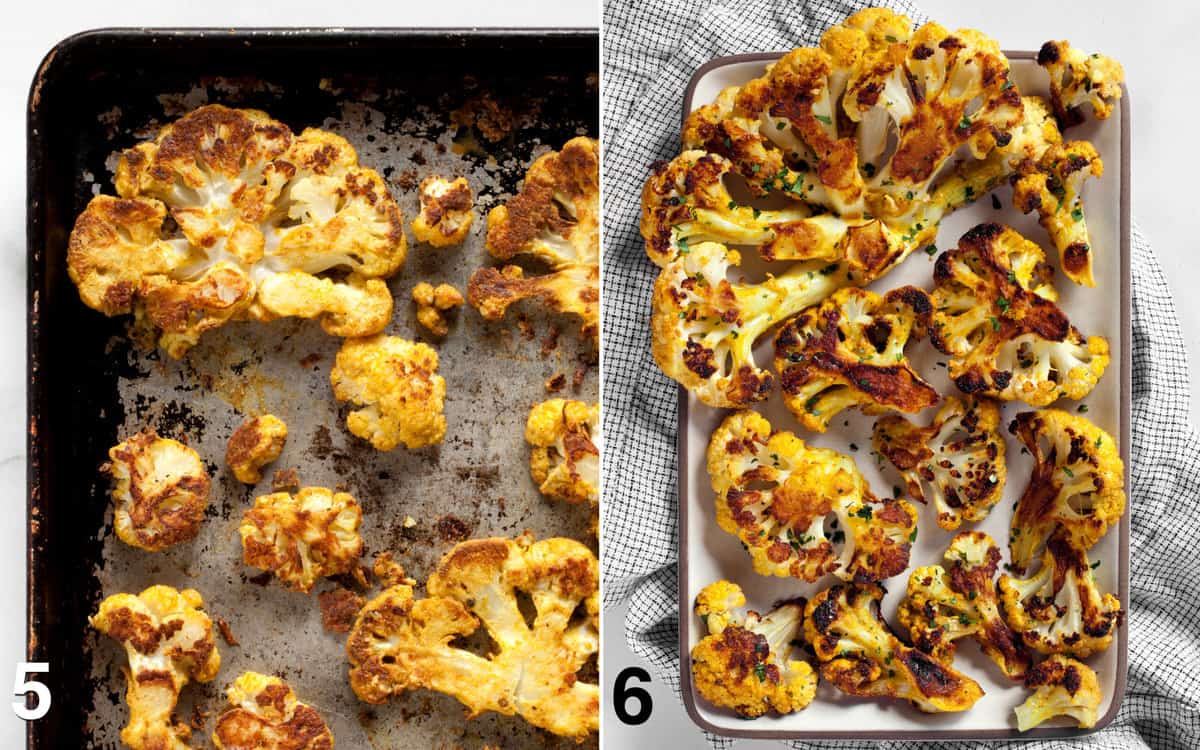 Leftovers & Storage
You can store leftovers in an airtight container in the refrigerator up to 3 days. Then warm them in a 350-degree F oven. Or eat them cold in a salad with kale, spinach or chopped romaine. Roasted cauliflower can also be combined with pasta, quinoa, farro or barley.
Recipe Tips
Start with a head of cauliflower and slice it instead of breaking it into florets. I can't emphasize enough how important it is to have those flat sides on the pan, so the cauliflower browns all over.
Don't forget to flip over the cauliflower halfway through roasting. You want to make sure to brown it evenly on both sides.
Always roast cauliflower at a high temperature. For this recipe, I preheat the oven to 425 degrees F.
Don't crowd the pan. This is good advice for roasting any vegetable. To make sure the veggies roast and don't steam, they should not be on top of each other. The need a little space around them, so they can be roasted by the hot air.
FAQs
Do you need to line the pan with parchment paper to roast cauliflower?
No, it's better for the cauliflower to brown and caramelize if it makes direct contact with the metal of the pan, so do not line it. As long as you toss the cauliflower in oil or a marinade with oil, it won't stick.
Why did my roasted cauliflower turn out mushy?
Allow enough space on the sheet pan, even if that means you need to use 2 pans. If the cauliflower is overlapping, it will steam rather than roast and turn out soft.
What flavors and spices go with cauliflower?
Cardamom, dried chilies, coriander, cumin, curry powder, garlic, ginger, lemon, mustard seed, paprika, tarragon, thyme and turmeric all pair well with cauliflower.
More Roasted Cauliflower Recipes
Roasted Cauliflower and Chickpeas with Herby Tahini
Potato Salad with Roasted Cauliflower
Black Lentil Salad with Roasted Cauliflower
Cauliflower Spinach Pesto Pasta
Roasted Cauliflower Kale Salad
Harissa Roasted Cauliflower Couscous
Tahini Roasted Broccoli and Cauliflower
Cauliflower Soup with White Beans
Did you try this roasted cauliflower recipe? Please leave a rating and comment below. Thanks!
Tahini Roasted Curried Cauliflower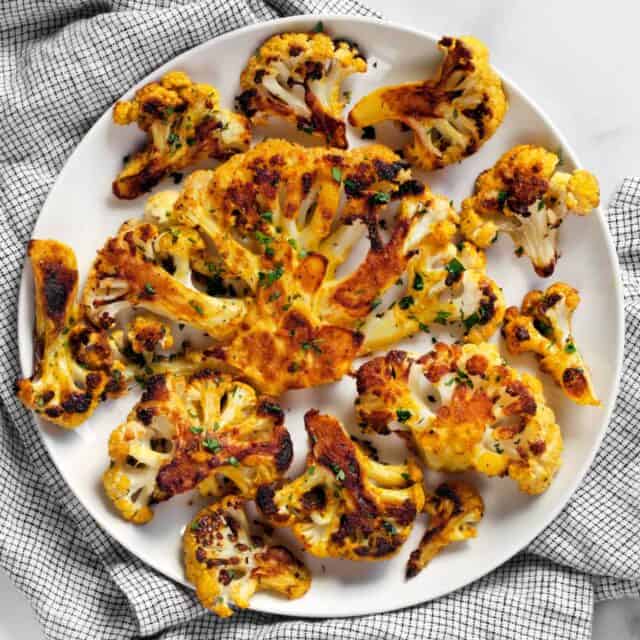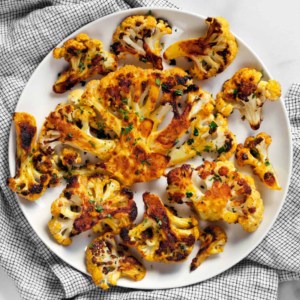 This roasted cauliflower recipe is special because the cauliflower is mixed into a tahini-curry powder marinade before it goes into the oven. The result is an easy side dish that goes big on flavor.
Ingredients
1

head

cauliflower

leaves removed, bottom stem trimmed

1/4

cup

tahini

2

tablespoons

olive oil

1

teaspoon

curry powder

1/2

teaspoon

cumin

1/2

teaspoon

kosher salt

1/4

teaspoon

black pepper

Chopped fresh parsley for serving
Instructions
Preheat the oven to 425 degrees F.

Cut the cauliflower into 1/2-inch-thick slices.

In a large bowl, whisk together the tahini, olive oil, curry powder, cumin, salt and pepper.

Toss the cauliflower into the tahini-curry mixture.

Arrange the cauliflower in a single layer on a sheet pan. It should not be overlapping.

Roast for 20-25 minutes, flipping halfway through cooking, until browned.

Sprinkle with parsley before serving.
Notes
You can substitute the chopped parsley with cilantro or use a combination of both.
Serve the cauliflower warm or at room temperature.
Save leftovers in an airtight container in the refrigerator up to 3 days. You can warm them in a 350-degree F oven. Or eat them cold in a salad with greens or cooked grains.
Nutrition
Calories:
189
kcal
|
Carbohydrates:
11
g
|
Protein:
5
g
|
Fat:
15
g
|
Saturated Fat:
2
g
|
Polyunsaturated Fat:
4
g
|
Monounsaturated Fat:
8
g
|
Sodium:
340
mg
|
Potassium:
513
mg
|
Fiber:
4
g
|
Sugar:
3
g
|
Vitamin A:
19
IU
|
Vitamin C:
70
mg
|
Calcium:
58
mg
|
Iron:
2
mg
Nutrition information is automatically calculated, so should only be used as an approximation.
Originally published March 2, 2020. Updated: December 22, 2022.