Smashed Pea Asparagus Tartines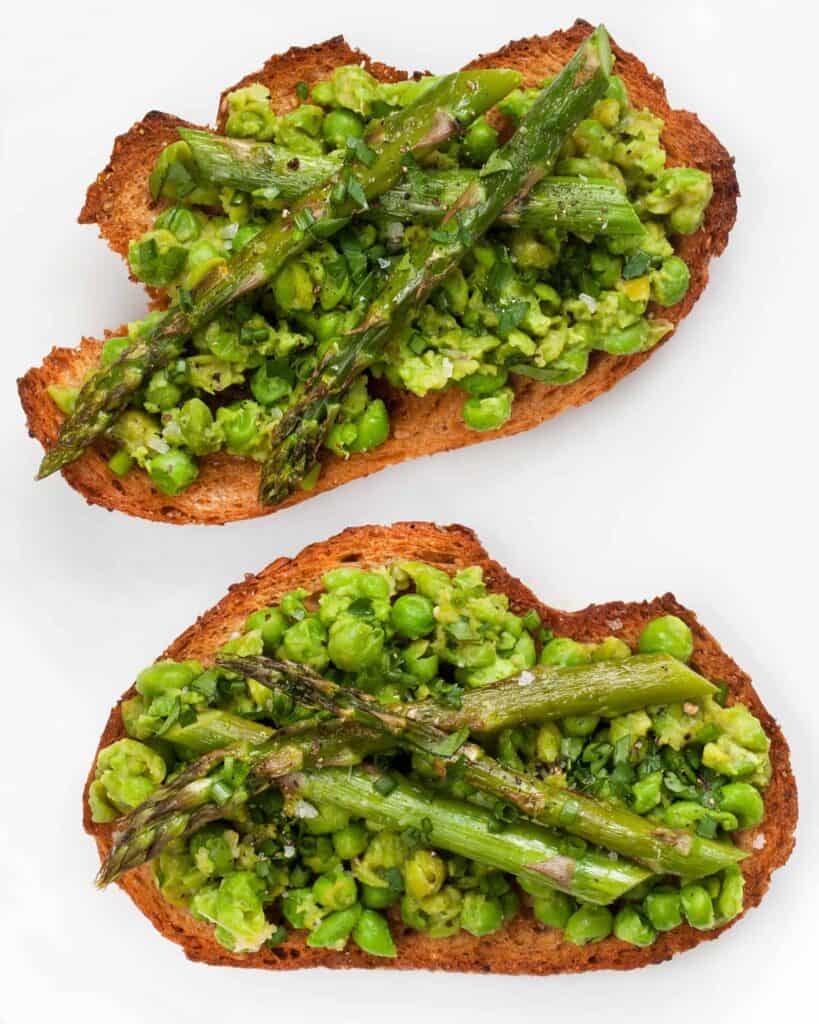 I'm losing my patience waiting for it to actually feel like spring.
The transition from winter to spring might be the most ugly and blah time of the year. I know that sounds pretty harsh.

When the leaves fall off the trees toward the end of autumn and the beginning of winter, there is the anticipation of the holidays and the first snowfall.

After the New Year, it's a total slog to spring. Everything outside looks a bit dull, lifeless and an overall shade of brown.

Since I can't see the green I crave outside, I am eating it instead. I think I'm most excited for warmer weather because that means more veggies will be in season. And these vegetables require less cook time and prep.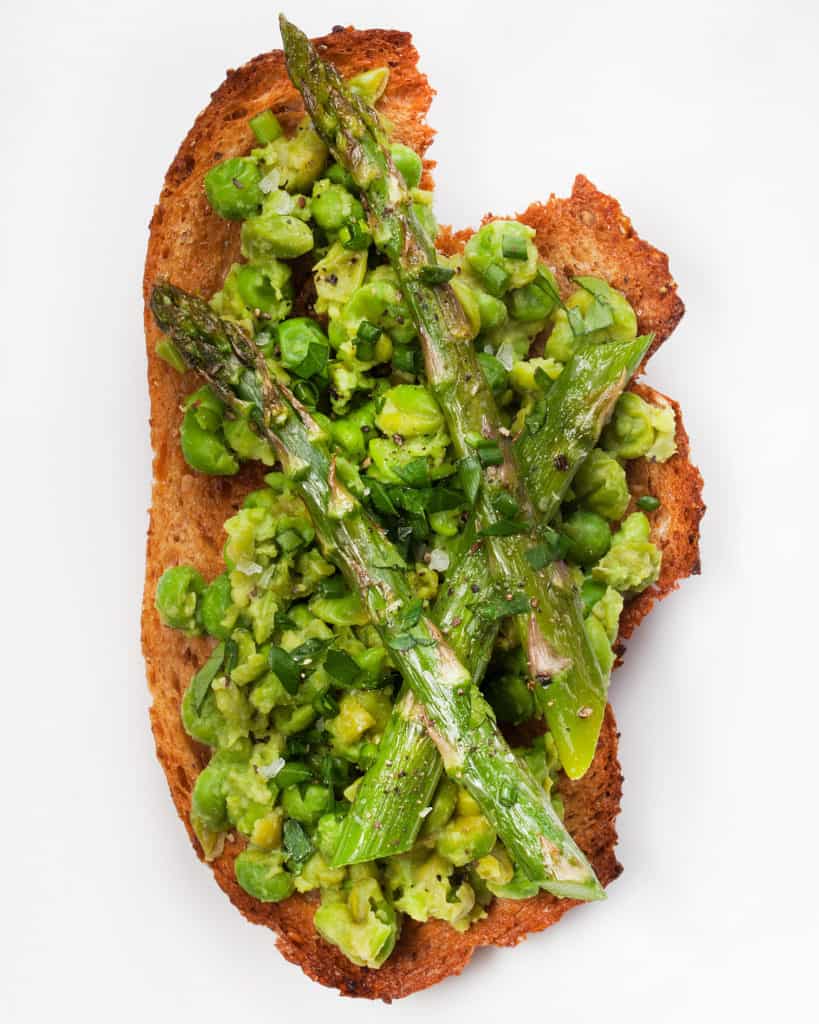 They can be left raw and simply dressed. Or they can be lightly roasted or grilled.
I bought a loaf of 9-grain bread with only a vague plan of what to do with it, but I knew it would involve somehow turning it green.
How To Make Smashed Pea Asparagus Tartines
I switched on the oven and drizzled slices of that whole grain bread with olive oil and baked them until they were toasty.

Right next to the bread on the sheet pan, I tossed asparagus with olive oil, salt and pepper and roasted the spears until they were bright but still had snap.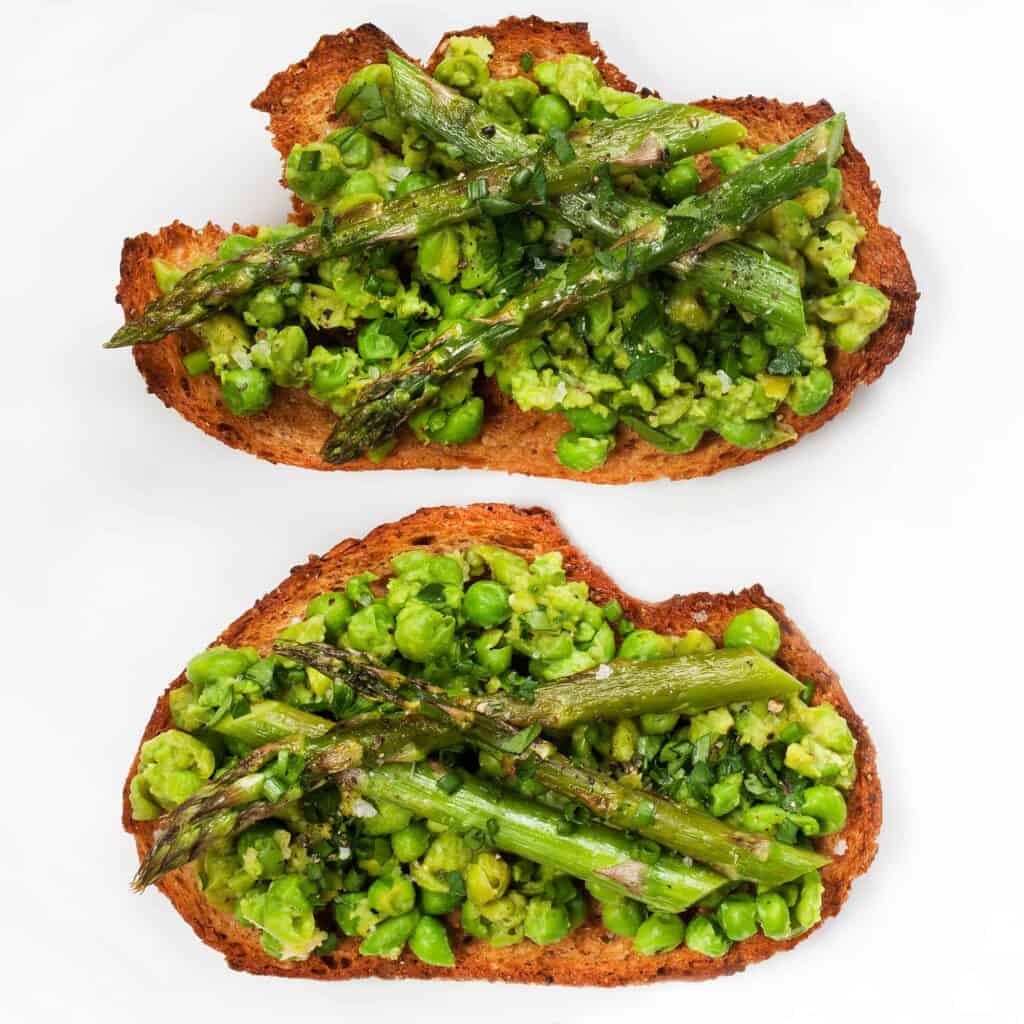 I love doing a multi-roast on a single pan!
When the bread was nice and crisp, I rubbed both sides with a peeled garlic clove. Then I minced that clove.
Using a fork, I mashed peas with the garlic and lemon juice.
I spooned the peas onto the toasted bread. The asparagus was a bit long, so I halved the stalks. It also made them much easier to eat.
To finish off these smashed pea asparagus tartines, I sprinkled on flaky sea salt and pepper.
Then I added chopped parsley and chives. The more herby fresh ingredients, the better!
Print
Smashed Pea Asparagus Tartines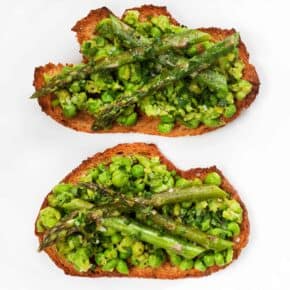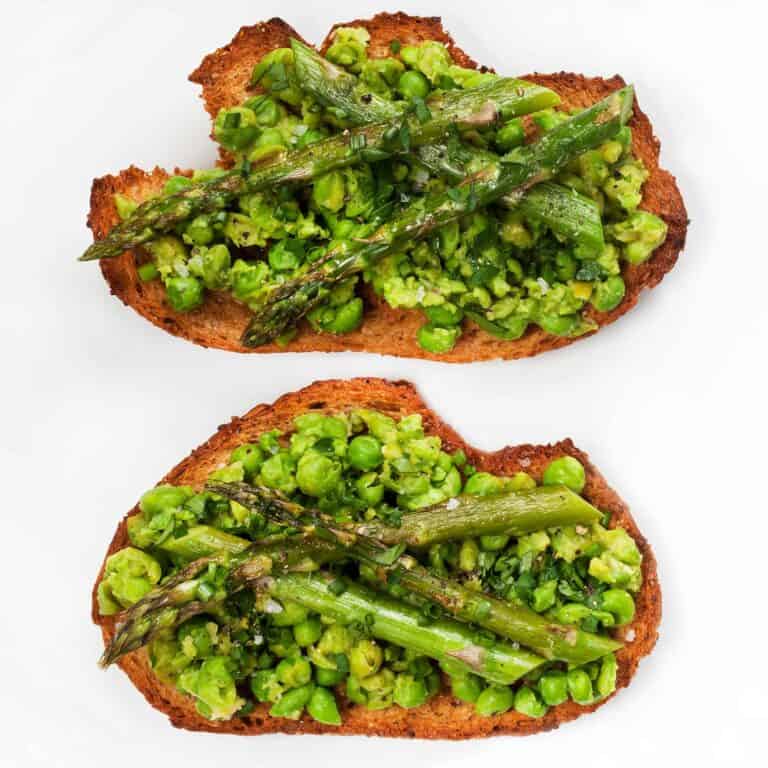 Prep Time:

15 minutes

Cook Time:

10 minutes

Total Time:

25 minutes

Yield:

Serves 2-4
Ingredients
For bread
4 slices crusty whole grain bread
1 tablespoon olive oil
1 garlic clove, peeled
For asparagus
8-10 asparagus spears, trimmed
1 teaspoon olive oil
1/2 teaspoon kosher salt
1/4 teaspoon black pepper
For peas
1 cup peas, fresh or frozen
Juice of 1/2 lemon
1/2 teaspoon kosher salt
1/4 teaspoon black pepper
For tartines
1 tablespoon finely chopped parsley
1 tablespoon minced chives
Flaky sea salt
Black pepper
Instructions
Preheat the oven to 400 degrees F.
Drizzle the bread on both sides with olive oil. Place the slices on one half of a sheet pan.
On the half side of the sheet pan, toss the asparagus with olive, oil, salt and pepper. Arrange the spears in a single layer.
Roast the bread and asparagus until the asparagus turns bright green and the bread is toasted and golden brown. Flip the bread about halfway through cooking.
Rub the bread on both sides with the garlic clove and then mince it. Halve the asparagus spears.
In a large saucepan of salted boiling water, cook the peas for 2-3 minutes until they are just tender. Using a slotted spoon, transfer the peas to a bowl of ice water to stop them from cooking. Drain the peas once they have cooled.
In a small bowl, mash the peas with the minced garlic, lemon juice, salt and pepper.
Spoon the smashed peas on the toasted bread. Arrange the asparagus on top.
Sprinkle with parsley, chives, flaky sea salt and pepper before serving.
SHARE THIS