For better or worse, we are a family of snackers.

Since my childhood there have been lots of meals spoiled by too many nibbles too close to dinner.

I'm not proud of it, but I'm exactly not ashamed either.

We've all been there when hunger strikes at an off hour, and you feel like you're going to turn hangry unless you consume something.

My mom would call me a monster that needs to be fed. And she's absolutely right!

It's funny how kids take on specific personality traits of their parents.

My six-year-old has the snack gene.

I never go anywhere without a container of food for him for fear of the transformation into the snack monster.

It's our joke that mom will get in trouble if she forgets the snacks.

The other requirement is that it has to be a "mix of snacks." That means 3 different kinds. I made the mistake of suggesting that once. The trio has become a permanent thing.

Usually I try to be a thoughtful eater and not mindlessly munch the crackers or pretzels that I am feeding my son, but in the last few weeks I've been slipping back to bad habits.

I figured it was time to be a better role model in the food department and remind him that snacks aren't always packaged.

They can involve vegetables!
It's no secret that I love oven fries.
From sweet potatoes to russet potatoes, with the right combination spices, you don't need a vat of oil to satisfy your French fry craving.

I've been trying other vegetables besides potatoes, and I love baked carrot fries.

Carrots are a fantastic veggie to roast. Instead of slicing them into coins, why not cut them into batons for fries?
How To Make Baked Carrot Fries
To make these baked carrot fries, I peel 1-1/2 pounds of carrots.

Then I cut down the carrots into 3 to 4-inch long sticks that are around a half-inch thick.

In a large bowl, I combine ground cumin, smoked paprika, onion powder, garlic powder, salt and pepper.

I stir olive oil into the spice mix and add the carrots. To get every surface coated, I like to use my hands to toss around the carrots in the bowl.

Next I line up the carrots on a sheet pan greased with non-stick cooking spray. It's important that the carrots do not overlap.

They roast for 22-30 minutes in a 450-degree F oven. I make sure to turn them halfway through cooking, so they have a chance to brown on both sides.

Baked carrot fries are best eaten warm.

I like to sprinkle them with whatever fresh herbs I have in my kitchen like parsley, chives and cilantro.
If you're wondering whether my son has tried the fries yet, the answer is no. He's not much of a fry guy or a carrot fan.

I am holding out hope that he'll come around to vegetables just like I did. It may take a while, but I'm being patient and still trying!

Print
Baked Carrot Fries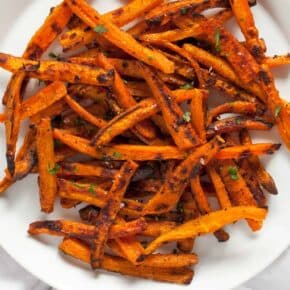 Prep Time:

5 minutes

Cook Time:

22-30 minutes

Total Time:

27-35 minutes

Yield: Serves

2

1

x
Scale
Ingredients
Non-stick cooking spray
1–1/2 pounds carrots
1 teaspoon cumin
1/2 teaspoon smoked paprika
1/4 teaspoon onion powder
1/4 teaspoon garlic powder
1 teaspoon kosher salt
1/4 teaspoon black pepper
1 tablespoon olive oil
Chopped fresh herbs for serving (cilantro, parsley or chives)
Instructions
Preheat the oven to 450 degrees F. Grease a sheet pan with non-stick cooking spray.
Peel the carrots and trim the ends. Slice the carrots into batons that are 1/2-inch thick and 3-4 inches long.
In a large bowl combine the cumin, smoked paprika, onion powder, garlic powder, salt and pepper. Stir in the olive oil.
Add the fries to the bowl tossing to coat with the spice-olive oil mixture.
Arrange the carrots in a single layer on the sheet pan making sure they are not overlapping.
Roast the carrots for 22-30 minutes, flipping halfway through baking. The fries should be browned and crisp at the edges.
Sprinkle with fresh herbs before serving.
Notes
Baked carrot fries are best eaten warm.
SHARE THIS