Oven-Baked Carrot Fries
on Apr 10, 2023, Updated Jun 29, 2023
We all love fries, right? Baking fries in the oven is a healthier and less messy way to do your own batch at home. And you don't always have to use potatoes. I season these easy carrot fries with a tasty blend of cumin, smoked paprika, onion powder and garlic powder before they bake on a sheet pan.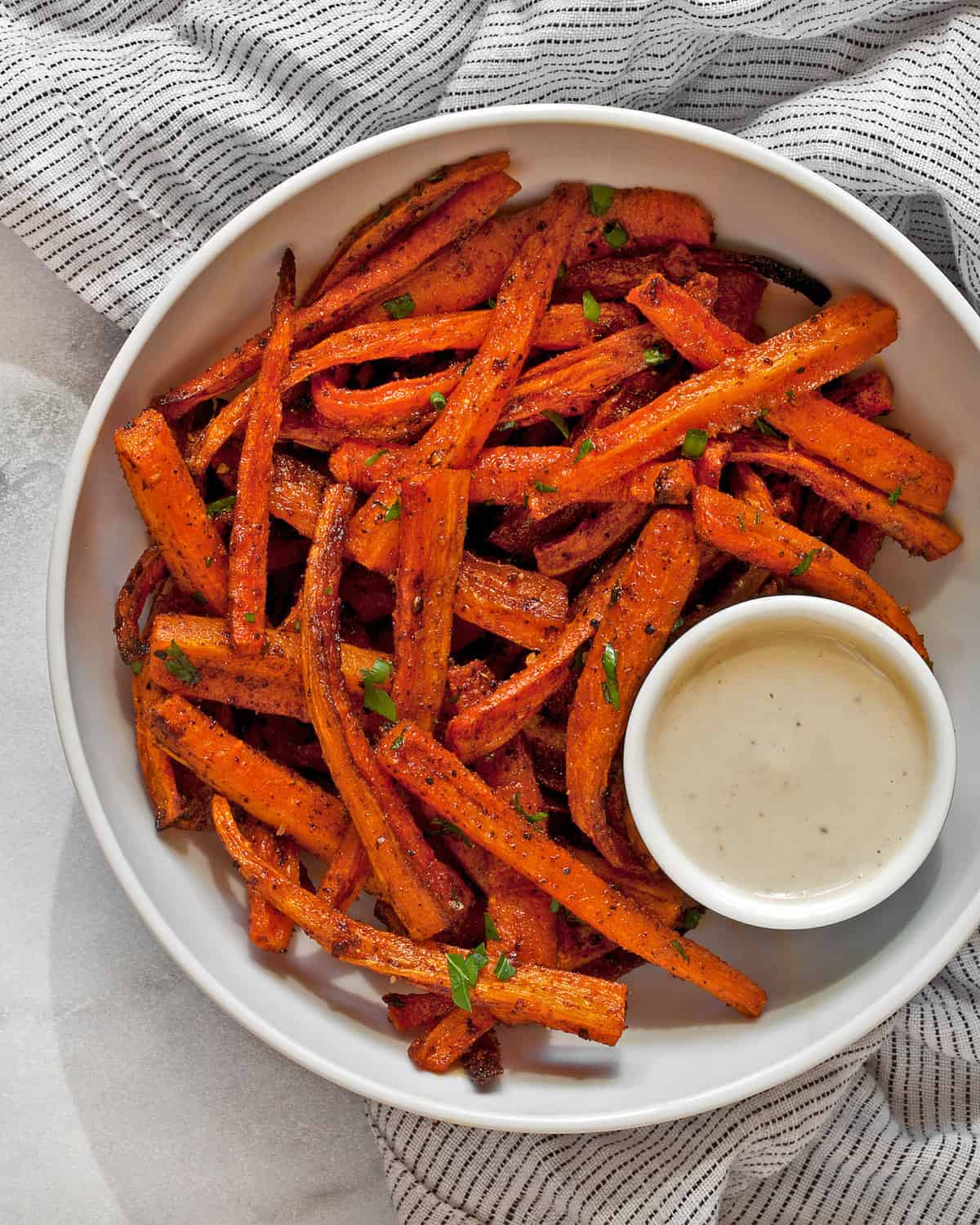 Why You'll Love This Recipe
These are the ultimate healthier version of French fries. I have nothing against potatoes. In fact, I really love them, but carrots are more nutritious since they are loaded with vitamin A, antioxidants, beta-carotene and fiber.
You don't need an air-fryer. Great things can happen with a hot oven and a pan. That includes these fries. Don't feel like you have to add another small appliance in your kitchen.
The seasoning mix is a simple way to boost the flavor of the carrots. This vegetable is often described as sweet. That's why it goes perfectly with a combo of very savory spices including earthy cumin, spicy smoked paprika, onion powder and garlic powder.
The Ingredients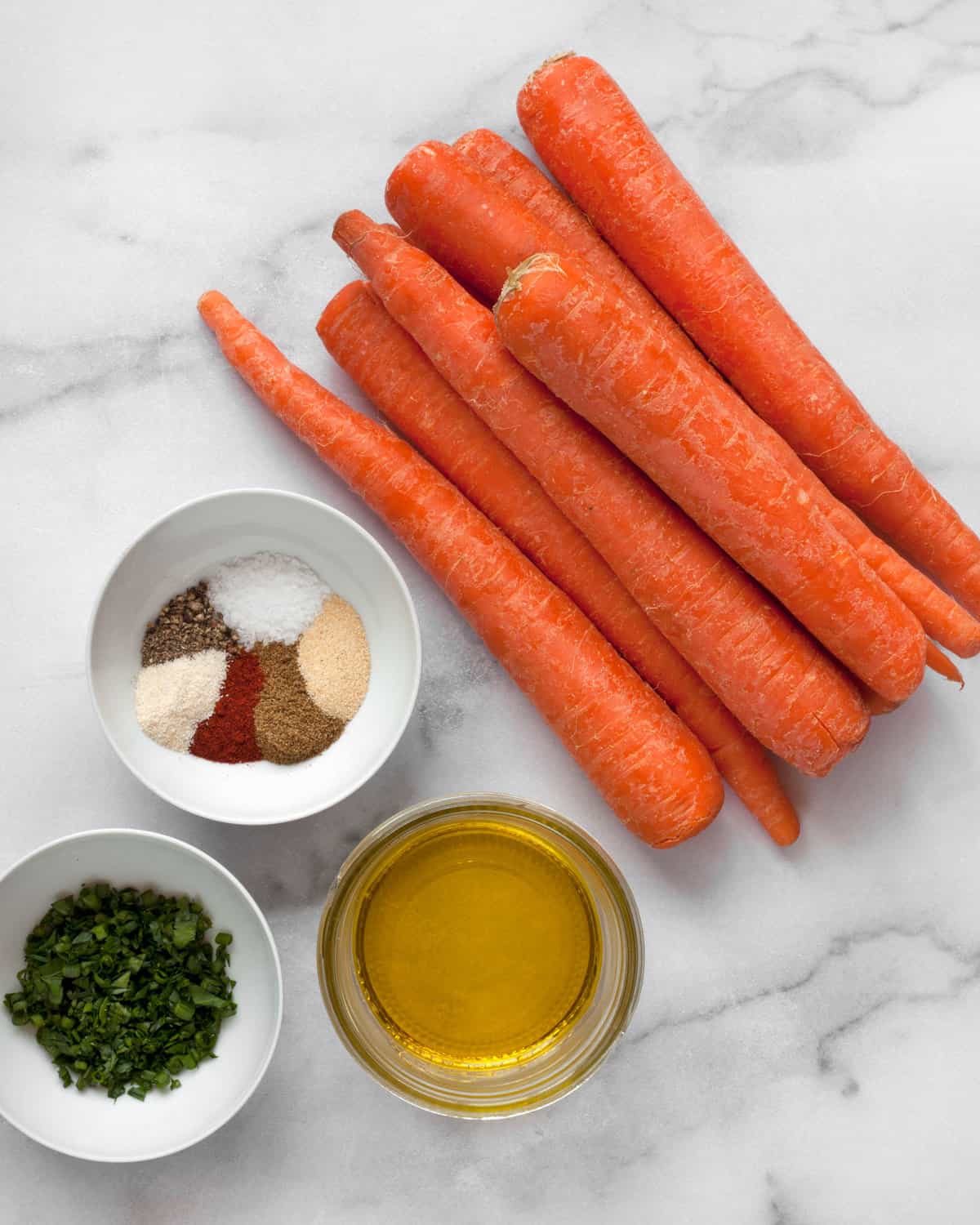 This is what you need:
Carrots: You can use any color carrots from orange to white to purple. Just peel them, trim the ends and slice them into batons.
Seasoning mix: For any baked French fry recipe, the spice mix is key. You want it to add flavor and a touch of heat. I use a combination of cumin, smoked paprika, onion powder, garlic powder, salt and pepper.
Olive oil: Since this recipe has very few ingredients, high-quality extra-virgin olive oil is best for taste.
Fresh herbs: Before serving the fries, I finish them with chopped fresh parsley and chives.
Non-stick cooking spray: To make sure the carrots don't stick to the sheet pan, I grease the pan with non-stick cooking spray.
Tahini Dipping Sauce for Serving
If you feel like you can't eat fries without dipping them into something, also included in the recipe is a super simple sauce with the following ingredients:
Tahini
Fresh lemon juice
Salt & pepper
How To Make Carrot Fries
Preheat the oven to 425 degrees F. Grease a sheet pan with non-stick cooking spray.
1. Peel and cut the carrots into batons.
2. Stir the carrots, spices and oil in a large bowl.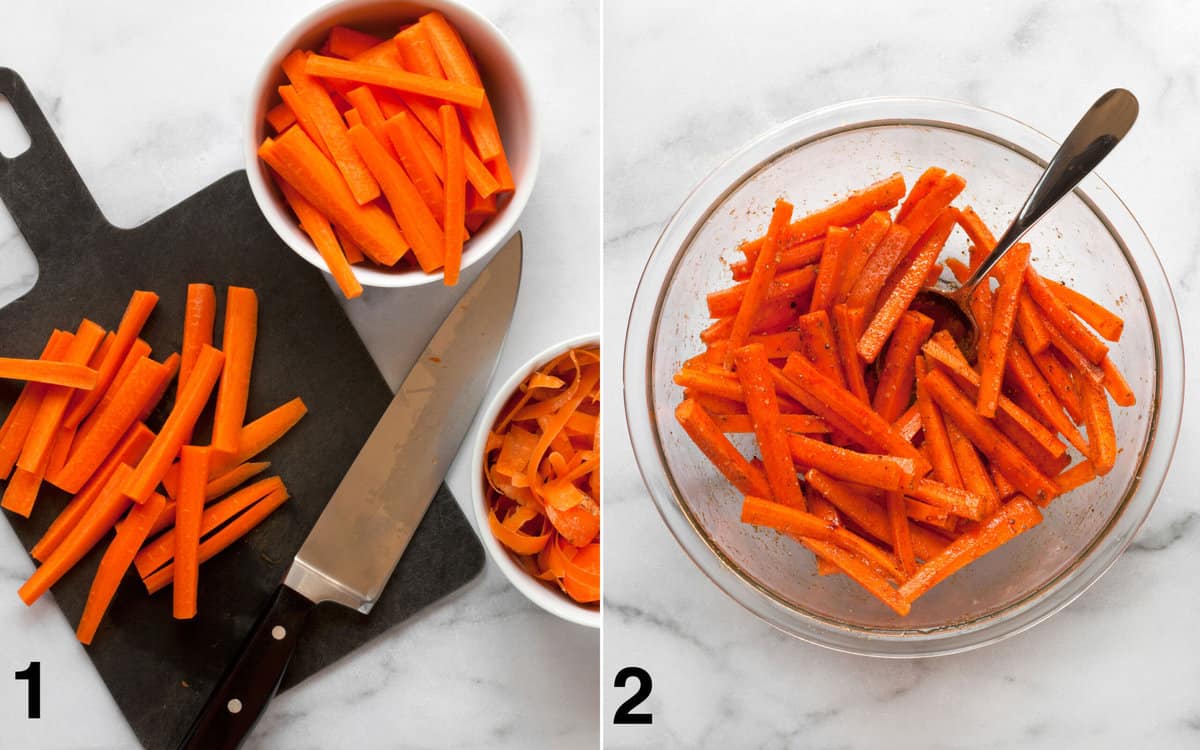 3. Spread the carrots across the pan. They should be in a single layer and not overlapping.
4. Bake the fries until they are lightly browned and crispy on the outside and soft in the middle. This will take about 22-27 minutes. Flip them over halfway through roasting. While the fries are in the oven, you can quickly whisk together the tahini sauce.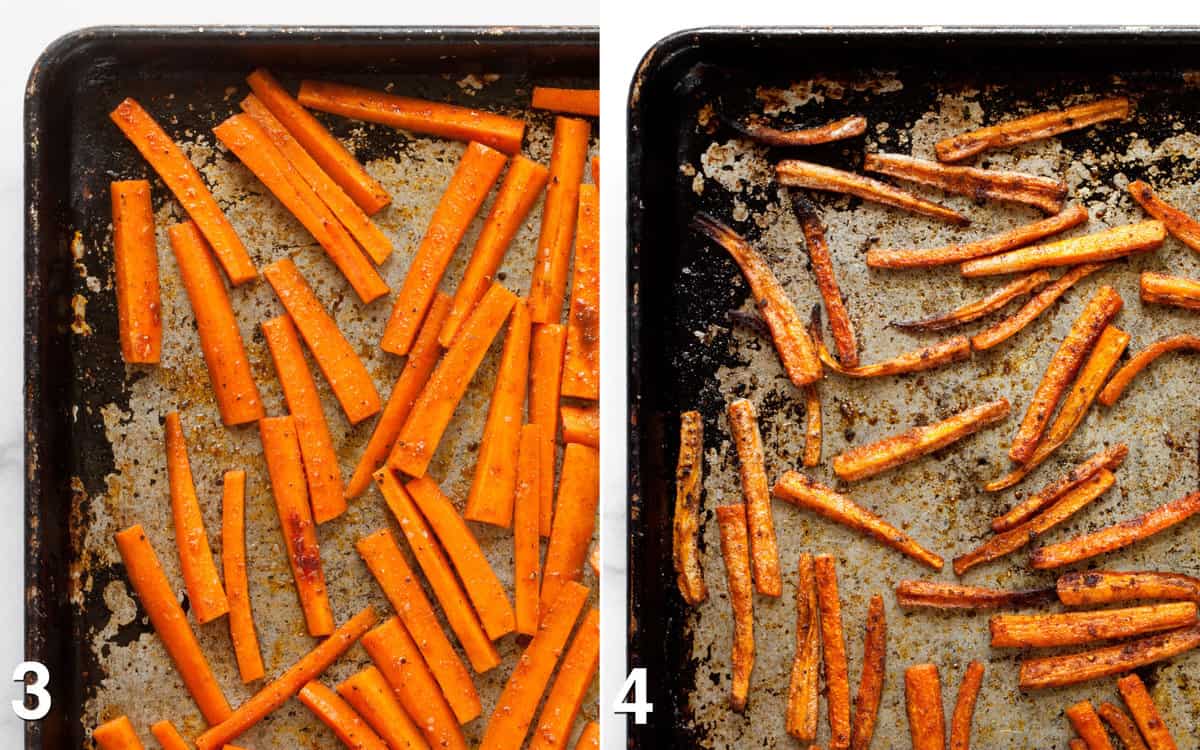 How to Serve these Fries
Eat the fries while they are hot. If you don't make the lemon tahini dip, you can serve them with ketchup, spicy mayo or even basil pesto. In addition to fresh herbs, you can also toss them in grated Parmesan cheese.
You can eat these fries as a snack on their own or as a side dish with Dry-Rubbed Turkey or Black Bean Burgers. I also like them as a side with soup such as Chickpea Soup or Quinoa Chili.
Leftovers & Storage
You can store leftovers in an airtight container in the fridge up to 3 days. Warm them on a pan in a 350-degree F oven. They won't have the exact same texture as when they are first baked, but they will still be tasty.
Recipe Tips
Cut the carrots the same size (as best as you can). I know this is tricky because carrots taper at the ends. (And please don't call me out for uneven carrots in these photos). As you know, when you roast any veggie, the closer they are in size the more consistently they will roast. With oven fries it's more about the thickness than the length. It's ok if some are longer than others.
Feel free to customize the spice mix to your taste. If you want the fries to be less spicy, then reduce or eliminate the smoked paprika. Up the garlic powder if you want them to be more garlicky. At the very least you need to season them in salt and pepper, and then you can go from there.
Don't crowd the pan. The carrots should not overlap each other. You need that hot air to circulate around them, so they don't steam. And each one should make direct contact with the hot metal of the baking sheet.
Keep an eye on the carrot fries as they roast. Even if you cut the carrots identical sizes, some will cook faster than others. Consider rotating the pan part way through baking if you know there is a hot spot in your oven. And if some are done sooner than others, remove them from the pan.
FAQs
Can you double this recipe?
Yes, you can double it. Just use 2 pans, so you aren't putting too many carrots on a single pan.
Are carrot fries healthier than potato fries?
Carrot French fries have fewer calories and carbs than potatoes. They also have more nutrients including fiber, beta-carotene, vitamins and antioxidants.
Do you need to line the pan?
Skip the parchment paper. These fries cook best on an unlined pan.
Why are my carrot fries soggy?
Make sure you didn't put too many on the pan. If they are crowded, hot air won't circulate around them to help the edges brown and crisp up.
More Baked French Fry Recipes
Baked Spicy Sweet Potato Fries
Oven-Baked Garlic French Fries
Baked Zucchini Fries
Did you make these fries? Please leave a rating and comment below. Thanks!
Baked Carrot Fries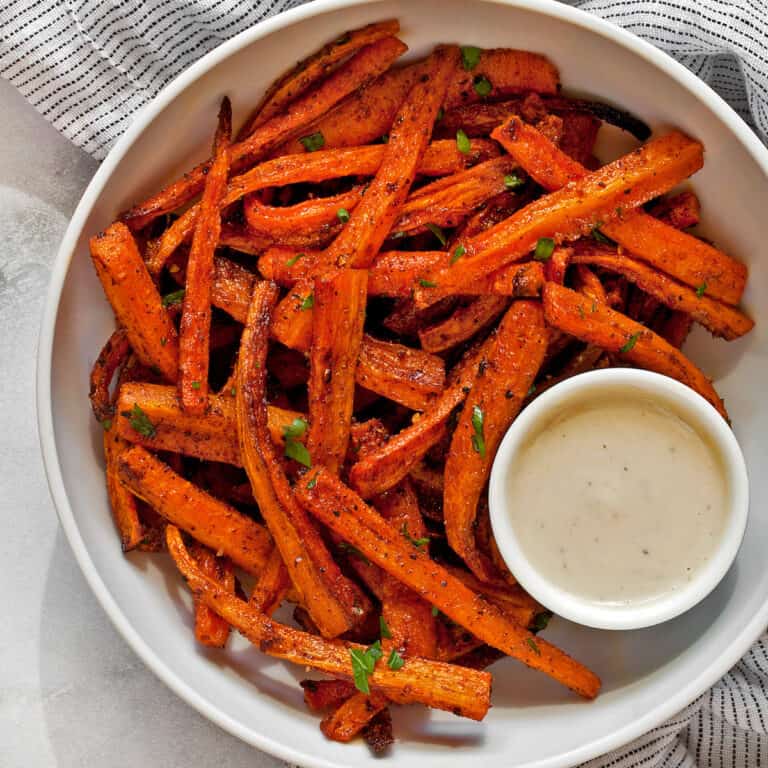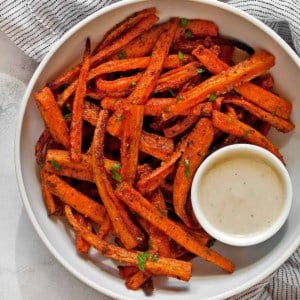 Made with carrots, these baked fries are everything you want from healthier French fries. Served with a lemony tahini sauce, a mix of spices gives them a bit of heat.
Ingredients
For carrots

Non-stick cooking spray

1-1/2

pounds

carrots

1

teaspoon

cumin

1/2

teaspoon

smoked paprika

1/4

teaspoon

onion powder

1/4

teaspoon

garlic powder

1/2

teaspoon

kosher salt

1/4

teaspoon

black pepper

2

tablespoons

olive oil

Chopped fresh herbs for serving

parsley or chives

For tahini dipping sauce

1/4

cup

tahini

Juice of 1 lemon

2-3

tablespoons

water

Pinches

of salt & black pepper
Instructions
Preheat the oven to 425 degrees F. Grease a sheet pan with non-stick cooking spray.

Peel the carrots and trim the ends. Slice the carrots into batons that are 1/4-inch thick and 3-4 inches long.

In a large bowl, combine the carrots, cumin, smoked paprika, onion powder, garlic powder, salt, pepper and olive oil. Stir everything together so the carrots are well coated in the spice mixture.

Arrange the carrots in a single layer on the sheet pan making sure they are not overlapping.

Roast the carrots for 22-27 minutes, flipping halfway through baking. The fries should be browned and crisp at the edges and tender in the center.

Sprinkle with fresh herbs before serving.

For the dipping sauce, stir together the tahini, lemon juice, water, salt and pepper in a small bowl. It should be smooth and thin enough to be dipped in. You may need to add more water if it is too thick. You can make it while the fries are in the oven.
Notes
Besides the tahini dipping sauce, you can enjoy the fries with ketchup, spicy mayo or pesto.
If you double the recipe, use 2 sheet pans instead of just 1.
Store leftovers in an airtight container in the refrigerator up to 3 days. Warm them on a sheet pan at 350 degrees F. The edges won't be quite as crisp as when you first baked them.
Nutrition information does not include tahini sauce.
Nutrition
Calories:
228
kcal
|
Carbohydrates:
21
g
|
Protein:
5
g
|
Fat:
16
g
|
Saturated Fat:
2
g
|
Polyunsaturated Fat:
4
g
|
Monounsaturated Fat:
8
g
|
Sodium:
415
mg
|
Potassium:
651
mg
|
Fiber:
6
g
|
Sugar:
8
g
|
Vitamin A:
28560
IU
|
Vitamin C:
18
mg
|
Calcium:
88
mg
|
Iron:
2
mg
Nutrition information is automatically calculated, so should only be used as an approximation.
Originally published September 21, 2020. Updated: April 10, 2023.