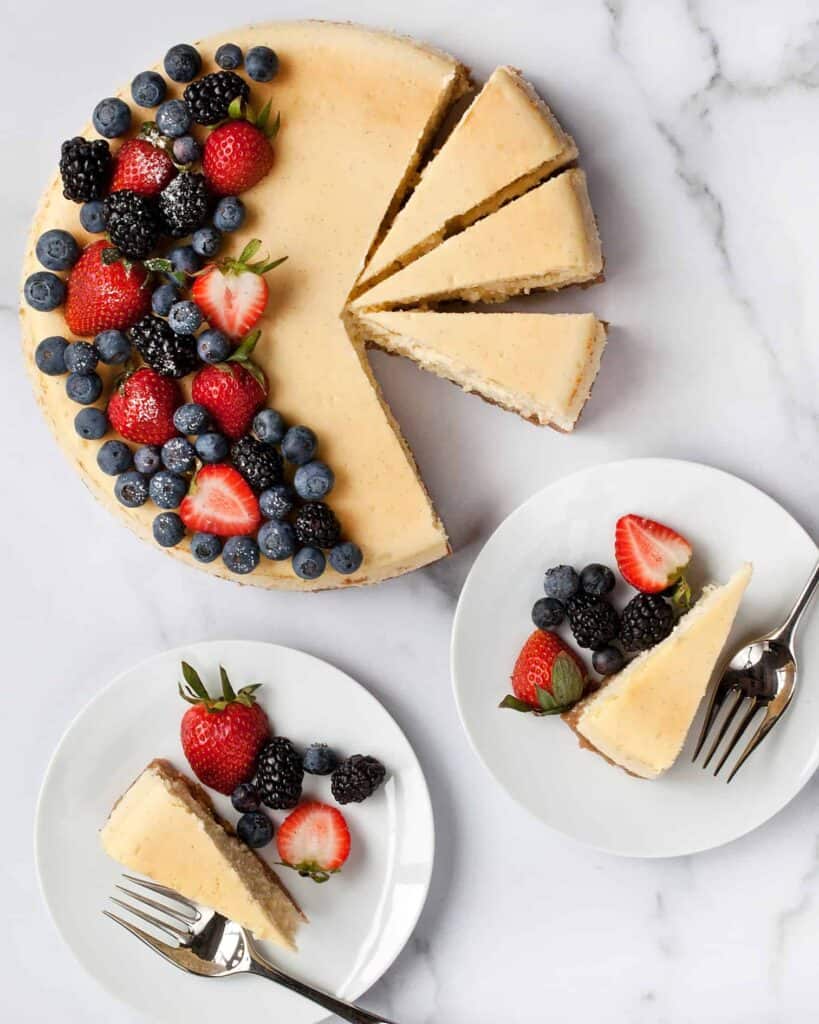 A classic baked cheesecake isn't hard to make. It just requires patience.

And you have to get over any fears of the cake cracking. If it happens, you can always disguise it with a mound of strategically placed berries.

The base is a very straightforward graham cracker crumb crust that can be made in a food processor in minutes.
The filling isn't much trickier either. It is a beautifully silky whipped mixture of cream cheese, sour cream, eggs, lemon juice, salt and vanilla bean paste.

When I decided to bake a cheesecake, I brainstormed flavors, but then eventually settled on keeping it plain. Instead of using vanilla extract, vanilla bean paste gives it more flavor and those signature tiny bean specs.
Calling it a plain cheesecake doesn't seem right. It's a vanilla bean cheesecake. Too often, vanilla doesn't get the credit it deserves.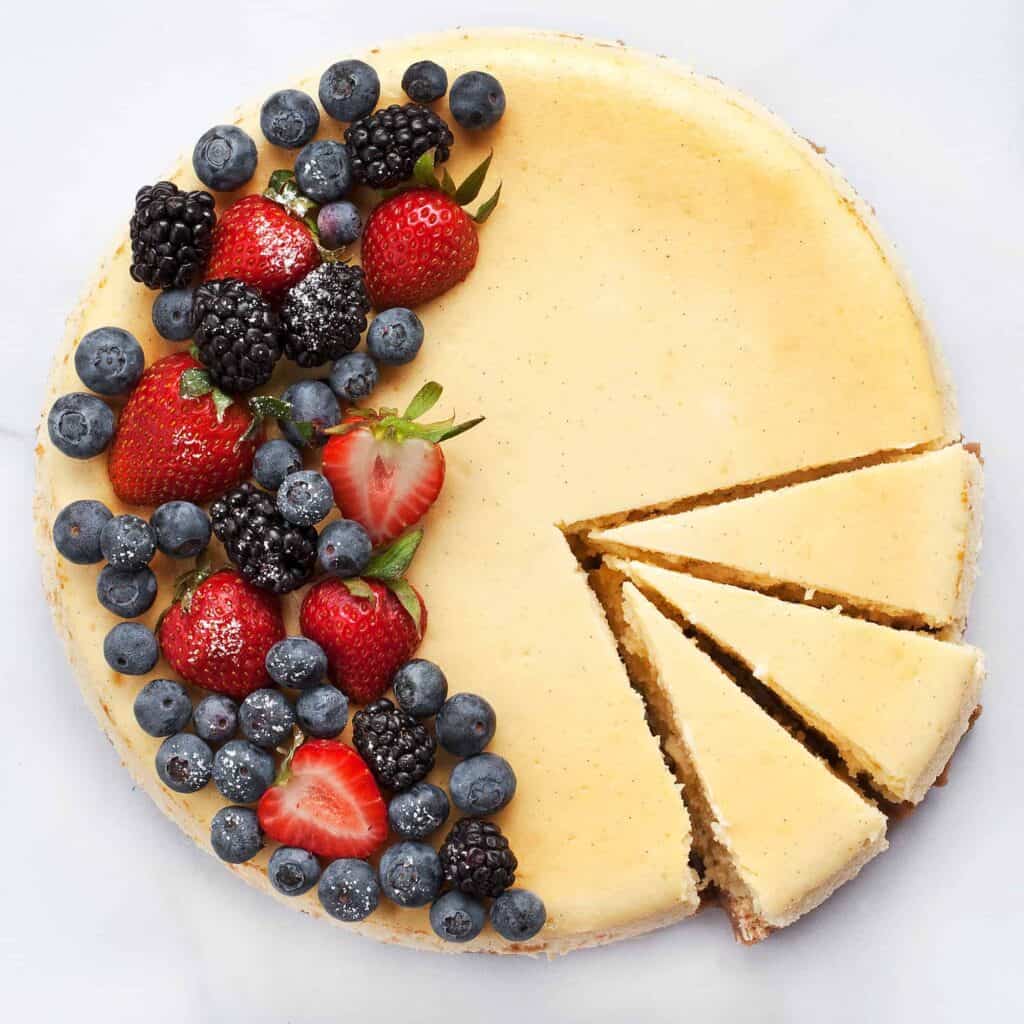 There is something fussy and inefficient using actual vanilla beans, slicing them and scraping out the seeds. All this cheesecake needs is a tablespoon of vanilla bean paste, which somewhere in between extract and beans in their pod.
The cheesecake bakes in the oven for an hour and a half placed inside a large roasting pan with hot water going halfway up the sides of the pan. It is all about gentle baking.
When the cheesecake is set, you switch off the oven, and the waiting begins.
A cheesecake must cool gradually to avoid those unwanted cracks. After an hour or two in the oven, you can move the cake to room temperature, and then after that to the fridge for the final chill.
Vanilla pairs perfectly with a fresh mixed berry topping. This combination absolutely says spring.
style="text-align: justify">My husband is a big fan of cheesecake, which always surprises me since he is normally a
chocolate
first dessert person.
But I agree there is something about those fluffy, tangy, chilled bites of cheesecake!
Print
Vanilla Bean Cheesecake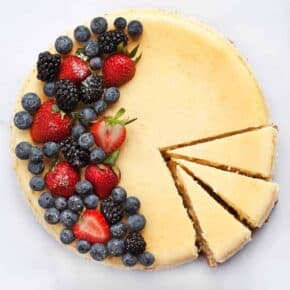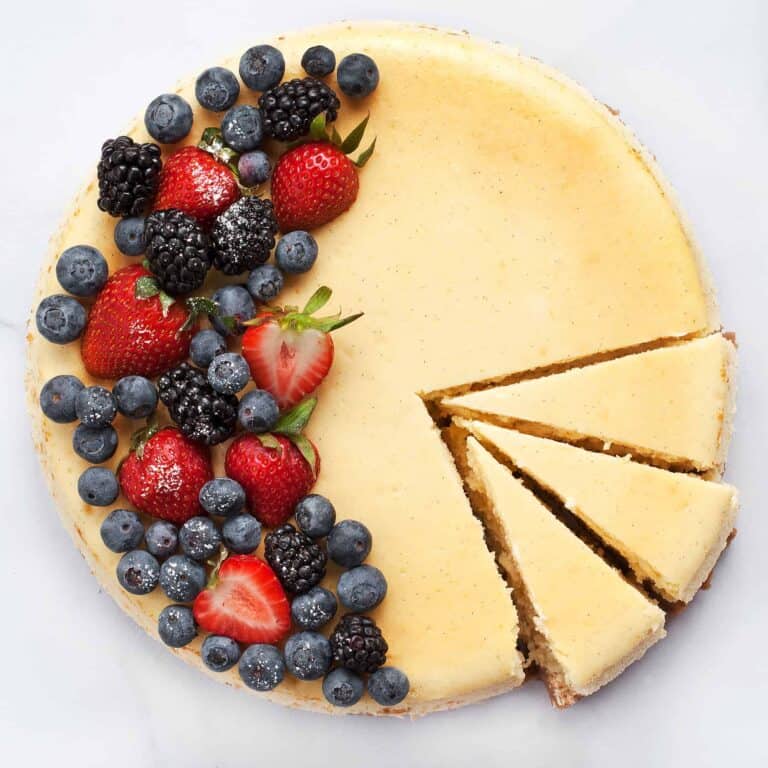 Prep Time:

15 minutes

Cook Time:

1 hours 45 minutes

Total Time:

2 hours + 5-7 hours cooling/chilling

Yield:

One 9-inch cake
Ingredients
Non-stick cooking spray
48 graham crackers (12 full sheets)
6 tablespoons unsalted butter, melted
2 tablespoons + 1-1/2 cups granulated sugar
1-1/2 pounds cream cheese at room temperature
4 large eggs
3 tablespoons fresh lemon juice (about 1-1/2 lemons)
1 tablespoon vanilla bean paste
1/2 teaspoon kosher salt
1/3 cup sour cream
Fresh berries and confectioners' sugar for serving
Instructions
Preheat the oven to 350 degrees F.
Grease the bottom and sides of a 9-inch springform pan with non-stick cooking spray.
In a food processor, crush the graham crackers into fine crumbs. Add the melted butter and 2 tablespoons sugar and process until the mixture has the consistency of wet sand. Press into the bottom and about 1-inch up the sides of the pan.
Bake for 15 minutes until the crust is golden brown and transfer to a wire rack. Reduce the oven temperature to 325 degrees F.
In the bowl of a stand mixer fitted with the paddle attachment, beat the cream cheese on medium speed until smooth, about 1 minute. Add the remaining sugar and beat until combined, about 10-15 seconds. Add the eggs, lemon juice and vanilla bean paste, beating for 3-4 minutes until whipped and smooth. Scrape the sides and bottom of the bowl and finish mixing for 10-15 seconds.
Spread the filling into the crust. Place the springform pan in a large roasting pan and fill with hot water so it goes about halfway up the sides of the springform pan.
Bake for 1-1/2 hours until the cake is set, but still wobbly in the center. Turn off the oven and let the cheesecake remain inside the oven for 1-2 hours.
Transfer the cheesecake to a wire rack to continue cooling at room temperature for 1 hour. Cover and chill the refrigerator for 3-4 hours before serving.
Top with fresh berries and dust with confectioners' sugar.
SHARE THIS