Chocolate Chip Walnut Skillet Cookie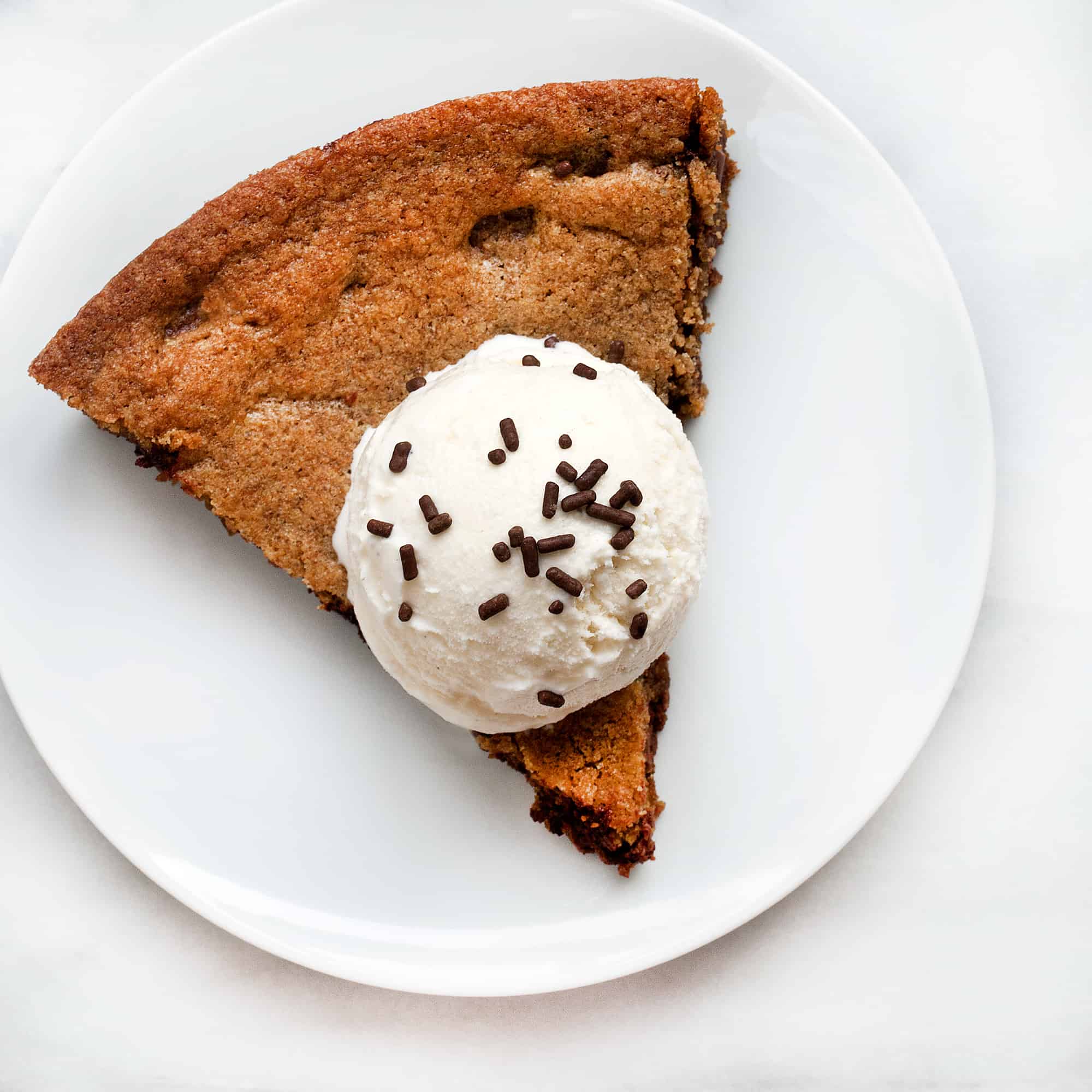 We are spoiled with dining options in our neighborhood. A few steps out the door and we are bombarded with choices including two barbecue spots that are among our favorites. Deciding between them can be tough, but it's a certain dessert that ends up influencing our pick. A chocolate chip cookie in a cast iron skillet topped with a scoop of vanilla ice cream perfectly sized for two is too hard for us to resist.
I wanted to bake a chocolate chip walnut skillet cookie that was big enough to serve a group of friends after a casual dinner at home. Making a single cookie was much faster than portioning out dough onto sheet pans and rotating them in and out of the oven. When that oversized, fresh-baked cookie was brought to the table, there were plenty of oohs, and everyone was excited to dig into a slice a la mode.
Chocolate Chip Walnut Skillet Cookie
Serves 8
1 cup all-purpose flour
1/2 teaspoon baking soda
1/2 teaspoon sea salt
8 tablespoons (1 stick) unsalted butter, room temperature
1/4 cup granulated sugar
1/3 cup dark brown sugar
1 egg
1 teaspoon vanilla extract
1/2 cup bittersweet chocolate chips
1/2 cup milk chocolate chips
1/4 cup walnuts, chopped
Vanilla ice cream for serving
Preheat the oven to 350 degrees F.
Combine the flour, baking soda and salt in a small bowl.
In a large bowl, using an electric mixer, cream the butter and sugars until light and fluffy. Beat in the egg and vanilla extract.
Add the dry ingredients to the wet ingredients mixing until just combined. Fold in the chocolate chips and walnuts.
Spread the dough in a 10-inch cast iron skillet. Bake for 18-20 minutes until the cookie is golden brown.
Serve warm with vanilla ice cream.
SaveSaveSaveSave
SaveSave