Roasted Garlic Sheet Pan Gnocchi
The more browned and banged up my sheet pans get, the more I feel the urge to keep using them.

There are few kitchen tools that come in handy for such a wide range dishes. That includes roasted vegetables to salted chocolate chunk cookies.

Not a week goes by that I don't slide out at least one of my sheet pans from the rack in my cabinet.

I'm such a huge sheet pan fan. Besides the standard size, I have a couple quarter sheet pans, too.

This smaller size is great for toasting nuts or roasting a partial batch of slow-roasted cherry tomatoes.

A quarter sheet pan is easier to maneuver in the sink to wash. Of course sometimes you want to take advantage of your sheet pan surface area to cook an entire meal.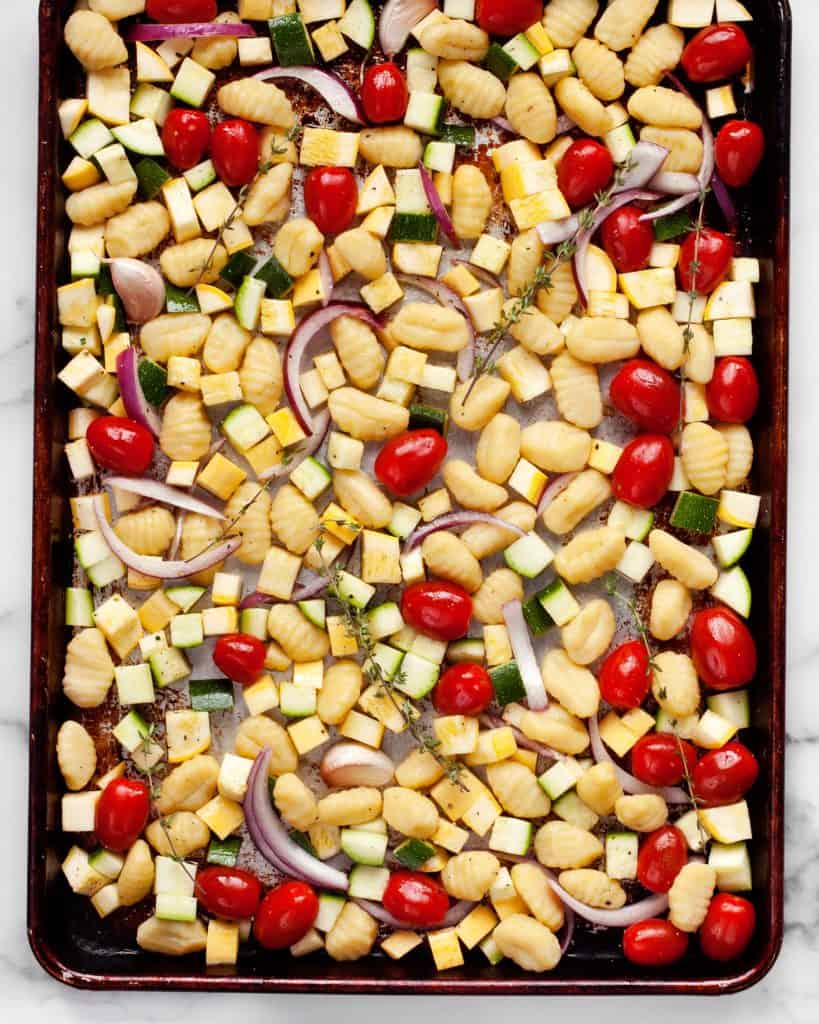 Being married to my husband, a gnocchi connoisseur from his college semester living in Rome, I feel obligated to make those dumplings from scratch.

I use either sweet potatoes or russet potatoes and toss the finished gnocchi with brown butter and fresh herbs like sage.
How To Make Roasted Garlic Sheet Pan Gnocchi
For this roasted garlic sheet pan gnocchi, I bought a package of gnocchi at the grocery instead of making my own.

This shortcut saved time and labor. That meant I could devote more energy to the veggies that I would turn into a sort-of sauce.

On a sheet pan I tossed the gnocchi with the vegetables. It was a mix of zucchini, yellow squash, grape tomatoes, red onions, olive oil, salt, pepper, sprigs of fresh thyme and a few garlic cloves.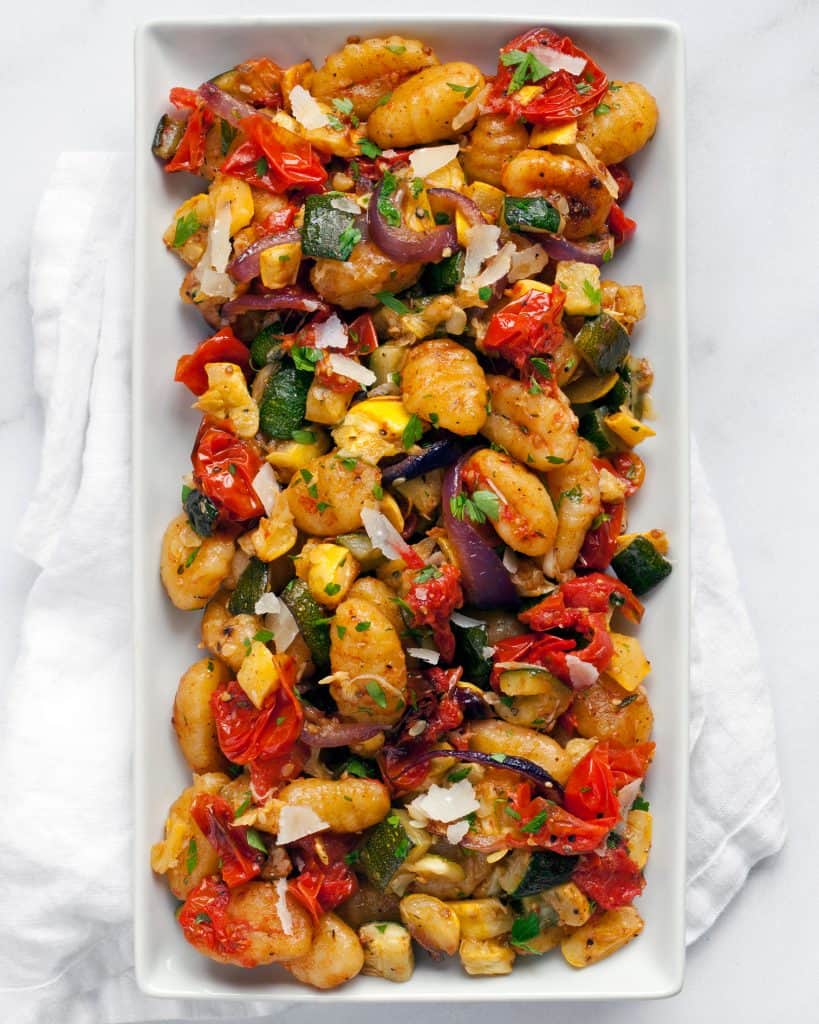 I left those garlic cloves safely tucked in their paper skins.

With the oven kicked up to 450 degrees F, I roasted everything spread out in a single layer on the pan.

When the gnocchi were lightly browned and the veggies were tender, I squeezed out that fragrant garlicky paste from their skins into a large bowl.

I used a fork to whisk together the garlic with olive oil. Then I added the veggies and gnocchi.

With a wooden spoon, I gently folded the ingredients together. The tomatoes broke apart coating everything along with the garlic oil.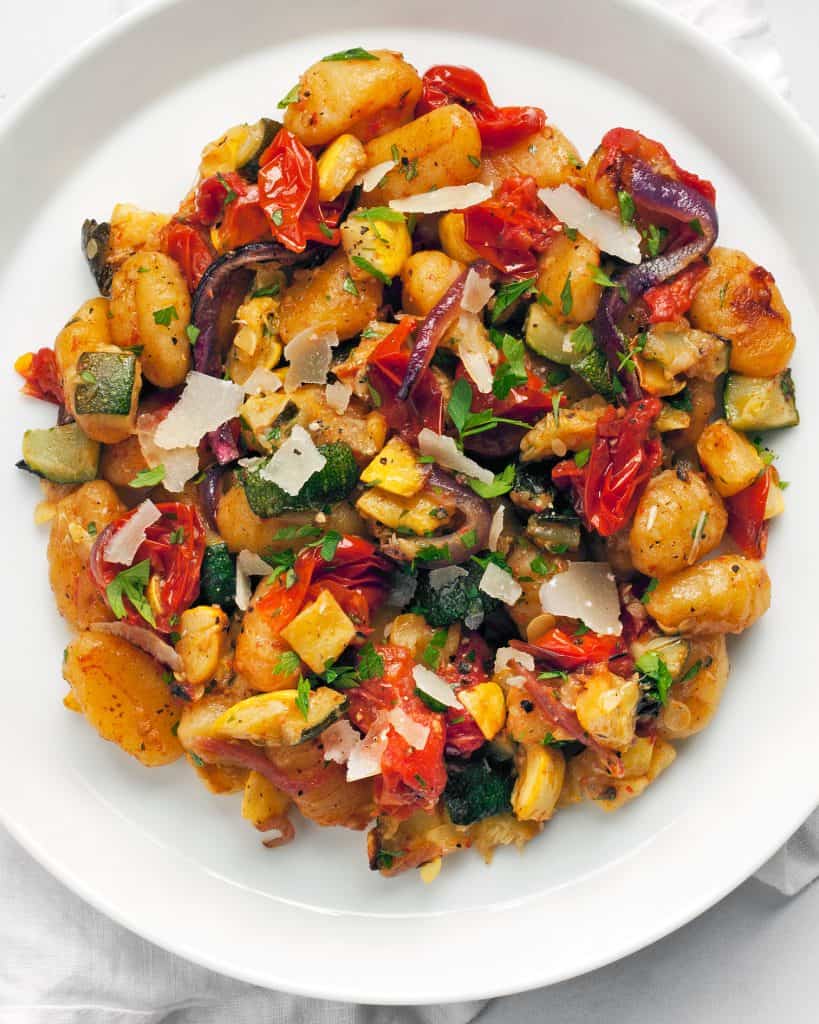 That's why I can't classify it as a full-on sauce for this roasted garlic sheet pan gnocchi.

It seems more unintentional like one of those happy kitchen accidents.

The best part is that it doesn't require another step or pan.
Print
Roasted Garlic Sheet Pan Gnocchi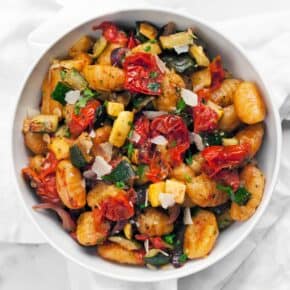 Prep Time:

10 minutes

Cook Time:

20-22 minutes

Total Time:

30-32 minutes

Yield: Serves

4

1

x
Scale
Ingredients
1 pound shelf-stable or fresh gnocchi
1 zucchini, diced 1/2-inch
1 yellow squash, diced 1/2-inch
1 pint grape tomatoes
1/4 small red onion, thinly sliced
3 garlic cloves in their skins
4 sprigs of fresh thyme
3 tablespoons olive oil
1 teaspoon kosher salt
1/2 teaspoon black pepper
Shaved Parmesan for serving
Instructions
Preheat the oven to 450 degrees F.
On a sheet pan, toss the gnocchi, zucchini, squash, tomatoes, onions, garlic and thyme with 2 tablespoons olive oil, salt and pepper. Spread into a single layer. Bake for 20-22 minutes until the gnocchi are lightly browned and the vegetables are tender.
Carefully squeeze the garlic out of their skins into a large bowl. Whisk with 1 tablespoon olive oil. Spoon the gnocchi and vegetables into the bowl, gently stirring to combine. Discard the thyme sprigs.
Top with shaved Parmesan before serving.
SHARE THIS