Sheet Pan Gnocchi and Roasted Vegetables
on Jun 29, 2022, Updated Jul 15, 2022
Looking for a winner for a weeknight vegetarian dinner? Then a package of gnocchi is one of the best things you can put in your grocery cart. With a combination of veggies including zucchini, yellow squash, tomatoes and red onions, you can make this simple sheet pan gnocchi in 30 minutes. Also try another on my list of favorites, one-pan cherry tomato gnocchi.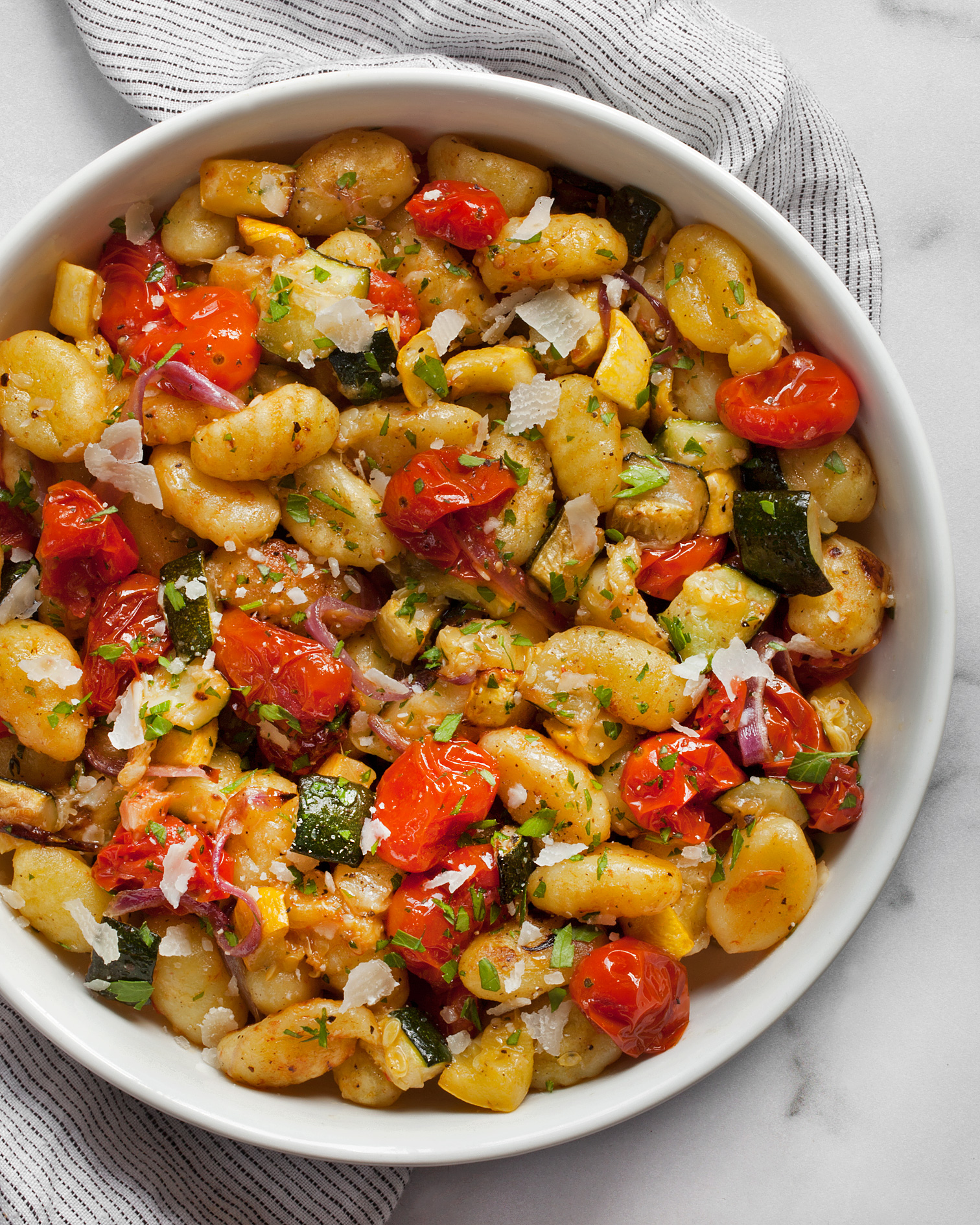 The more wear and tear on my baking sheets, the more I want to use them. These marks are a reminder of just how handy these pans are in everyone's kitchen arsenal. They are good for a huge range of recipes from M&M cookies on the sweet side to one-pan weeknight dinners on the savory side.
That includes this sheet pan gnocchi with roasted vegetables where zucchini, yellow squash and tomatoes cook together with the dumplings and cloves of garlic for a tasty 30-minute meal.
As much as I love the project of making homemade potato gnocchi, this is where you should pick up a package of shelf-stable gnocchi at the grocery, preheat the oven, spread everything on the sheet pan and get cooking.
Roasting Gnocchi in the Oven
When you think about making gnocchi, a pot of boiling salted water might be the first thing that pops into your brain. But when you put it on a baking sheet in the oven, no boiling is necessary. The dry heat will do everything that you need.
Boiled gnocchi turns out pillowy and soft unlike roasted gnocchi, which is a bit crisp on the outside. It has a very satisfying chewy texture too. And the best part is that the veggies bake right along side it.
Ingredients & Substitutions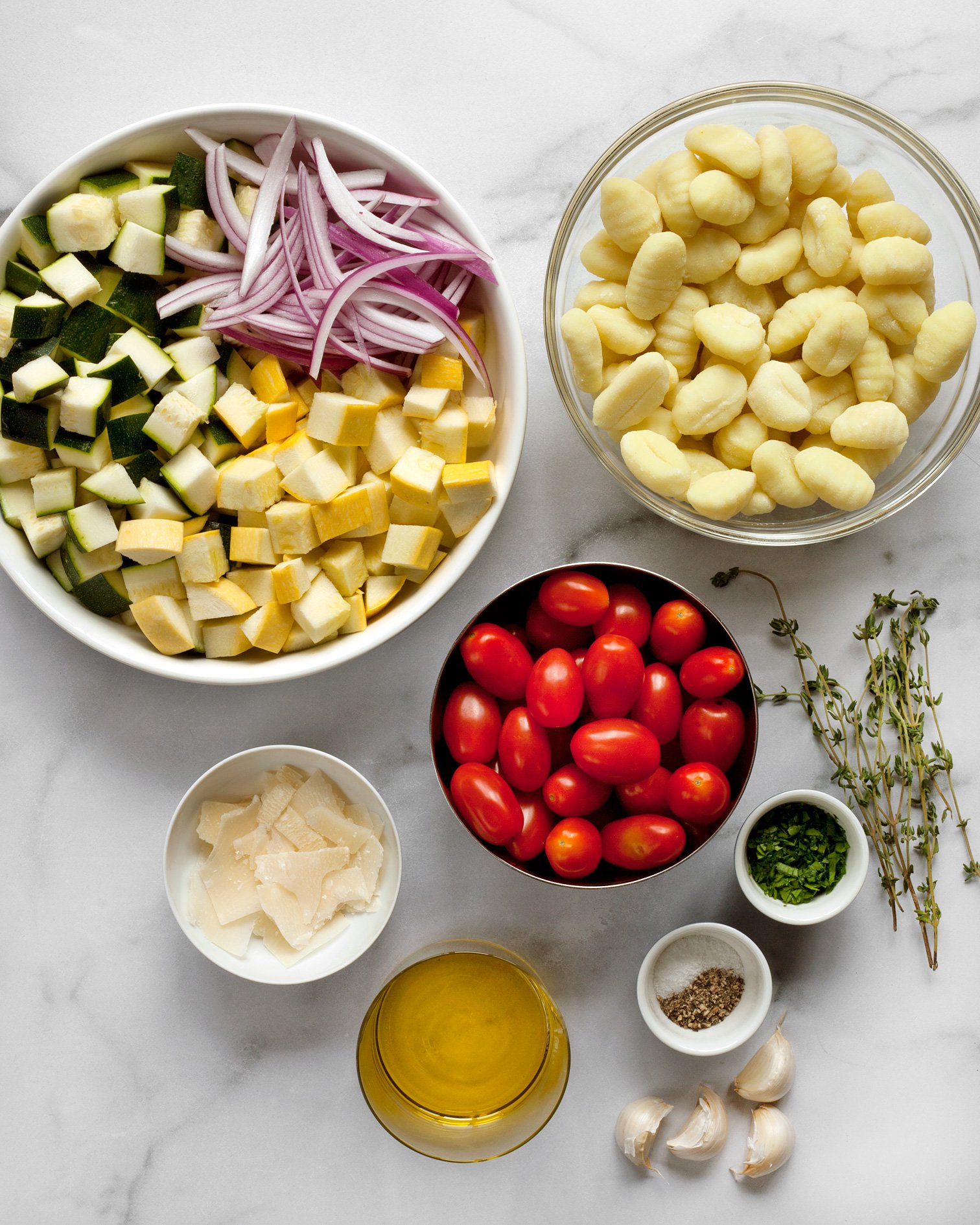 This is what you need:
Gnocchi: You can find packaged gnocchi with the rest of the pasta in the Italian food section at the grocery store. You can substitute with cauliflower gnocchi, so this dish turns out gluten-free.
Vegetables: The recipe calls for a mix of zucchini, yellow squash, grape tomatoes and red onions. The zucchini and squash are interchangeable. It's important that you stick with small whole tomatoes. After roasting, the juices from the burst tomatoes will help "sauce" the gnocchi. Diced red bell peppers are another great option.
Garlic roasts on the pan with the veggies. By keeping them in their skins, the cloves almost steam and become soft enough to mash.
Thyme adds beautiful herby flavor just by topping the pan with a few sprigs before it goes into the oven. Try fresh rosemary instead or a combination of the two.
Olive oil: Since the sauce for this pasta is essentially garlic-infused oil, use high quality extra-virgin olive oil for the best flavor.
Salt & pepper season the vegetables and gnocchi while they roast.
Parmesan cheese: Sprinkle Parmesan on top of the gnocchi once it is plated and ready to serve.
Parsley: I always like to finish gnocchi with fresh herbs like parsley or torn basil.
How To Make This Sheet Pan Gnocchi Recipe
Preheat the oven to 450 degrees F.
Combine the gnocchi and vegetables on a large rimmed baking sheet. Toss everything with olive oil, salt and pepper. Spread the gnocchi and veggies into a single layer. The less overlapping and touching, the more browning.
Roast the gnocchi and vegetables until they are lightly browned. Because the oven is so hot, this will only take 20-22 minutes.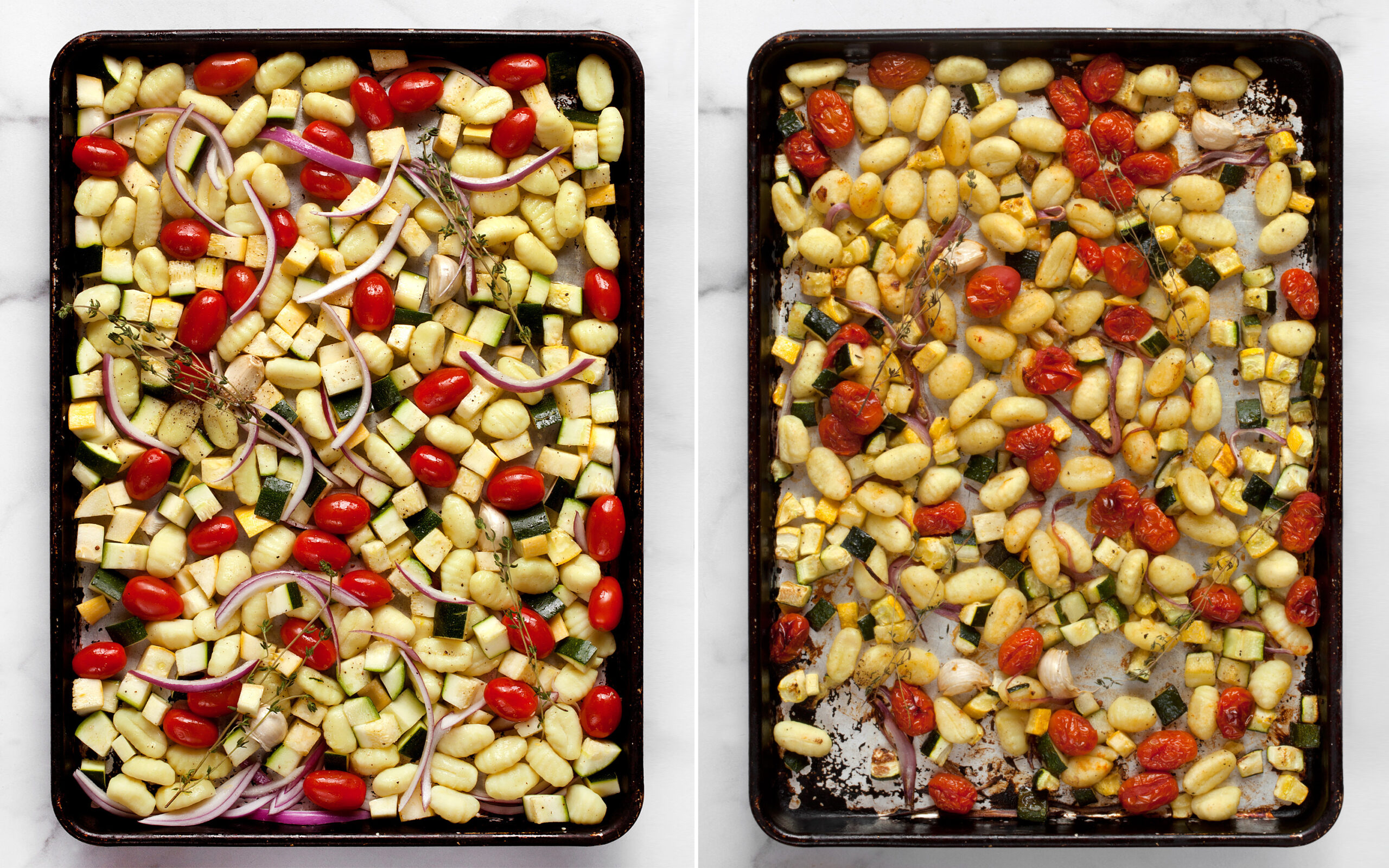 Squeeze the garlic cloves out of their skins into olive oil in a big bowl. Mash them with a fork.
Stir the gnocchi and vegetable mixture into the garlic oil.
Spoon the gnocchi into serving bowls or onto plates and finish with Parmesan and parsley.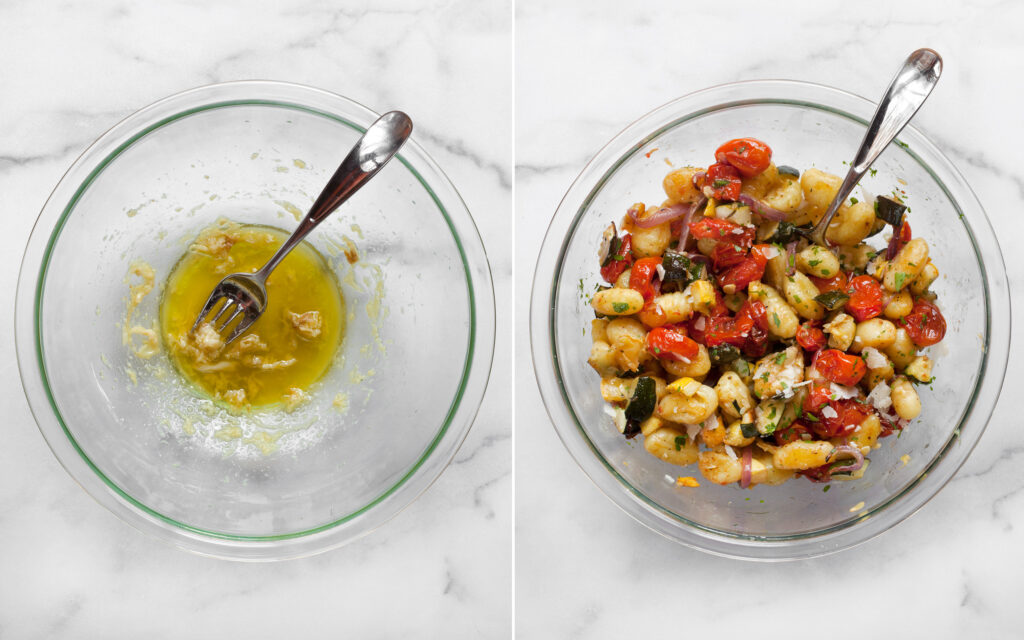 What To Serve with Gnocchi
Pair this gnocchi with a salad, and then you have a simple and complete sheet pan dinner. Try an arugula salad with lemon vinaigrette or an Italian chopped salad, which you can make in advance. Just store the dressing and the salad separately.
Leftovers & Storage
If you have leftovers, you can keep them in an airtight container in the refrigerator up to 3 days. When the gnocchi is cold, it gets extra chewy. Rewarm it in the microwave or in a skillet with a little olive oil. You can also add baby spinach or other greens to stretch leftovers into another meal.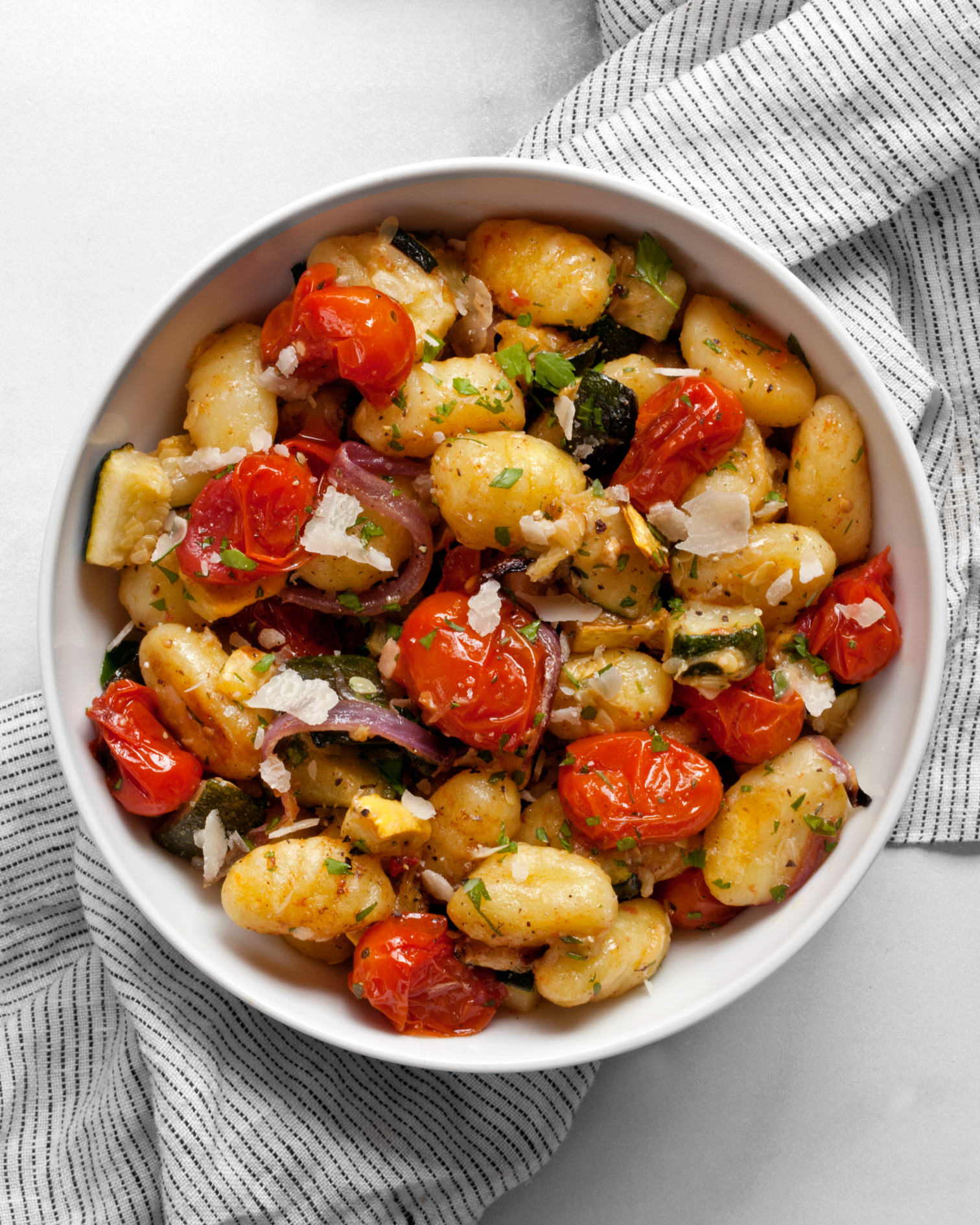 More Store Bought Gnocchi Recipes
Sheet Pan Cherry Tomato Gnocchi
Sheet Pan Mushroom Asparagus Gnocchi
Pesto Gnocchi with Sun Dried Tomatoes
Baked Gnocchi with Tomatoes and Mushrooms
More Easy Pasta Recipes
Antipasto Pasta
Chickpea Pasta with Spinach
Sun Dried Tomato Pasta
Lemon Pepper Spaghetti
Burst Tomato Pasta
Lemon Kale Orzo
Did you make this easy gnocchi recipe? Please leave a rating and a comment below. Thanks!

Roasted Garlic Sheet Pan Gnocchi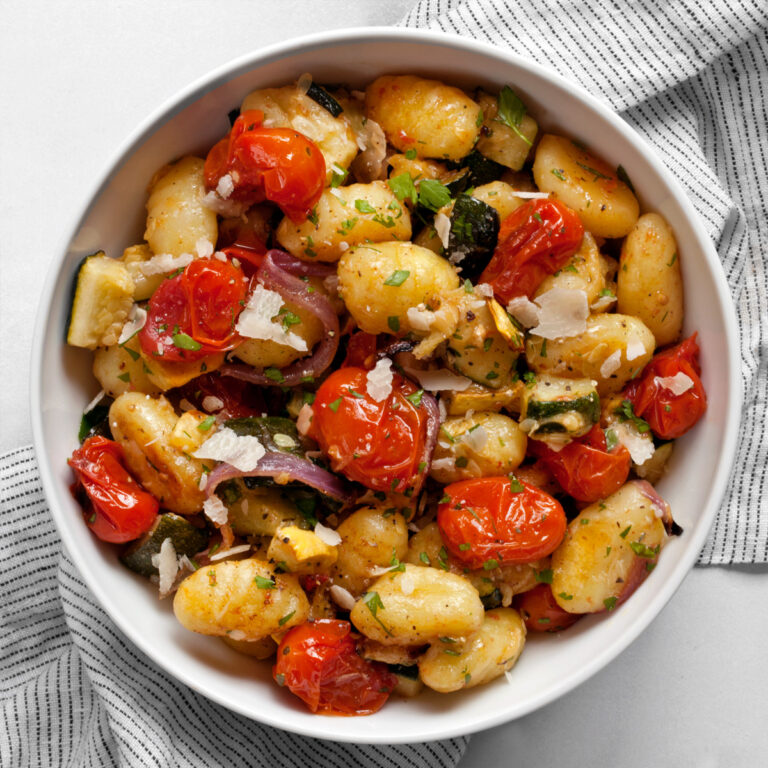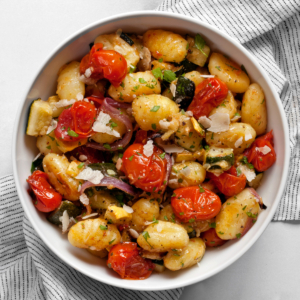 Zucchini, yellow squash, tomatoes, red onions and gnocchi share the same pan in this easy 30-minute sheet pan gnocchi with roasted garlic.
Ingredients
1

pound

shelf-stable gnocchi

1

zucchini

diced 1/2-inch

1

yellow squash

diced 1/2-inch

1

pint

grape tomatoes

1/4

small red onion

thinly sliced

4

garlic cloves in their skins

3

tablespoons

olive oil

1

teaspoon

kosher salt

1/2

teaspoon

black pepper

4

sprigs

fresh thyme

Shaved Parmesan for serving

Chopped parsley for serving
Instructions
Preheat the oven to 450 degrees F.

On a sheet pan toss the gnocchi, zucchini, squash, tomatoes, onions and garlic with 2 tablespoons olive oil, salt and pepper. Spread everything into a single layer. Scatter the thyme sprigs in top.

Bake for 20-22 minutes until the gnocchi and vegetables are lightly browned and tender.

Carefully squeeze the garlic cloves out of their skins into a large bowl. Mash them into 1 tablespoon olive oil.

Spoon the gnocchi and vegetables into the bowl, gently stirring into the roasted garlic oil.

Divide the gnocchi onto serving dishes and top with Parmesan and parsley.
Notes
Store leftovers in an airtight container up to 3 days. Rewarm in the microwave or in a skillet with a splash of olive oil on the stove.
Nutrition
Calories:
323
kcal
|
Carbohydrates:
50
g
|
Protein:
7
g
|
Fat:
12
g
|
Saturated Fat:
2
g
|
Polyunsaturated Fat:
1
g
|
Monounsaturated Fat:
8
g
|
Sodium:
978
mg
|
Potassium:
568
mg
|
Fiber:
5
g
|
Sugar:
6
g
|
Vitamin A:
1231
IU
|
Vitamin C:
36
mg
|
Calcium:
62
mg
|
Iron:
5
mg
Nutrition information is automatically calculated, so should only be used as an approximation.