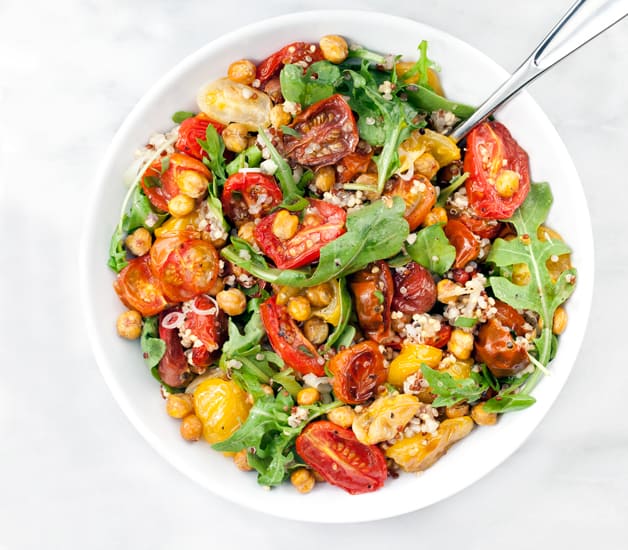 When I went to the farmers market over the weekend, I thought it would have been pumpkins and gourds all over, but I was thrilled to see tomatoes taking up most of the stands. Summer isn't over yet, and I will be consuming every last bit of it before I welcome those warming autumn flavors like cinnamon and apples that I swear I love so much—I'm just not ready for them to take over.
I dug deep in the pantry for the last can of garbanzo beans for this tomato chickpea salad. Instead of just mixing everything together as is, I roasted both the tomatoes and chickpeas. While they were in the oven, I made a little quinoa to bulk up the salad. I didn't even bother with any vinaigrette. The tomatoes broke up a little bit giving those grains and greens a lot of flavor.

Tomato Chickpea Salad
Serves 2
1-15 ounce can chickpeas
1-1/2 tablespoons olive oil
1/2 teaspoon ground cumin
1-1/2 teaspoons kosher salt
3/4 teaspoon black pepper
1 pint cherry tomatoes, halved
1/2 cup uncooked quinoa, rinsed and drained
1 cup water
1/2 teaspoon kosher salt plus more for serving
1/4 teaspoon black pepper plus more for serving
2 scallions, thinly sliced
2 ounces baby arugula
Preheat the oven to 400 degrees F. Line 2 sheet pans with parchment paper.
Drain and rinse the chickpeas. Pat them dry with paper towels. Remove any loose outer skins. In a small bowl, toss the chickpeas with 1/2 tablespoon olive oil, cumin, 1/2 teaspoon salt and 1/4 teaspoon black pepper. Spread in a single layer on one of the prepared sheet pans. Bake for 20-25 minutes until crisp and browned, gently shaking the pan about halfway through cooking.
Place the cherry tomatoes in a single layer on the other prepared sheet pan. Drizzle with 1 tablespoon olive oil and sprinkle with 1/2 teaspoon kosher salt & 1/4 teaspoon black pepper. Roast for 20-25 until they are slightly wrinkled.
In a small saucepan over medium high heat, bring the quinoa and water to a boil. Add the salt & pepper. Cover and simmer for 12-15 minutes until the quinoa is tender and the water has been absorbed. Fluff with a fork and let the quinoa cool to room temperature.
In a large bowl, carefully stir together the chickpeas, tomatoes, quinoa, scallions and arugula. The tomatoes will fall apart a little bit. Season with additional salt & pepper as desired.