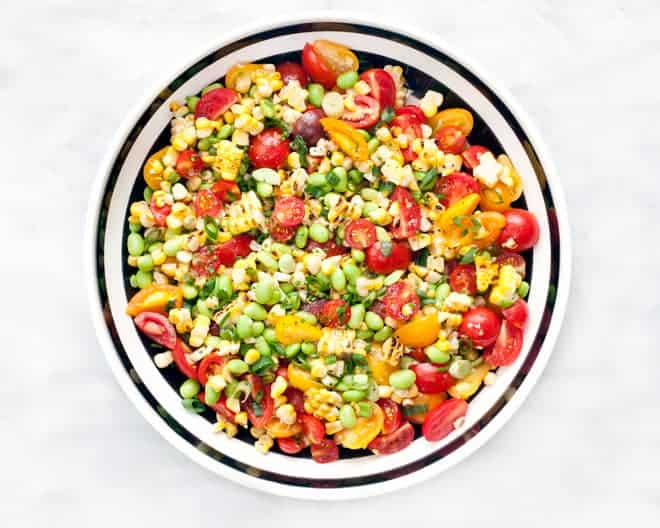 Yesterday at the farmers market I picked out 4 ears of corn and a bunch of scallions. We are coping with a major tomato surplus in our garden, so I am trying to balance it out with other fresh fruit and veggies. Don't get me wrong—I'm NOT complaining. Having too many tomatoes is an absolute dream. Fingers crossed we can recreate this magical soil mix, so we have the same bounty next summer.
When I was about to pay for everything at the market, the farmer said I should grab 2 more ears of corn, because 4 were the same price as 6. I didn't read the sign to see the deal. At home I fired up the grill and made corn edamame succotash. The classic version uses lima beans, but I had a partial bag of edamame stashed in my freezer. Plus edamame is way more exciting than lima beans, right?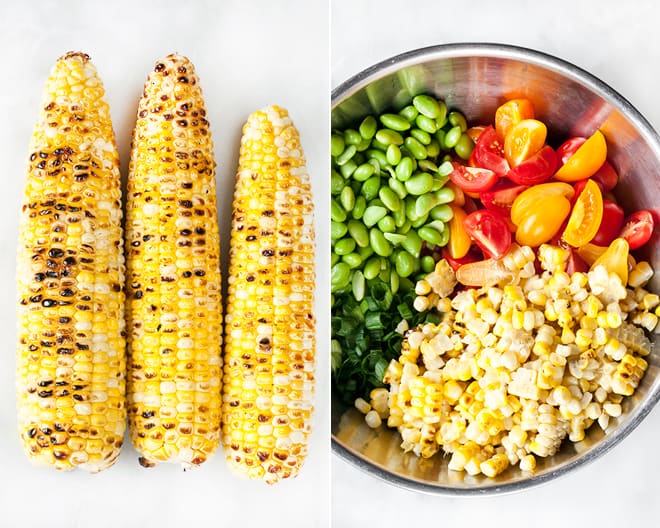 Corn Edamame Succotash
Serves 4-6
3 ears corn, shucked
1 teaspoon plus 2 tablespoons olive oil
Juice of 1/2 lemon
1 garlic clove, minced
1/2 teaspoon kosher salt plus more for serving
1/4 teaspoon black pepper plus more for serving
1-1/2 cups shelled edamame, cooked
1 pint cherry tomatoes, halved or quartered, if large
2 scallions thinly sliced
2 tablespoons chives
Preheat a gas or charcoal grill on high heat.
Rub the corn with 1 teaspoon olive oil and grill until lightly charred, about 5-7 minutes. Let the corn cool slightly before slicing the kernels off the cob.
In a small bowl, whisk together the lemon juice, garlic, salt, pepper and the remaining olive oil.
In a large bowl, combine the corn, edamame, tomatoes, scallions and chives. Stir in the lemon vinaigrette. Taste and add more salt and pepper if necessary.
SaveSave