Zucchini Cacio e Pepe
on Aug 09, 2021, Updated Jul 08, 2022
This easy zucchini cacio e pepe recipe is a vegetable version of the classic Italian pasta dish that goes big on black pepper and cheese.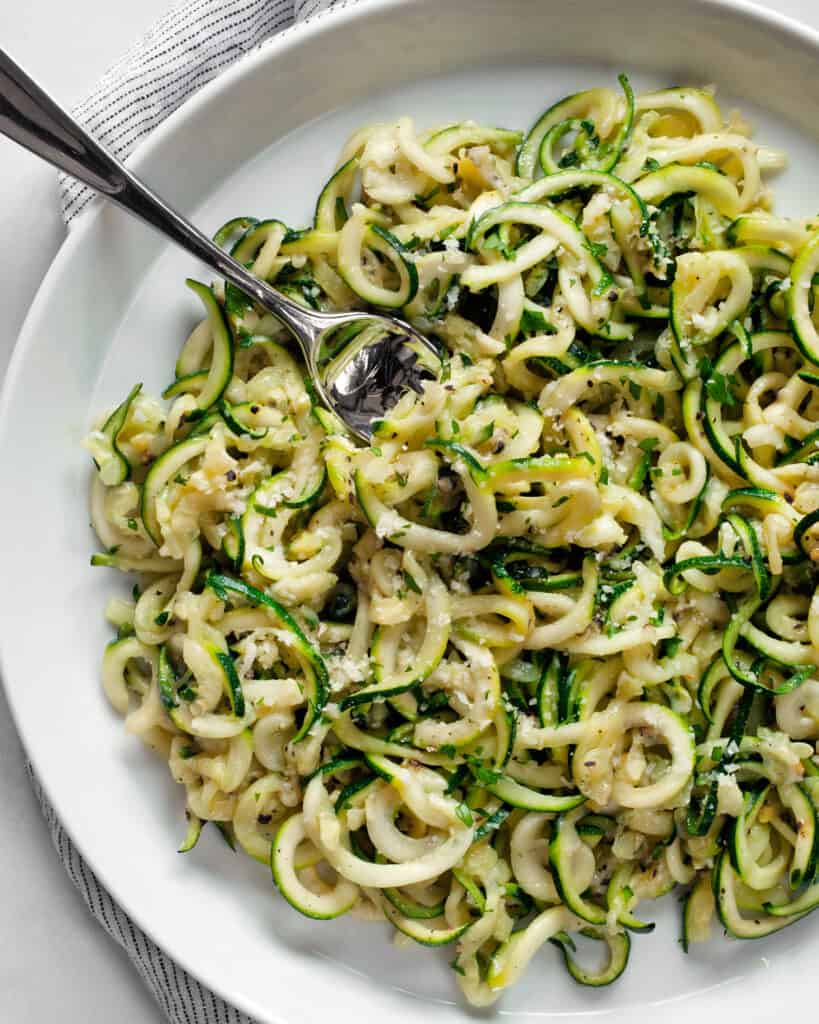 Vegetables and pasta are my go-tos for countless meals. Whether roasting, grilling, sautéing or not cooking them at all, you can't go wrong stirring veggies into whatever pasta shape that you have in your pantry.
But you can actually make the vegetables the noodles. That's why I love zucchini noodles, a.k.a. zoodles, so much.
I get everything that I crave in a pasta dish that's more healthy and loaded with vegetables.
This zucchini cacio e pepe takes inspiration from the original and celebrates veggies at the same time.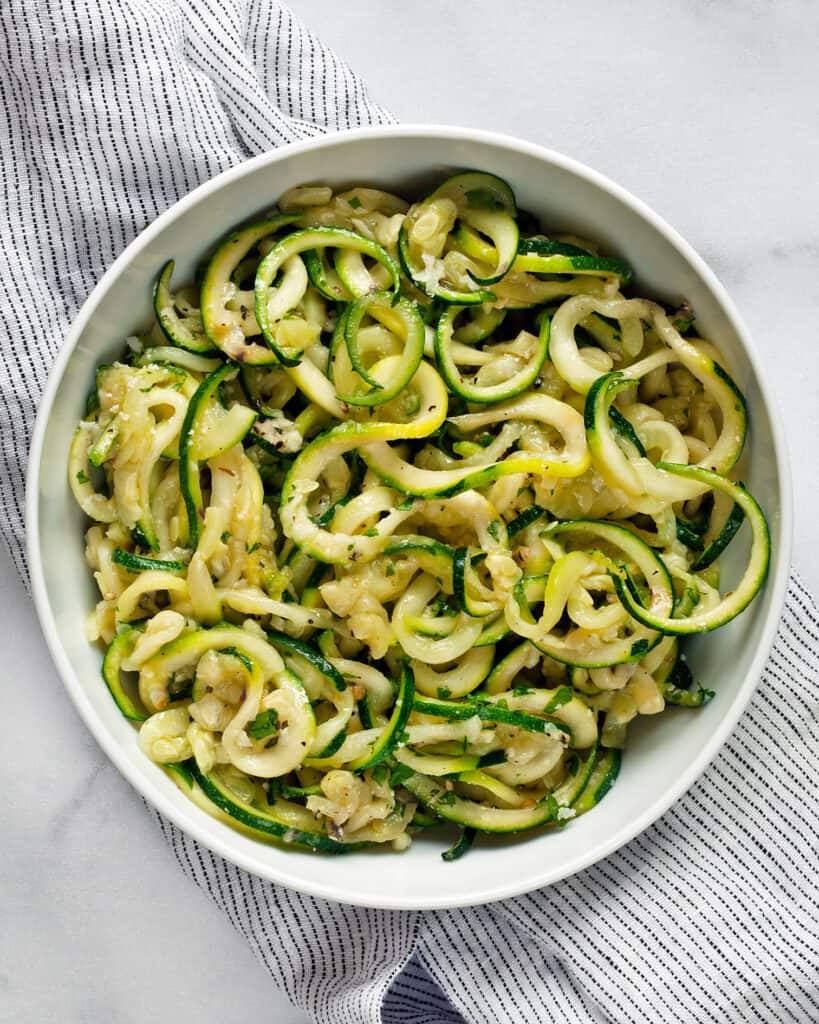 What is Cacio e Pepe?
Meaning "cheese and pepper," cacio e pepe is a Roman pasta dish. It has a short ingredient list and cooks pretty quickly.
With so few elements, it is important to use the best ingredients you can, just like you would with so many other Italian pastas.
Traditionally, cacio e pepe is made with spaghetti. But in this recipe, I use zucchini noodles instead for a lighter version that works in vegetables.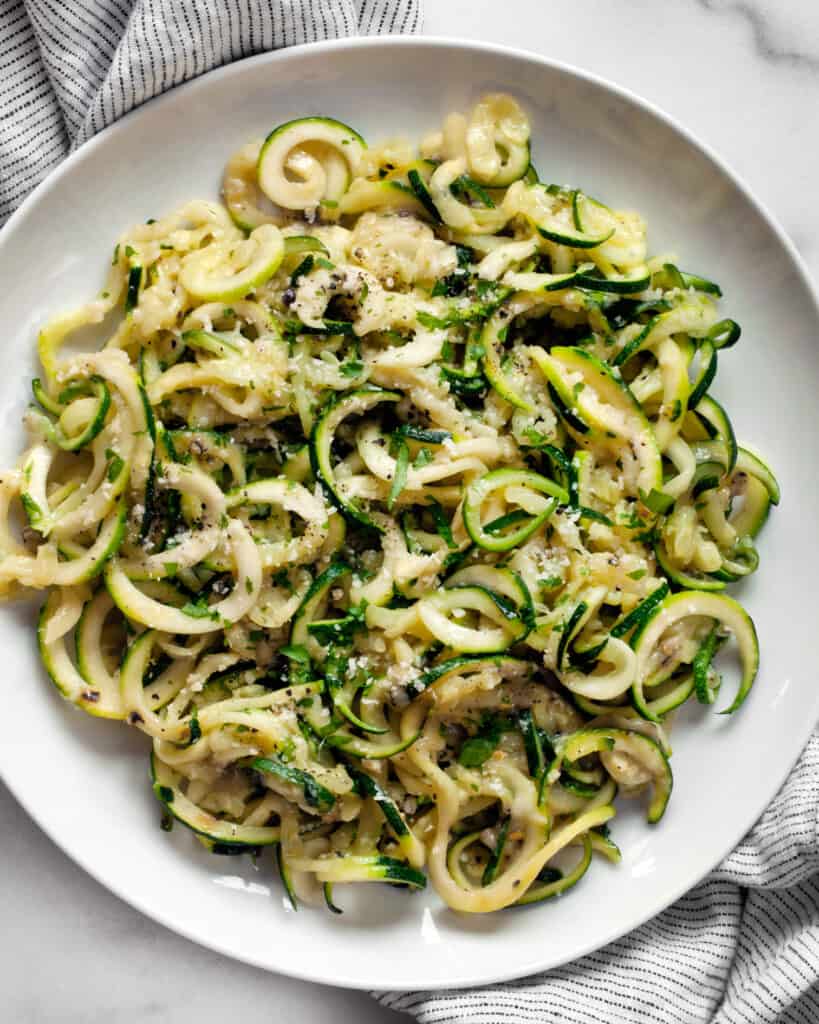 How To Make Zucchini Noodles
Not one to add to my collection of kitchen gadgets, it took me a while to take the plunge and buy a spiralizer. It was less about cost and more about space.
I have a limited amount of cabinet real estate in my kitchen, so I think twice before adding anything. But I have to say I am thrilled that I got a spiralizer that folds for more compact storing.
You also can cut zucchini into thin noodles without a spiralizer. A julienne peeler is a less expensive investment and doesn't take up much space, fitting in a drawer.
Another option would be to slice the zucchini into strips using a mandolin or a sharp chef's knife. And then you can cut those strips into zoodles that are the width of spaghetti.
And of course, you don't have to bother with any of that. It is pretty easy to find zucchini noodles at the grocery in the refrigerated section of the produce department.
Full disclosure, I do prefer the taste and texture of freshly cut zucchini noodles, but I completely understand if you want to take this shortcut.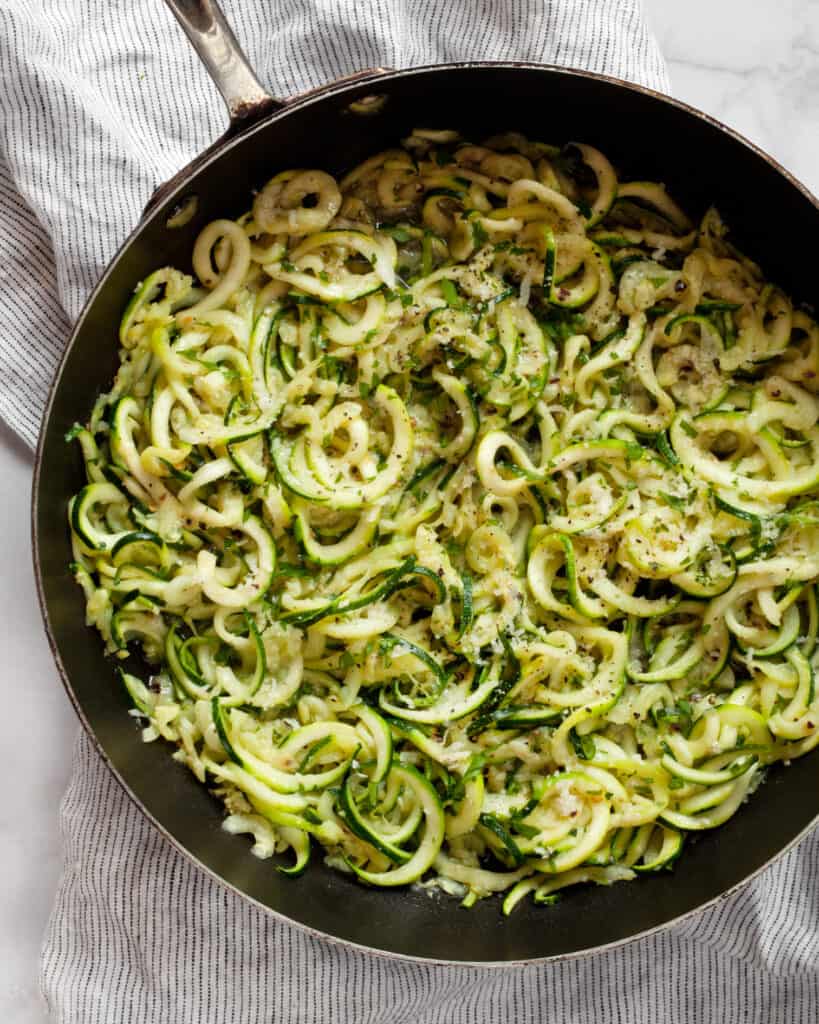 The Ingredients
This is what you need to make zucchini cacio e pepe:
Zucchini: As I mentioned, I prefer cutting zucchini into noodles using a spiralizer. But you can buy zucchini noodles that are already cut.
Garlic: Starting the recipe by sautéing minced garlic in olive oil becomes the base flavor for the rest of the ingredients.
Pepper: With pepper in the name, you can't skimp on black pepper!
Red pepper flakes: Besides the heat from the black pepper, red pepper flakes add just a touch more.
Pecorino cheese: I love this combination of pecorino and parmesan. Pecorino adds something a little more sharp and pungent.
Parmesan cheese: The salty, more mellow flavor of parmesan works well with pecorino. I think these are the best cheeses for cacio e pepe.
Olive oil: The minced garlic is sautéed in extra virgin olive oil.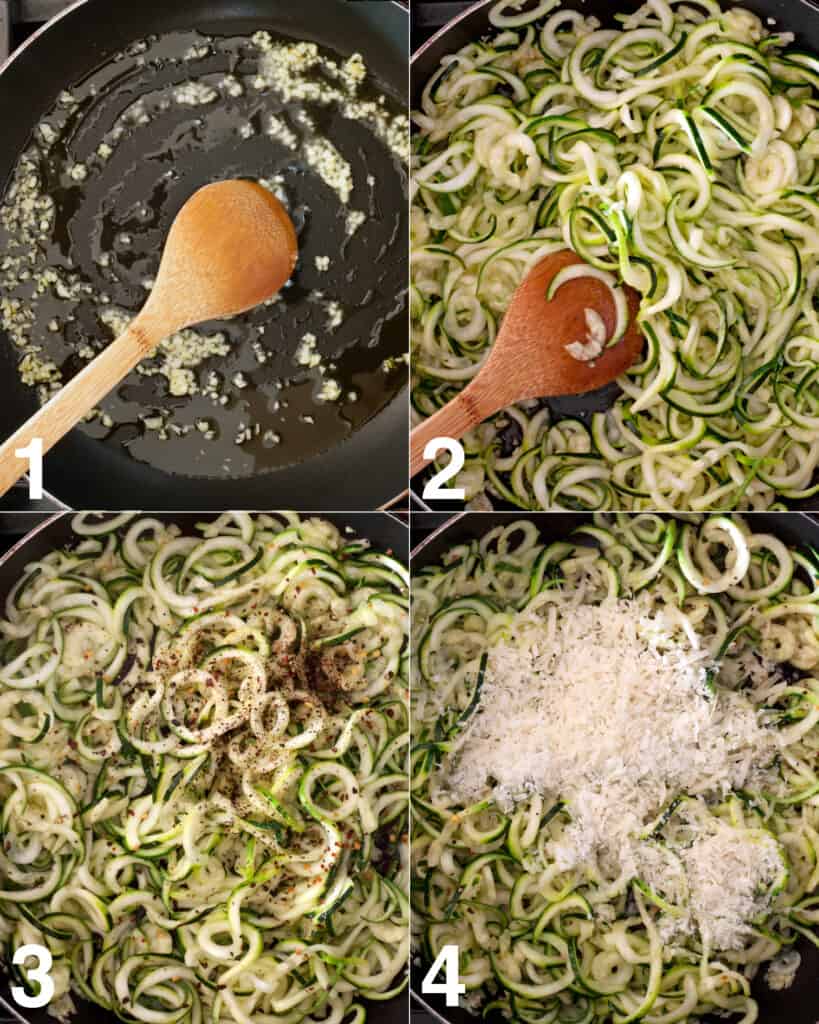 How To Make Zucchini Cacio e Pepe
The great thing about this recipe is how fast it is. For this reason, you should have your zucchini spiralized and ready to go before you start cooking.
Prepping the zucchini requires cutting them into noodles and then trying to get out some of the water. All you have to do is toss the zucchini noodles in salt and let them sit in a colander for 15 minutes. Then use a towel to squeeze out more water.
Next, heat the olive oil in a large skillet over medium high heat. Then add the minced garlic. Within 30 seconds or so, it will become very fragrant.
This is the sign to add the zucchini noodles and stir them around in the garlic oil.
Next, add the red pepper flakes, salt and pepper. With the noodles seasoned, fold in the grated parmesan and pecorino.
The cheeses will melt resulting in lightly creamy, peppery zucchini pasta. From start to finish on the stove this should take only 3 minutes.
You want to end up with noodles that still have a bite, much like how you want regular pasta to be al dente.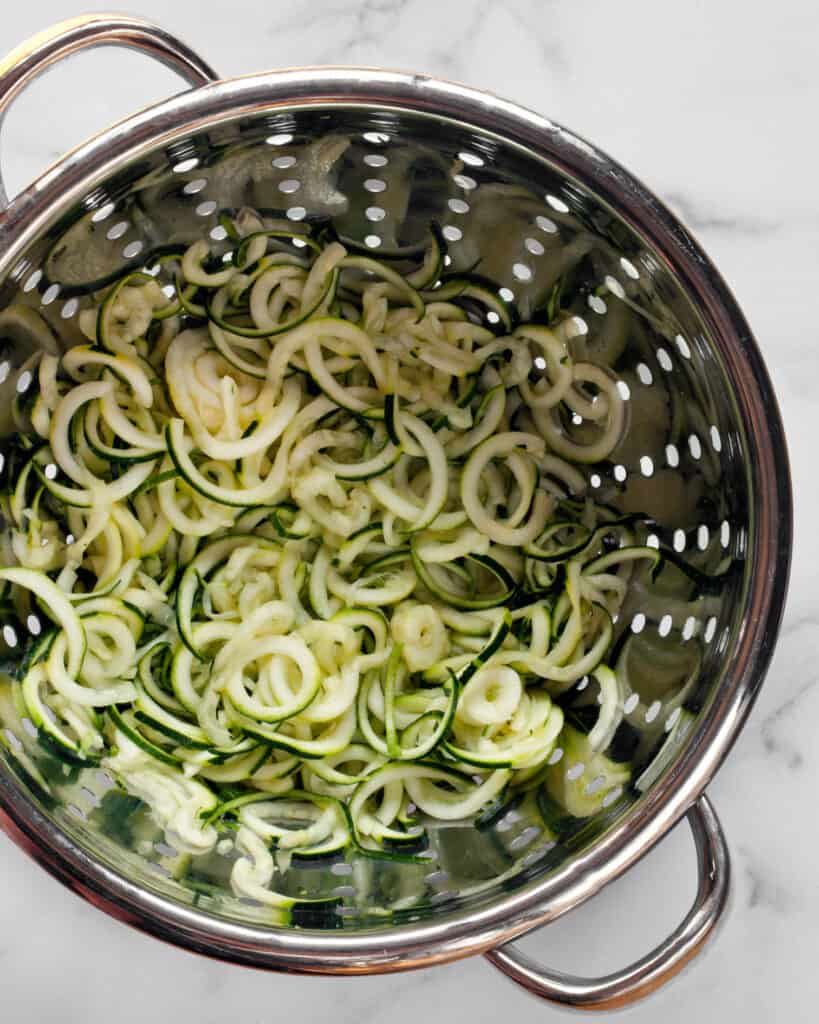 What to Serve Cacio e Pepe
I think of zucchini cacio e pepe as a main dish. For sides, I like to keep it simple with a mixed greens salad with homemade croutons or an Italian chopped salad.
Try These Other Zucchini Main Dish Recipes
Sheet Pan Baked Feta with Zucchini, Corn & Tomatoes
Roasted Broccolini and Zucchini Pasta Salad
Roasted Eggplant Zucchini Tomato Stew
30-Minute Tomato Zucchini Orzo
Zucchini Corn Fritters
Grilled Corn, Zucchini and Mint Pesto Pasta
Zucchini Noodles and Cherry Tomatoes
Zucchini Squash Pea Orzo
Roasted Mediterranean Vegetables and Halloumi

Zucchini Cacio e Pepe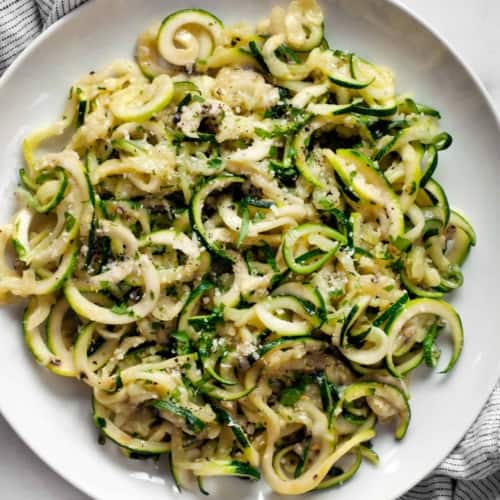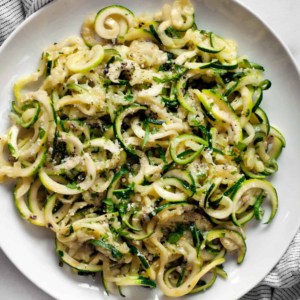 This easy zucchini cacio e pepe recipe is a vegetable version of the classic Italian pasta dish that goes big on black pepper and cheese.
Ingredients
3

medium zucchini

1

teaspoon

+ 1/2 teaspoon kosher salt

1

tablespoon

olive oil

2

garlic cloves

minced

1

teaspoon

black pepper

1/4

teaspoon

red pepper flakes

1/4

cup

grated Parmesan cheese plus more for serving

1/4

cup

grated Pecorino cheese plus more for serving
Instructions
Trim and spiralize the zucchini. Cut any long noodles, so they are about the length of spaghetti.

Place the zucchini noodles in a colander and toss with 1 teaspoon kosher salt. Let the noodles drain for 15 minutes. Squeeze out additional water using a towel.

Heat the olive oil in a skillet over medium high heat. Add the garlic sautéing until fragrant, about 30 seconds.  

Stir in the zucchini followed by the red, pepper flakes, salt and pepper and continue cooking for 1 minute before folding in the parmesan and pecorino. The cheese will quickly melt, and then the zucchini noodles are ready.

Top with grated parmesan and pecorino.
Notes
Do not overcook the zucchini noodles. You want them still to have some bite.
Nutrition
Calories:
110
kcal
|
Carbohydrates:
6
g
|
Protein:
6
g
|
Fat:
7
g
|
Saturated Fat:
3
g
|
Polyunsaturated Fat:
1
g
|
Monounsaturated Fat:
3
g
|
Cholesterol:
12
mg
|
Sodium:
1071
mg
|
Potassium:
416
mg
|
Fiber:
2
g
|
Sugar:
4
g
|
Vitamin A:
414
IU
|
Vitamin C:
27
mg
|
Calcium:
151
mg
|
Iron:
1
mg
Nutrition information is automatically calculated, so should only be used as an approximation.