Best Roasted Cherry Tomato Recipes
Part of the reason we always grow cherry tomatoes in our garden is to eat them picked straight off the vine. But the other reason is to roast them in the oven. Because when you roast these tiny tomatoes, it makes their flavor even more intense.
How To Store Roasted Cherry Tomatoes
If you do decide to roast a sheet pan of cherry tomatoes, you can store them in an airtight container in the fridge for 1-2 weeks.
You can also freeze them. Just put the tomatoes in a single layer on a wax paper-lined sheet pan or plate. Once the tomatoes are frozen, transfer them to an airtight container. Then try to use the tomatoes within 4-6 months.
Roasted Cherry Tomato Recipes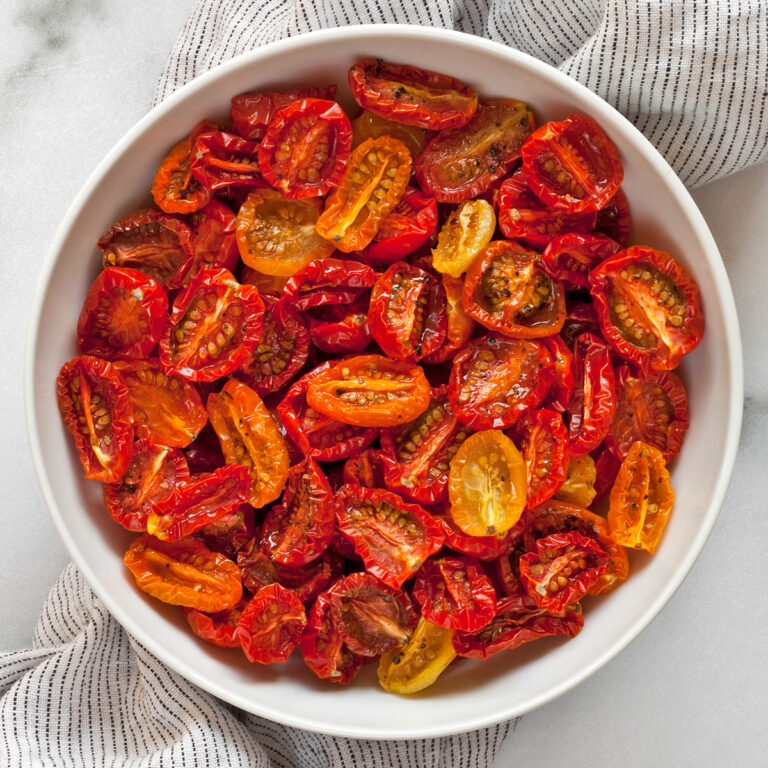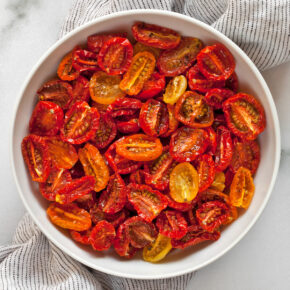 Slow-Roasted Cherry Tomatoes
These easy slow-roasted cherry tomatoes are the perfect way to preserve tomato season. Use them in salads, on pizzas and stirred into pastas. You cook them at a low temperature in the oven for nearly 2 hours. They're worth the wait!
Find recipe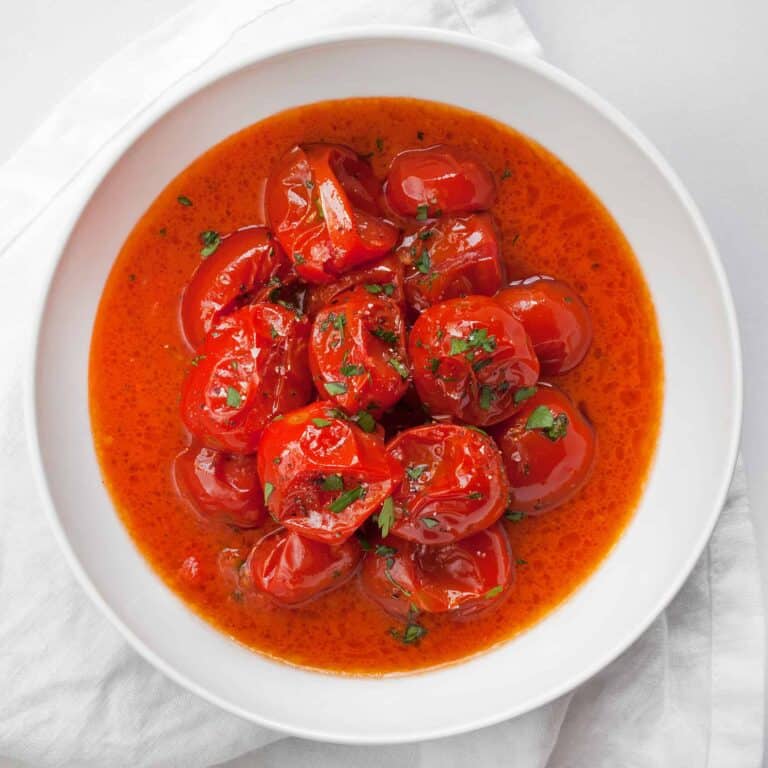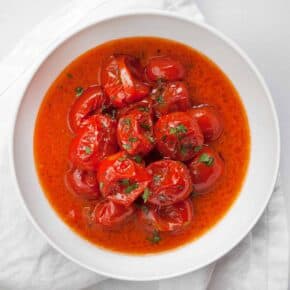 Roasted Cherry Tomato Vinaigrette
When you make roasted cherry tomato vinaigrette, you end up with both dressing and toppings for your salad. After that, all you need are mixed greens and shaved Parmesan.
Find recipe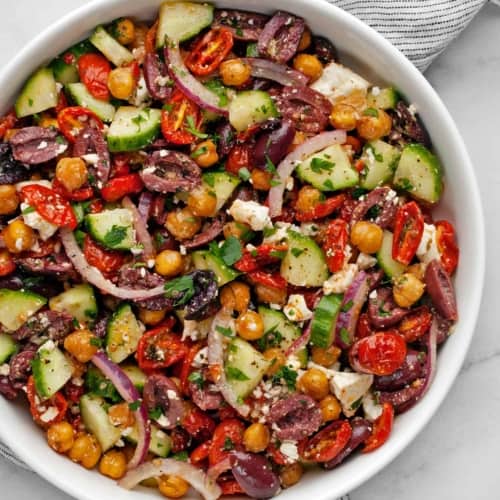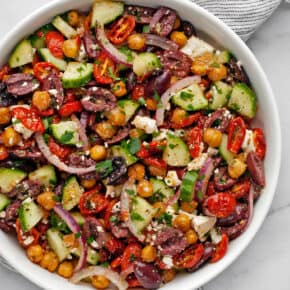 Chickpea Greek Salad
This easy chickpea Greek salad is a twist on the classic. It has roasted tomatoes and crispy chickpeas plus the usual cucumbers, olives, onions and feta.
Find recipe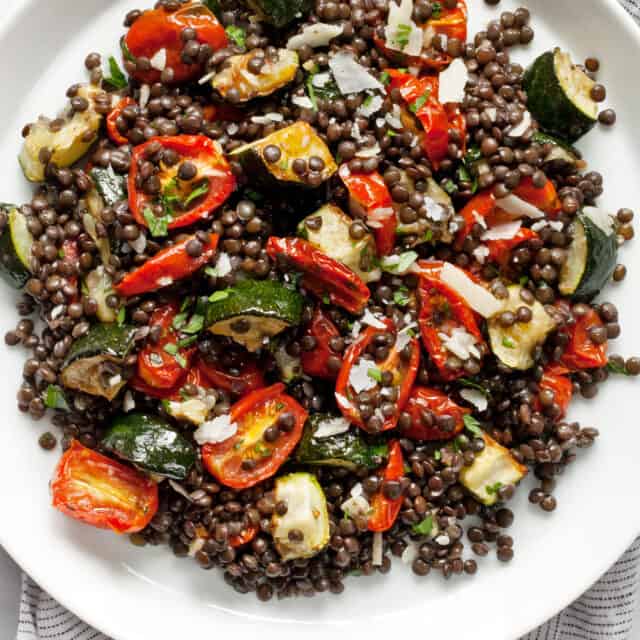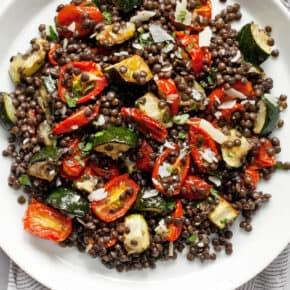 Roasted Zucchini Tomato Lentil Salad
With garlic balsamic vinaigrette, you can make and assemble this roasted zucchini tomato lentil salad ahead of time.
Find recipe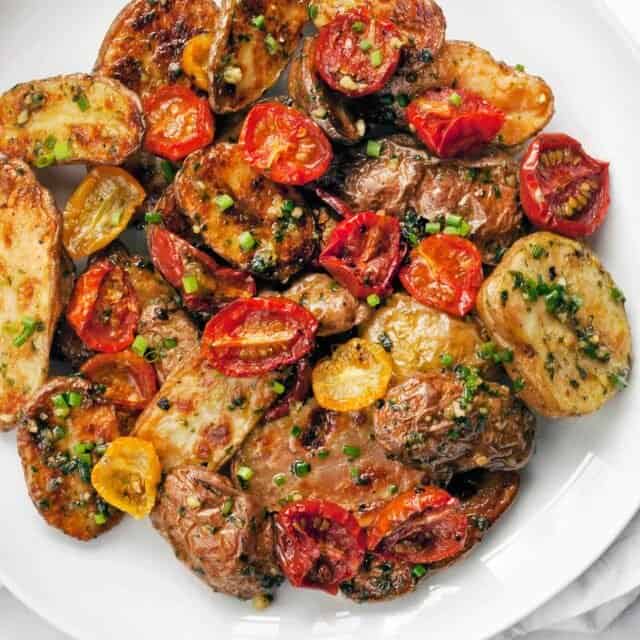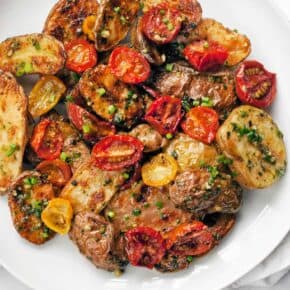 Roasted Tomato Pesto Potato Salad
It's pesto for the win in this roasted tomato pesto potato salad. The fingerling potatoes and cherry tomatoes end up herby and garlicky. It shows how pesto works on lots of things besides just pasta.
Find recipe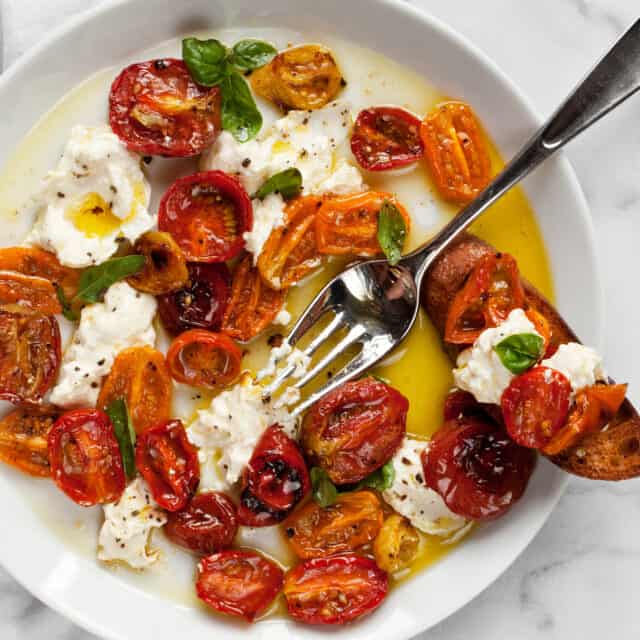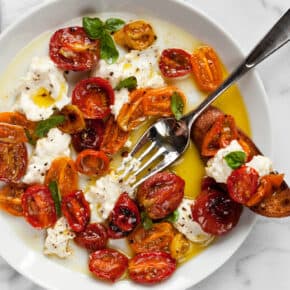 Burrata with Roasted Tomatoes
Served with toasted bread and garlic olive oil, burrata with roasted tomatoes is a no-fuss, sharable appetizer. It totally makes the most of tomato season.
Find recipe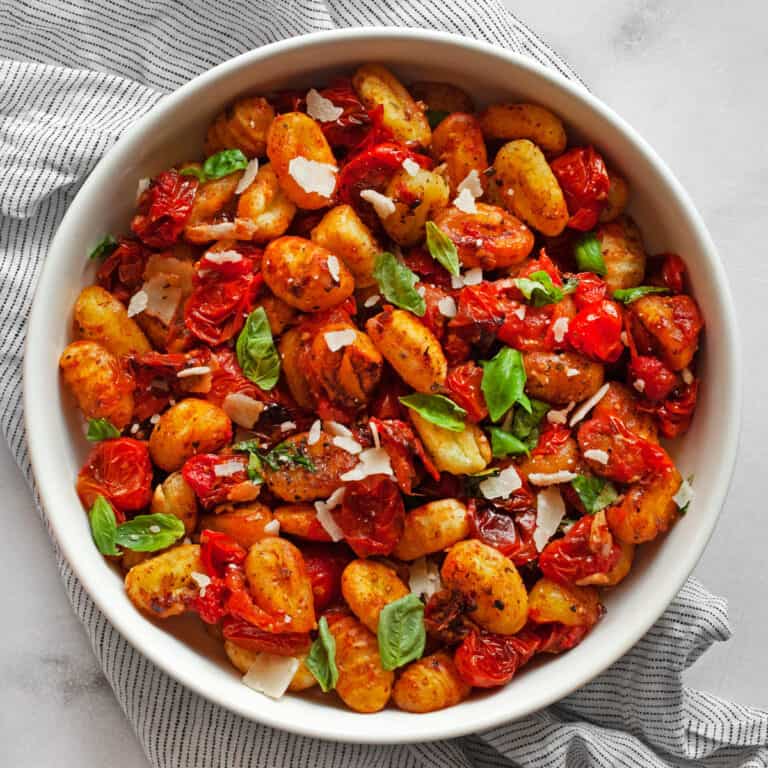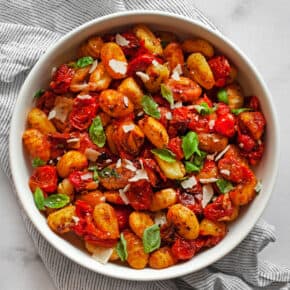 Sheet Pan Cherry Tomato Gnocchi
Ready in 30 minutes, this cherry tomato sheet pan gnocchi uses a mix of dried spices to flavor this quick and easy one-pan meal. Top it with shaved Parmesan and basil.
Find recipe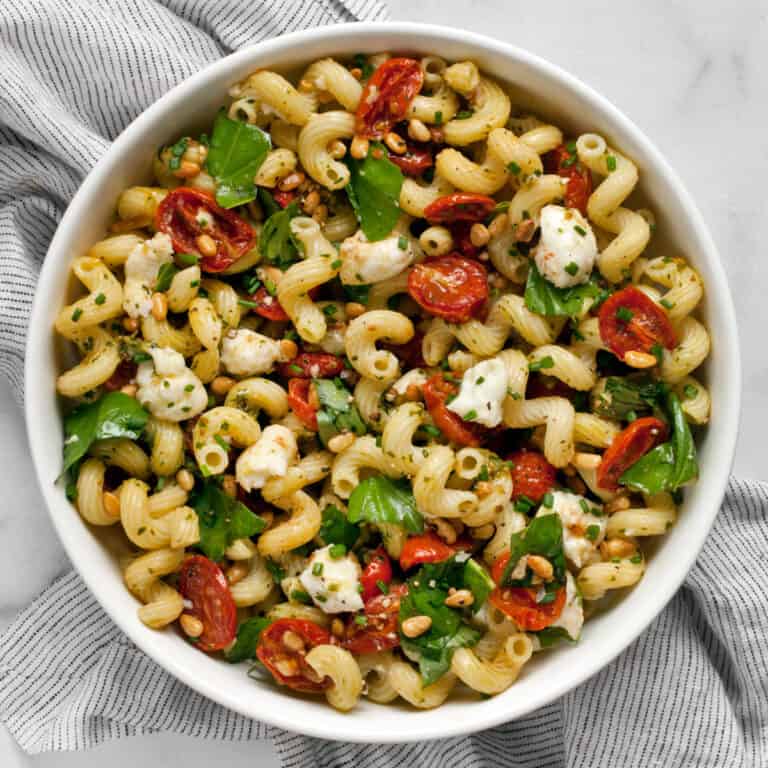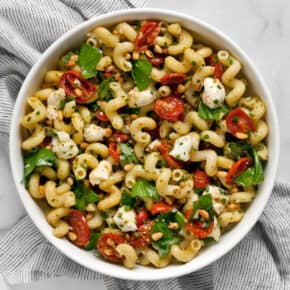 Roasted Tomato Pesto Pasta Salad
The dressing for this roasted tomato pesto pasta salad recipe uses the leftover tomato juices from the baking dish along with roasted garlic, basil pesto and balsamic vinegar.
Find recipe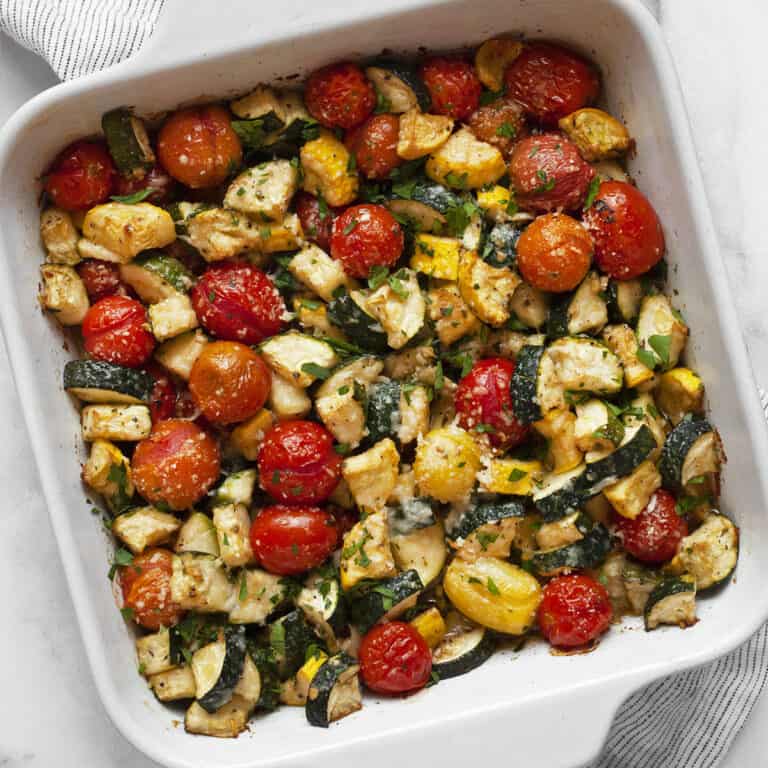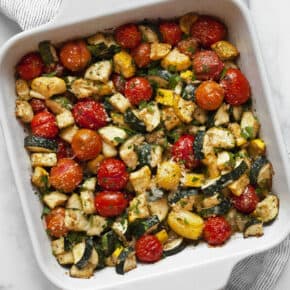 Balsamic Zucchini Tomato Bake
This balsamic zucchini tomato bake is simple to make and great for leftovers. Combine the veggies with pasta or grains to stretch them into another meal.
Find recipe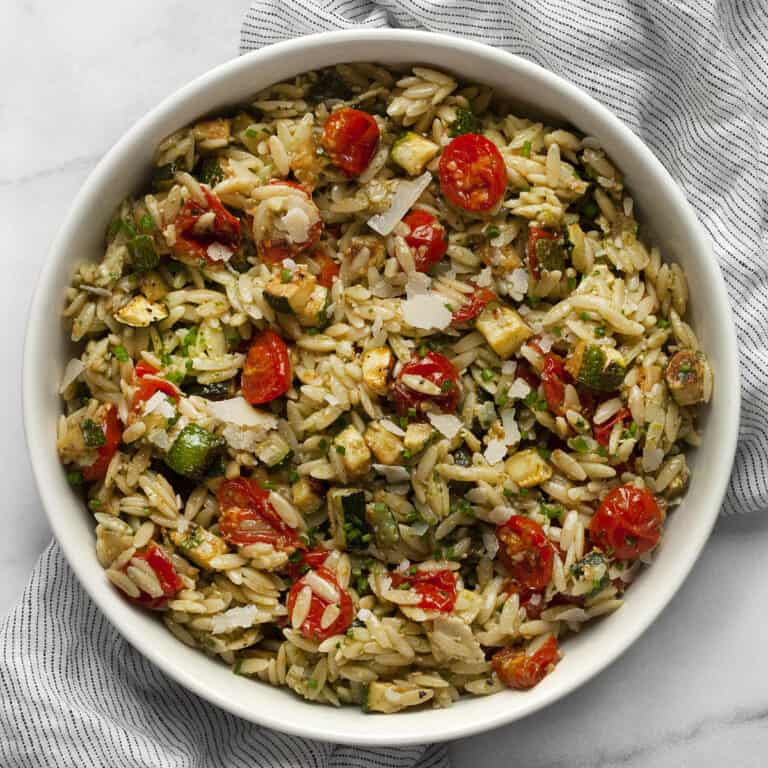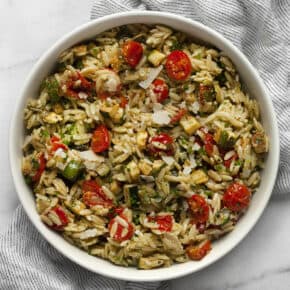 Roasted Tomato Zucchini Orzo
Roasting the veggies side-by-side on a single sheet pan makes this 30-minute tomato zucchini orzo a simple recipe that just needs a few spoonfuls of pesto stirred in to finish it.
Find recipe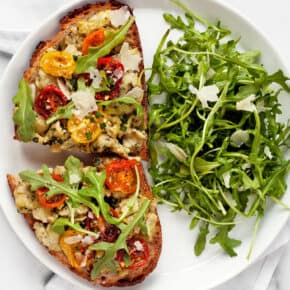 Pesto Eggs with Roasted Tomatoes
Serve these pesto eggs with roasted tomatoes on toast paired with mixed greens. Then they definitely count as a meal. Also, you can even make the tomatoes in advance.
Find recipe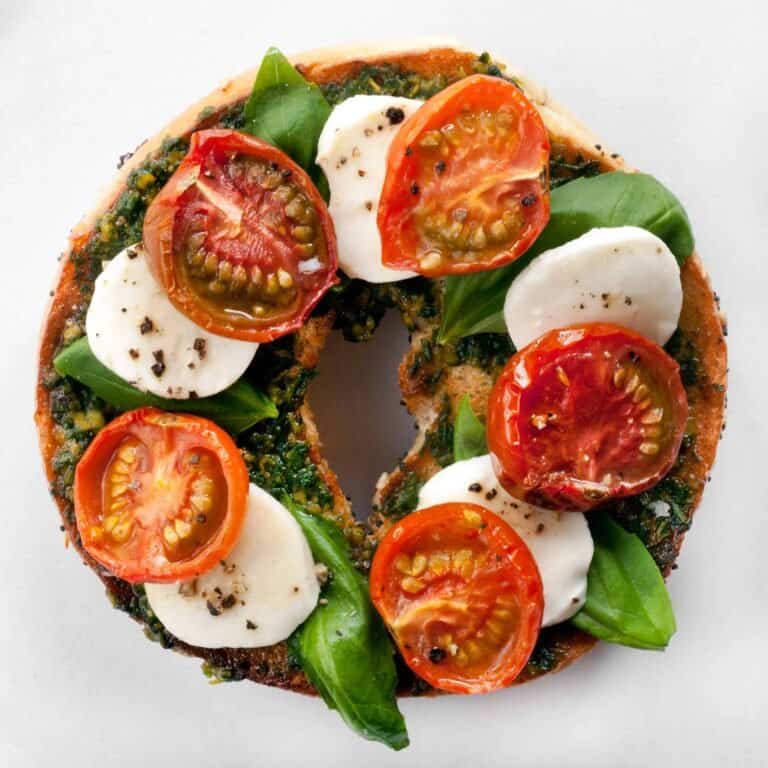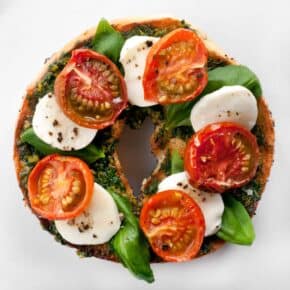 Caprese Bagel
This caprese bagel goes all in on basil. To start, there is pesto spread on the bagel. Then I tuck basil leaves in between roasted cherry tomatoes and mozzarella.
Find recipe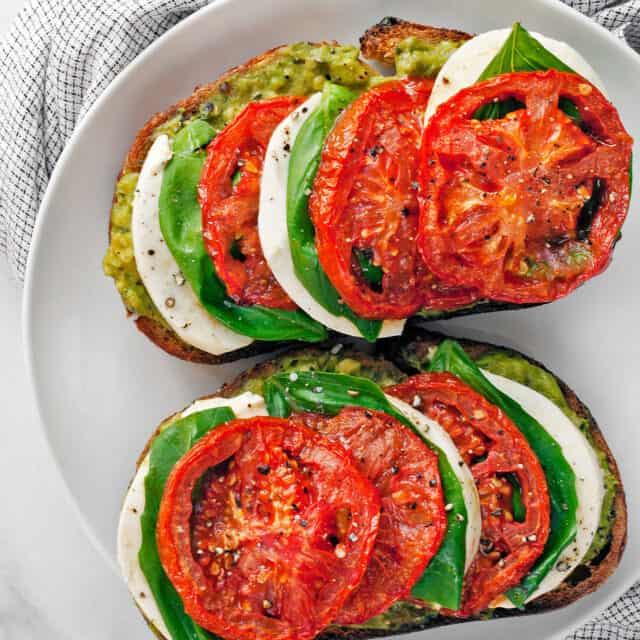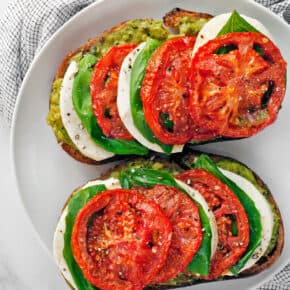 Caprese Avocado Toast
As if roasted tomatoes aren't enough, the mashed avocado in this caprese avocado toast is mixed with pesto. It's finished with flaky sea salt & freshly ground pepper.
Find recipe