Easy Summer Vegetarian Dinner Recipes
There is no better season for cooking than summer. No offense fall, winter and spring, but these warm weather months are where it's at. When my biggest problem in the kitchen is that I can't keep up with my weekly farm share of fruits and veggies, life is good.
I don't hesitate to turn on the oven or a burner on the stove or fire up the grill even if it's hot outside. No surprise, these dishes go big on vegetables in the absolute best way possible. Some with pesto and others with vinaigrettes and marinades, try these approachable and simple dinner recipes.
Oven Recipes – Summer Sheet Pan Meals!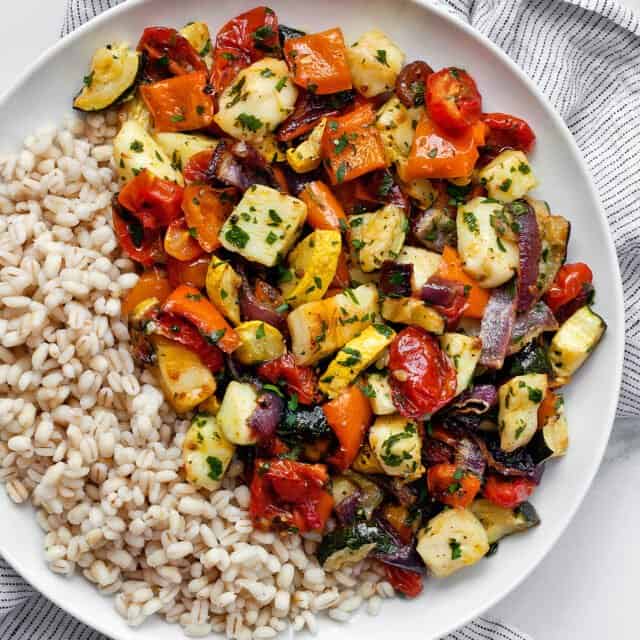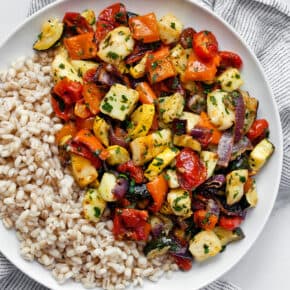 Roasted Mediterranean Vegetables and Halloumi
With zucchini, yellow squash, tomatoes, onions and garlic, roasted Mediterranean vegetables and halloumi are a great vegetarian sheet pan meal. Halloumi is a wonderfully salty cheese that you can bake in the oven.
FInd recipe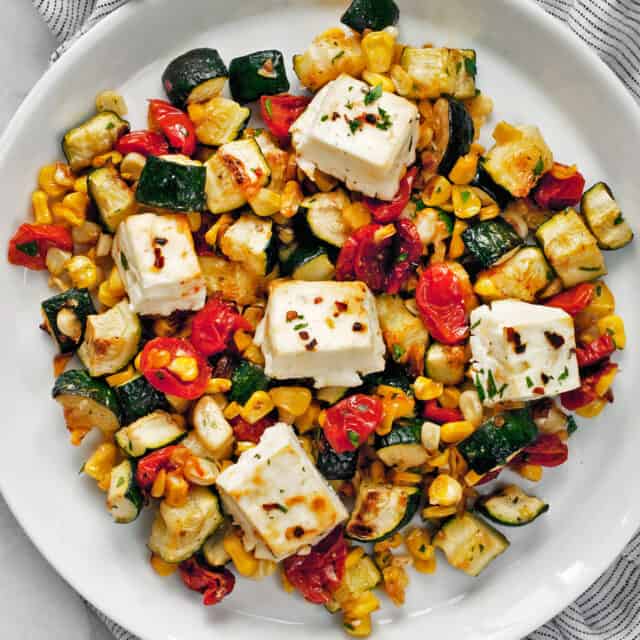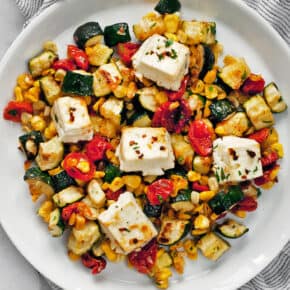 Sheet Pan Baked Feta and Veggies
This sheet pan baked feta with vegetables is a simple one-pan vegetarian meal with zucchini, corn and tomatoes. Serve it with pearl couscous, farro or rice.
Find recipe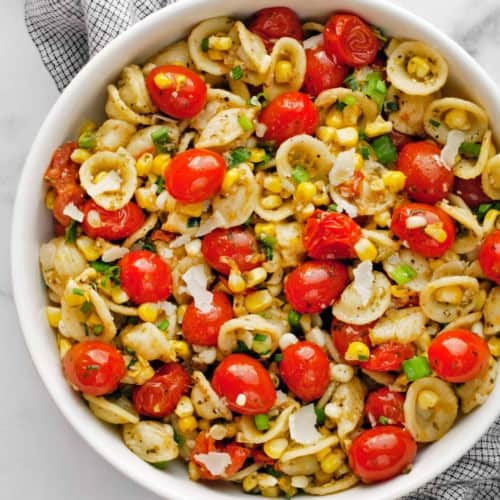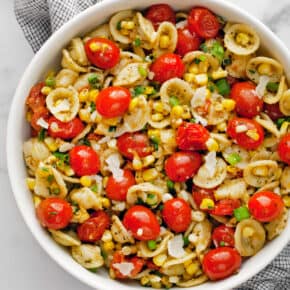 Tomato Corn Orecchiette
With cherry tomatoes, corn and pesto, this simple orecchiette pasta recipe is ready in less than 30 minutes. It also has Parmesan and lemon. The pesto for it is nut-free.
Find recipe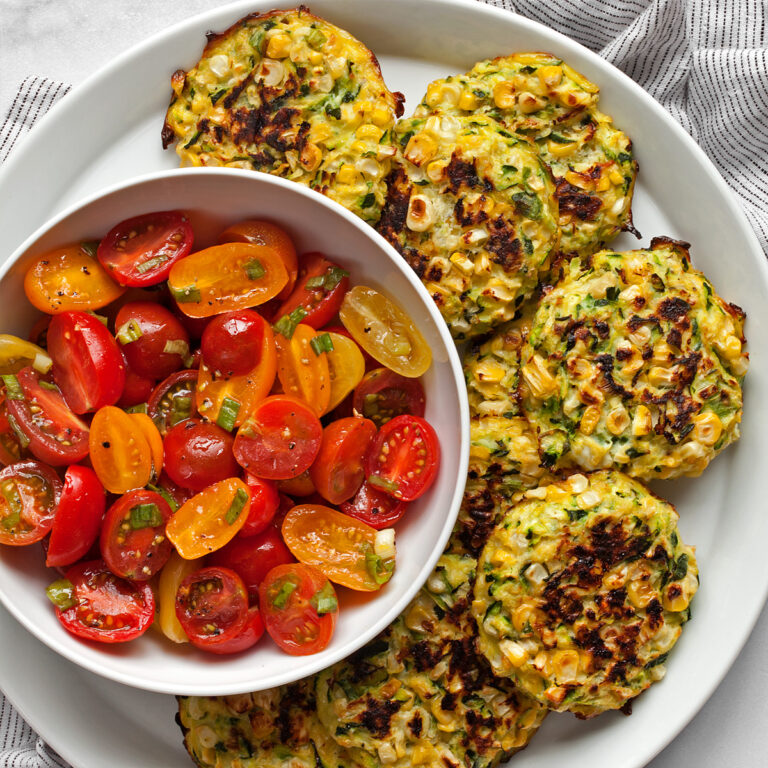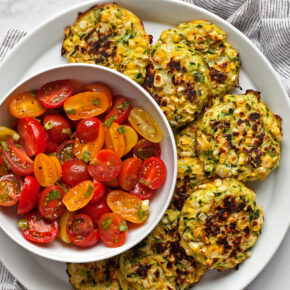 Baked Zucchini Corn Fritters
Paired with a cherry tomato arugula salad, these baked zucchini corn fritters with scallions and Parmesan make a simple summer meal using seasonal vegetables.
Find recipe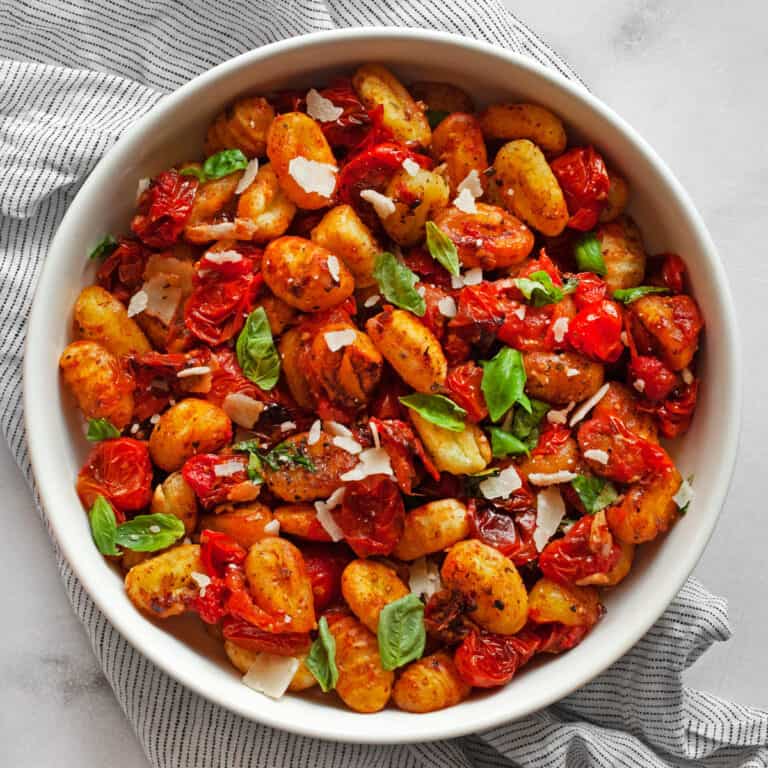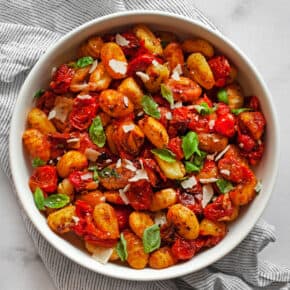 Sheet Pan Cherry Tomato Gnocchi
Ready in 30 minutes, this cherry tomato sheet pan gnocchi uses a mix of dried spices to flavor this quick and easy one-pan meal. Top it with shaved Parmesan and basil.
Find recipe
Grilled Vegetable Recipes – A Rainbow of Veggies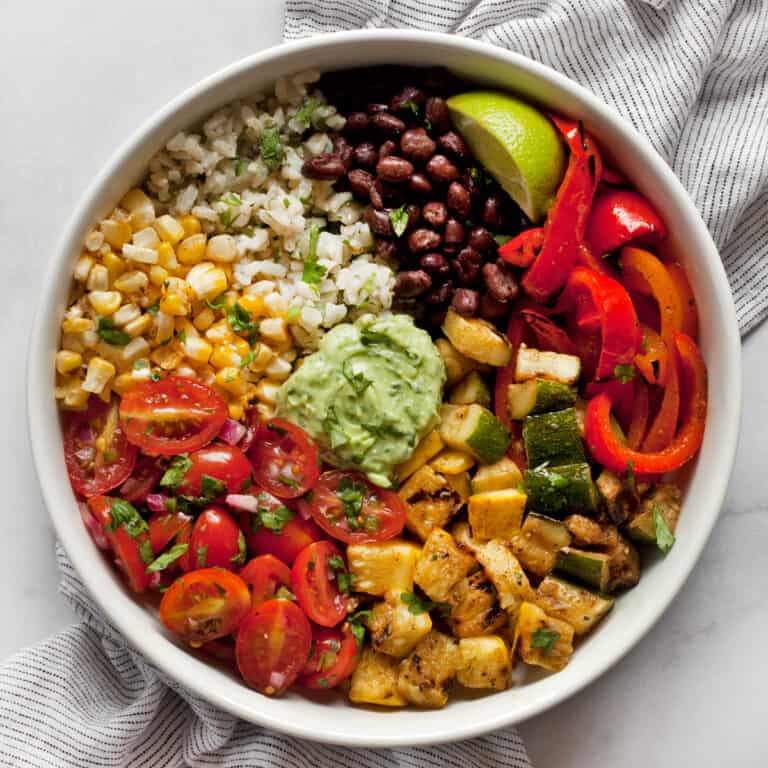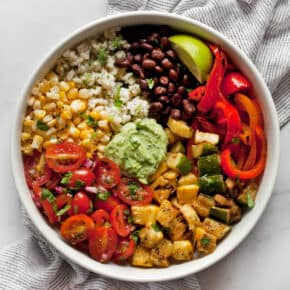 Grilled Veggie Burrito Bowls
A spice rub with chili, garlic & onion powder, cumin and paprika gives the corn, zucchini and peppers in these grilled veggie burrito bowls a kick. I serve them with cilantro lime rice and cherry tomato pico de gallo.
Find recipe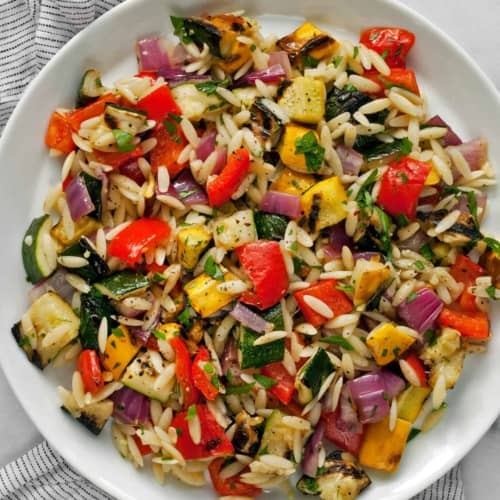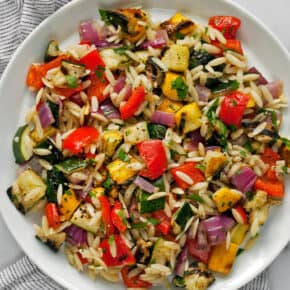 Grilled Vegetable Orzo Salad
With zucchini, yellow squash, peppers and red onions, this grilled vegetable orzo salad is loaded with veggies and tossed in a simple garlic vinaigrette.
Find recipe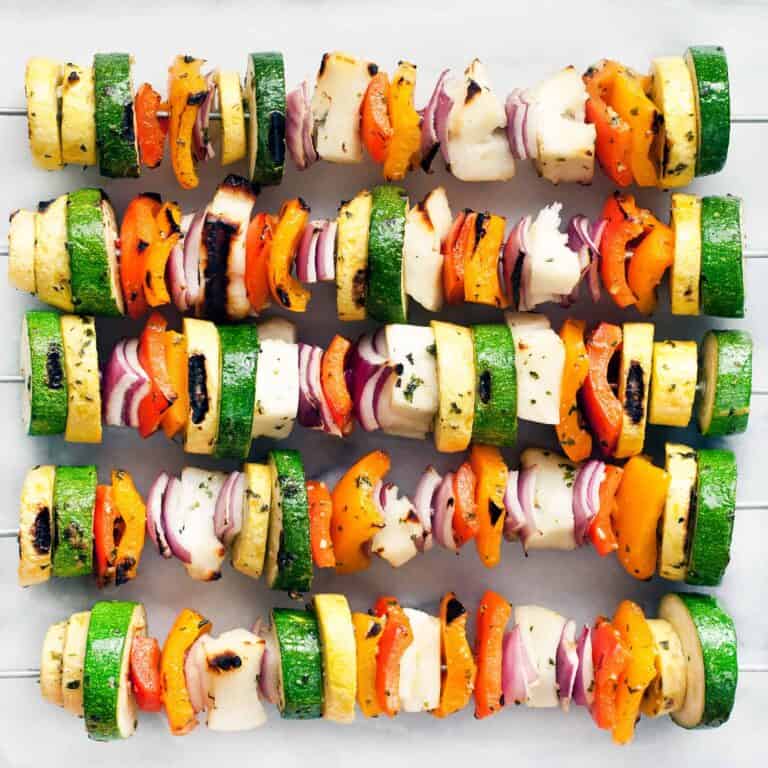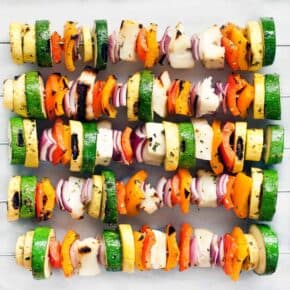 Halloumi Veggie Skewers
Looking for a simple vegetarian main? Thread a rainbow of onions, zucchini, yellow squash, red peppers and cheese to make grilled halloumi veggie skewers.
Find recipe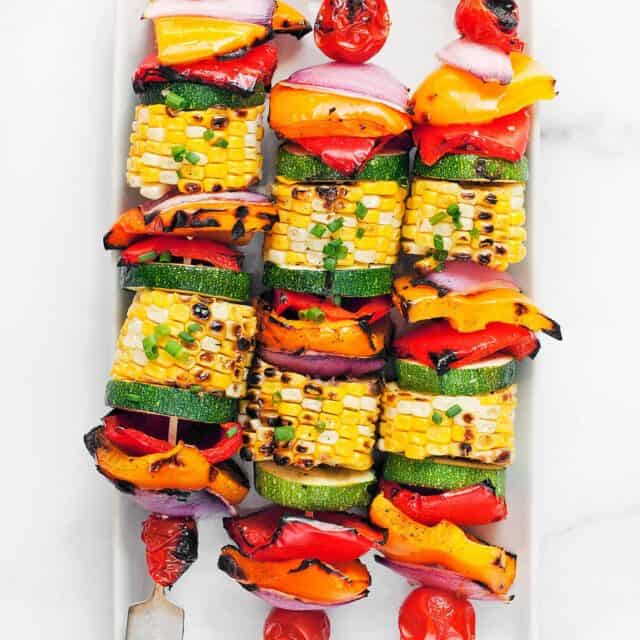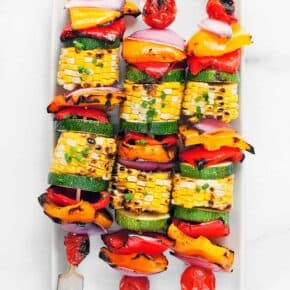 Balsamic Veggie Skewers
Using white balsamic vinegar in the marinade for these grilled balsamic veggie skewers, lets the color of the corn, zucchini, squash and peppers stay bright while not sacrificing flavor.
Find recipe
Grilled Tofu Recipes – Vegan Grilling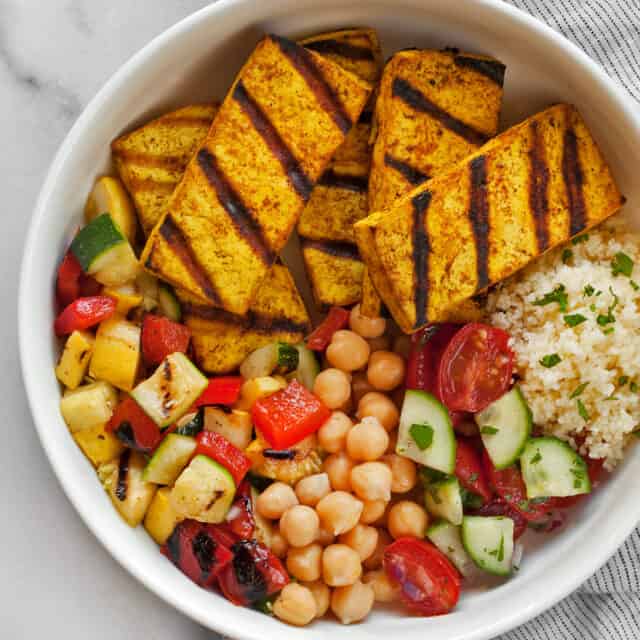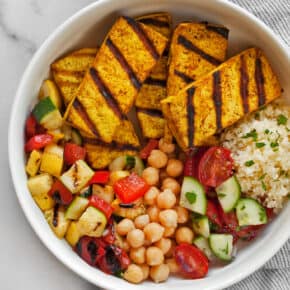 Grilled Tofu Shawarma
Served with grilled veggies and a tomato cucumber salad, this grilled tofu shawarma eats like a salad or grain bowl with chickpeas and couscous.
Find recipe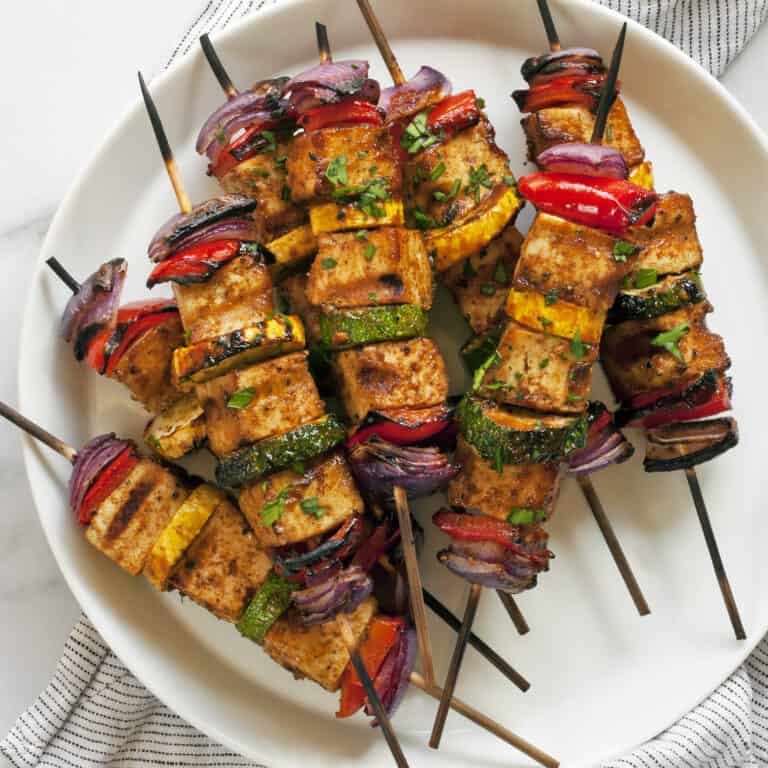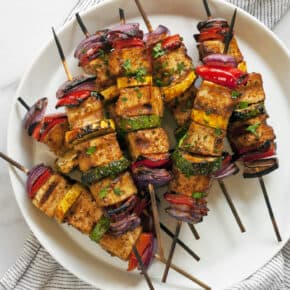 Barbecue Veggie Tofu Skewers
Sprinkling a dried seasoning mix on these grilled barbecue tofu veggie skewers before they hit the grill adds savory flavor that balances the sweet sauce.
Find recipe