10 Best Corn Recipes
on Jun 15, 2021, Updated Jul 11, 2022
When I say I love corn, the word love might not be strong enough. I try to eat corn pretty much everyday during corn season.
Currently in my fridge you will find leftover grilled corn kernels that I use in anything I can including sides, salads and even scrambled eggs.
There is so much you can do with corn. This list includes 10 of my absolute favorites. And with most of them, I slice the kernels off the cobs. Of course, there is nothing wrong with traditional corn on the cob slathered with butter, but why limit yourself?
Main Dishes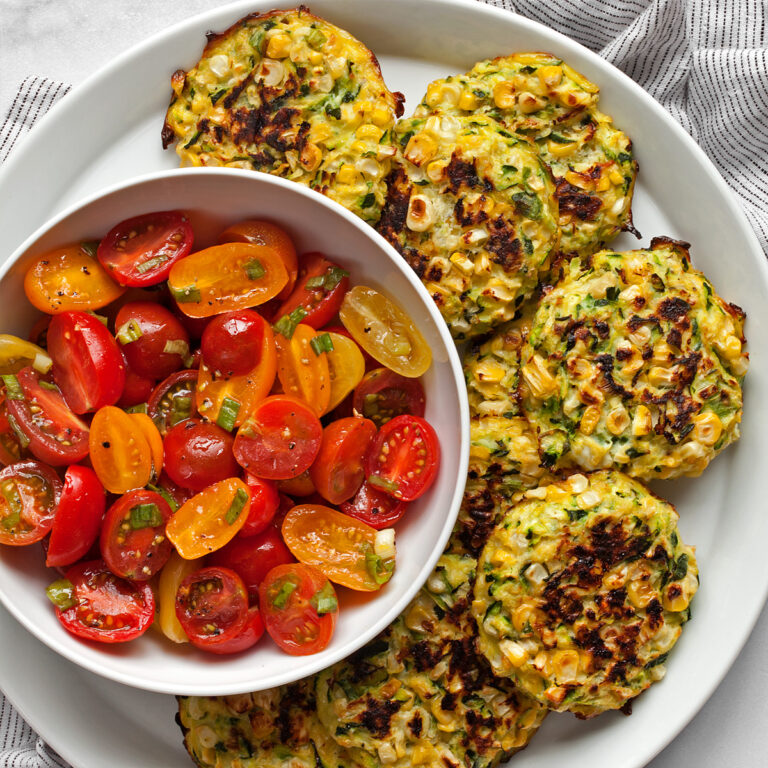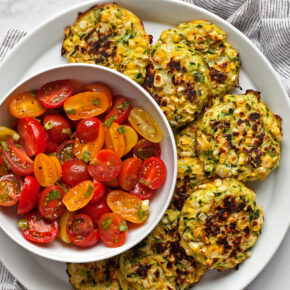 Oven-Baked Zucchini Corn Fritters
A sheet pan is all you need to make these easy baked zucchini corn fritters. Served with a tomato salad, they are a great vegetarian appetizer or main dish. Besides the obvious that baked fritters are healthier than fried ones, they are just easier to make. It's that simple.
For recipe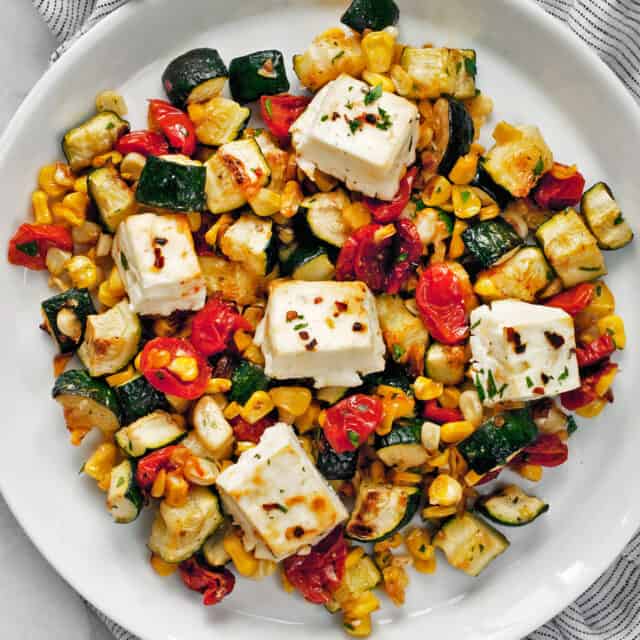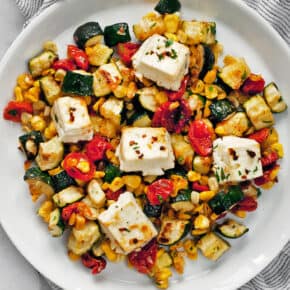 Sheet Pan Baked Feta with Vegetables
This sheet pan baked feta with vegetables is a simple one-pan vegetarian meal with zucchini, corn and tomatoes. Serve it with pearl couscous, farro or rice.
For recipe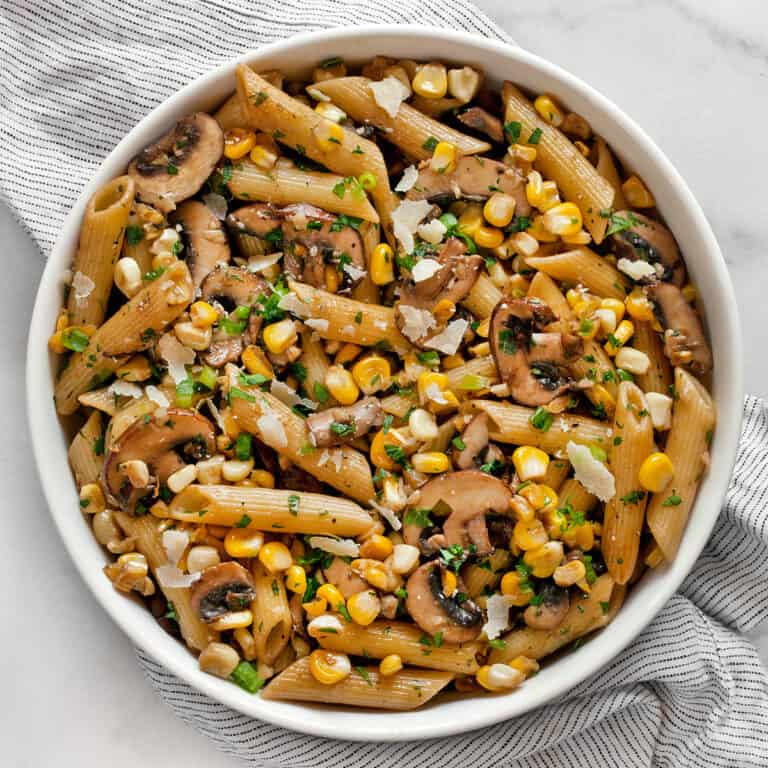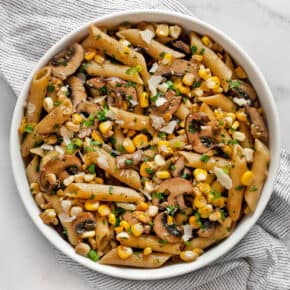 Mushroom Corn Pasta
Ready in less than 30 minutes on the stove, this mushroom corn pasta is a simple weeknight recipe. You can use fresh, canned or frozen corn.
For recipe
Side Dishes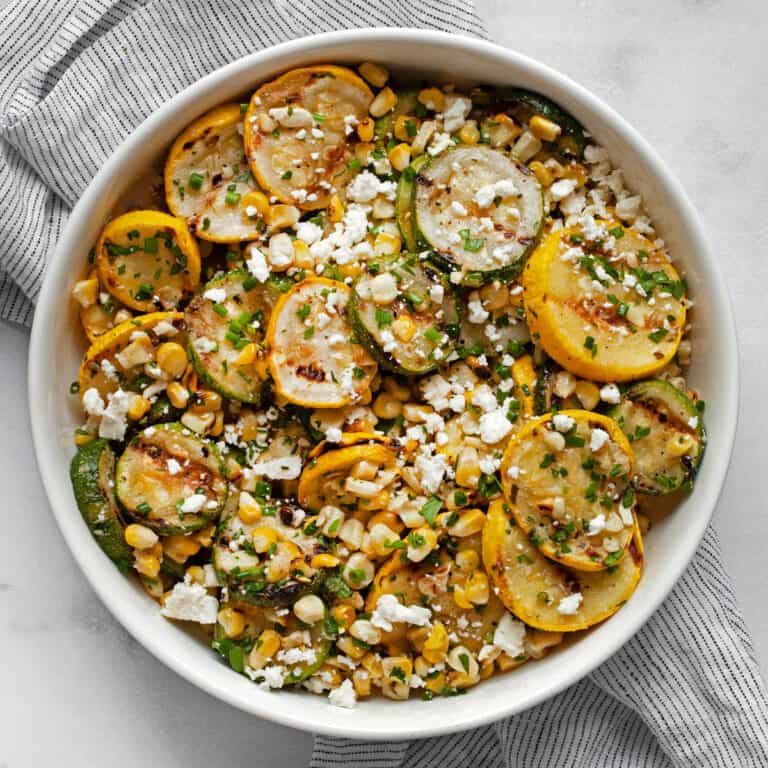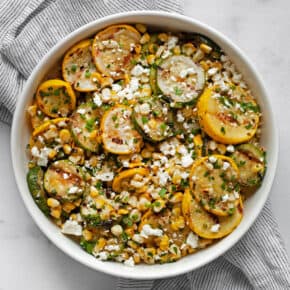 Grilled Zucchini, Squash & Corn
This combination of grilled zucchini, summer squash and corn is seasoned with a blend of oregano and more dried spices. After it's off the grill, I stir in lemon juice, feta and fresh herbs.
For recipe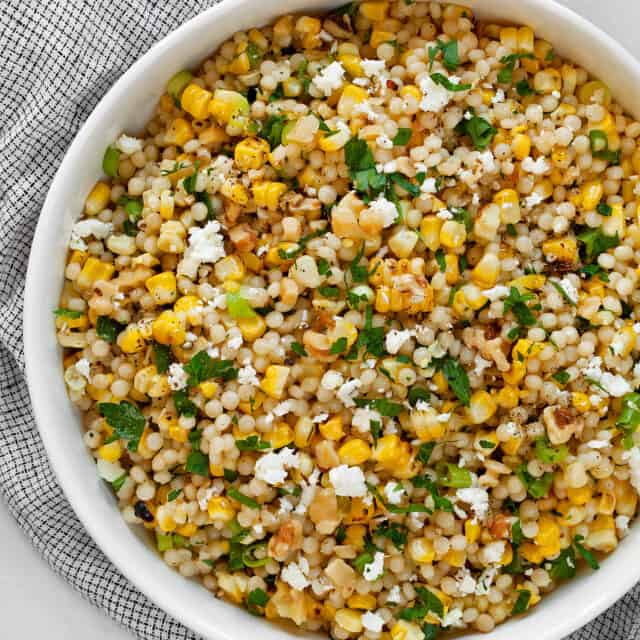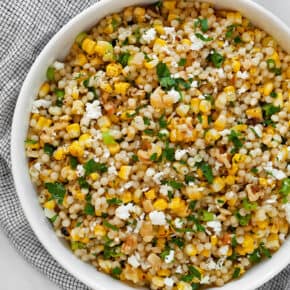 Grilled Corn Couscous
With grilled lemon, scallions, feta and walnuts, this grilled corn couscous is a fantastic summer side dish. It's made with plump grains of pearl couscous. I love how the corn and couscous are basically the same size.
For recipe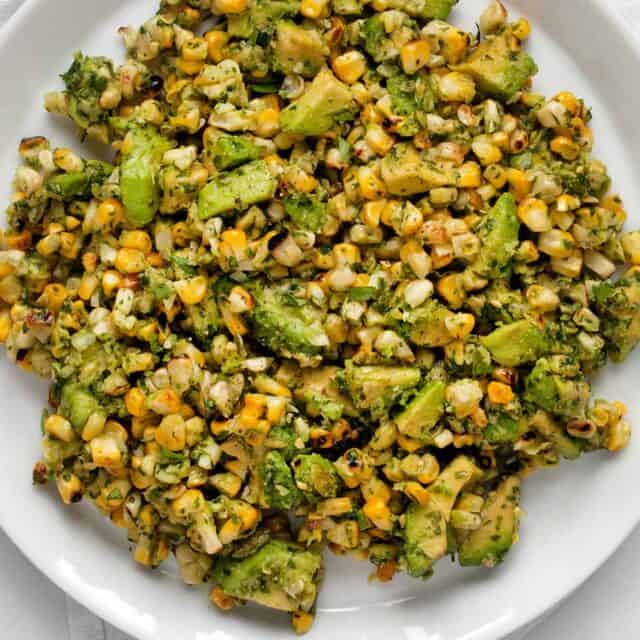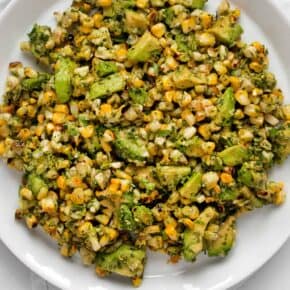 Grilled Corn & Avocados with Cilantro Pesto
Looking for a way to really celebrate corn season? Try grilled corn and avocado with cilantro pesto as a side or a salad with or without tortilla chips. Pumpkin seeds keep the pesto nut-free.
For recipe
Salads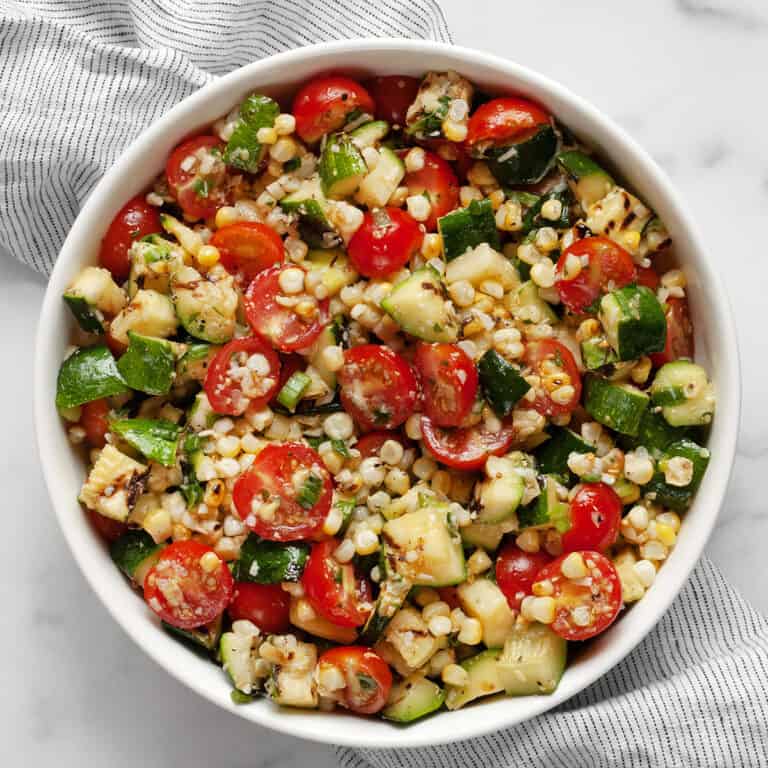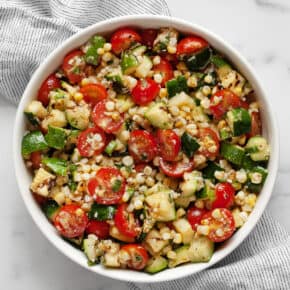 Zucchini Corn Salad
Good for a salad or a barbecue side dish, this grilled zucchini corn salad has cherry tomatoes, scallions, Parmesan and garlic vinaigrette.
For recipe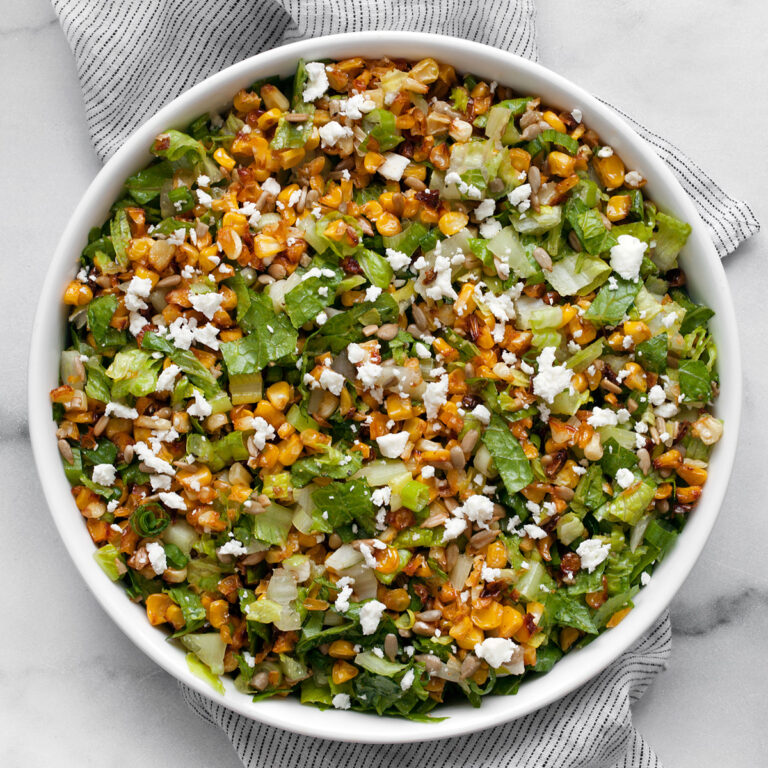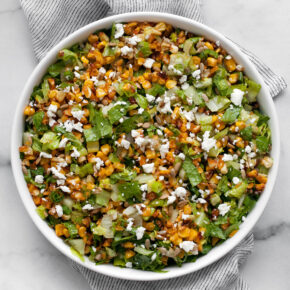 Roasted Corn Salad
Seasoned in cumin, chili powder and paprika, the corn has a kick in this roasted corn salad with chopped romaine, crumbled feta, scallions, sunflower seeds and white wine vinaigrette.
For recipe
Soup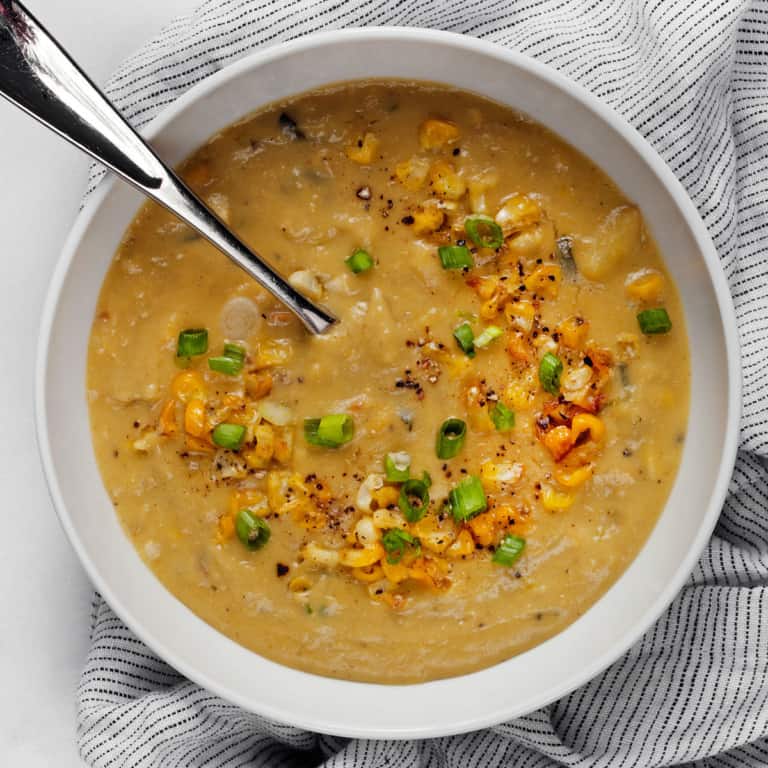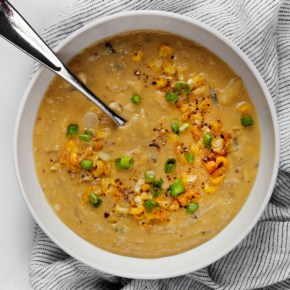 Roasted Poblano Corn Chowder
Thickened with potatoes and coconut milk, this vegan roasted poblano corn chowder is a smoky and spicy soup recipe that's hearty enough for a meal.
For recipe
Baking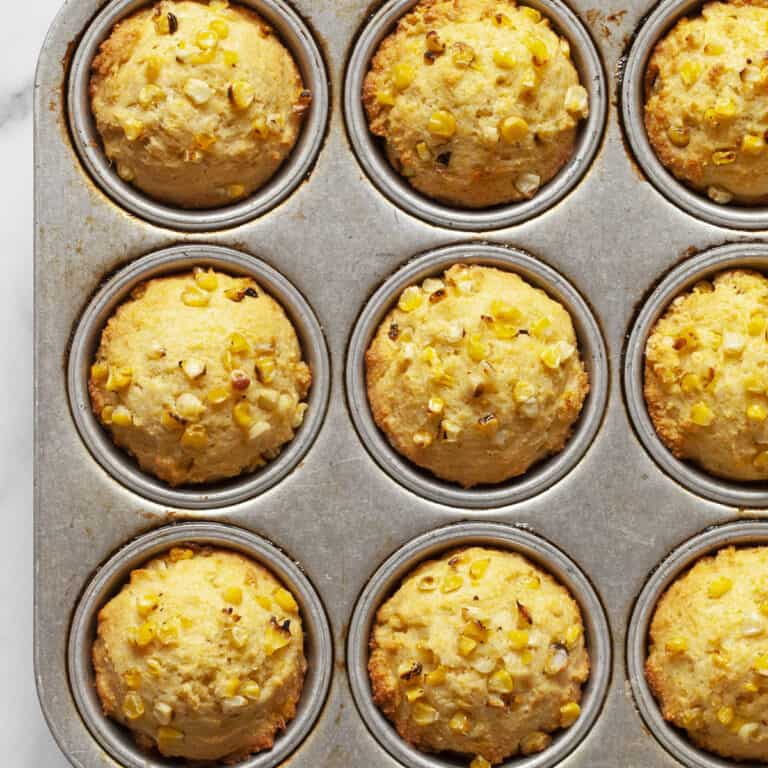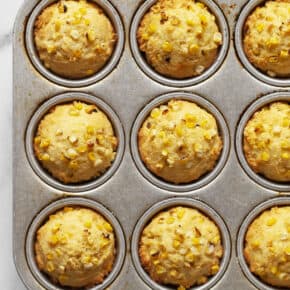 Cornbread Muffins with Grilled or Roasted Corn
For these cornbread muffins you have the option of folding grilled corn or roasted corn into the batter before you bake them in the oven.
For recipe