Grilled Zucchini Summer Squash and Corn

The warmth from the grilled zucchini, summer squash and corn gently wilts the arugula. Feta, fresh herbs and lemon juice finish this side.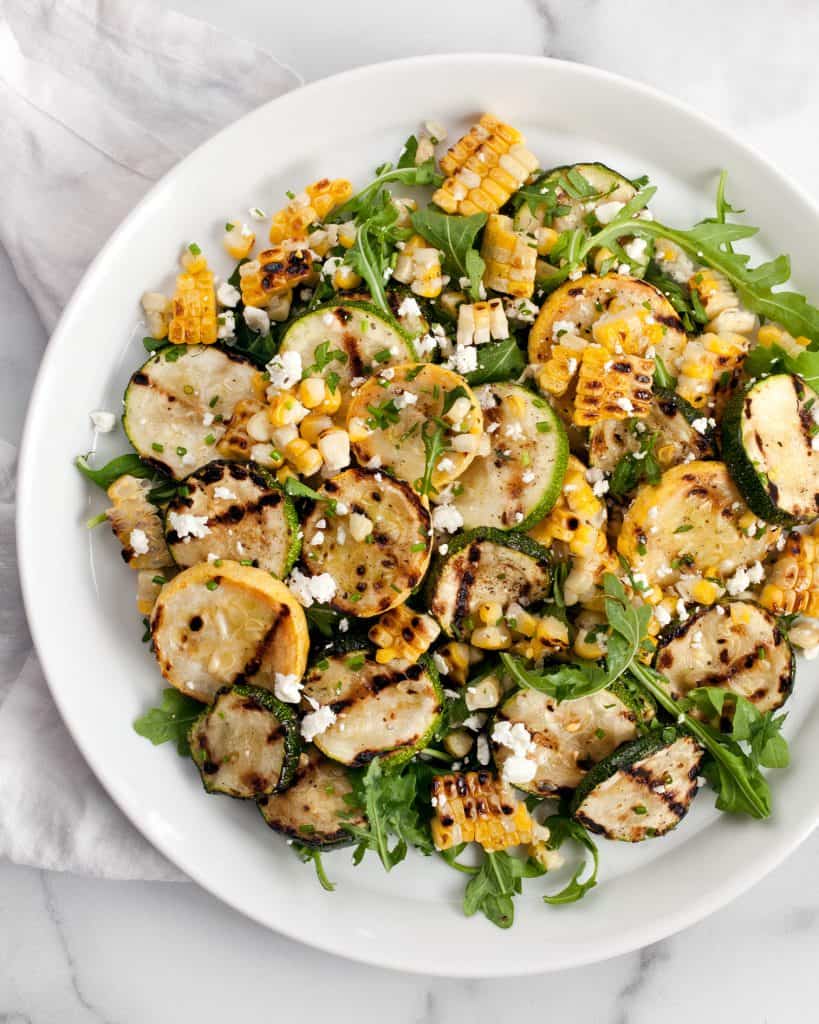 We need to have a serious talk about corn etiquette.
And I am not referring to how we actually eat corn. I think everyone can agree that devouring a cob is messy and unavoidable.
With the laid back days of summer, we all should give each other a break if we have corn in our teeth.
What I am referring to is the lengthy process that is selecting the perfect cobs whether you're at the grocery or the farmer's market.
The Peak drives me crazy.
I fully admit I used to do it.
The Peak is when you pull back just the top of the husk for a brief glance inside to make sure you don't see any wrinkled kernels or worse, worms.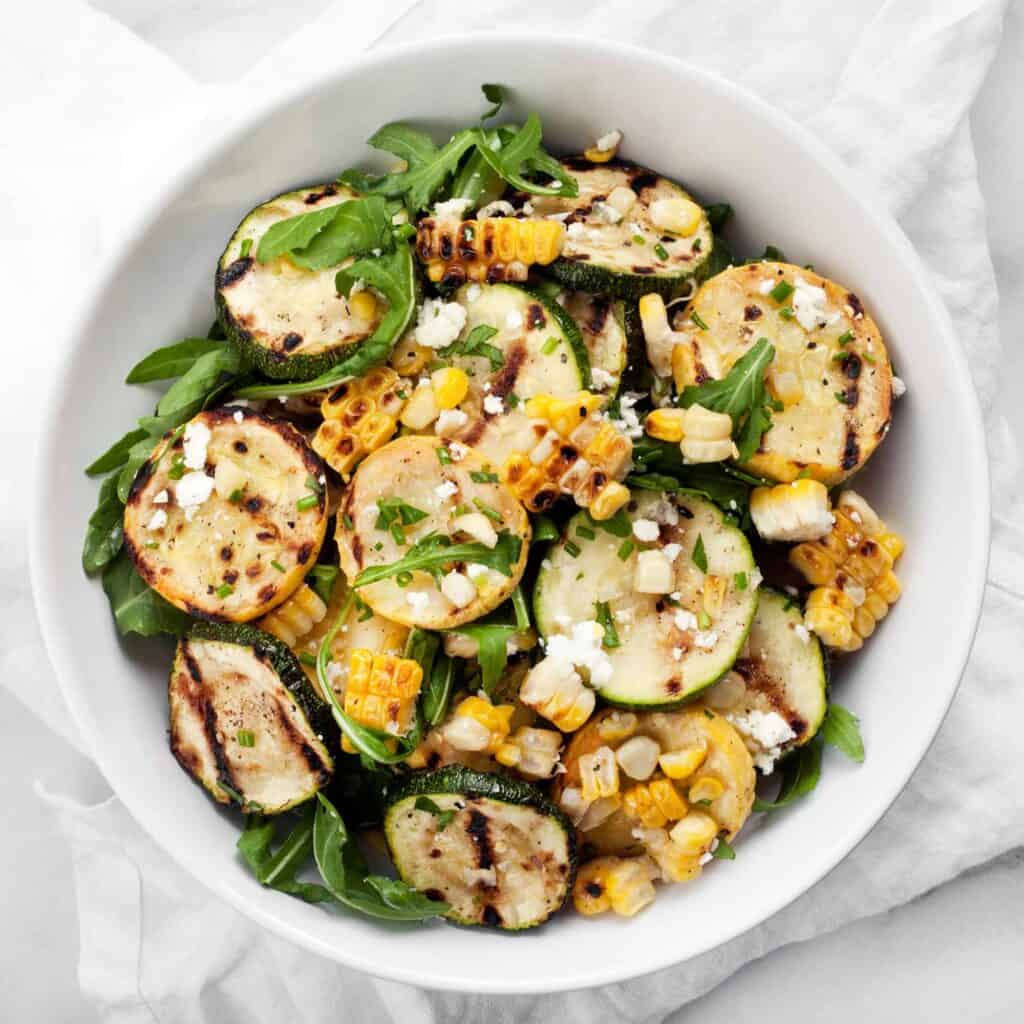 The problem is that when expose the cob to the air, even barely removing it from it's snug husk, corn tends to dry out faster.
My strategy is to look for cobs that are secure in their husks and feel firm in-hand.
Is it a foolproof method? No. Of course not.
But in my chill summer mindset, I don't get upset if I have to perform a little surgery and cut out a few bad parts from an ear.
It feels better to be considerate of others with their corn selection and not ruin a 90% good cob in hopes of finding one with every single kernel intact. Please, don't do The Peak.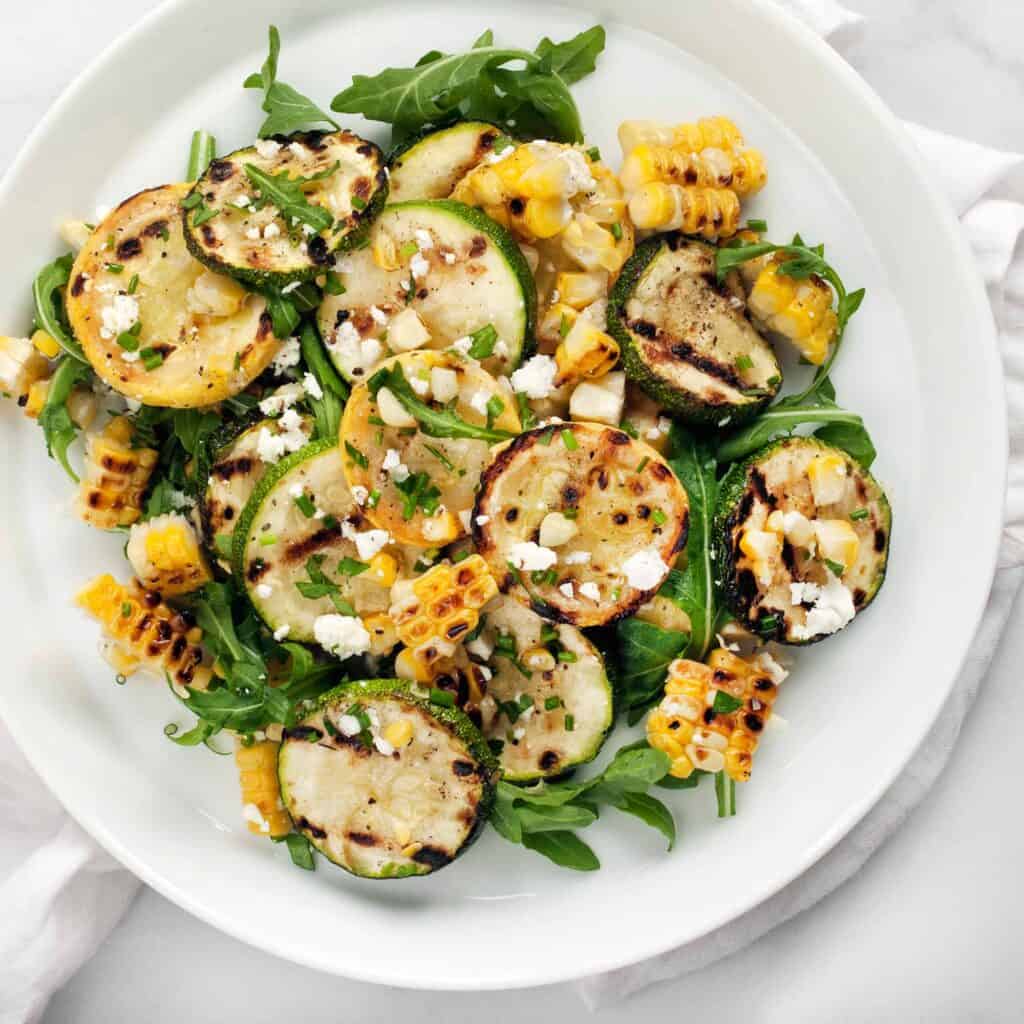 How To Make Grilled Zucchini Summer Squash and Corn
A couple days ago I covered my entire grill, grate to grate, with corn. All I wanted were leftovers that I could use in salads and veggie scrambles.
This was my version of August meal prep for my weekday mainstays.
Next in line after the corn were zucchini and squash. I grilled them two ways: in long strips to be diced and then cut into rounds.
Those circular slices were destined for this grilled zucchini, summer squash and corn.
Seasoned with salt and pepper, I let the warmth of the veggies barely wilt the arugula.
I debated whether to make a dressing for this and call it a salad, but I wanted the vegetables and the charred flavor to shine.
I finished my grilled zucchini, summer squash and corn with feta, a squeeze of lemon juice and lots of fresh parsley and chives.
It is one of those simple summer sides that can go with pretty much anything that comes off the grill.
Print
Grilled Zucchini, Summer Squash and Corn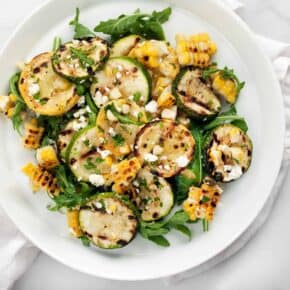 Author:
Prep Time:

10 minutes

Cook Time:

7-10 minutes

Total Time:

17-20 minutes

Yield: Serves

4

–

6

1

x
Scale
Ingredients
4 corn cobs, shucked
2 medium zucchini, ends trimmed and sliced into 1/4-inch-thick rounds
2 medium summer squash, ends trimmed and sliced into 1/4-inch-thick rounds
1 tablespoon olive oil
3 ounces baby arugula
1/4 cup roughly chopped fresh parsley
2 tablespoons minced chives
1/4 cup crumbled feta
1 tablespoon fresh squeezed lemon juice
1/2 teaspoon kosher salt
1/4 teaspoon black pepper
Instructions
Preheat a gas or charcoal grill on high heat. Rub the corn, zucchini and squash with olive oil. Grill the corn until it is lightly charred, about 5-7 minutes. Grilled the zucchini until it has grill marks, about 2-3 minutes per side. Let the corn cool slightly before slicing the kernels off the cobs.
Place the corn, zucchini and squash in a large bowl. Fold in the arugula followed by the parsley, chives, feta and lemon juice. Season with salt and pepper.
SHARE THIS