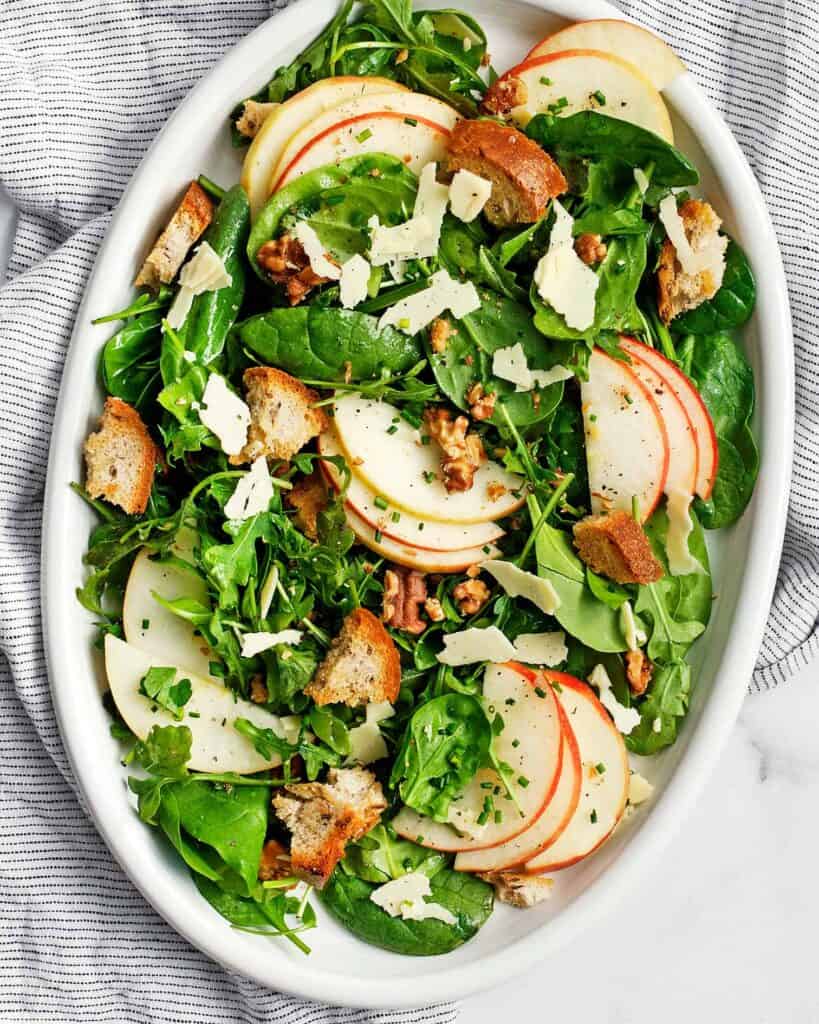 Happy first day of spring!

Even though winter hasn't been that bad, I am still hoping that a magical switch will get flipped turning on warm sunshine.

A better selection of fruits and vegetables would be nice, too!

I know I am asking for a bit much, and I should try to be more patient. Waiting until May and for it to really feel like spring just seems like too much.
For now, I am alternating between soup and salads depending on what coat I am wearing—puffy or trench—and my mood.

To be honest, I don't mind the variety of going one day with sweet potato soup and another day with a sweet potato kale salad.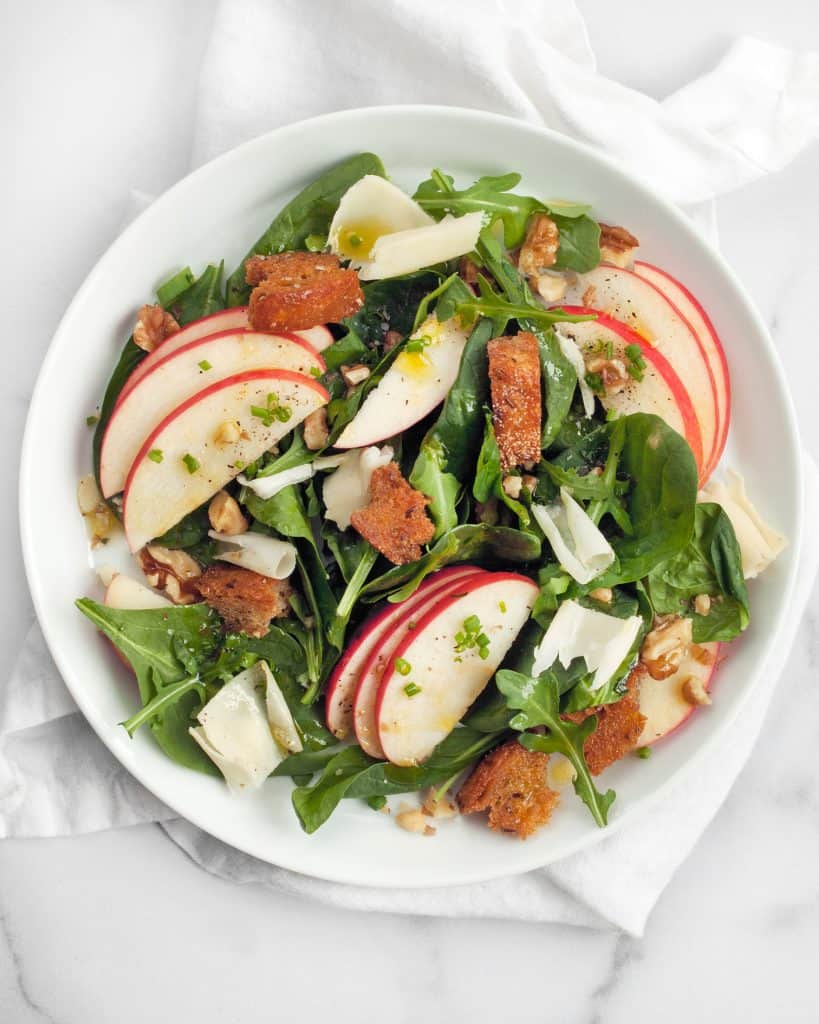 Everyday I get up at the crack of dawn to fit in a workout. As much as I try to go to bed earlier to squeeze in a little extra shuteye, that never happens.
When my alarm goes off, I take a few minutes to get my bearings and reassure myself why it's a good idea to wake up when it's still dark. Then I do yoga in the living room and sometimes I venture out to take a class.
I consider anything before 6am to be my time. They are the only hours when I can squeeze in exercise.
Feeling fit and healthy keeps me sticking to this routine, but now seeing hints of spring has given be more motivation than ever. I've needed that extra boost!
In the last few weeks, the sun has been peaking out earlier. Toward the end of my workouts, it's actually daylight.

When I do make a salad, I stick with seasonal or seasonal-ish ingredients.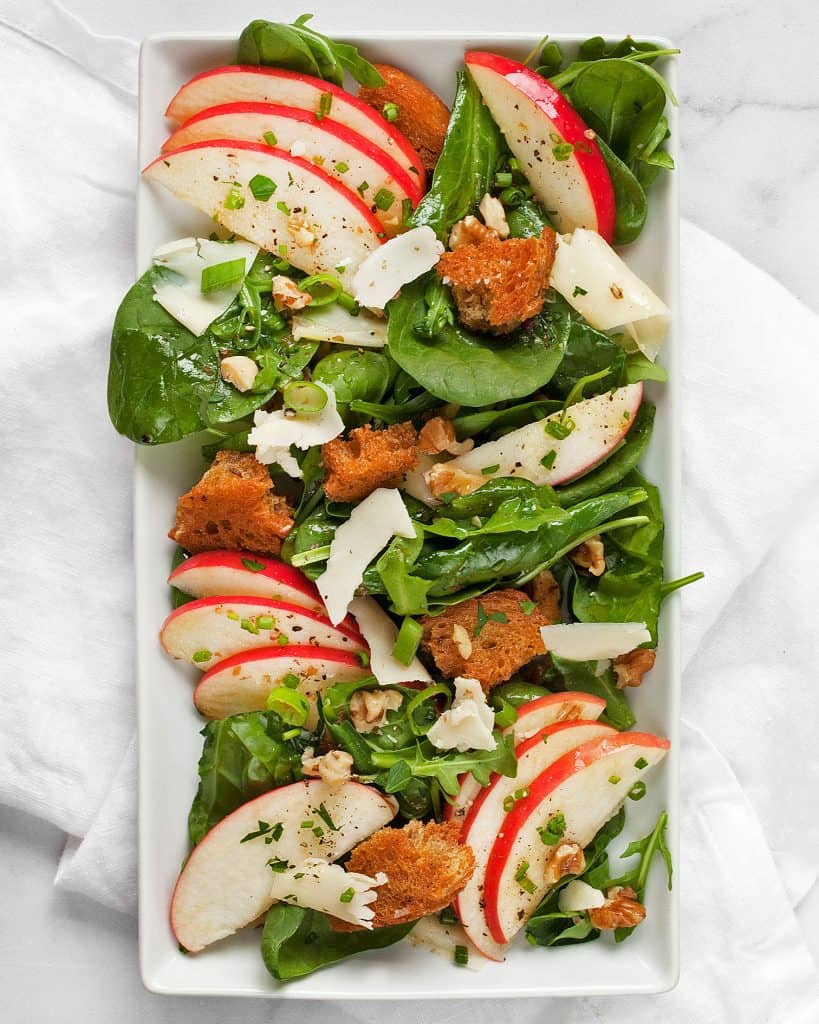 Apple Walnut Rye Salad: The Ingredients
With a surplus of my favorite kind of apple at home, the Pink Lady, I made an apple walnut rye salad.

Pink Lady Apples are great for salads because they are crisp.

To start, I toasted chunks of rye bread in the oven to make croutons. Alongside the croutons, I toasted walnuts.

With a mix of greens, I tossed in scallions, shaved white cheddar and fresh herbs to go with the apples and rye croutons.
The salad was snappy and crispy and has me looking forward to spring even those we still have a lot of time to wait!
Print
Apple Walnut Rye Salad
Prep Time:

10 minutes

Cook Time:

12-15 minutes

Total Time:

22-25 minutes

Yield: Serves

4

1

x
Scale
Ingredients
4 slices rye bread, torn into small pieces
3 tablespoons olive oil
1/2 teaspoon kosher salt plus more to taste
1/2 teaspoon black pepper plus more to taste
1/2 cup walnut halves and pieces
2 Pink Lady apples, cored and thinly sliced
5 ounces baby spinach & arugula
1 ounce shaved white cheddar
3 scallions, thinly sliced
1 tablespoon parsley, roughly chopped
1 tablespoon minced chives
Juice of 1 lemon
Instructions
Preheat the oven to 350 degrees F.
Place the rye bread on a sheet pan and toss with 1 tablespoon olive, salt and pepper. Bake until light brown and toasted, about 12-15 minutes. In the last 6-8 minutes of cooking, add the walnuts to the sheet pan, baking until golden. Let cool.
In a large bowl, combine the toasted rye bread, walnuts, apples, spinach & arugula, cheddar, scallions, parsley and chives. Toss in the lemon juice and remaining olive oil. Season with salt and pepper to taste.
SHARE THIS