Craving something rich and full of vegetables? Try this carrot cheddar soup, a thick, silky and hearty puree with potatoes and onions.

I am an old-fashioned list maker.
In my purse, you will find random scraps of paper I have repurposed for grocery lists. Every square inch of white space will have my scribbles on it.
No surprise, the bottom of my purse tends to look more like a recycling bin because I'm not good about tossing those lists when everything has been crossed off.
My husband always asks why I don't use my iPhone for lists. I consider myself to be a bit of a technophobe, which doesn't make much sense for a blogger.
In my opinion, there is just something about the satisfaction of drawing a line through each item that would not be the same on a screen
Despite my supposed organization with these lists, I bought a 2-pound bag of carrots when I already tucked one into a fridge drawer.
When I unloaded my bags, I discovered my mistake.
A grocery list is only as good as knowing the inventory of your fridge and pantry. Yes, I totally messed up.
I thought about covering a sheet pan with diced carrots and then roasting them, but that didn't seem very exciting.
Soup is always an efficient way to make a dent in any veggie surplus.
I was craving something rich and full of vegetables, so I made carrot cheddar soup.
How To Make Carrot Cheddar Soup
First, I sautéed onions, carrots and diced potatoes in olive oil until they were soft.
Next I added stock and simmered the mixture until the veggies because tender and soft.
Finally, I stirred in sharp cheddar that quickly disappeared and melted into the soup.
Cheddar gives the subtly sweet and earthy carrots were given a boost.
Even though the duplicate carrot purchase was my error, it turned out to be a very satisfying soup.
To finish off each bowl, I melted cheddar over baguette slices until they were golden and toasted.
Then I sprinkled on chives, salt and pepper.
SaveSave
Print
Carrot Cheddar Soup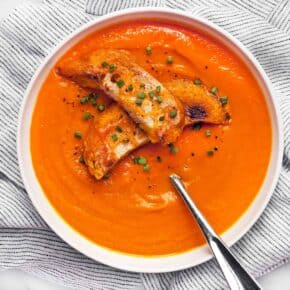 Craving something rich and full of vegetables? Try this carrot cheddar soup, a thick, silky and hearty puree with potatoes and onions.
Author:
Prep Time:

10 minutes

Cook Time:

30 minutes

Total Time:

40 minutes

Yield: Serves

4

1

x
Scale
Ingredients
1 tablespoon olive oil
1 small onion, roughly chopped
1 pound carrots, peeled and diced
1 medium potato, peeled and diced
5 cups vegetable stock
3–1/2 ounces sharp cheddar cheese, grated plus more for bread
1/2 cup milk
4–6 baguette slices
Minced chives
Salt and pepper to taste
Instructions
In a large saucepan heat the olive oil over low heat. Add the onion, carrots and potato and cook stirring occasionally until the onion is soft and translucent, about 10 minutes.
Add the stock, bring to a boil and then reduce the heat. Simmer for 20 minutes until the vegetables are soft.
Transfer the mixture to a blender in batches and process until smooth. Return the soup to the saucepan on low heat. Stir in the cheese, and when it has melted add the milk. Continue to reheat to desired temperature.
Preheat the broiler on high. Place the baguette slices on a sheet pan and sprinkle with grated cheese. Melt until the broiler, about 2 minutes.
Divide the soup into 4 bowls. Top with toasted bread and chives. Season with salt and pepper.
SHARE THIS