Roasted Tomato Pesto Potato Salad

For this roasted tomato pesto potato salad, try tossing together golden brown fingerling and yukon gold potatoes with cherry tomatoes all in herby pesto.
During the summer months, I think twice before I cook something that requires the oven.
Our air conditioning is already running more than usual these days, so why should I force it to work even harder on a hot day?
I have fears that it will be 90 degrees and 100% humidity when the AC is exhausted and stops working.
Plus we don't want to end up with a crazy high utility bill.
The oven isn't as necessary for cooking right now as it is in January or February, when you are obligated to be roasting root vegetables.
There's a ton of beautiful local produce that's in season. When these fruits and veggies are at their peak, they don't need much in the way of cooking.

Think of a caprese salad with juicy, ripe sliced tomatoes.
I did break my own rules when I made a roasted tomato pesto potato salad.
How To Make A Roasted Tomato Pesto Potato Salad
With the oven at 400 degrees F, I wouldn't do this during a heat wave, but roasting the potatoes and tomatoes really enhances their flavor.
There are two complaints that I have with traditional potato salads. Boiling potatoes guarantees they will be tender, but it doesn't do anything for how they taste.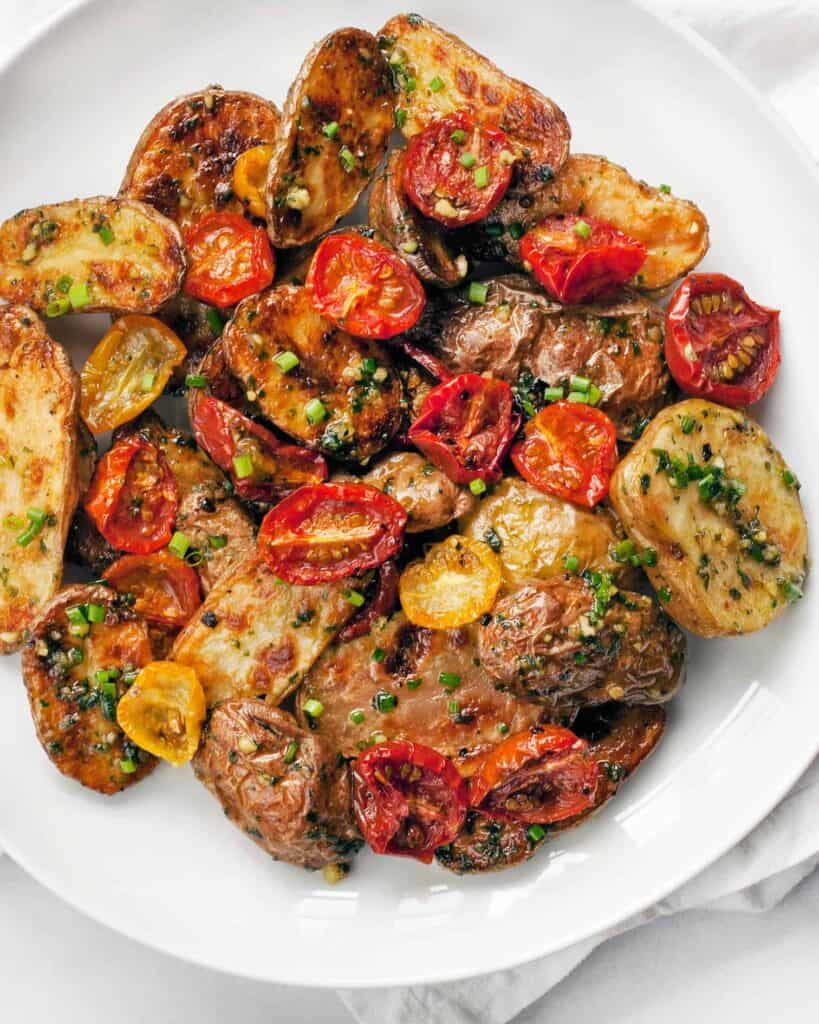 And we all know that potatoes are pretty bland! I love roasted potatoes with their crisp golden edges and fluffy insides.
Also, I'm definitely not a mayo person. As ridiculous as it sounds, mayonnaise kind of grosses me out.
Using pesto instead makes the potatoes and tomatoes herby and garlicky.
This recipe is very simple and hands-off with roasting and then carefully folding the potatoes and tomatoes in pesto and sprinkling on fresh chives.
I am a big fan of sides, so I tend to go overboard on simple ones that all work together.

Having a spread, including this roasted tomato pesto potato salad, full of all different veggie-centric sides is my kind of meal!
Print
Roasted Tomato Pesto Potato Salad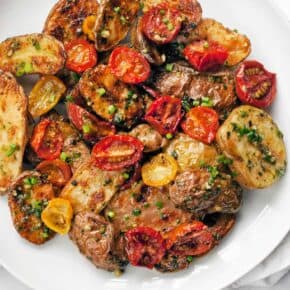 Author:
Prep Time:

5 minutes

Cook Time:

40-45 minutes

Total Time:

45-50 minutes

Yield: Serves

4

1

x
Scale
Ingredients
1 pint cherry tomatoes, halved lengthwise
2 tablespoons olive oil
1 teaspoon kosher salt
1/2 teaspoon black pepper
2 pounds small and medium fingerling and Yukon Gold potatoes, halved
1/3 cup pesto
1 tablespoon minced chives
Instructions
Preheat the oven to 400 degrees F. Line 2 sheet pans with parchment paper.
On a prepared sheet pan, toss the cherry tomatoes with 1 tablespoon olive oil, 1/2 teaspoon salt and 1/4 teaspoon pepper. Arrange cut-side up in a single layer. On the other sheet pan, toss the potatoes with the remaining olive oil, salt and pepper, and place cut-side down.
Roast for 20-25 minutes until the tomatoes are slightly wrinkled. Continue roasting the potatoes for an additional 20-25 minutes until they are golden brown and tender when pierced with a paring knife.
In a large bowl, toss the potatoes with the pesto, and gently fold in the tomatoes and chives.
SHARE THIS