Balsamic Zucchini Tomato Bake
If you're looking for a way to cook lots of vegetables for a super simple side, try this zucchini tomato bake. Before they go into the casserole dish, I stir zucchini, yellow squash and tomatoes in balsamic vinegar, oregano, minced garlic and olive oil. Then I top them with grated Parmesan. This mix of veggies turns out beautifully herby and garlicky.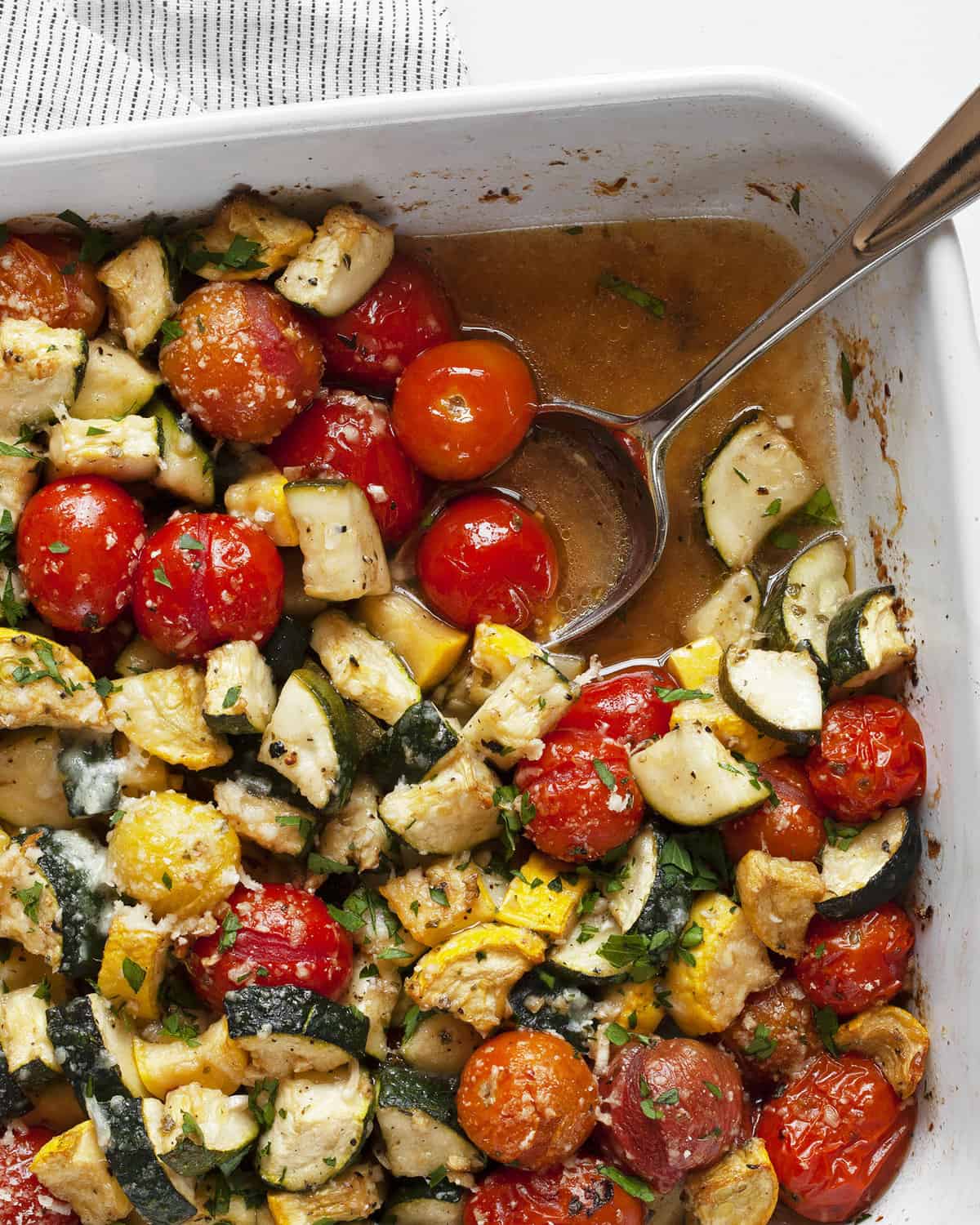 Why You'll Love This Recipe
This is an easy side dish recipe with minimal prep. Tomatoes and zucchini are simple vegetables to cut. And then all you have to do is mince garlic and mix it all together and bake it.
Baked in the dish that it's served in, this is a lighter version of a casserole. It's only sprinkled with Parmesan rather than being overloaded with gooey mozzarella cheese or something else. The focus is all on the vegetables in this tomato zucchini casserole recipe.
There is no fussy assembly. Since the zucchini is diced rather than cut into slices and the cherry tomatoes are halved, you can just dump all the vegetables into the dish. There's no need to arrange them in layers.
You can do a lot with the leftovers. Warm the baked veggies and stir them into pasta or grains or make a veggie omelet with them. They are so wonderful and have good garlic flavor.
Baking Vegetables vs. Roasting Vegetables
No matter the season, I am always cooking vegetables in the oven. There is a difference between baking them and roasting them. When I roast vegetables, I spread them across a sheet pan, so they have space to brown and crisp up on the edges. My favorite temperature to do this is usually around 400 degrees F.
Baking vegetables in a casserole is different. They turn out softer. That's because they are nestled on top of each other in a dish. With that cozy positioning and the marinade, they turn out much softer than roasting on a pan. Only the vegetables on top have a chance of getting that direct heat from the oven. That's what I do for this veggie casserole recipe.
The Ingredients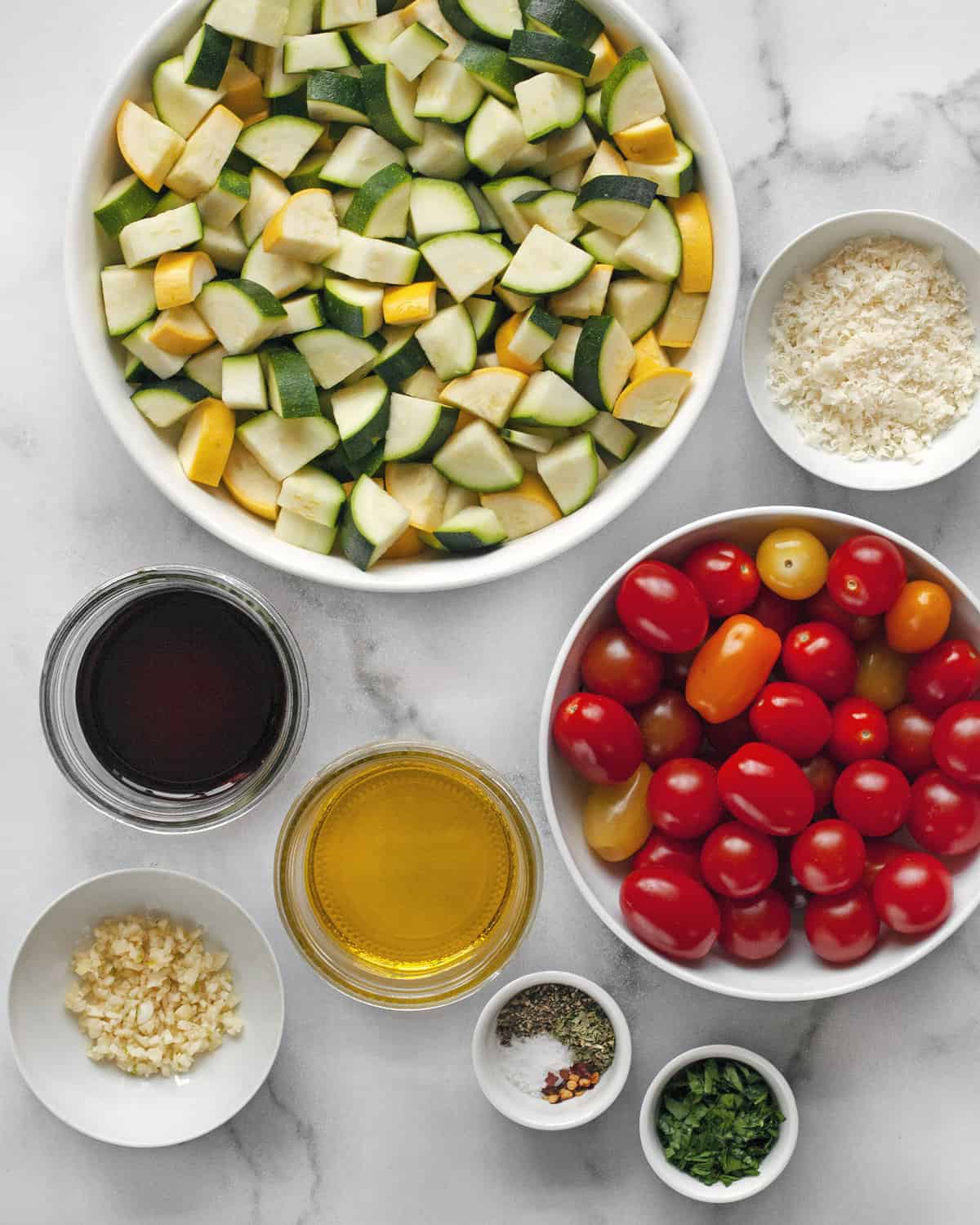 This is what you need:
Zucchini and yellow squash both fall under the category of summer squash. You can use them interchangeably. I like including both for that beautiful color combination of green and yellow.
Tomatoes: Small is what you need for this recipe, so cherry tomatoes or grape tomatoes work best.
Garlic: Four cloves may seem like a lot, but this zucchini tomato recipe has a nice balance.
Balsamic vinegar adds its distinct flavor and acidity to the vegetable bake.
Seasonings: The recipe calls for a mix of spices including dried oregano, red pepper flakes, salt and black pepper.
Olive oil: Use high quality extra virgin olive oil for the best flavor.
Parmesan: Before the zucchini tomato casserole goes into the oven, I sprinkle it with grated Parmesan cheese.
Parsley: To finish, I garnish the baked vegetables with chopped fresh herbs. You can use parsley, fresh basil or chives for a subtle onion taste.
How To Make This Zucchini Tomato Bake
Preheat the oven to 350 degrees F.
1. Make the vinaigrette. In a small bowl, whisk the olive oil, vinegar, garlic, oregano, red pepper flakes, salt and pepper.
2. Stir the veggies into the vinaigrette. You want to make sure the zucchini, squash and tomatoes are all really well coated.
3. Pour the vegetables into a square baking dish and sprinkle with Parmesan.
4. Bake the zucchini and tomatoes. It will take 30-35 minutes for them to become tender and for the tomatoes to wrinkle. Garnish with fresh parsley before serving.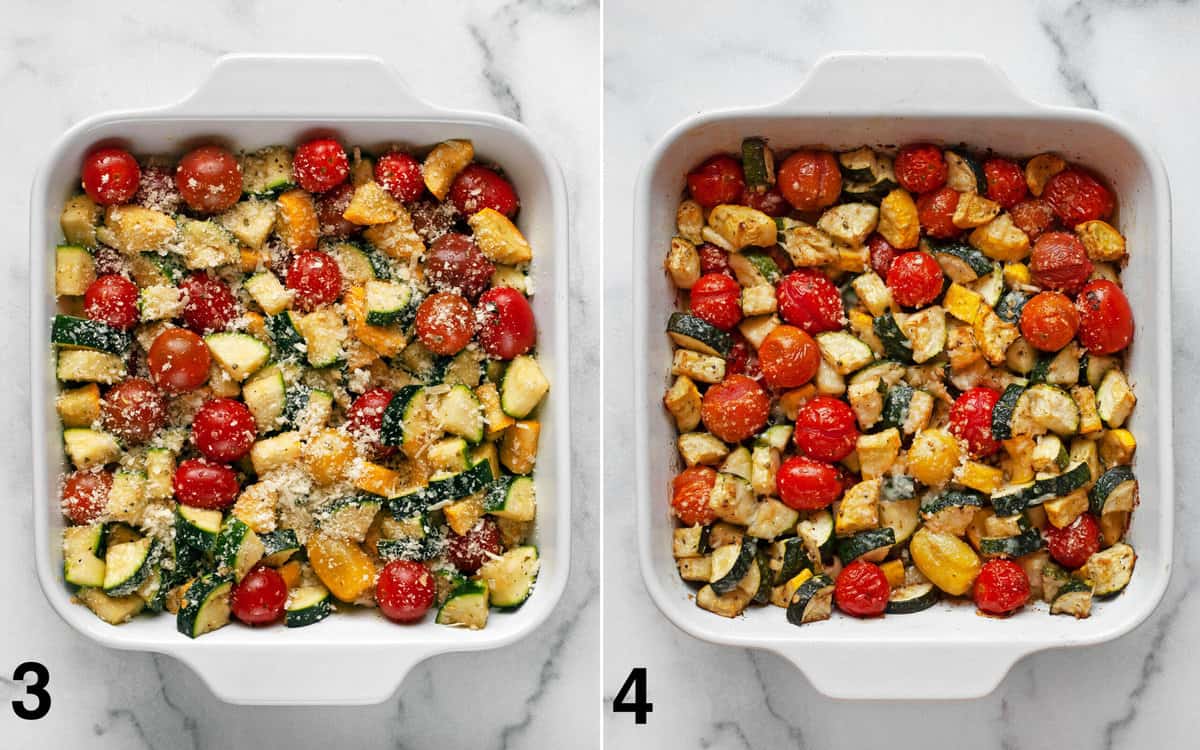 Serving
At its essence, this is a side dish recipe. It goes with pretty much anything that you throw on the grill, put in the oven or on the stove. Such a veggie-centric side is great pairs well with main dishes that may have limited or no vegetables such as Fresh Herb Pappardelle, Arugula Pasta or Lemon Mushroom Spaghetti.
For proteins, you can serve this side with chicken, fish or meat dishes. Just keep in mind that with with balsamic vinegar and oregano, overall it has an Italian/Mediterranean flavor profile.
Leftovers
This is where this recipe goes beyond side. Warm up leftovers and stretch them into another meal. Stir them into pasta or cooked grains such as barley or farro. Store leftovers in an airtight container in the refrigerator up to 4 days.
To reheat leftovers, use the microwave or warm them in a skillet on the stove over low to medium heat. If you do this on the stove, once the veggies are hot again, you can pour in whisked eggs to make a vegetable scramble.
Recipe Tips
Set your expectations. If you are looking for zucchini that browns on the outside and tomatoes that are sweeter and more intense in flavor, you should be roasting them on a sheet pan instead of baking them in a casserole dish.
Try to cut the vegetables about the same size. This helps them bake evenly and consistently.
If you're vegan, skip the Parmesan cheese. When the veggies are out of the oven, you can sprinkle them with nutritional yeast if you want.
Balsamic Zucchini Tomato Bake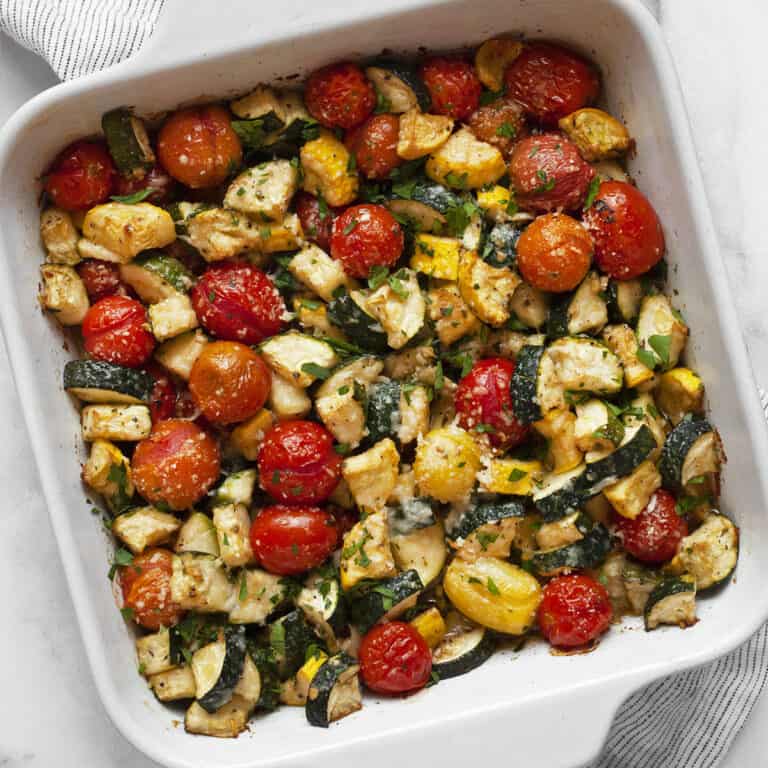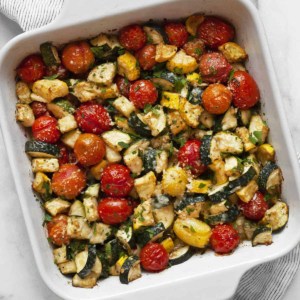 This balsamic zucchini tomato bake is simple to make and great for leftovers. Combine the veggies with pasta or grains to stretch them into another meal.
Ingredients
3

tablespoons

olive oil

2

tablespoon

balsamic vinegar

4

garlic cloves,

minced

1/4

teaspoon

oregano

Pinch

of red pepper flakes

1

teaspoon

kosher salt

1/2

teaspoon

black pepper

1-1/2

pounds

medium zucchini and squash,

quartered lengthwise and sliced 1/2-inch thick

1

pint

cherry tomatoes or grape tomatoes

1/4

cup

finely grated Parmesan

1

tablespoon

chopped parsley
Instructions
Preheat the oven to 350 degrees F.

In a large bowl, whisk together the olive oil, vinegar, garlic, red pepper flakes, salt and pepper.

Add the zucchini, squash and tomatoes and stir them into the vinaigrette.

Transfer the vegetables to a square baking dish. Sprinkle the top with Parmesan.

Bake for 30-35 minutes until the zucchini and squash are tender and the tomatoes are wrinkled.

Sprinkle with chopped parsley before serving.
Notes
You can use all zucchini or both zucchini and yellow squash.
Store leftovers in an airtight container in the fridge up to 4 days. Warm them in the microwave or in a skillet on the stove over low to medium heat. Then eat them as is or stir them into cooked grains or turn them into a veggie scramble or an omelet.
Nutrition
Calories:
182
kcal
|
Carbohydrates:
13
g
|
Protein:
5
g
|
Fat:
13
g
|
Saturated Fat:
3
g
|
Polyunsaturated Fat:
1
g
|
Monounsaturated Fat:
8
g
|
Cholesterol:
5
mg
|
Sodium:
721
mg
|
Potassium:
745
mg
|
Fiber:
3
g
|
Sugar:
8
g
|
Vitamin A:
1061
IU
|
Vitamin C:
60
mg
|
Calcium:
108
mg
|
Iron:
2
mg
Nutrition information is automatically calculated, so should only be used as an approximation.