Chocolate Crinkle Cookies
on Dec 01, 2022, Updated Jul 08, 2023
Dusted with powdered sugar that will have you dreaming of snow, these chocolate crinkle cookies make an annual appearance on holiday cookie trays. But they're perfect pretty much anytime of the year. Think of them like a cookie version of a brownie. They are great paired with a scoop of vanilla ice cream too.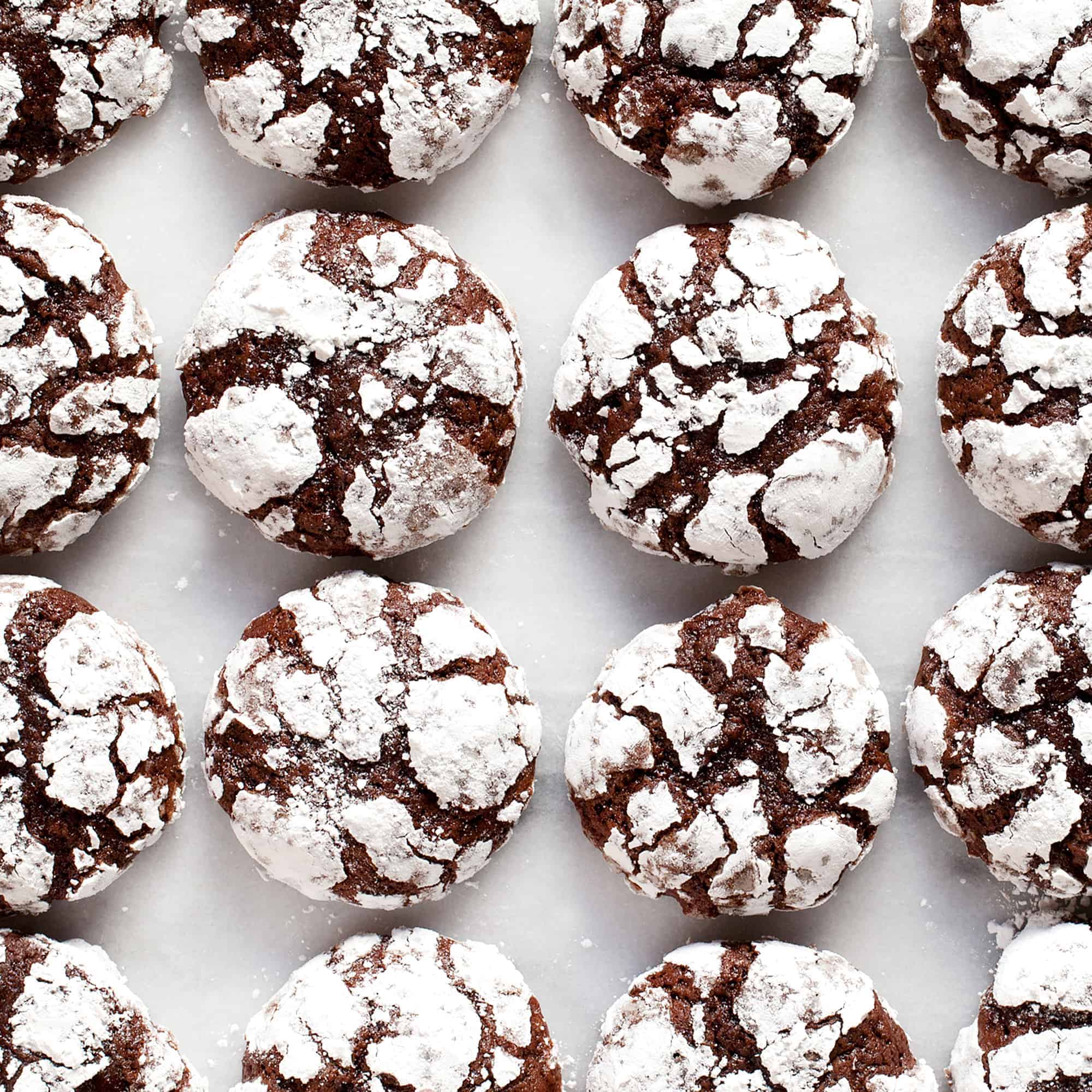 Why You Will Love These Cookies
Crinkles are decorated cookies without the work. As much as I admire intricately iced cookies, I don't have the time, patience or skill to do this. The cracking on the tops of these cookies looks lovely, and just like a snowflake, no two cookies turn out the same.
You can make the dough ahead of time. And you actually have to because the dough has to chill for at least few hours in the refrigerator. You can even make the dough and wait a day to bake the cookies. This helps with timing baking around your busy schedule.
The cookies don't require creaming butter. Oil is the fat in the dough, so there's no need to wait for butter to soften before you start making the recipe, unlike many other cookies. But I do recommend letting the eggs sit out, so they aren't fridge cold. Then they will better mix into the dough. For instance, if I know I am making the dough in the morning, I will put the eggs out on the kitchen counter right before I go to sleep. Then I'm all set.
What Are Crinkle Cookies?
As mentioned, crinkles are best described as a cross between a cookie and a brownie. They have a wonderfully soft and chewy bite. The only difference between crinkle cookies and brownie cookies is that they are rolled in powdered sugar before baking. Then the dark cracks on top stand out, contrasting with the white sugar. They make a statement.
The Ingredients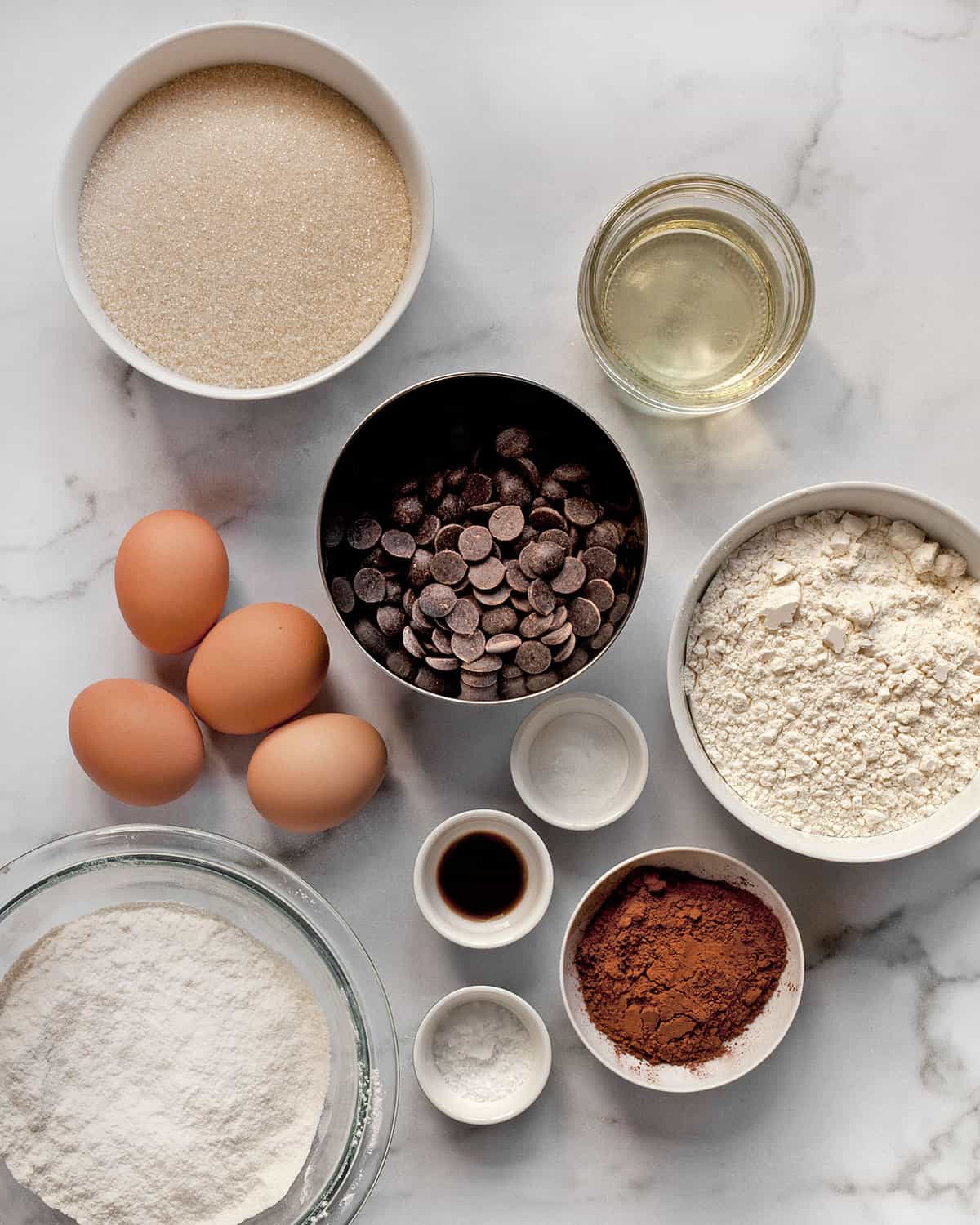 This is what you need:
Chocolate: The recipe calls for unsweetened chocolate. You can use chocolate chips or chop chocolate right off a big block. The cookies are sweetened with granulated sugar and not the chocolate.
Eggs: It may sound like a lot to use 4 eggs in a cookie recipe, but remember these have more of a brownie consistency, so they are very fudgy and moist.
Vanilla extract gives the cookies a subtle hint of vanilla.
Flour: Just use all-purpose flour like you would for most cookie recipes.
Unsweetened cocoa powder that is Dutch processed has some of the acidity removed and has a darker color and richer chocolate flavor. This type of cocoa powder is best used in recipes with baking powder as the leavening agent.
Baking powder is mixed in with the rest of the dry ingredients.
Kosher salt and sea salt flakes may sound like a lot of salt, but you need them to cut through the sugar and the chocolate and enhance the overall flavor of the cookies.
Vegetable oil: Use something neutral like canola oil, so it doesn't affect the taste.
Sugar: You will need granulated sugar to mix into the cookie dough. Then you use confectioners' sugar (also known as powdered sugar) to roll the dough balls in. Just make sure to sift it, so you don't have any clumps when you're doing the rolling.
How To Make Chocolate Crinkle Cookies
1. Melt the chocolate. You can do this in the microwave instead of a double boiler. Just put the chocolate in a bowl and microwave it in 30-second blasts. After each time, stir the chocolate to distribute the heat. That will make it melt faster.
2. Combine the eggs and vanilla extract in a small bowl. You don't need to whisk them together because later you will end up adding the eggs one at a time.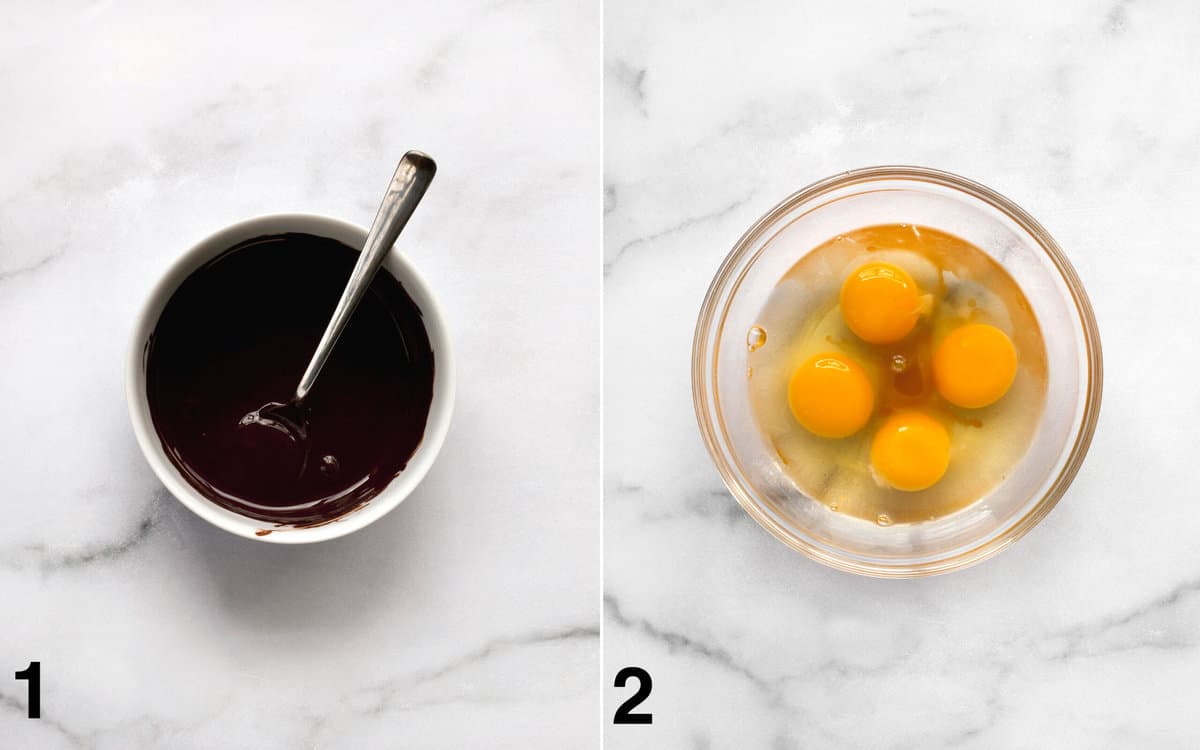 3. Stir together the dry ingredients including the flour, cocoa powder, baking powder and both salts in a big bowl.
4. Mix the oil and granulated sugar together in a large bowl using an electric mixer.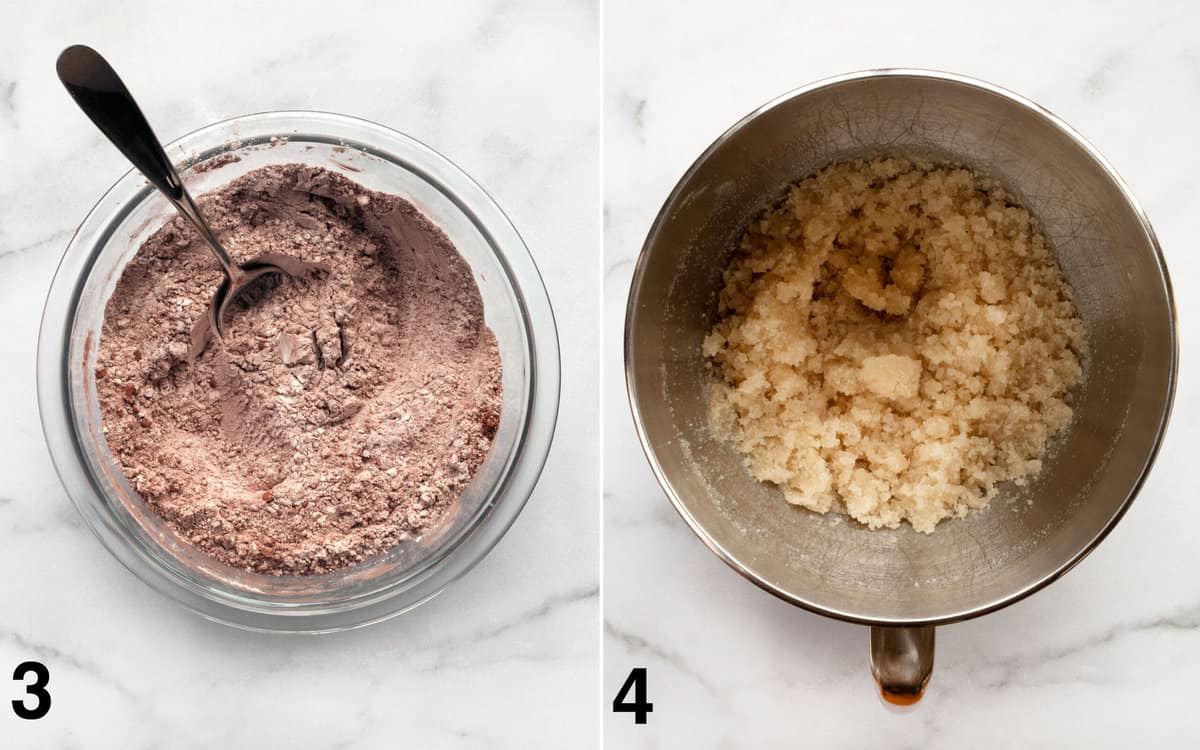 5. Mix in the melted chocolate.
6. Beat in the eggs one at a time. The mixture should look dark and glossy.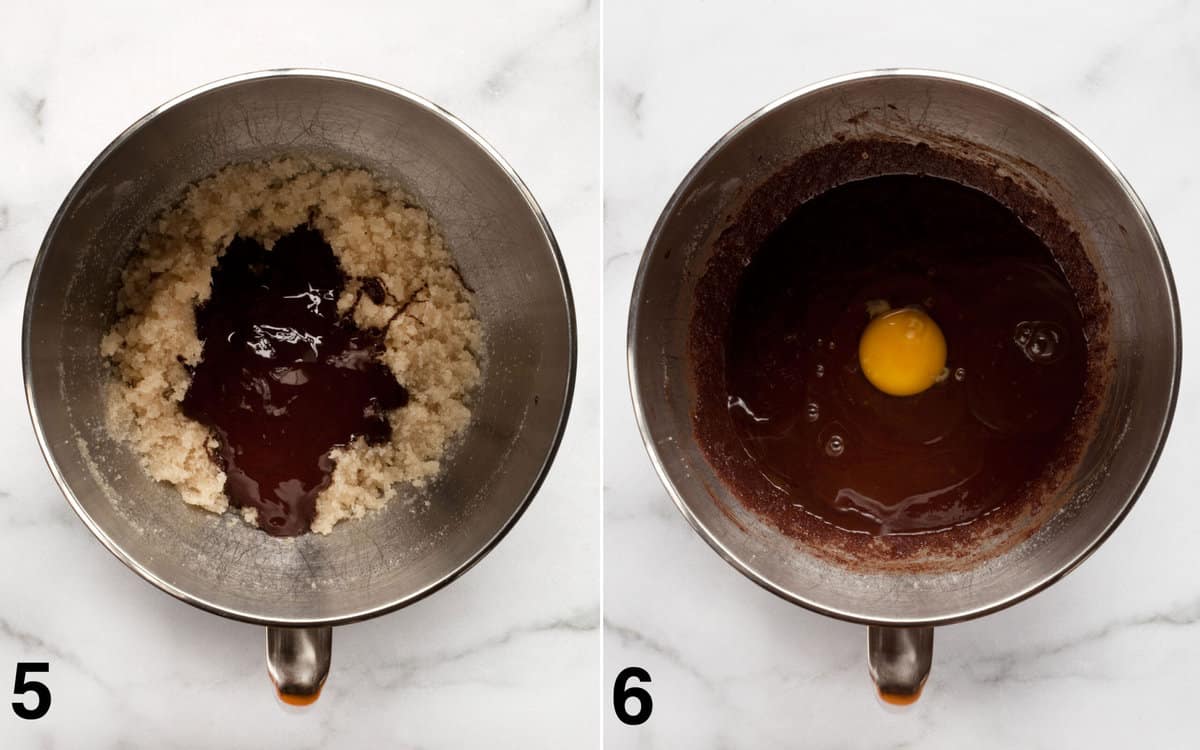 7. Stir the flour mixture into the wet ingredients until fully combined. You can use the mixer for about 30 seconds to do this. The dough will be shaggy. Then take your hands and press it together. Chill the dough for 3 hours.
When you are ready to bake the cookies, preheat the oven to 350-degrees F. Line 2 baking sheets with parchment paper.
8. Scoop out the dough, shape it into balls and roll them in the powdered sugar. Place them on the sheet pan about 2 inches apart. Bake the cookies for 11-12 minutes, rotating just over halfway through baking. Shape and bake the cookies in batches, so then you can keep the dough in the fridge when you aren't using it. Let the cookies sit on the pan for a couple minutes. Then move them to a wire rack to cool.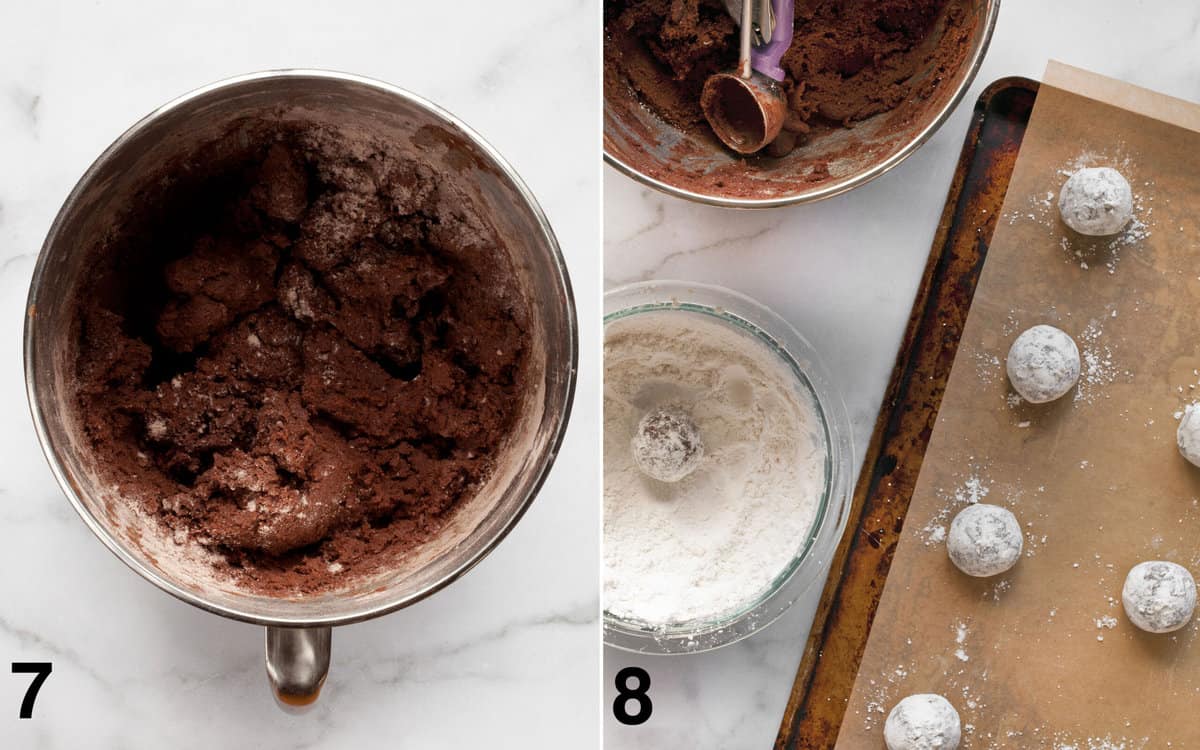 Storage & Freezing
The cookies will stay good at room temperature in an airtight container up to 4 days. If you want to keep them longer, store them in the freezer.
You can either store baked cookies or the dough. Before you put them in a freezer bag, let the cookies cool completely. Thaw them at room temperature.
Or portion out dough balls and place them on a sheet pan lined with wax paper in the freezer. Once they are solid, you can store them together in a single container. Before you are planning to bake the frozen balls, let them sit in the fridge for 30 minutes to 1 hour. Then roll them in confectioners' sugar and bake them.
Recipe Tips
Keep the dough chilled as you are working with it. The dough is soft and a little tacky. When you are scooping it out, rolling it and baking, put the dough bowl back in the fridge to stay cool. Baking cold dough will prevent the cookies from spreading too much.
Be generous with the powdered sugar. To get that white snowy look, you need to really coat the balls in sugar. Or when you pull them out of the oven they won't be the nearly opaque white that you want. When they are on the pan, give them an extra powdered sugar sprinkle on top.
Serving
The cookies are tasty eaten warm or when they have fully cooled. Stay traditional and include them in your spread of Christmas cookies, or don't feel like you have to save these for the holidays. They are fantastic chocolate cookies.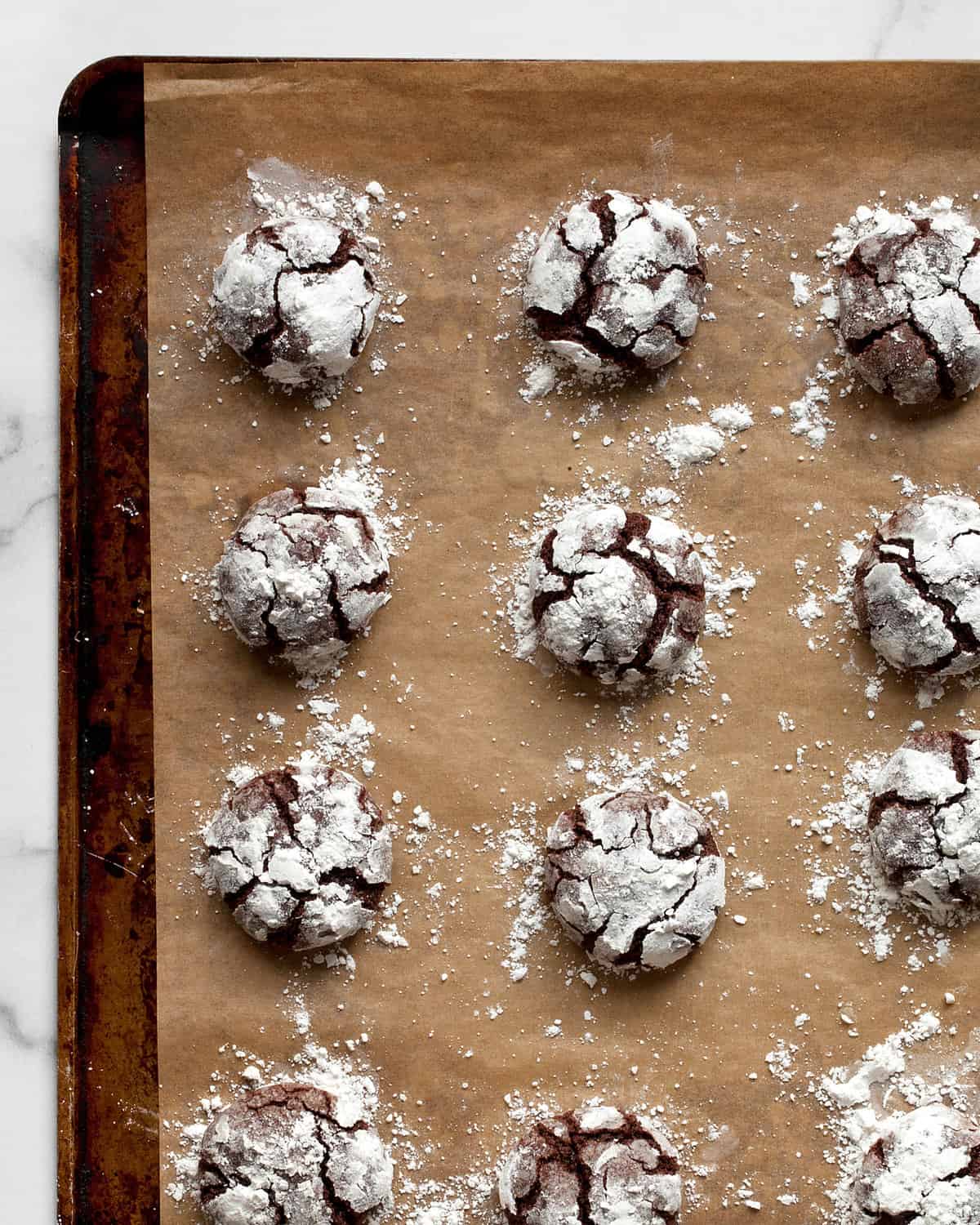 FAQs
Why did my cookies turn out flat?
For most cookies, it is important to give the dough time to rest and chill in the fridge before you bake them. This will help give them volume and not spread as much when they are in the oven.
Do you need to use butter in crinkle cookies?
No, the fat is vegetable oil, which yields a more soft and chewy texture.
Can you freeze baked cookies?
Yes, you can either freeze the dough or the baked cookies. Portion out the dough before freezing. For baked cookies, make sure they have completely cooled before you put them in an airtight container and let them thaw at room temperature.
More Cookie Recipes
Crispy m&m Cookies
Peanut butter m&m Cookies
Flourless Peanut Butter Chocolate Cookies
Brookies (Brownie Cookies)
Cornflake Cookies
Chocolate Crinkle Cookies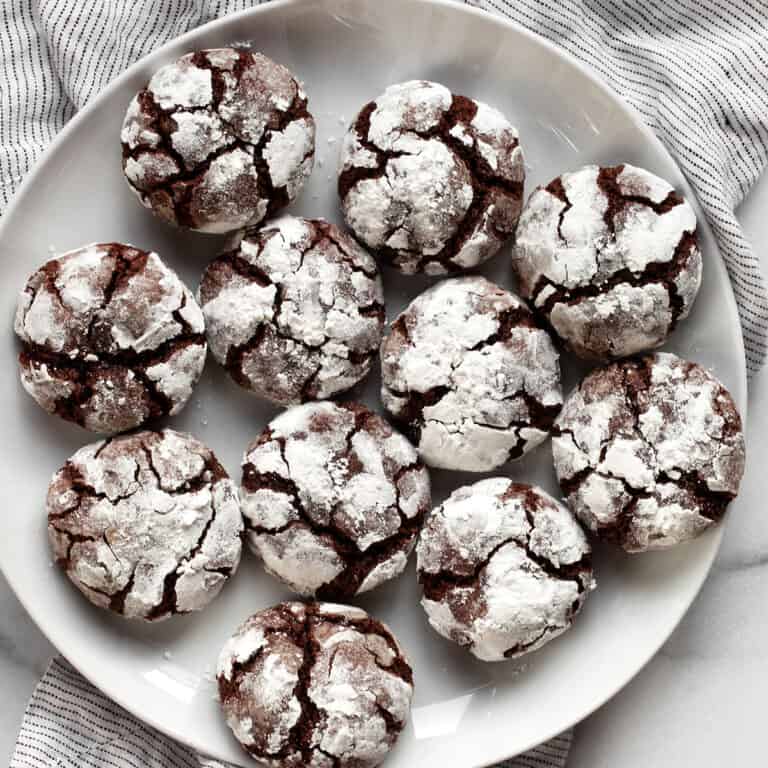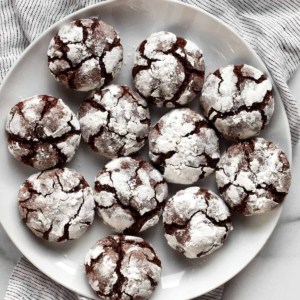 These confectioners' sugar-dusted, rich, chewy chocolate crinkle cookies will make you dream about snow falling during prime cookie season.
Ingredients
4

ounces

unsweetened chocolate

(chips or roughly chopped chocolate)

4

large eggs at room temperature

1

teaspoon

vanilla extract

1-3/4

cups

all-purpose flour

1/4

cup

Dutch-processed cocoa powder

1-1/2

teaspoons

baking powder

1

teaspoon

kosher salt

1

teaspoon

sea salt flakes

1/2

cup

vegetable oil

1-3/4

cups

granulated sugar

1

cup

confectioners' sugar

sifted
Instructions
Place the chocolate in a microwave-safe bowl. Melt in 30-second blasts in the microwave, stirring after each time to distribute the heat and encourage the chocolate to melt.

In a small bowl, combine the eggs and vanilla extract. Do not mix them together.

In a medium bowl, combine the flour, cocoa powder, baking powder and both salts.

Use an electric mixer to beat the oil and granulated sugar for 1 minute on low speed.

Pour in the melted chocolate and mix until combined, about 30 seconds. Use a spatula to scrape the bottom and sides of the bowl.

On medium speed, beat in the eggs, one at a time, about. After the eggs have been added, beat for an additional 20-30 seconds until fully combined.

Add the dry ingredients and mix for 30 seconds until a shaggy dough forms. Bring the dough together with your hands and cover the bowl with plastic wrap. Refrigerate the dough until firm, at least 3 hours or up to 1 day.

Preheat the oven to 350 degrees F. Line 2 sheet pans with parchment paper.

Place the confectioners' sugar in a bowl. Portion the dough into balls using a 3/4-ounce (1-1/2-tablespoon) ice cream scoop. Roll the balls in the sugar and place them 2 inches apart on the prepared sheet pans. Sprinkle each one with a pinch of confectioners' sugar.

Bake the cookies for 8 minutes, rotate the sheet pan and bake for an additional 3 to 4 minutes until they are crinkled and just set in the middle. Cool the cookies on the pan for 1 to 2 minutes before transferring to a wire rack to cool completely.
Notes
When you're shaping the cookies and rolling them, do this in batches per pan. Then keep the dough chilled in the refrigerator when you're not working with it.
Store in an airtight container up to 4 days. The dough can be kept in the refrigerator up to 1 week.
Before storing the cookies make sure they have cooled.
You can freeze baked or unbaked cookies. For baked cookies, put them in an airtight container up to 1 month. Thaw at room temperature.
Freeze the dough portioned into balls. The best way to do this is to put them on a sheet pan lined with wax paper. When they are frozen, transfer them to an airtight container. Before you are planning to bake the frozen dough, let them sit in the fridge for 30 minutes to 1 hour. Then roll them in confectioners' sugar and bake.
Adapted from Cookie Love by Mindy Segal
Nutrition
Calories:
111
kcal
|
Carbohydrates:
19
g
|
Protein:
2
g
|
Fat:
5
g
|
Saturated Fat:
2
g
|
Polyunsaturated Fat:
2
g
|
Monounsaturated Fat:
1
g
|
Trans Fat:
0.02
g
|
Cholesterol:
18
mg
|
Sodium:
155
mg
|
Potassium:
49
mg
|
Fiber:
1
g
|
Sugar:
10
g
|
Vitamin A:
27
IU
|
Calcium:
18
mg
|
Iron:
1
mg
Nutrition information is automatically calculated, so should only be used as an approximation.