Butternut Squash Baked Barley Risotto

Looking for a simple and healthy vegetarian one-pot meal? Try this Butternut Squash Baked Barley Risotto with kale. With minimal stovetop time, this risotto cooks in the oven and doesn't require the usual stirring.
Soup season has me craving all things cozy. That includes chai lattes, sweaters and scarves.

If it's served in a bowl or mug that I can wrap my hands around to warm up, then I'm all in.
I will never get tired of soup from vibrant green broccoli spinach to a deep red Tuscan ribolitta, but sometimes I want a filling serving of grains instead.
This butternut squash baked barley risotto ticks all the boxes.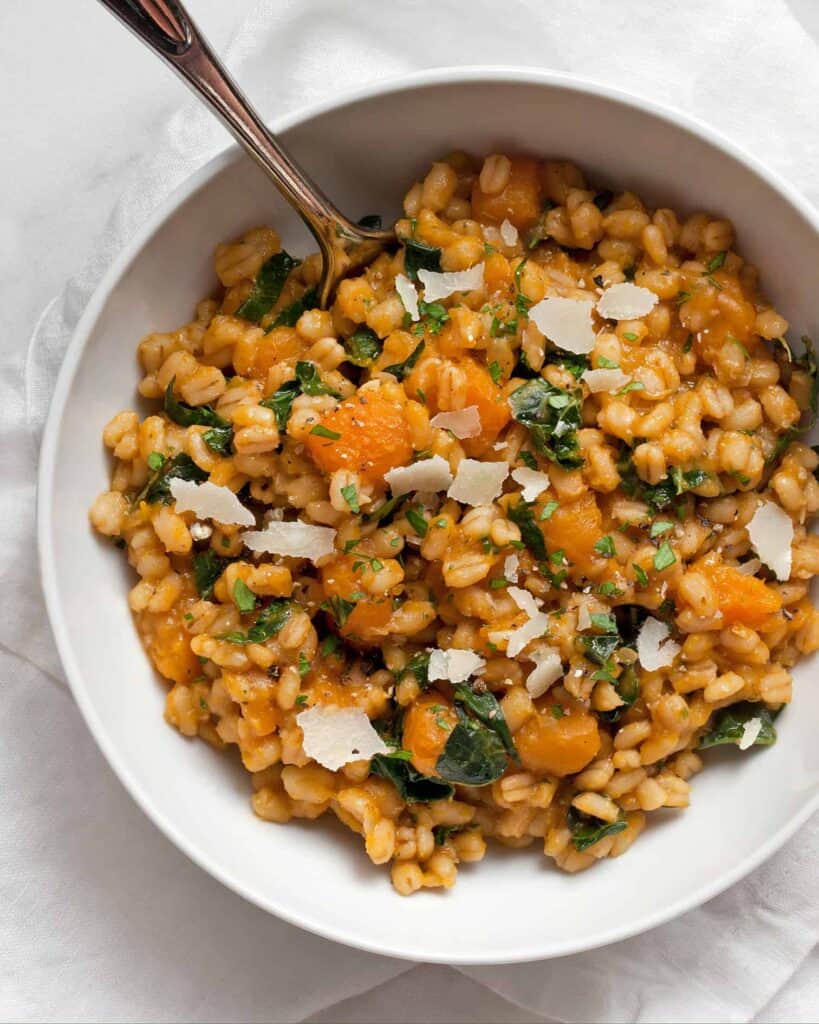 I love risotto, but I don't enjoy the work that goes into it. You basically have to baby risotto on the stovetop, gradually pouring in liquid and stirring until the grains absorb it and become tender.

As much as I love putting my absolute undivided attention on what I'm cooking, more often than not, I am not capable of such focus. It cramps my multi-tasking style.
That's why baked risotto is such a game-changer.

Once high-maintenance risotto just needs a little time on the stove before you can put it into the oven to bubble away.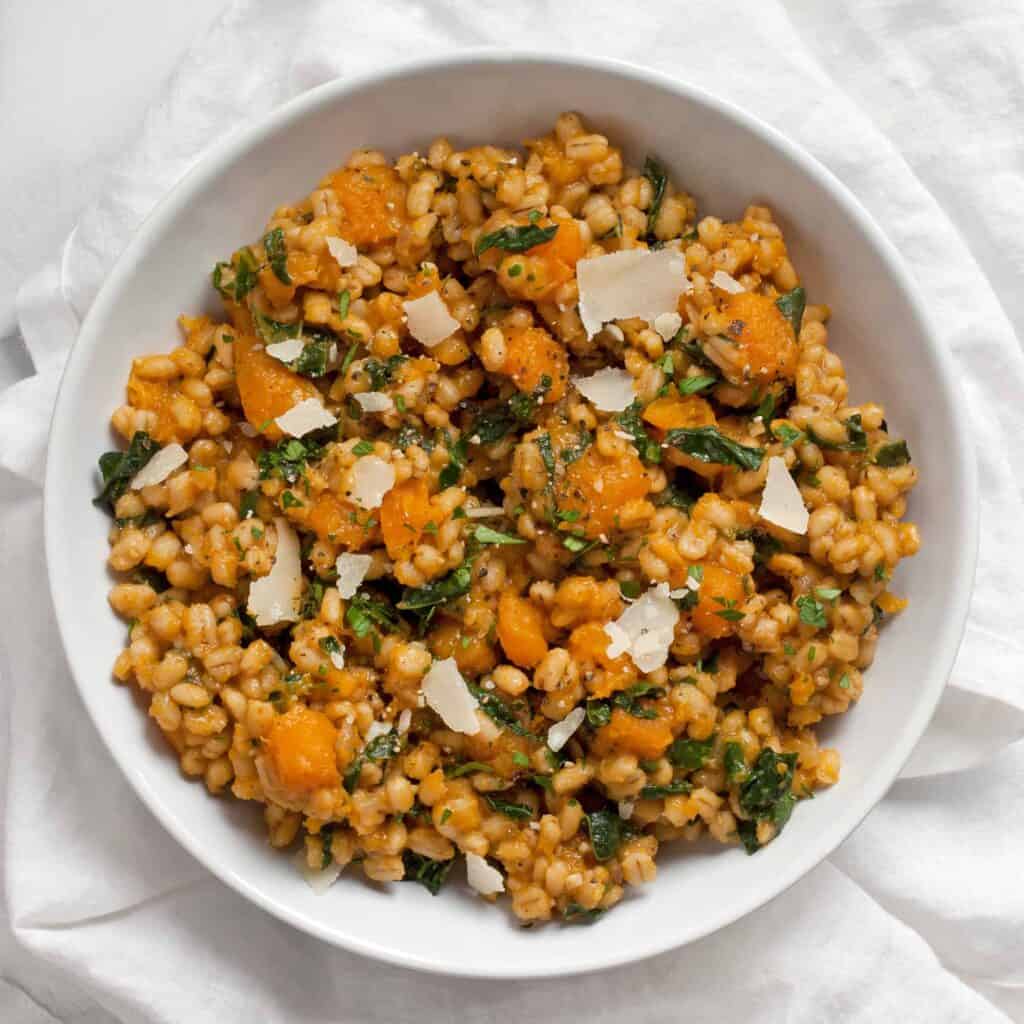 Arborio rice is traditionally used for risotto, but I prefer Italian barley.

I always have barley in my pantry since I use it in lots of recipes from grain bowls to salads.

Arborio rice is very specific to risotto, and I don't like having ingredients that I will only use for one type of dish.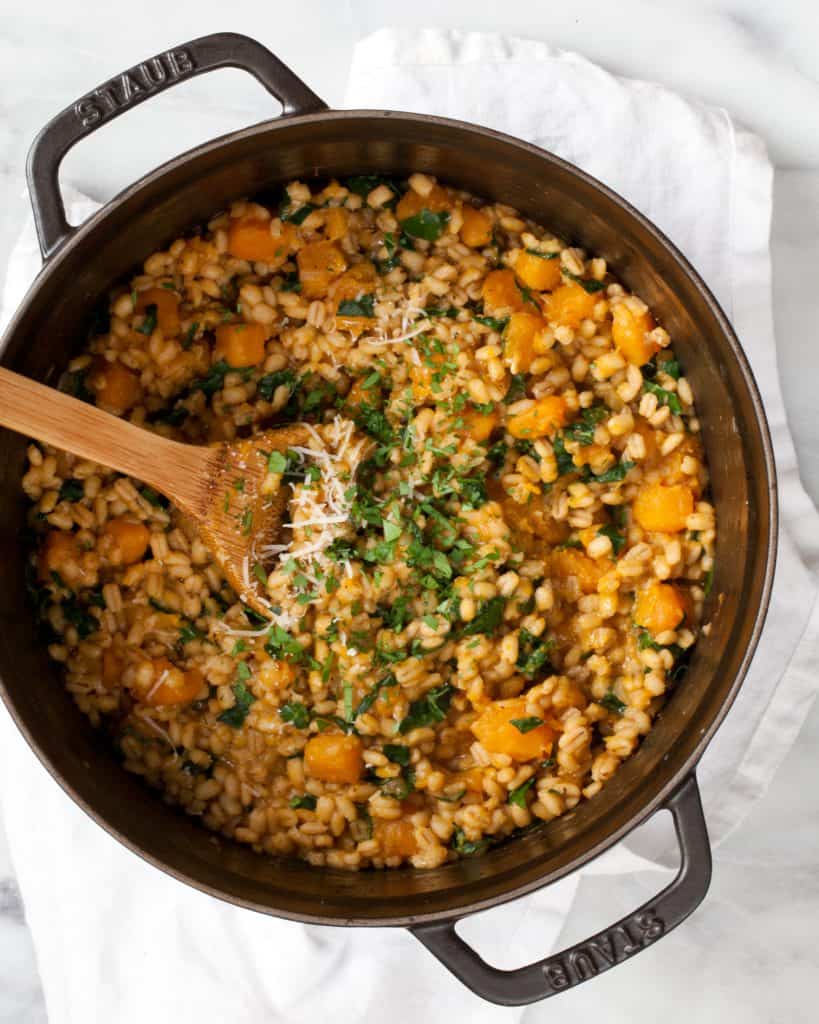 How To Make Butternut Squash Baked Barley Risotto
For this butternut squash baked barley risotto, I start by sautéing cubed butternut squash until it starts to brown at the edges.

Next I add white onions to the squash giving the onions time to become soft and translucent.
I sauté minced roasted garlic and pour in the barley followed by a splash of white wine.
Once the grains absorb the wine, in goes the veggie broth. When everything reaches a boil, I put the lid on the pot and move it to the oven to bake.

No more stirring required. Well, at least until the risotto finishes cooking.

That's when I fold in chopped Lacinato kale letting it wilt from the heat.

The barley risotto comes out creamy. I like stirring in Parmesan, but if you want to keep this vegan, you can leave out the cheese.

Butternut squash baked barley risotto will definitely keep you warm and leave you full.
Print
Butternut Squash Baked Barley Risotto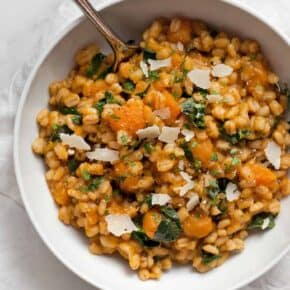 Prep Time:

5 minutes

Cook Time:

40-48 minutes

Total Time:

45-53 minutes

Yield: Serves

4

1

x
Scale
Ingredients
1 tablespoon olive oil
1 medium butternut squash, peeled and cut into 1/2-inch dice
1/2 small white onion, finely chopped
1 garlic clove, minced
1 teaspoon kosher salt
1/2 teaspoon black pepper
1/4 teaspoon red pepper flakes
1 cup pearl barley
1/2 cup dry white wine
3 cups vegetable stock
1 cup chopped Lacinato kale
1/4 cup finely grated Parmesan plus shaved Parmesan for serving
1 tablespoon chopped parsley
Instructions
Preheat the oven to 400 degrees F.
In a large ovenproof saucepan, heat the olive oil over medium high heat. Sauté the squash for 6-8 minutes until it starts to brown at the edges and is tender.
Add the onions and sauté until soft and translucent about, 2-3 minutes. Stir in the garlic, salt, pepper and red pepper flakes sautéing until fragrant, about 1 minute.
Add the barley and cook for 1 minute until opaque. Pour in the wine, letting it bubble and be absorbed by the barley.
Add the stock and bring to a boil. Cover the saucepan with a lid and transfer to the oven. Bake for 30-35 minutes until the barley is tender.
Stir in the kale and Parmesan, letting the kale wilt and the cheese melt.
Sprinkle with parsley and shaved Parmesan before serving.
SHARE THIS